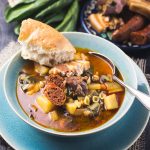 Print Recipe
Potaje de acelgas - Spanish chard stew (Pressure cooker recipe!)
Chard, potatoes and legumes stewed with hearty meats.
300

g

chard

1

potato

large

2

tbsp

chickpeas

2

tbsp

white beans

1

tomato

medium, finely chopped

1

tbsp

tomato paste

1

onion

medium, finely chopped

2

cloves

garlic

finely chopped

2

chorizo sausages

200

g

pork belly

200

g

beef shoulder

1 ½

tsp

salt

½

tsp

black pepper

2

tbsp

small noodles

Bread for serving
If you're using dried chickpeas and beans, soak them in water the night before. Canned legumes can be used right away.

Wash the chard, cut it into 2cm pieces and add it to your pressure cooker.

Peel the potato, cut it into large pieces, around 4-5cm, and add the to the chard.

Add the chickpeas, beans, tomato, tomato paste, onion, garlic, salt, pepper and all the meat.

Add water to the pot until everything is generously covered.

Close the pressure cooker and cook everything for 30 minutes on high pressure.

After 30 minutes open your pressure cooker, add the noodles and let everything cook over medium heat for another 10 minutes.

Adjust the seasoning to your taste.

Take out the meat and sausage and serve separately.

Let your guests cut a bit of meat into their stew or serve it as a second course with some white bread, as it is the tradition in spain.