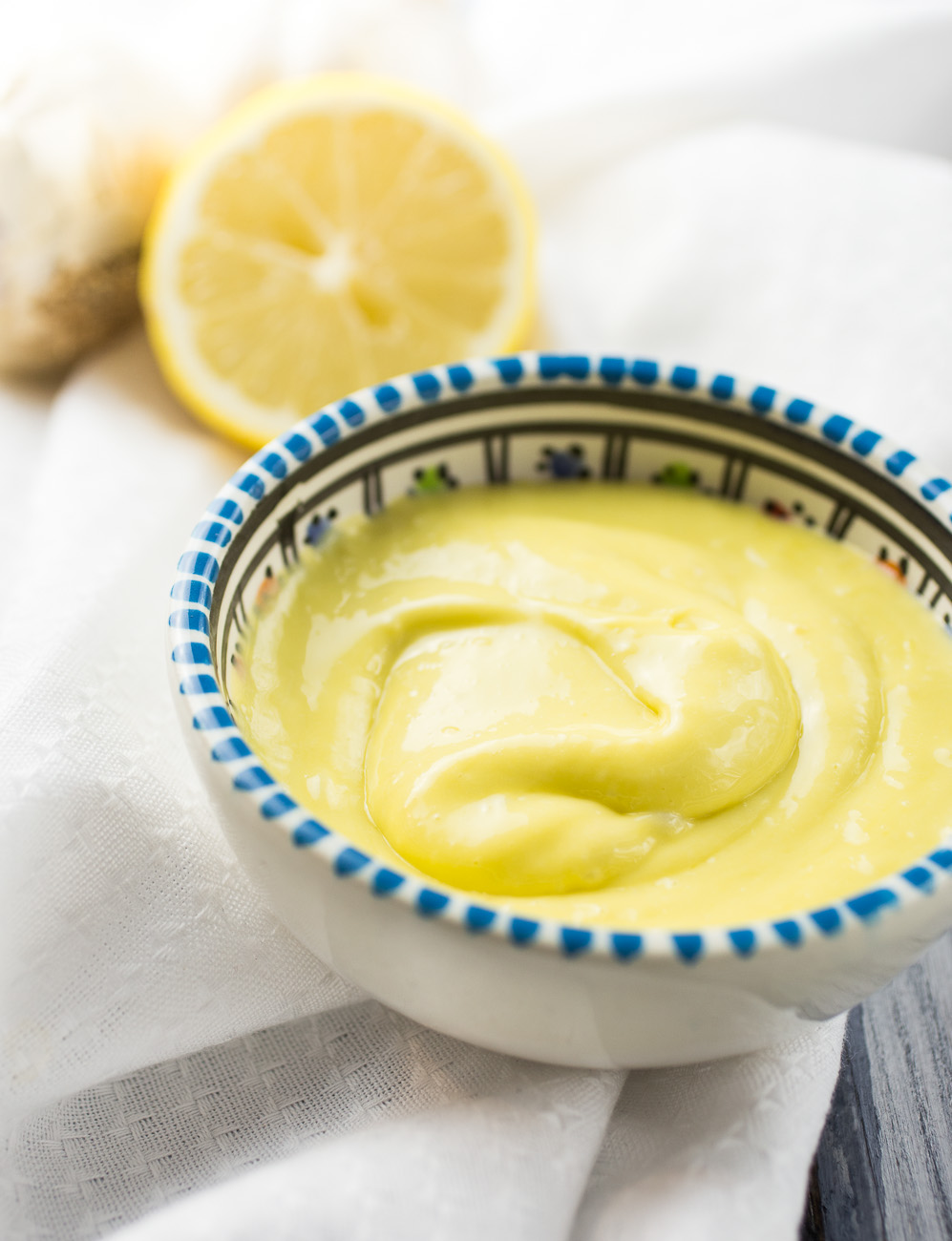 It was about time I posted the basic aioli recipe – the dips of all dips. A true Spanish classic. What aioli basically is, is a mayonaisse. You have egg yolk and oil, but aioli is being flavoured differently than a classic mayonaisse, which is with garlic and lemon juice. It's amazing as a dip for bread when you serve tapas, it goes with grilled meat and it tastes amazing with shellfish. I even use it on burgers, because I don't like regular mayo.
If you're still afraid of trying an aioli recipe, don't be! If you follow a few simple tips, it's dead easy and it will come out perfectly every time. I promise.
First of all choose your ingredients carefully. Aioli is made with olive oil and I suggest you use a high quality extra virgin oil. It will make a hell of difference taste wise (I often find cheap olive oil a bit scratchy in my throat when I eat things prepared with it). To make the process easier, take your eggs out of the fridge and let them come to room temperature for 1-2 hours.
The garlic taste is the signature of every good aioli, but if you don't want the anti-social garlic breath the next day, roast the peeled garlic cloves in a pan with a splash of olive oil over low heat until they're soft. You'll still have the taste of garlic, but it'll be less invasive for your co-workers the next day ;-)
A few words on what tools to use to make the aioli. I always like to use a tall narrow vessel, but any bowl you can comfortably whisk in is fine. For the whisking you have several options. You can use a stick blender (that's how I started making it), but for that to work you need at least 2 egg yolks or else the stick blender won't have enough egg to grab onto. My favourite option is an electric whisk, because it works with a single egg yolk and I can make just a small batch of aioli. If you have strong arms (which I don't have), you can do this by hand with a simple whisk. But it'll take a lot longer.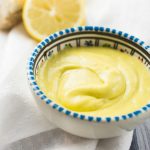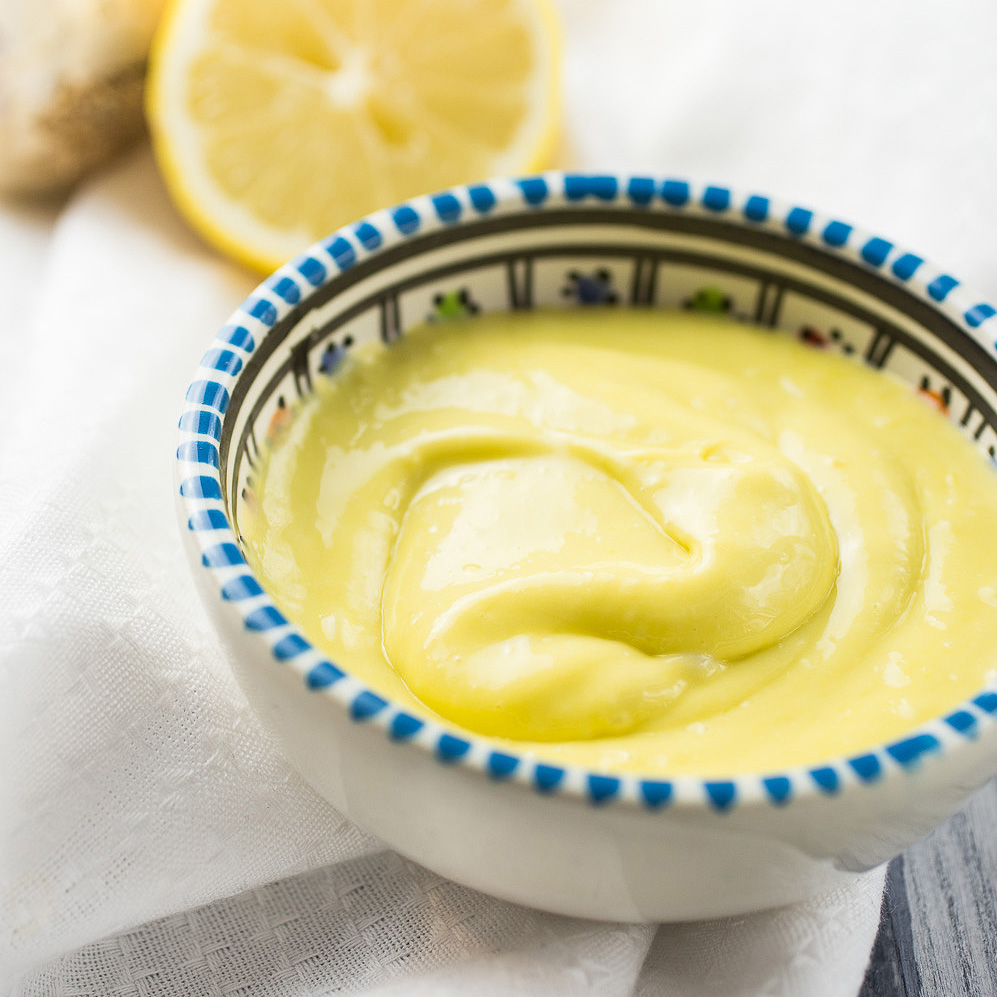 Aioli
Basic recipe for the classic spanish garlic mayonaisse.
Ingredients
2

egg yolks

olive oil

1

tbsp

lemon juice

3

cloves

garlic

salt
Instructions
In a bowl, whisk up the two egg yolks.

While whisking slowly add olive oil in a continuous very thin stream. After a couple of moments the mixture should thicken.

Keep adding olive oil until you have the desired consistency.

Add the lemon juice.

Press in the garlic with a garlic press (or blend it in with a stick blender) and add salt to taste.
Notes
Use high quality ingredients, especially a very good extra virgin olive oil.
Let the eggs come to room temperature before making aioli.
If you want to dial back the garlic breath the next day, slowly roast the peeled garlic cloves in a pan with a little oil over low heat, until they are soft.
What if it just won't thicken? How to save the aioli:
It happened to me in the past, you whisk and whisk and add the oil and the mayo just won't thicken. If the mixture stays completely liquid, it won't thicken anymore. The reason for this could be, that your eggs were too cold, but more likely that you added too much oil too quickly.
So, set it aside and start over with a new egg yolk. Instead of using olive oil, just add the first failed mixture slowly in small drops to the fresh egg yolk until it thickens. That way you don't have to throw out the first try.