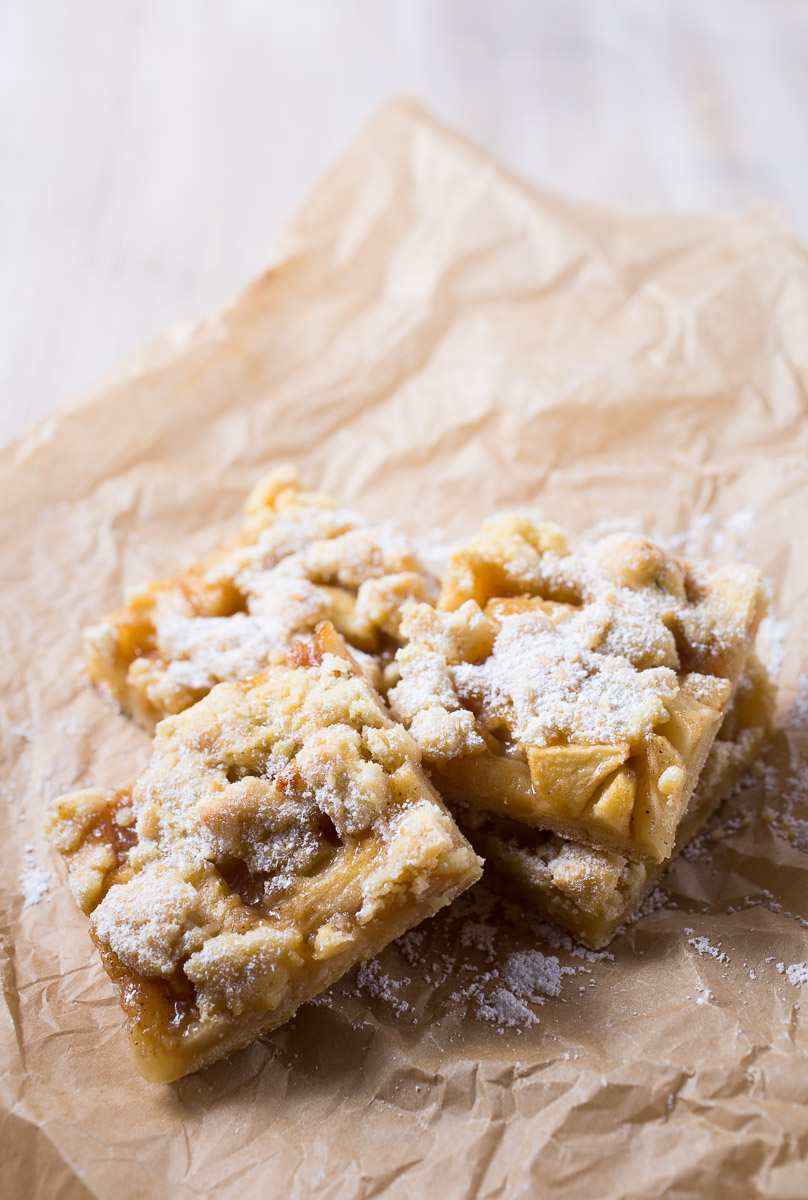 I am not the most enthusiastic apple eater and I have no clue why. In the palatinate area, where we often spend our weekends, you can get amazing apples. They are juicy, crisp and sooo sweet. I should love them. I eat an apple once in a while and like it fine, but usually I go for other fruit. I always bring back loads of apples when I'm out in the country side, promising myself to eat more. An apple a day keeps the doctor away… yadda yadda… you know the deal. But in the end they just lie around. So every couple of weeks I decide to "get rid" of them in the most delicious way. By making a crumble or compot or a quick and delicious apple pie traybake.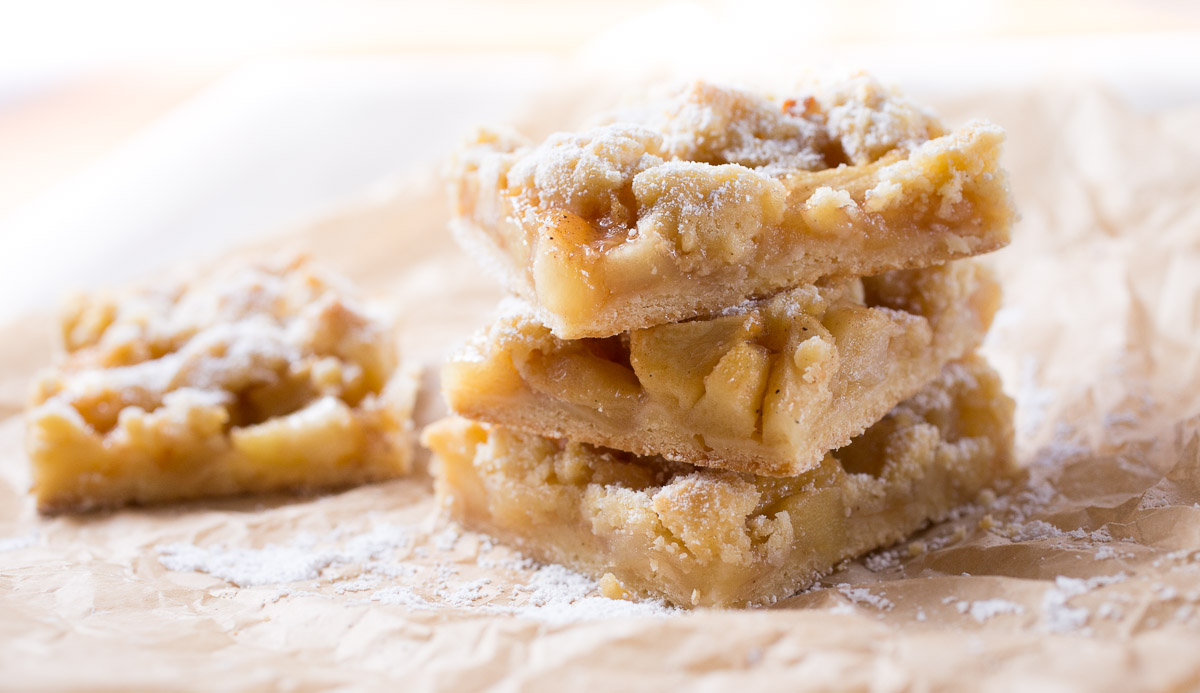 This traybake is just a simple shortcrust pastry topped with apples, cinnamon, vanilla and streusel. It's so easy to make, but sooo good. It tastes amazing out of the oven, aswell as cold the next day. But if you wanna do it like I do… enjoy it warm with a big dollop of icecream. Yum!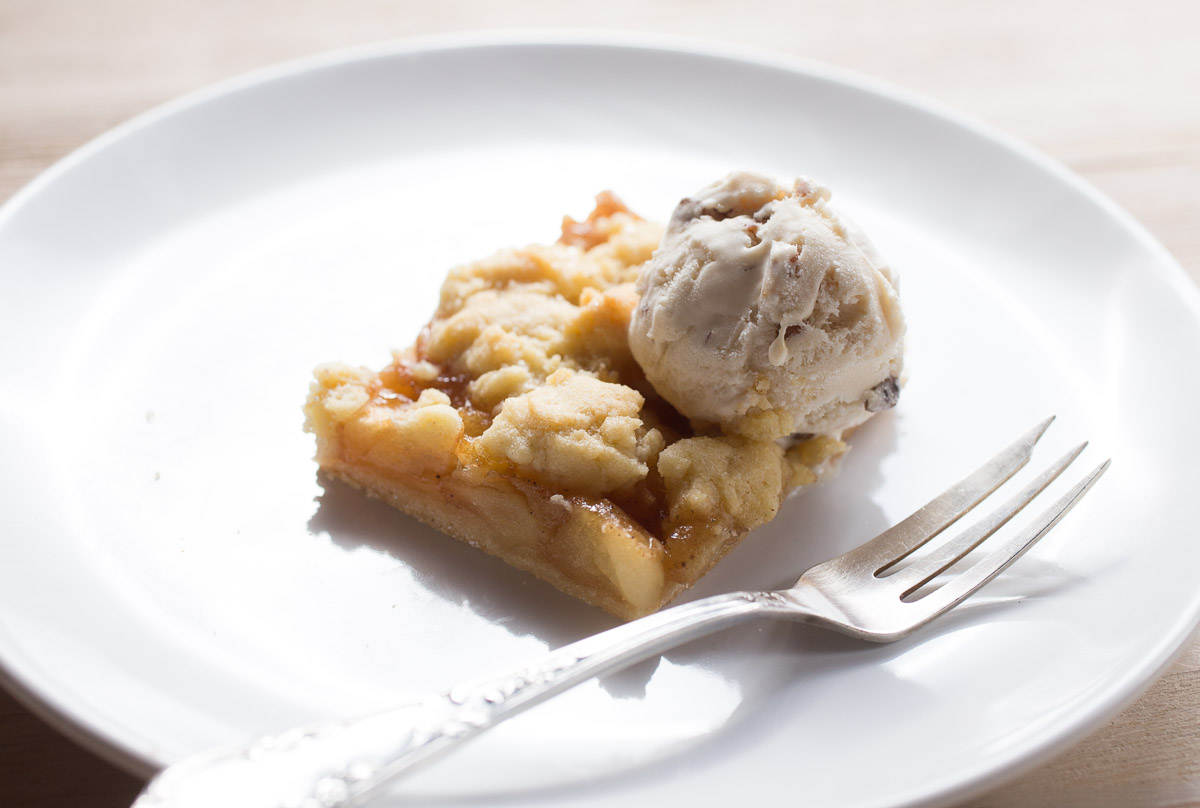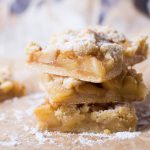 Apple Pie Traybake
Sweet and crumbly shortcrust pastry topped with apples, cinnamon and streusel.
Ingredients
For the shortcrust pastry
400

g

flour

260

g

butter

cold

130

g

sugar

1

egg yolk
For the topping
6

apples

2

tbsp

brown sugar

1

tsp

cinnamon

1/2

tsp

vanilla

2

tbsp

lemon juice
Instructions
First prepare the shortcrust pastry. You can easily make this a day ahead if you want to. Add the flour and sugar to a big bowl. Cut the butter into little cubes and rub it into the flour with your fingertips until it becomes all crumbly. Add the egg yolk and mix until it all comes together. Wrap in clingfilm and refrigerate for an hour.

Preheat your oven to 175°C / 347°F

Peel and core the apples and cut them into cubes. Take a pot over medium heat, add the apples, cinnamon, vanilla, brown sugar and the lemon juice and let it cook with a lid on for about 8-10 minutes.

Meanwhile line a 25x32cm baking tray with parchment paper.

Cut off 2/3 of the shortcrust pastry and roll it out around 5mm thick. Place it into the baking tray. Don't worry if the dough is overlapping too much. Just trim the edges off a bit and add it to the 1/3 remaining dough.

Add the apples to the baking tray and spread evenly.

Now get the remaining dough and tear it apart into little pieces. Spread evenly onto the apples.

Bake for 25-30 minutes or until the pastry is golden brown and the apples are soft.