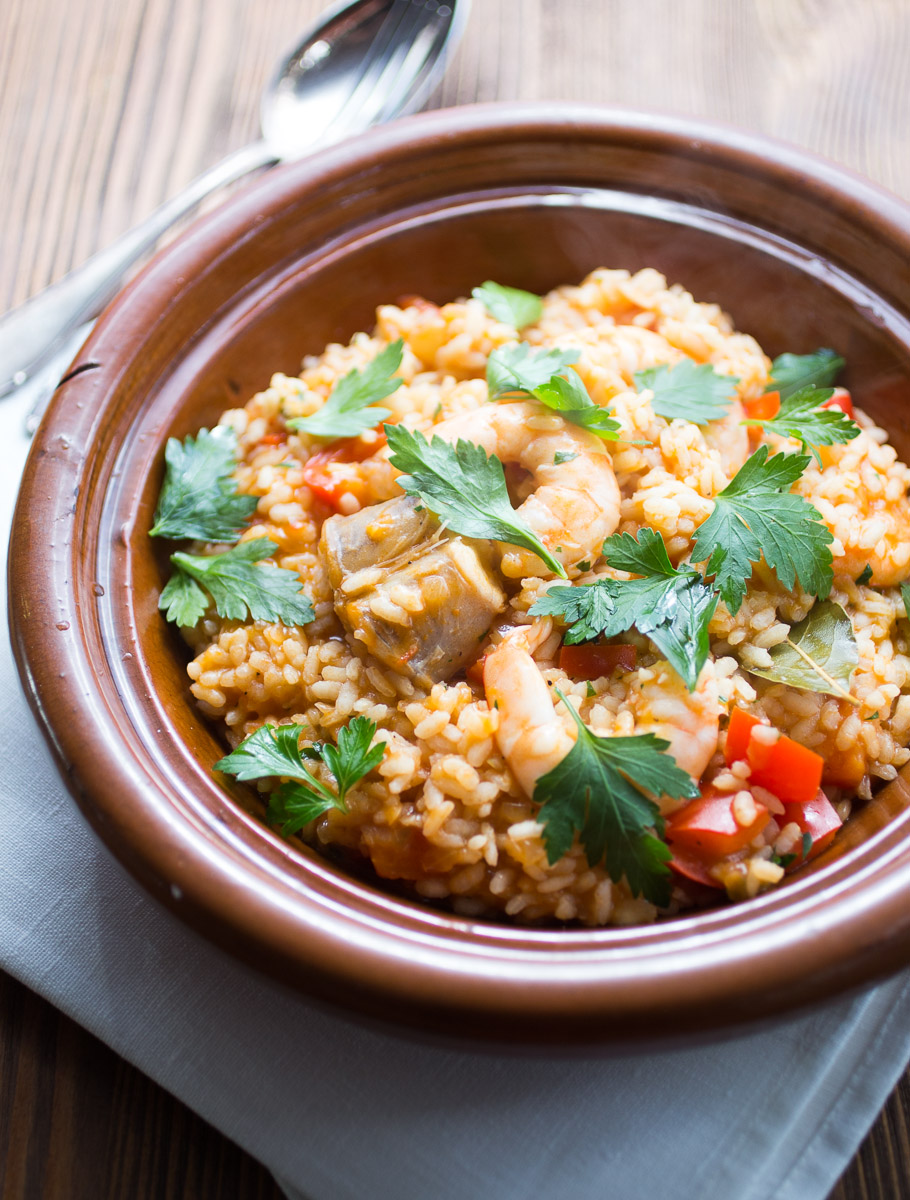 Doesn't it look mouthwatering? This dish is another little gem I brought back from my Portugal vacation. "Arroz de tamboril" which translates into rice with monkfish and that's pretty much all there is to it and still it's an amazing dish. It seems like every mediterranean country has its own signature rice dish. A simple dish that used to be poor people food. A dish were you have a basic recipe and you can just add whatever kinds of meat or seafood you have at hand. In Italy that's Risotto. In Spain that's paella. And and Portugal it's this. A delicious rice stew with tender monkfish and whatever seafood you have at home. I added king prawns in this recipe, but you could easily add clams, crab or even calamari.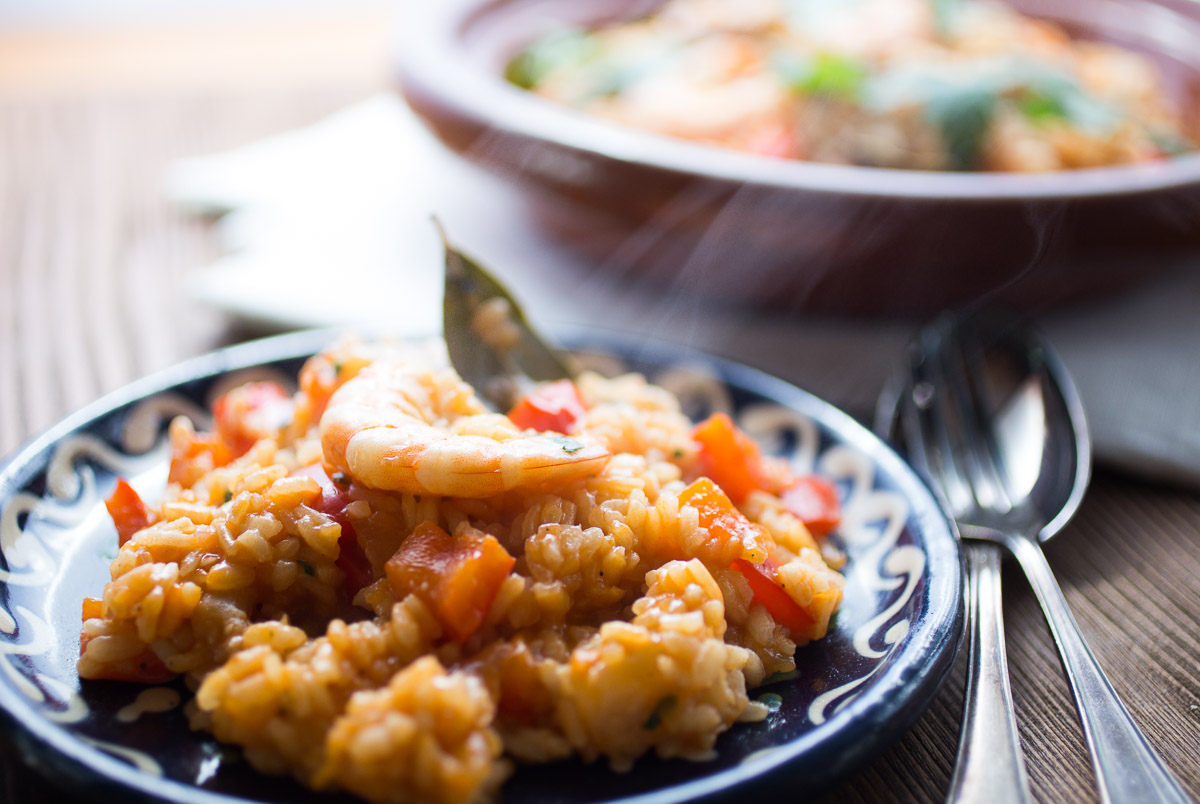 In our first week in Portugal we came across this little restaurant (thanks tripadvisor!) in a deserted street in Faro. We went to check it out and the first thing we saw, was a japanese family on one of the few tables outside of the restaurant up to their elbows in a seafood stew and smiling happily. They spotted us, gave us a thumbs up saying: "This is amazing!"
In the evening when we ordered one of the very few dishes on the menu, we completely understood the sentiment. The card had two signature dishes: A seafood cataplana (a seafood stew which is also beyond delicious) and this rice stew. We ended up coming back to this restaurant 3 more times.
The restaurant was tiny, the waiting times for the food were ridiculously long, the staff and cook seemed slightly drunk sometimes and yet this restaurant is one of the best I have ever eaten in. The cook was a tiny little portuguese lady, who cooked the meals she probably learned from her grandmother and mother and she made them with time and love. You have to wait for the food, but you will get a truly homecooked meal in every sense of the word. It was like eating with family. The version of this rice I made at home isn't as good as the rice she served us there, when it comes to taste, but it's pretty damn close.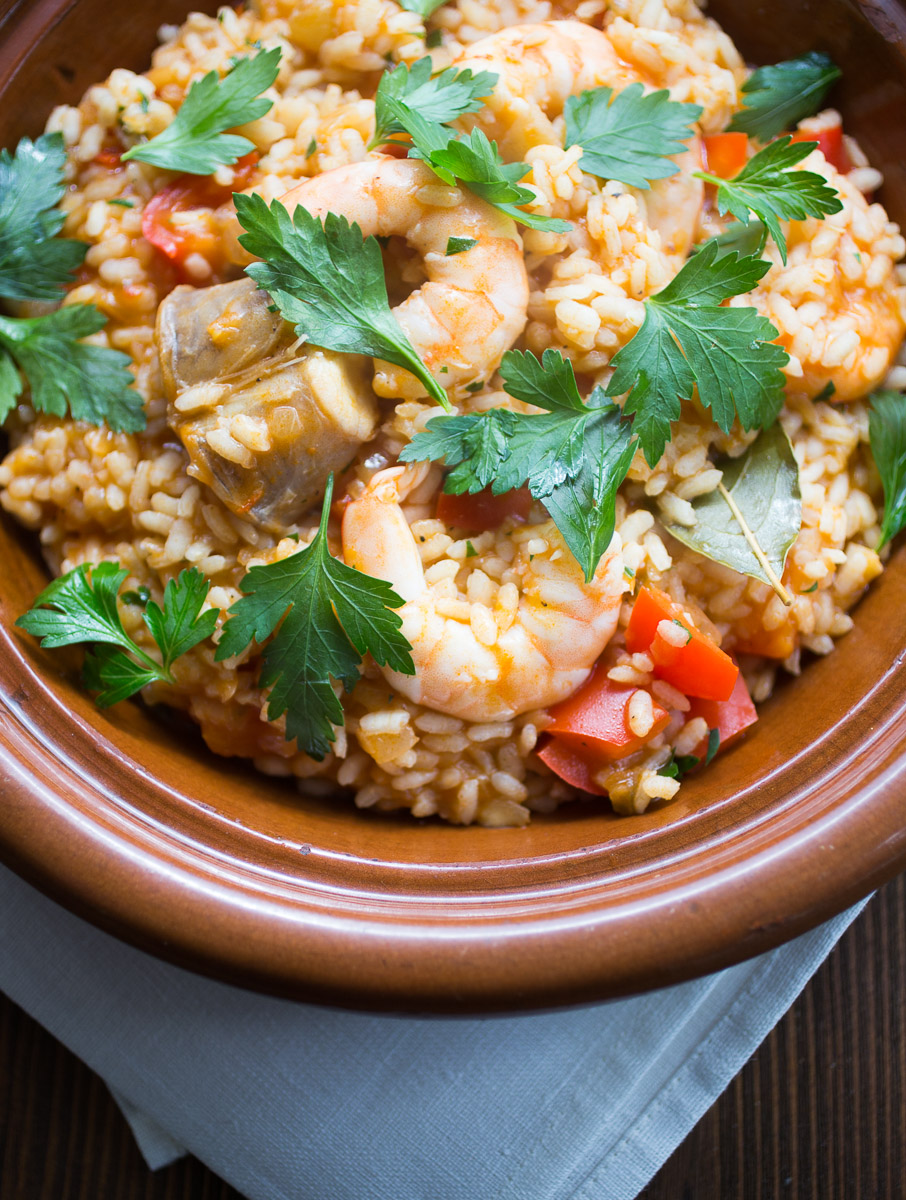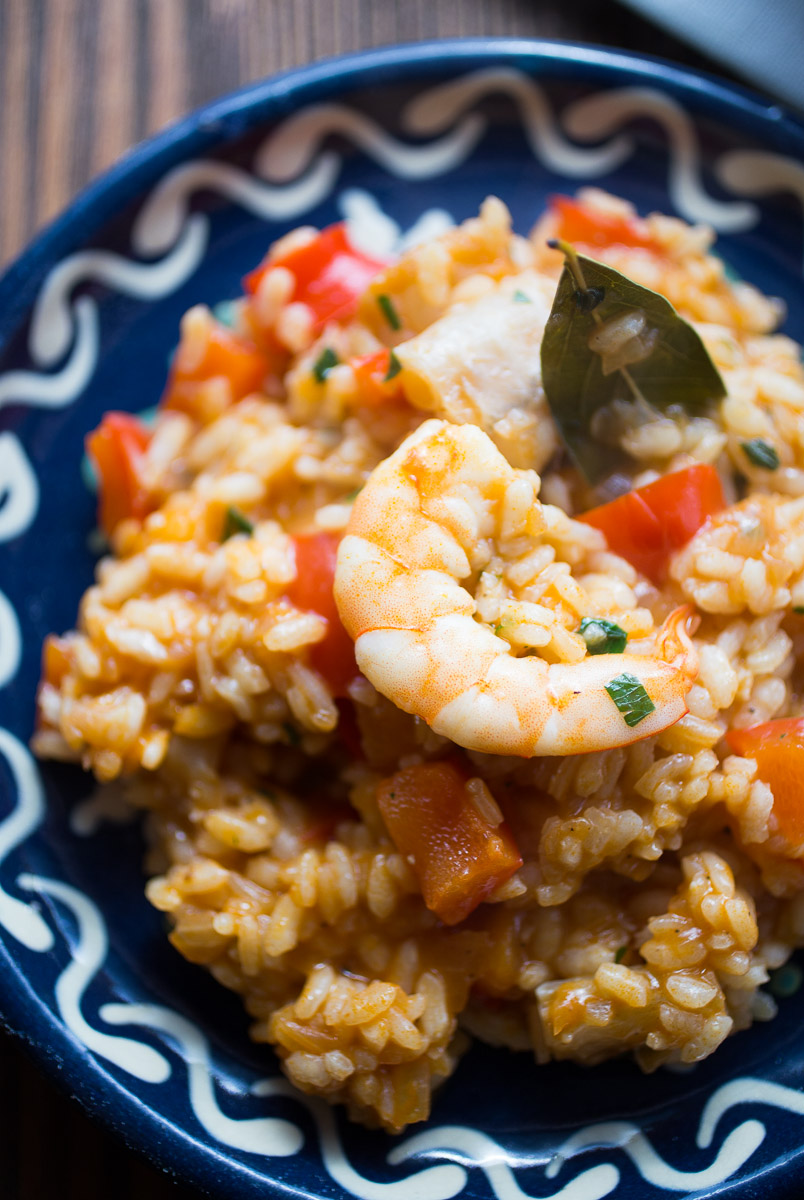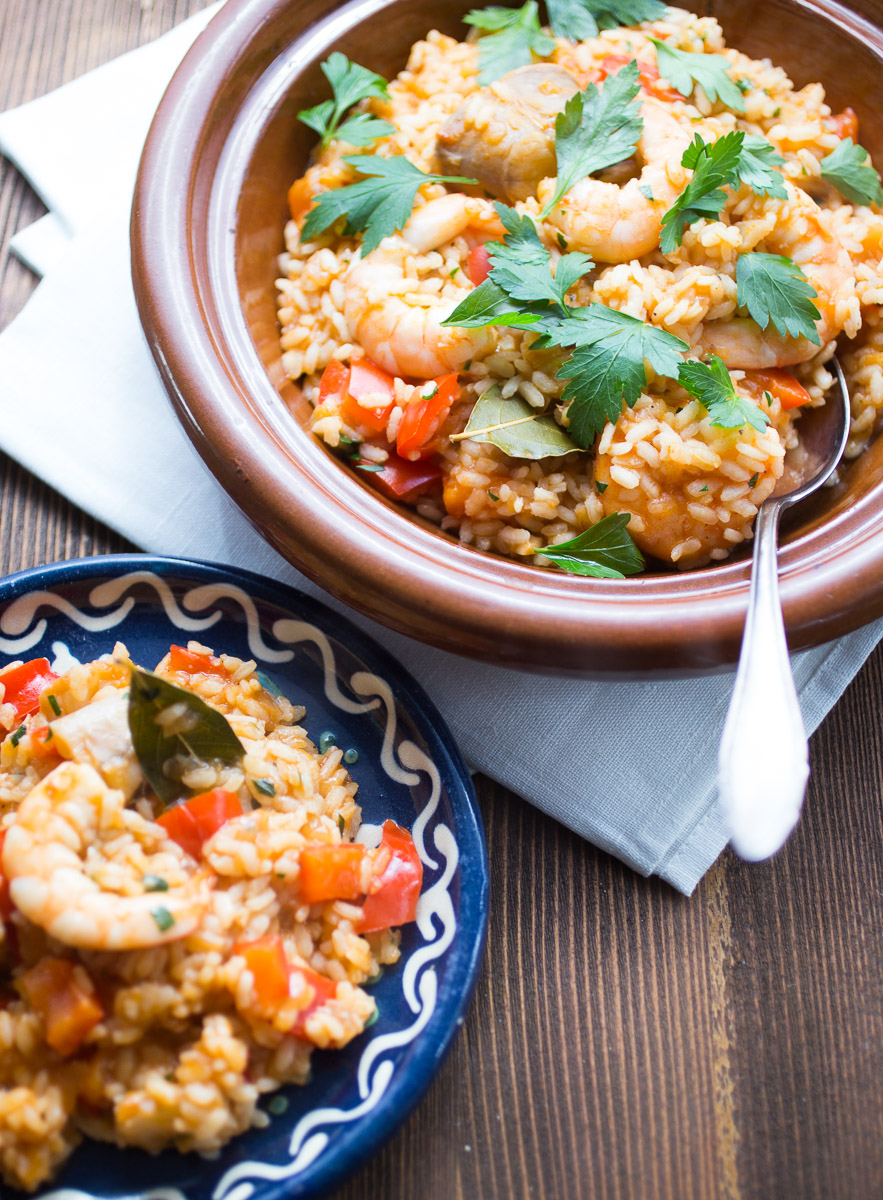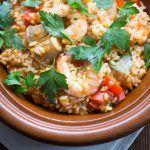 Arroz de tamboril - Rice with monkfish
A delicious rice stew with tender monkfish and kink prawns
Ingredients
400

g

frozen monkfish

cut into cubes

8-10

unpeeled king prawns

1

red bell pepper

roughly chopped

1

large onion

finely chopped

3

cloves

of garlic

finely chopped

1

ripe tomato

chopped

1

tbsp

tomato paste

2

bay leaves

1

cup

round grain or long grain rice

1

cup

dry white wine

3

cups

water

1

fish stock cube

olive oil

salt and pepper to taste

a handful of chopped parsley
Instructions
First you have to prepare the liquid in which you will cook the the rice later on. Peel the king prawns and place the heads in a small pot. Add the fish stock cube and 3 cups of water and cook for 20 minutes.

Meanwhile heat a splash of olive oil in a large pan and add the onions, garlic and bellpepper. Fry for 5-10 minutes until tender.

Add the tomato and the tomato paste and stir in the white wine.

Add the bay leaves, the monkfish and the rice. Season with 1 tsp of salt and some pepper.

Strain the fish stock liquid and add to the pan. Stir well, turn the heat down and let it simmer for 20-25 minutes or until the rice is soft.

You still want a good bit of liquid left in the stew when it's done. If it gets to dry, don't hesitate to add some more water.

5 minutes before the rice is done, add the king prawns and stir in the chopped parsley.

Serve immediately. Enjoy!
Notes
If you can get your hands on fresh monkfish for this, this should obviously be your first choice. But here in Germany fresh monkfish is hard to get and it's ridiculously expensive. But since it freezes really well the frozen kind will do nicely in this stew.
I used parsley in this recipe, but you could aswell use cilantro, which a lot of portuguese recipes call for, but I simply loathe cilantro :D