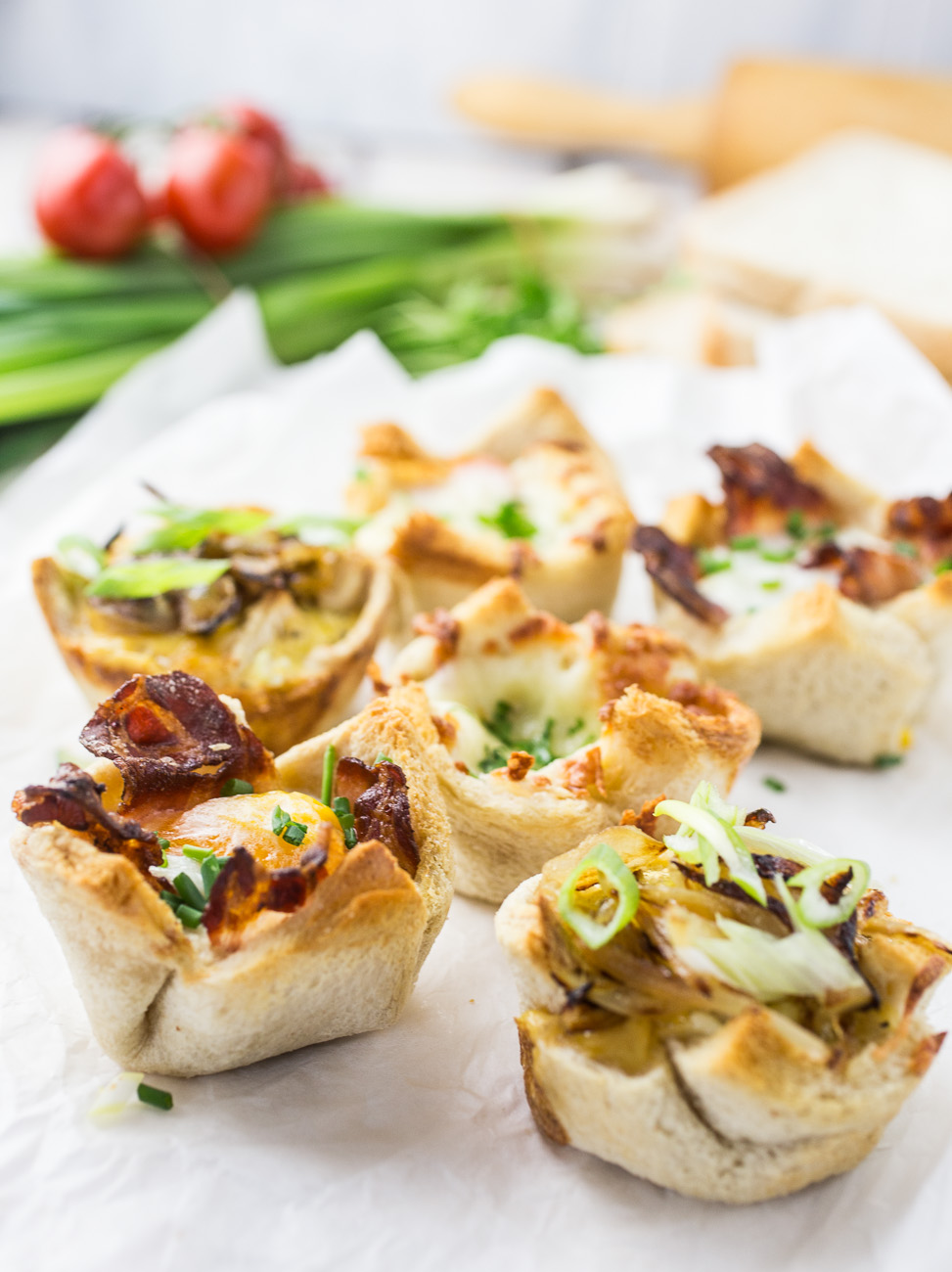 The first week of work in this new year is almost over and I think I can speak for everyone around me, that I am so very looking forward to it. So I thought to bring you a nice little recipe for some brunch cups. Three kinds of them even, two of them vegetarian. You could make them for an extra special breakfast (if you ask me, the fact that it's Saturdays or Sunday is reason enough to make it special!) or you could serve them at brunch.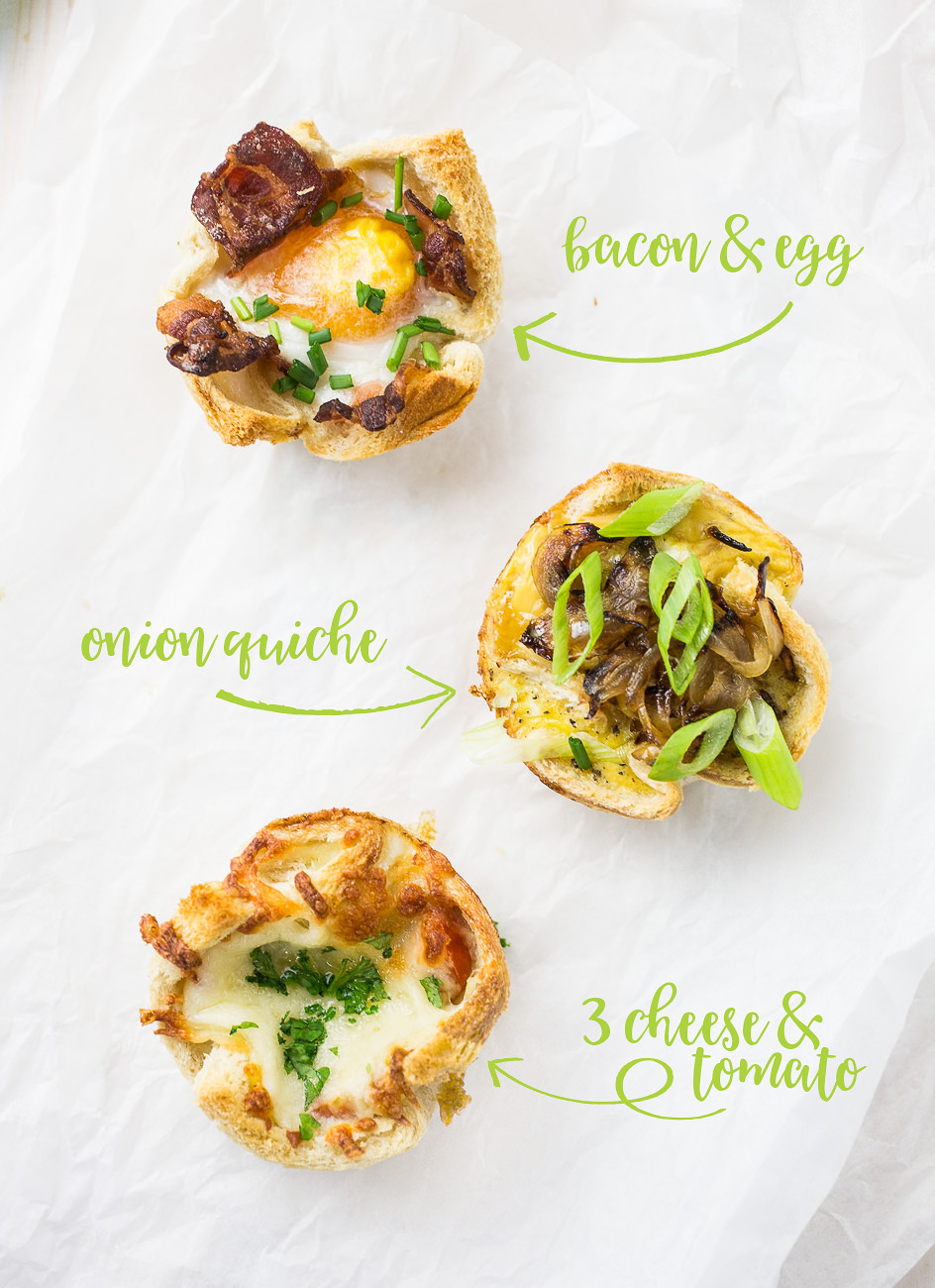 The three varieties of brunch cups you'll find attached are a mere suggestion to jumpstart your creativity. Once you wedged the bread slices into the muffin tin, you can go completely crazy and mix and match whatever you have in your fridge. Leftover meat or roast from dinner, greens like spinach work really well, so do mushrooms and generally all kinds of cheese obviously. Just let your imagination run riot!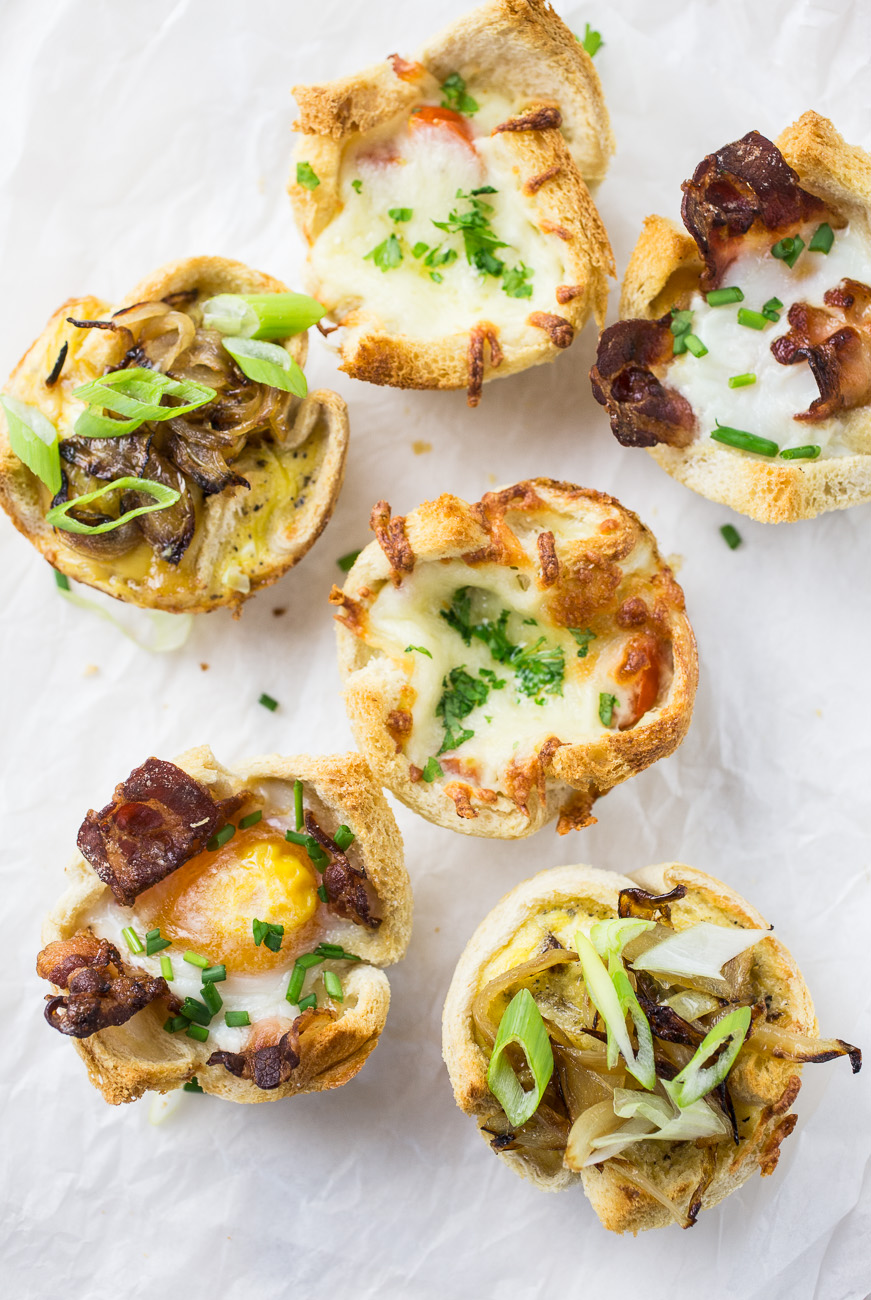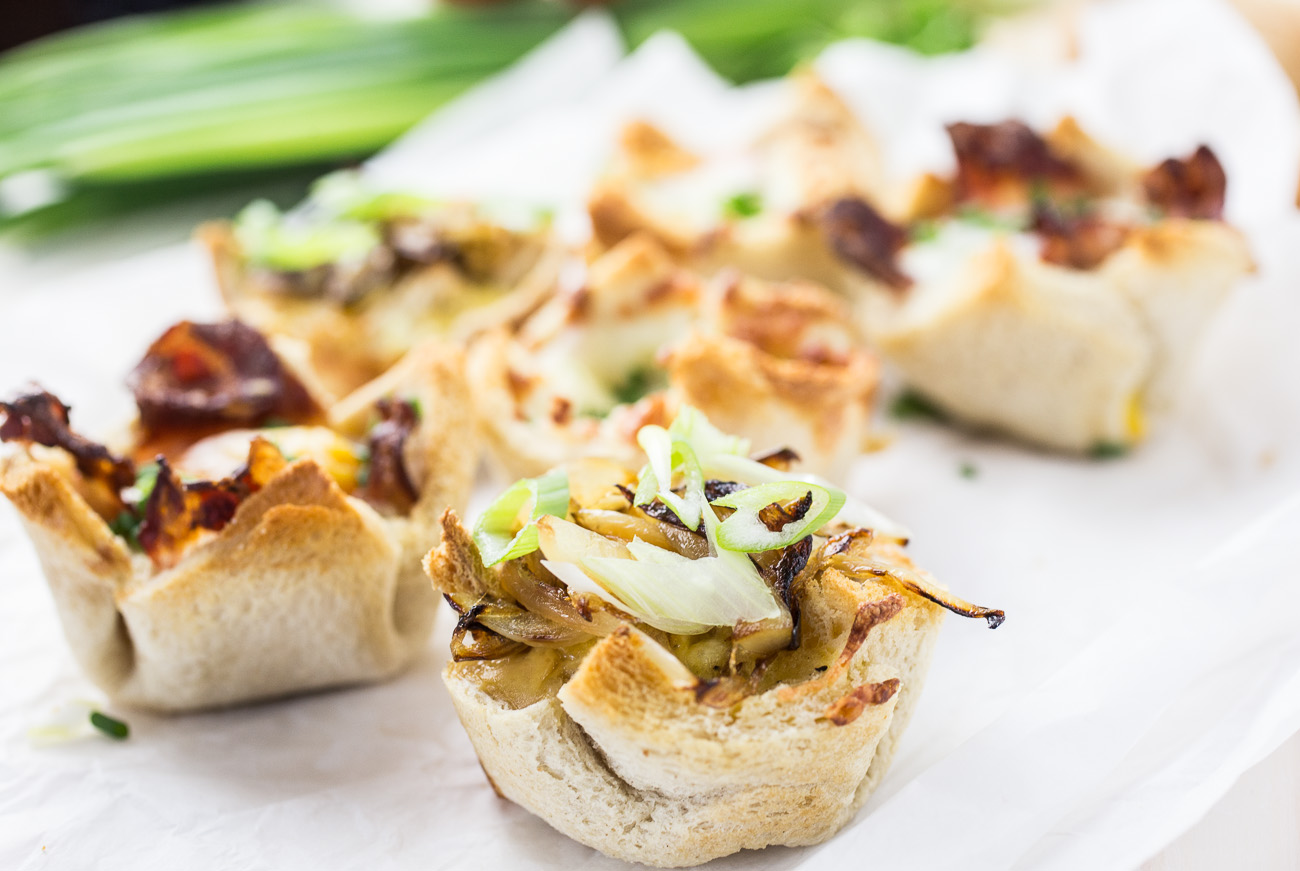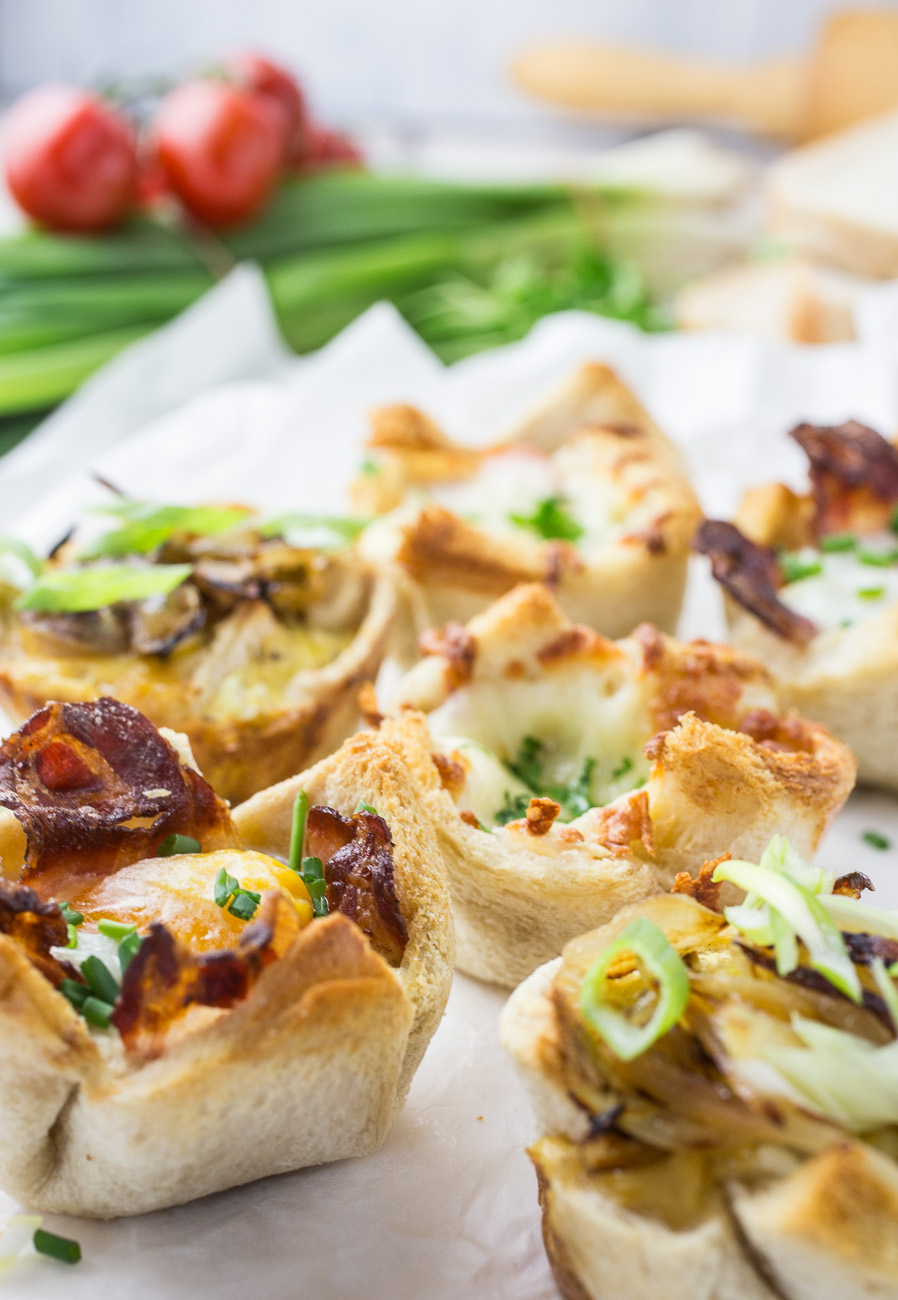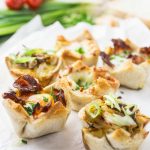 Brunch Cups
Slices of toast filled with all kinds of goodness.
Ingredients
12

slices

white bread

1

tbsp

butter
For the Egg & Bacon cups
4

eggs

small

8

rashers

bacon

salt

pepper
For the Onion Quiche cups
1

onion

large, finely sliced

¼

cup

milk

3

eggs

4

tsp

gruyere cheese

grated

salt

pepper

1

pinch

nutmeg
For the 3 Cheese & Tomato cups
4

tsp

cheddar

grated

4

tsp

gorgonzola

4

tsp

mozarella

4

cherry tomatoes

halved
Instructions
Lightly grease a muffin tin (I used cooking spray) and preheat your oven to 180 C° / 350° F.

Heat a small non-stick pan over medium heat and fry the bacon for 1-2 minutes. Do not fry it too crispy, because it will get crispy in the oven. Take out and set aside.

Leave the bacon grease in the pan and add the sliced onions to it. Lower the heat on the pan and cook the onions slowly for 8-10 minutes until they are brown, soft and caramelized. Set aside.

In a small bowl whisk together 3 eggs, ¼ cup of milk and a good pinch of salt, pepper and nutmeg. Set aside.

If you do not have ultra fresh and soft white bread, I highly recommend to microwave the bread. That way it will be super soft and you will be able to mould it into the muffin tin. Otherwise it will crumble terribly. Just pop a couple of slices at a time in the microwave for 20-30 seconds.

Slice off the crust of the bread and roll each slice out thinly with a rolling pin. Butter one side of each slice and carefully stuff them into the muffin tin, buttered side on top.

Add cheddar, gorgonzola and mozarella to four of the cups and top them with the halved cherry tomatoes. The 3 cheese cups are done.

Add a teaspoon each of the cooked onions to the next four bread cups and divide the grated gruyere between them.

Line the next 4 cups with the bacon rashes.

Now quickly crack one egg into each of the bacon cups.

Fill the 4 onion cups with the egg/milk mixture.

Transfer into the oven and bake for 14-18 minutes or until the cheese has melted, the eggs have set and the cups are nice and brown.

To finish off, top the quiche cups with the remaining caramelized onions.