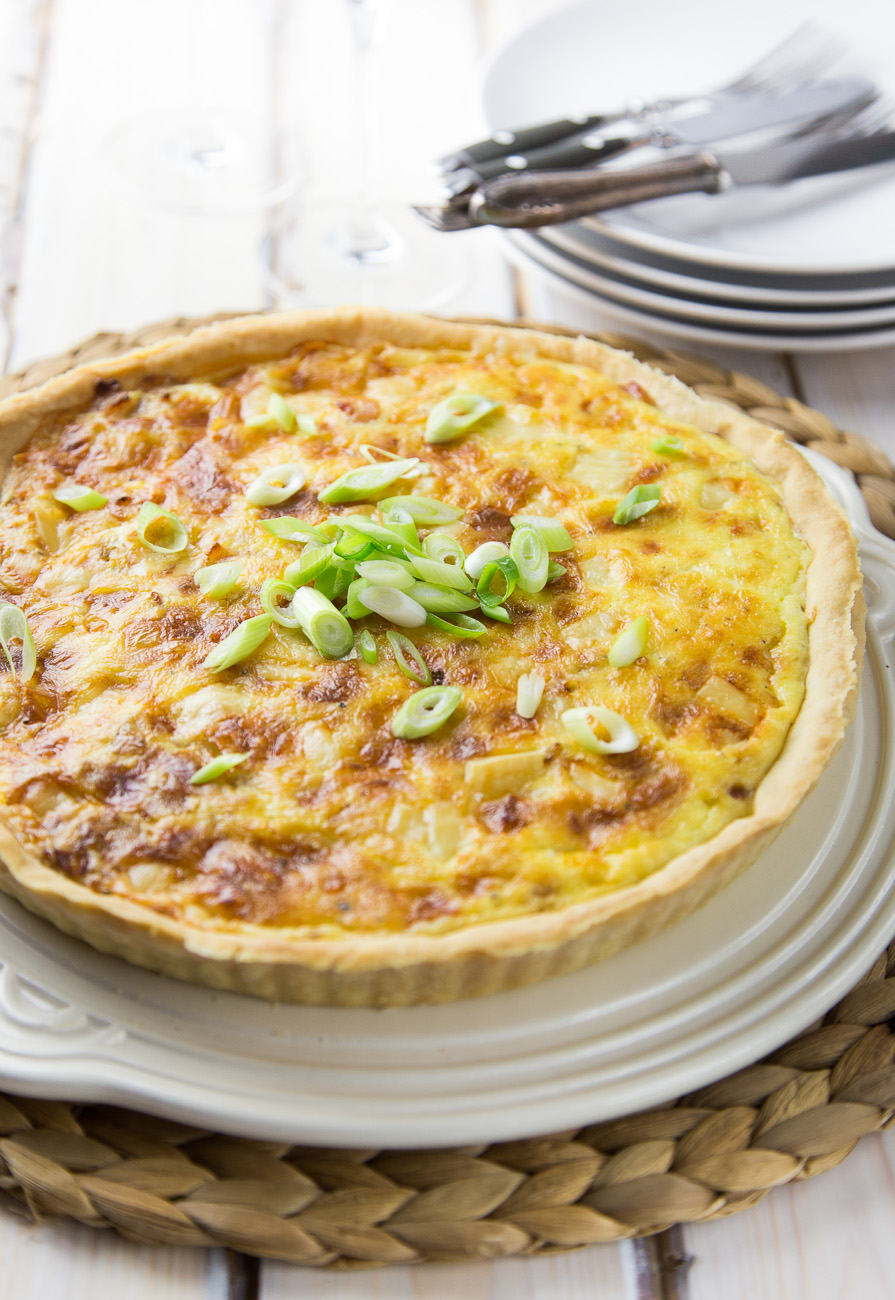 Less than one week. 6 days. 144 hours. 8460 minutes. 518400 seconds…. until I can finally grab my boyfriend and my suitcase and be off to spain for two weeks of vacation. It's my first proper long vacation in over a year and I can't even begin to describe how excited I am. I need another word for excited. Plus work is absolutely insane at the moment. Colleagues are at work, our clients don't seem to be, so we have so much work. That's why my lovely blog here was getting the short end of the stick those last weeks. But I managed to sneak in one last recipe for you before I leave: Quiche Alsacienne.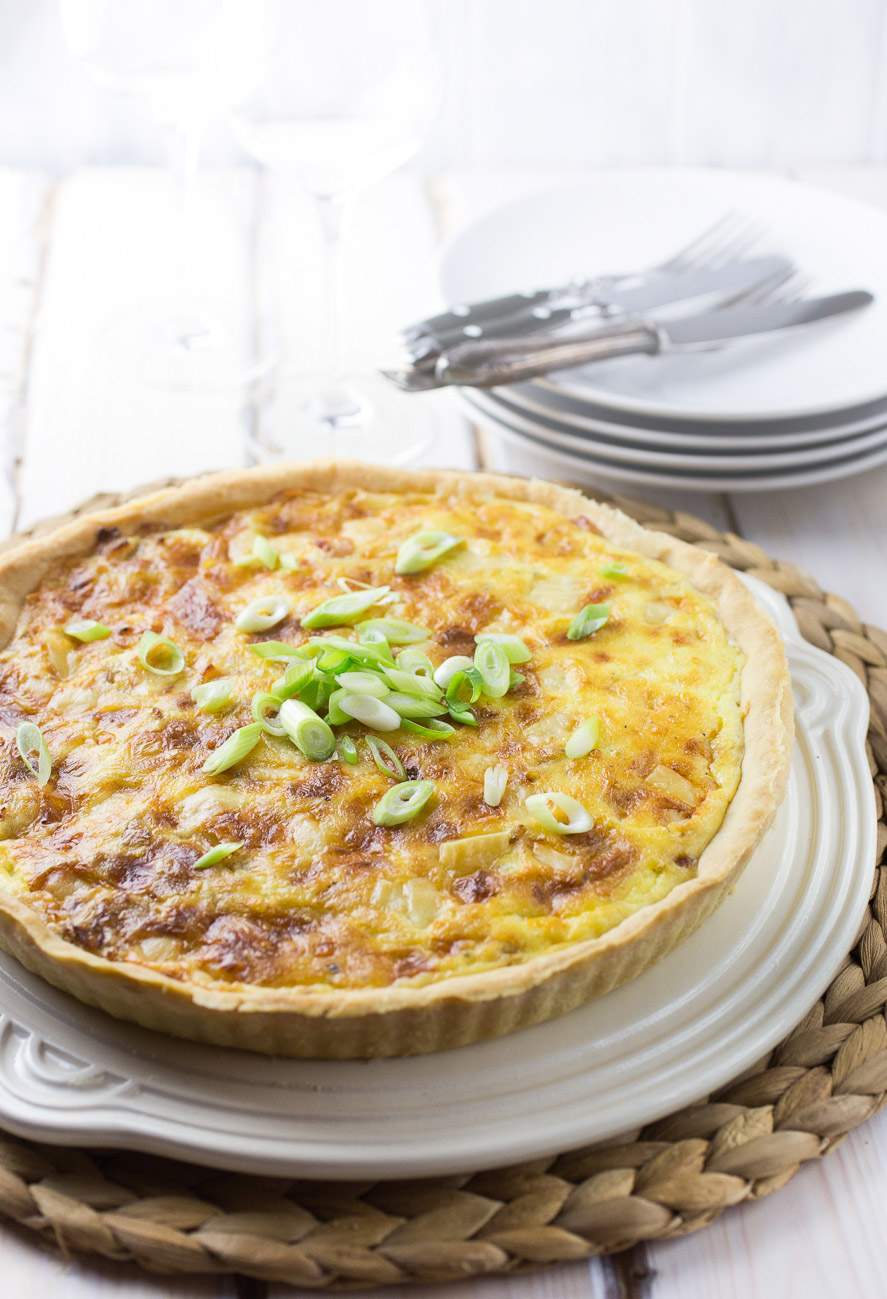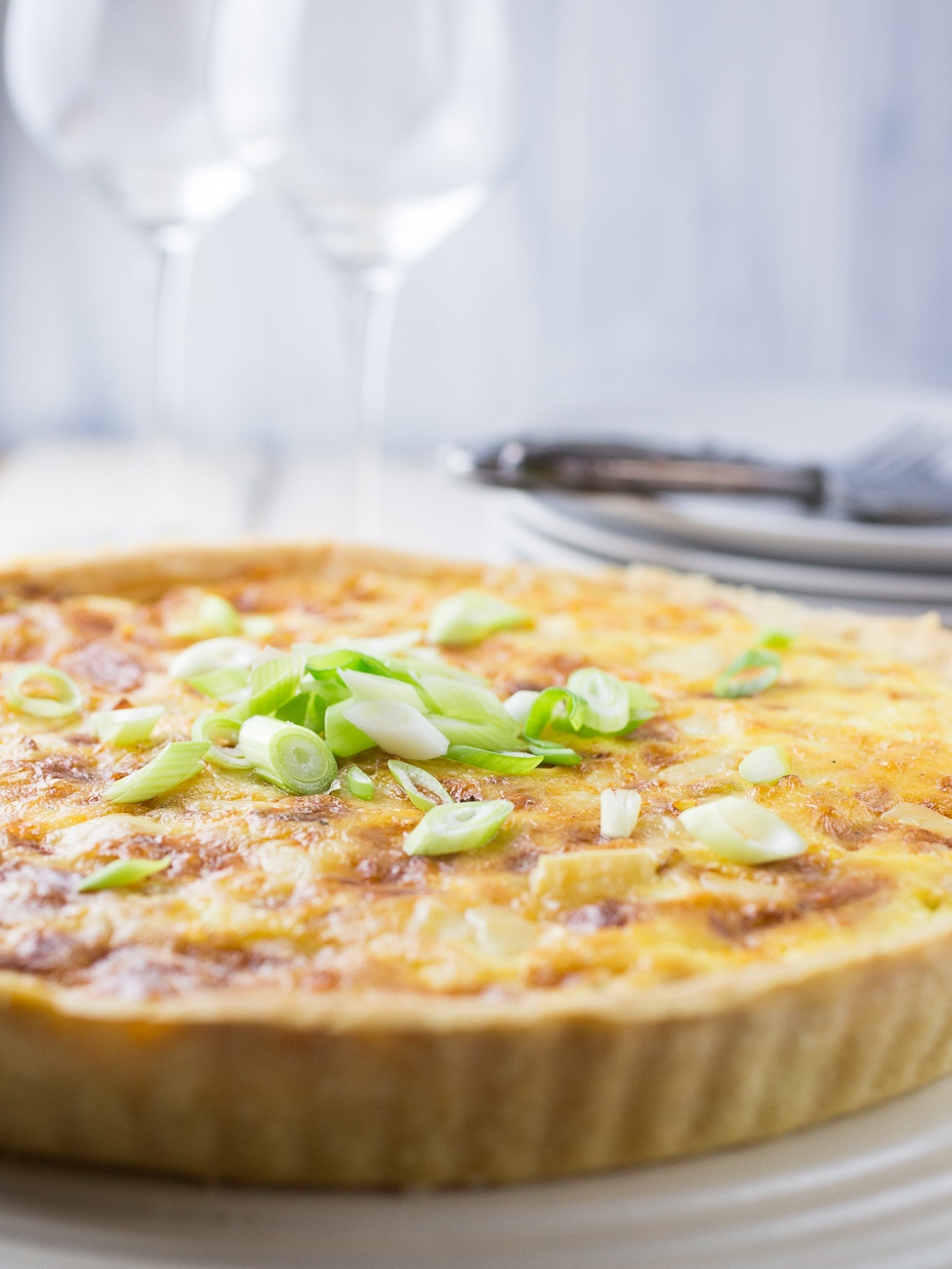 If you read through the recipe you might say: That sounds a lot like a Quiche Lorraine. It does, but it's not. I'm aware that this recipe is known as a Quiche Lorraine in a lot of places around the world, but I like to be accurate, especially living only 1 1/2 hours away from France. A Quiche Lorraine consists only of bacon, egg and cream. The variety I bring you here, and wich I prefer, has also onions and cheese in it and is called a Quiche Alsacienne. Named after the beautiful Alsace region near the german-french border.
This recipe is a regular in my household and always a big crowd pleaser. It's not exactly light eating, but well… you have to indulge yourself in some delicious, not so healthy food once in while. If you wanna serve something with the quiche go for a light green salad and a dry white wine.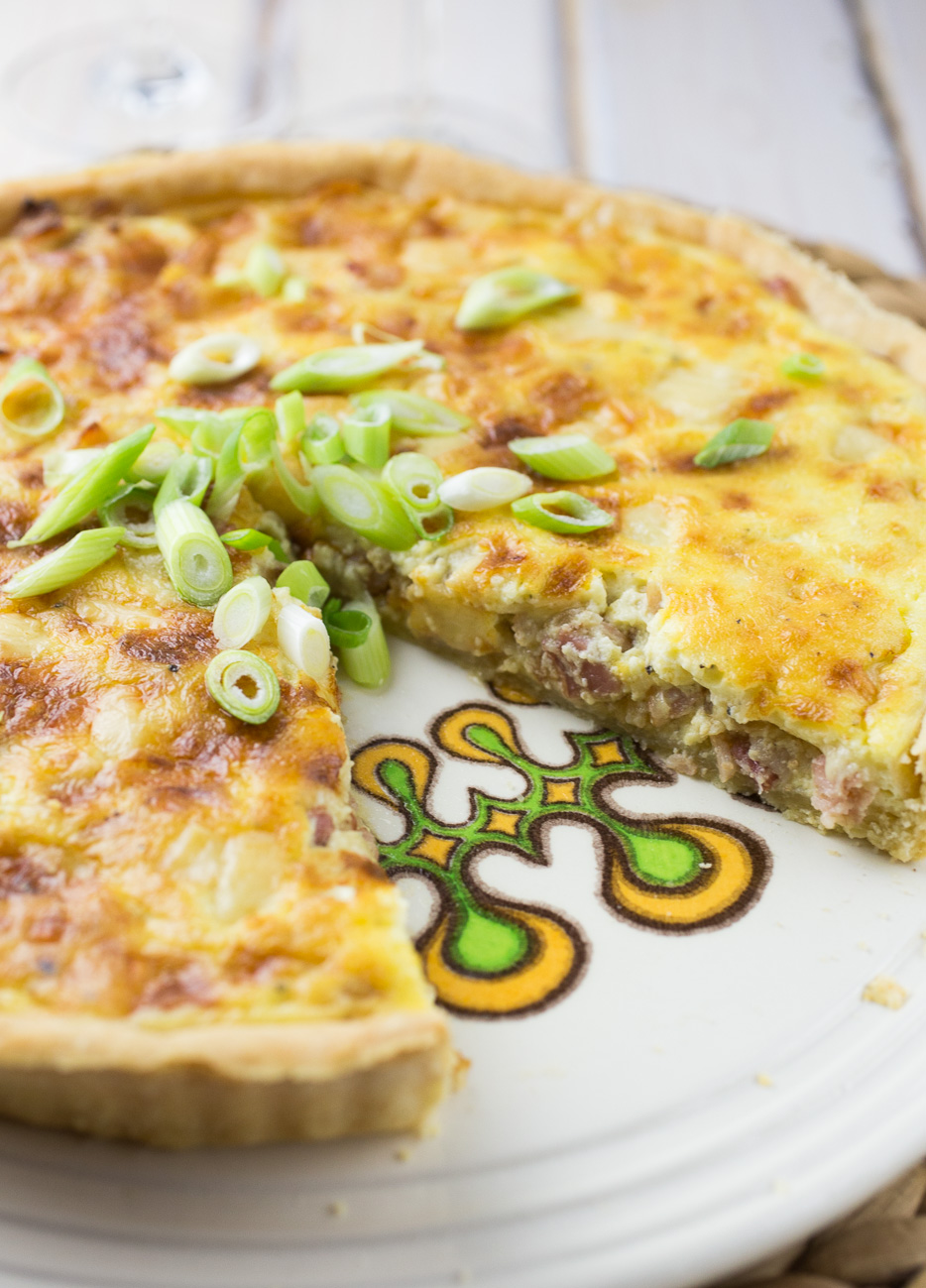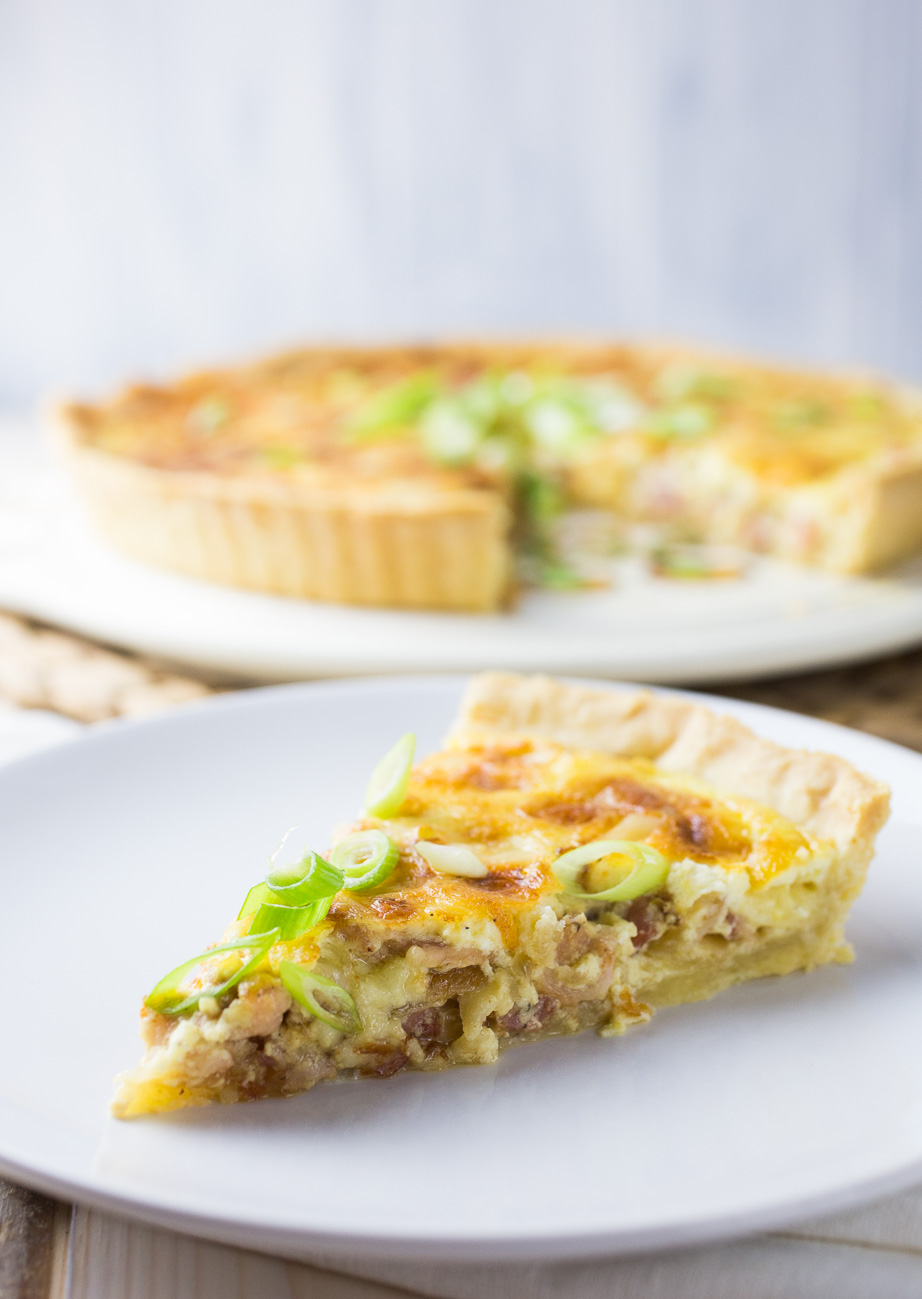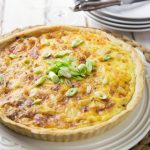 Quiche Alsacienne
A rich and hearty tart made with onions, bacon, eggs and cheese. A french classic.
Ingredients
For the pastry
150

g

flour

100

g

cold butter

2

tbsp

water

1

tsp

salt
For the filling
2

large onions

finely chopped

130

g

smoked bacon

finely chopped

3

eggs

120

g

heavy cream

2

tbsp

crème fraîche

¼

tsp

nutmeg

½

tsp

pepper

130

g

gruyere cheese

grated
Instructions
Cut the butter into small chunks. In your food processor combine all the ingredients for the pastry and pulse it a couple of times until it all comes together. Alternatively you can make the dough by hand, by rubbing the cold butter into the flour, until it looks like breadcrumbs. Add the water and knead quickly until it comes together. Chill the pastry for 30 minutes.

Preheat your oven to 200°C / 392°F.

Grease a quiche tin and flour it lightly.

Roll out the pastry around 3mm thin and line the tin with it. Trim the excess pastry and pinch the pastry with a fork a couple of times.

Line the pastry shell with baking paper and fill with baking beans. Bake the pastry shell for 15 minutes and remove the baking beans for the last five minutes.

Meanwhile prepare the filling. Heat a large pan over medium heat and add the onions and bacon. Cook for 5-10 minutes until the bacon is crispy and the onions have caramelized. Set aside.

In a bowl whisk together the eggs, heavy cream, crème fraîche, nutmeg and pepper.

Layer the bacon and onion into the pastry shell. Carefully fill in the egg mixture and sprinkle with the grated cheese.

Turn your oven down to 180°C / 356°F. Bake the quiche for 25-30 minutes or until the filling is golden brown and set.
Notes
The filling doesn't call for any salt and usually you don't need any. The bacon seasons the quiche quite enough.