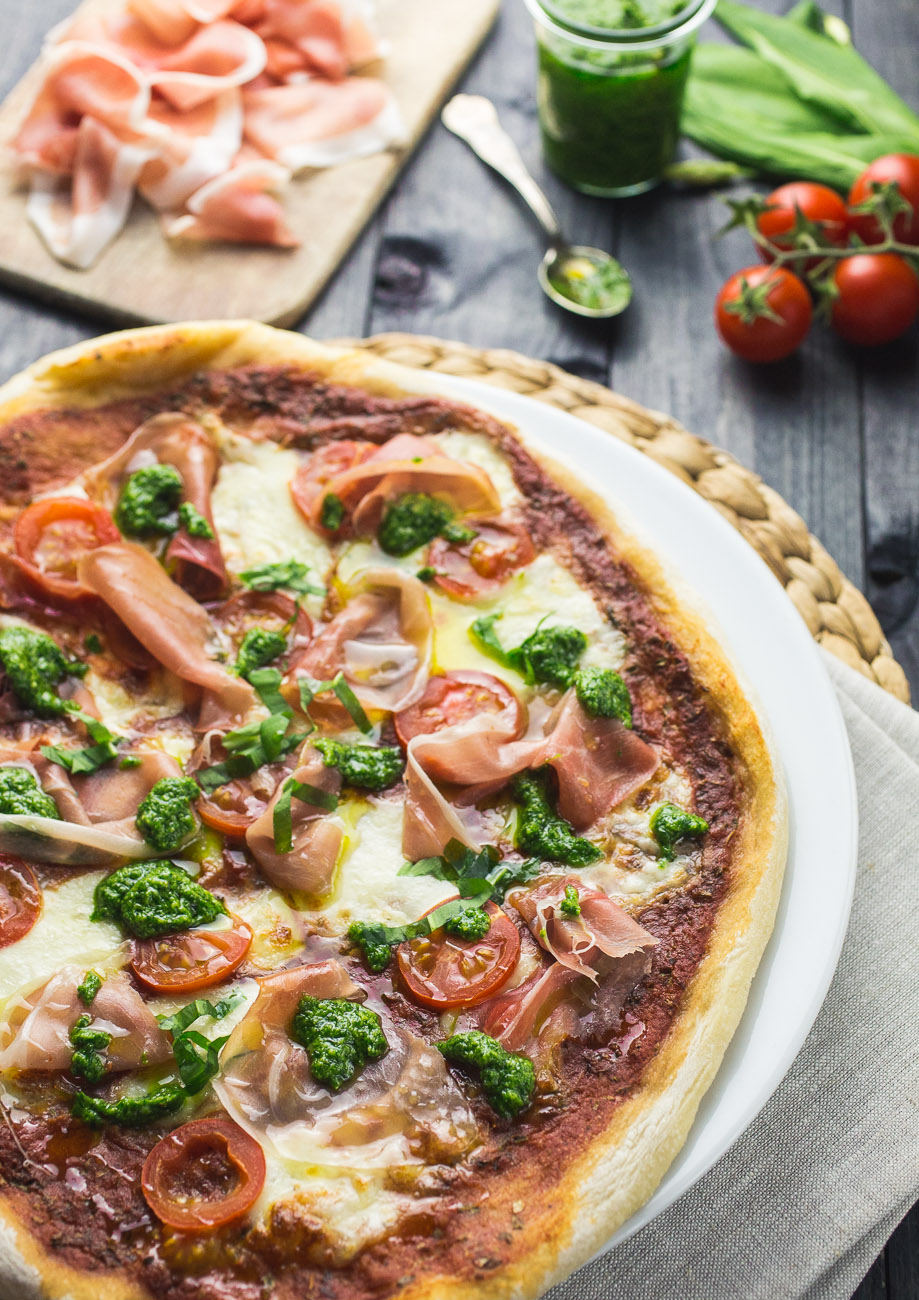 One of the best things about spring is the seasonal products, that start popping up this time of the year. The most prominent of them (at least here in Germany) are of course asparagus. I had my first batch just yesterday and have another recipe featuring those delicious greens in the pipeline for you, but for today the star of this dish is another spring green: wild garlic.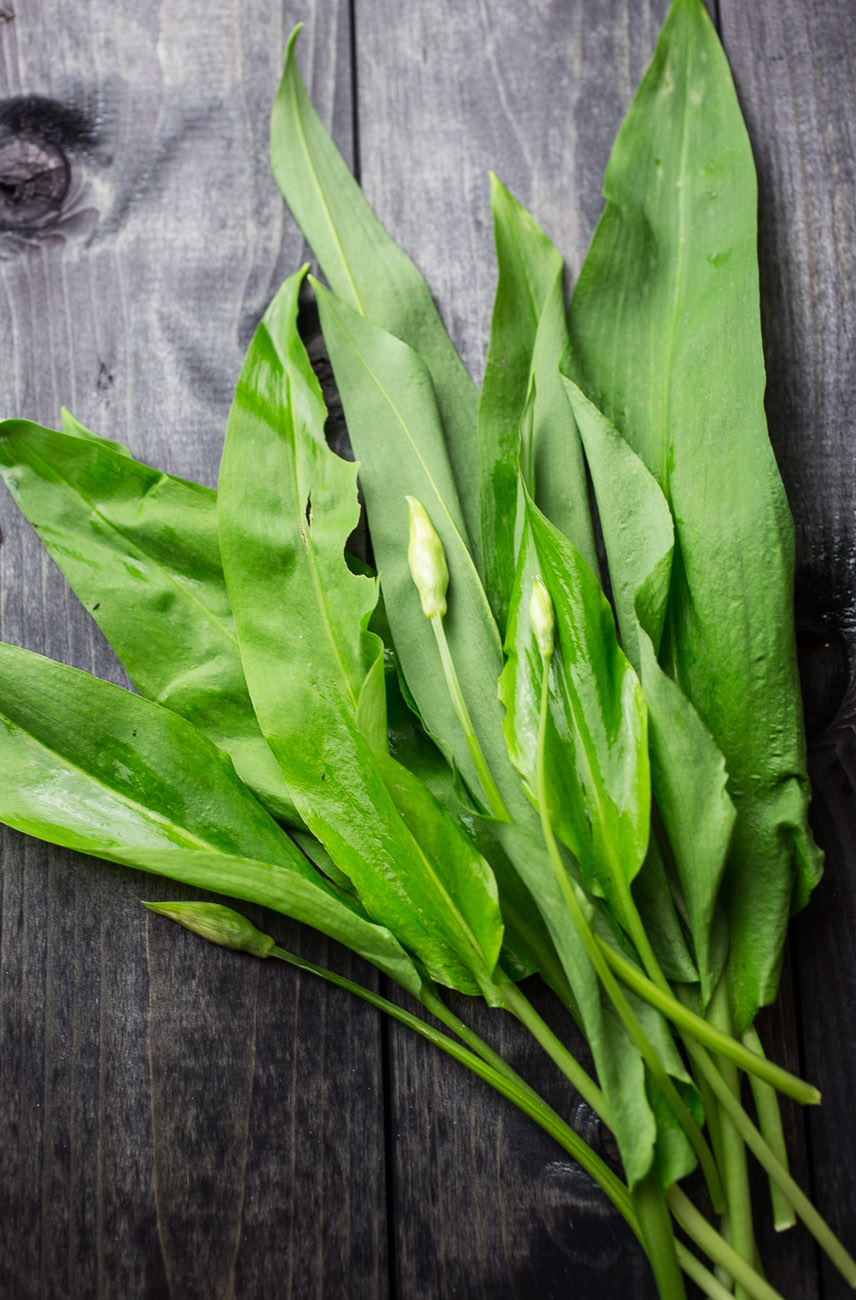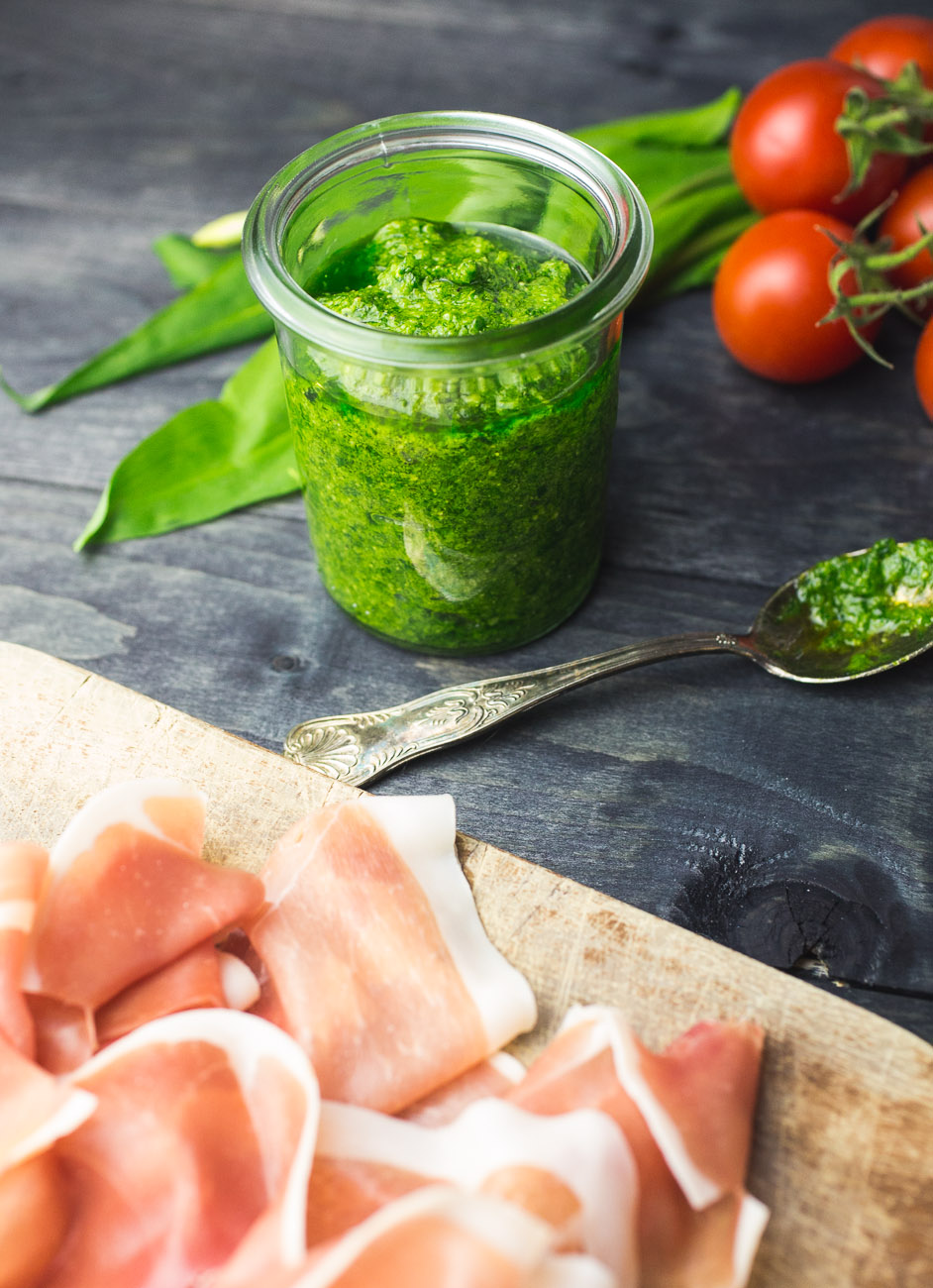 If you have been visiting my blog frequently, you probably know that I'm a huuuuge pesto fan and wild garlic makes a delicious variation. Of course you could always serve this pesto with pasta, but I also love to eat it in nice dollops over pizza. Usually I like my pizza very cheesy. Meaning I can skip every other topping for 2-3 kinds of cheese. But sometimes I enjoy a fresher variation, like this one here, that only uses some mozzarella. Its light flavour brings out the great taste of the pesto and the prosciutto. Give it a try!
The pesto leftovers from this recipe can be stored in the fridge for up to two weeks and make for a delicious quick weeknight pasta dish.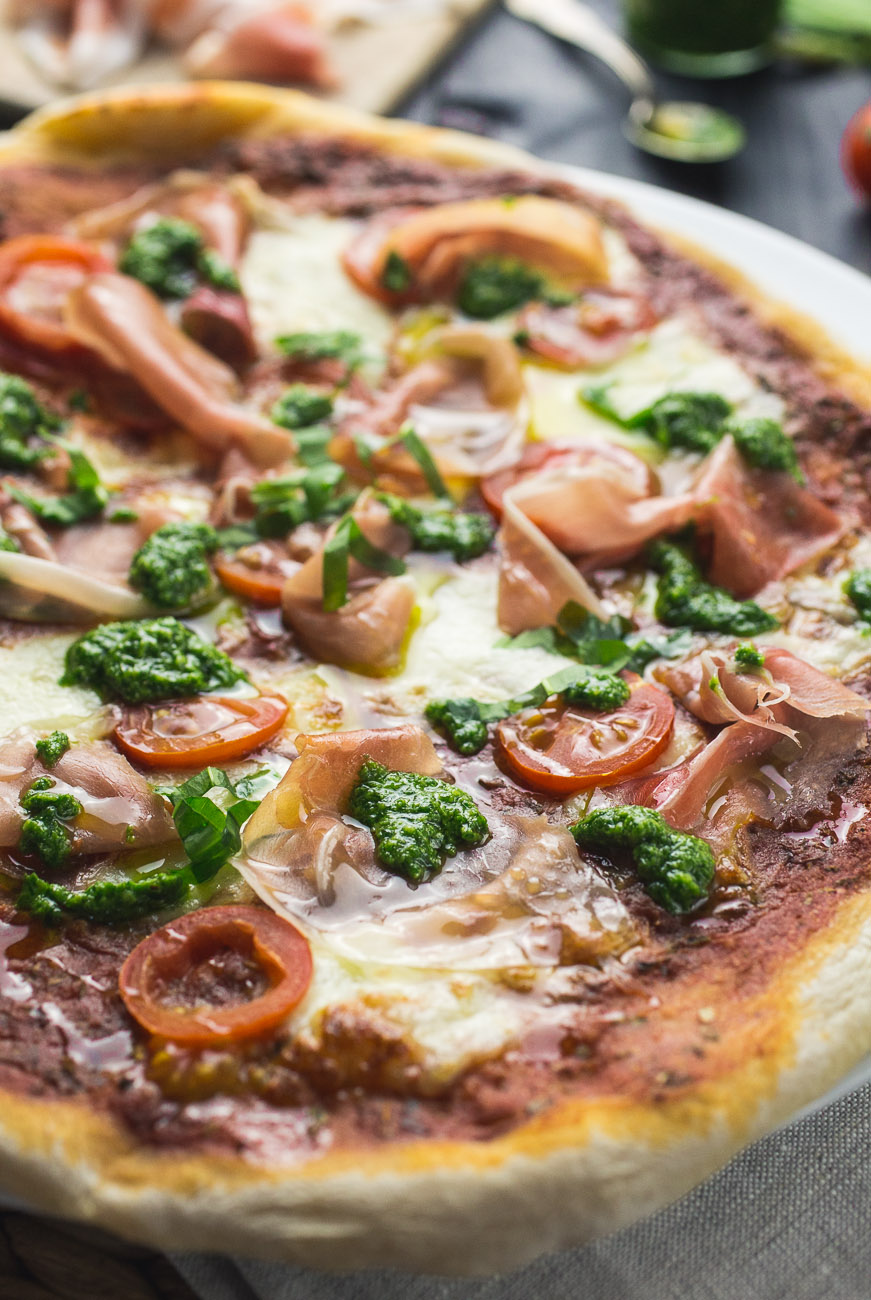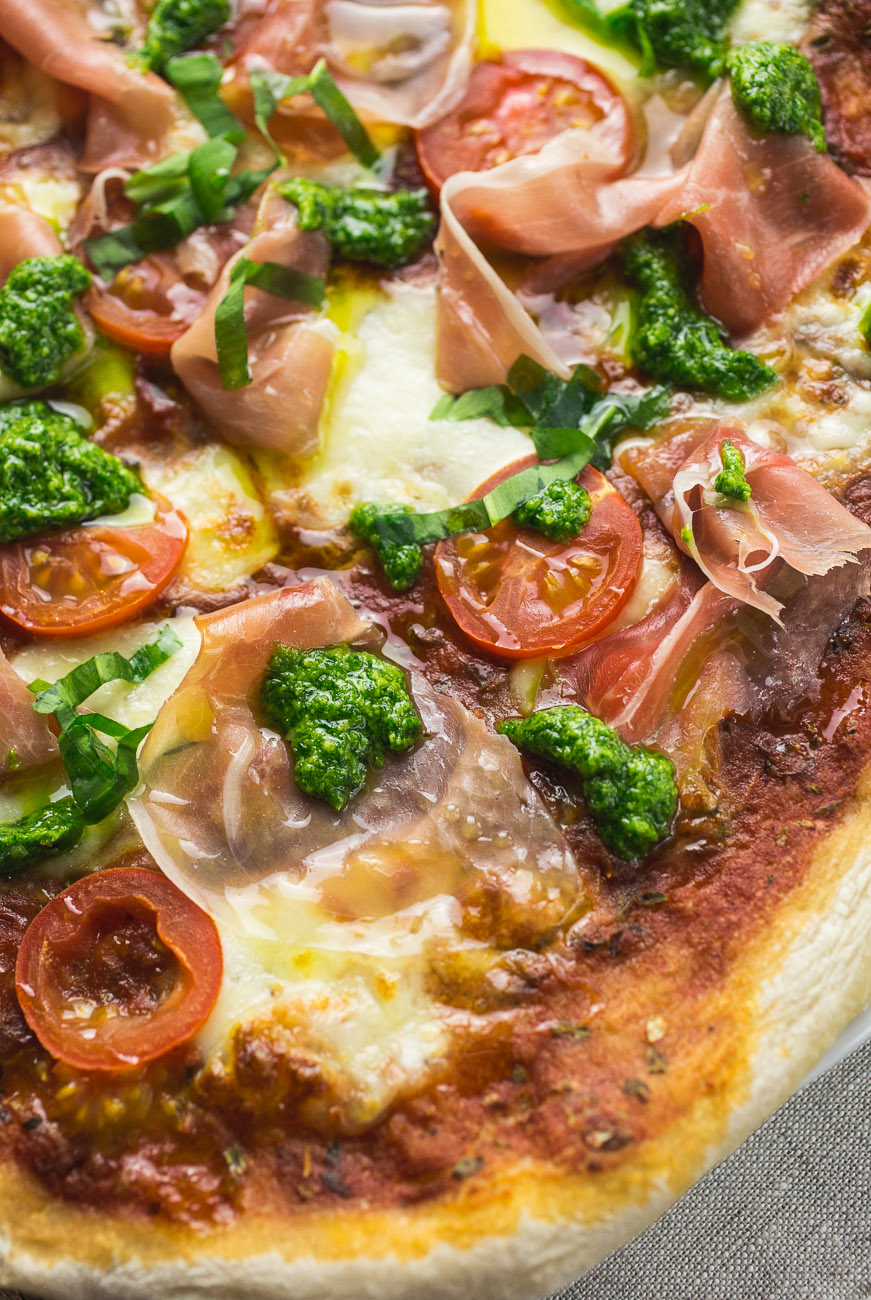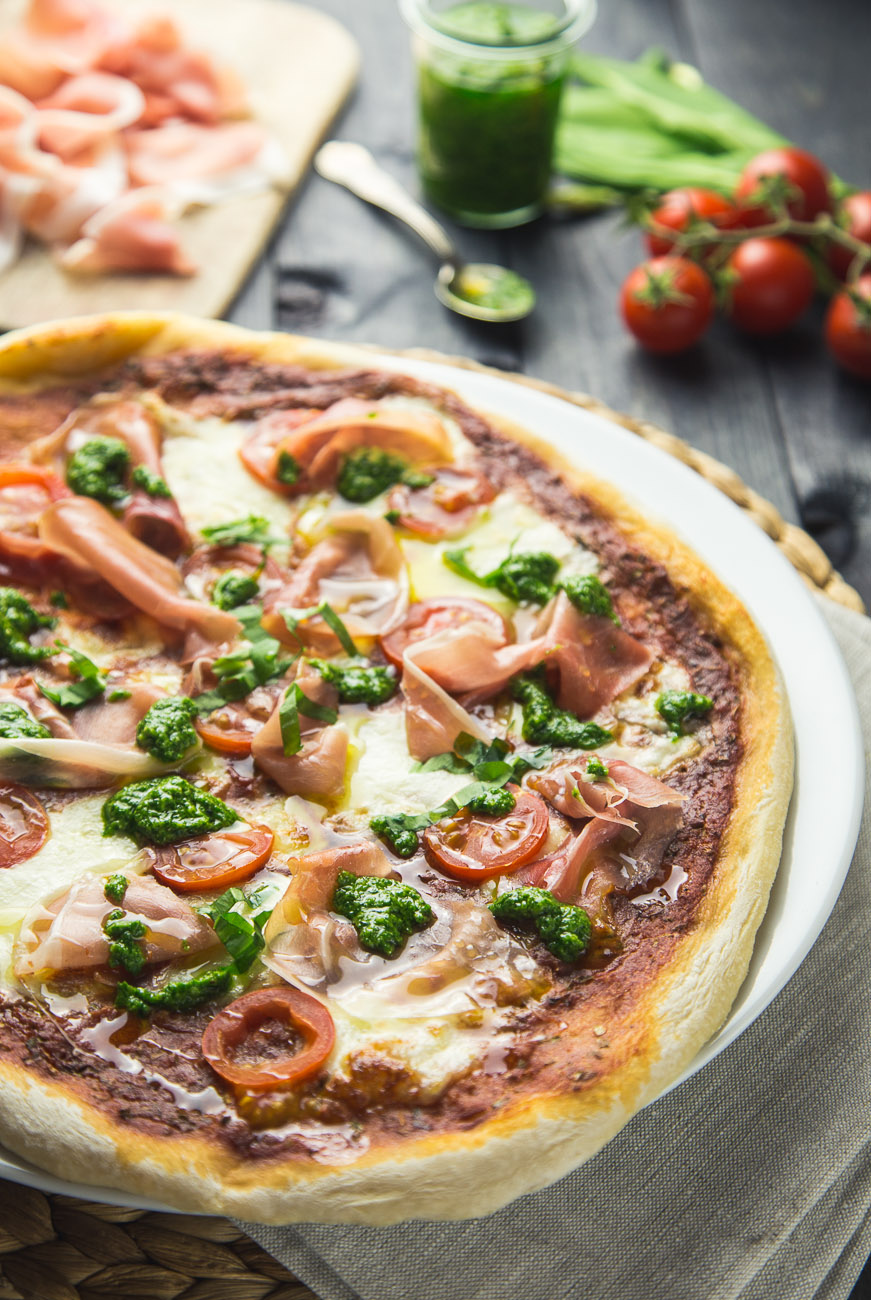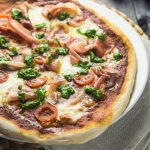 Wild garlic pesto pizza with prosciutto
A fresh pizza variation with wild garlic pesto and prosciutto
Ingredients
FOR THE DOUGH
2 1/2

cups

of flour

1

tsp

instant yeast

3/4

cups

warm water

1

tbsp

olive oil

1

tsp

salt
FOR THE PESTO
100

g

wild garlic

1

tbsp

pine nuts

2

cloves

garlic

2

tbsp

parmesan cheese

grated

salt and pepper

olive oil
FOR THE PIZZA
6

cherry tomatoes

250

g

fresh mozzarella

2

cups

tomato passata

1

tsp

salt

½

tsp

pepper

2

tsp

oregano

6

slices

prosciutto
Instructions
First prepare the dough. In a large bowl combine all the ingredients and knead them for at least 20 minutes by hand or around 10 minutes in your stand mixer, until you have a smooth elastic dough. Flour a bowl generously, place the dough in it, cover it with a cloth and let it rise for at least 1 ½ hours. If you're in a hurry, let the dough rise in a warm place (like next to the radiator). But if you have time, you can let the dough rise for up to 8 hours at 18-20° or even overnight in the fridge. The longer it will rise, the better the taste will be.

For the pesto roast the pine nuts in a non stick pan without fat, until they are fragrant and slightly brown. Place the washed wild garlic, the pine nuts, garlic and parmesan in your food processor. Add a generous splash of olive oil and mix everything. Keep adding olive oil until you have a smooth paste. Add salt and pepper to taste. Set aside.

Preheat your oven to 250° C / 482 ° F

For the pizza carefully take the dough out of the bowl. Gently fold it a few times and divide it into two equal portions. On a floured surface roll each into 3-4mm thin circles and place them onto oil baking sheets or onto oiled pizza pan. Let it sit covered for 20 min to fluff up a bit.

Mix the passata with the salt, pepper and oregano. Cover each pizza with a thing layer of tomato sauce.

Tear the mozzarella balls into generous pieces and divide them onto the pizzas.

Slice the cherry tomatoes and add them as well.

Bake your pizzas on the middle rack for roughly 10 minutes (depending on your oven) or until the crust is golden brown and crispy and the cheese is melted.

Take the pizzas out, tear the prosciutto slices into chunks and add them to the pizza. Finish everything by adding small dollops of wild garlic pesto. Serve immediately!