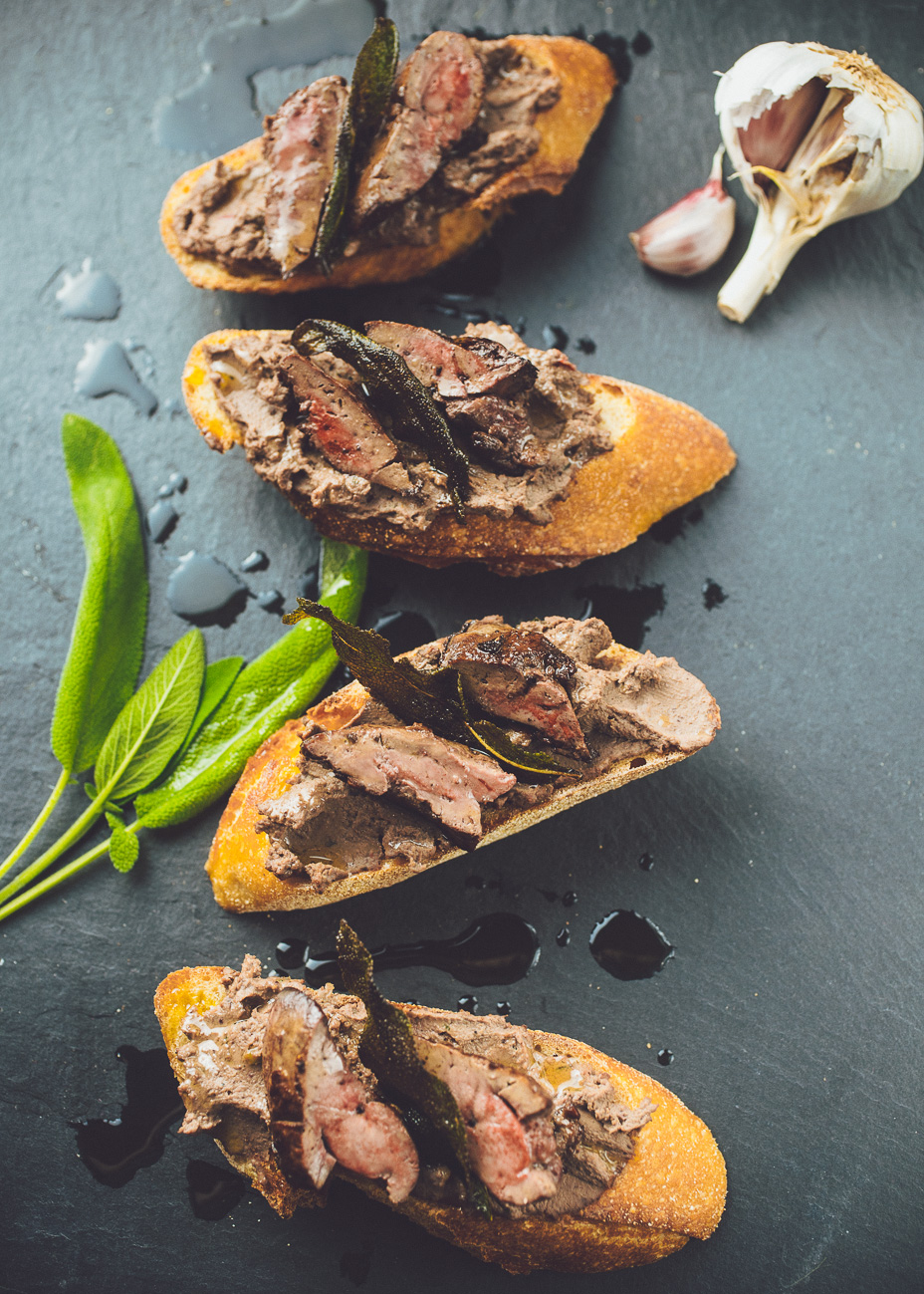 For a while now I had this series of recipes in my head for tostas (crostinis, bruschettas, whatever you want to call them… see box on the right). While Alex and I where vacationing in the north of Spain two years in a row, we came accross all kinds of tostas with various toppings. They are a big part of the tapas menus in Spain and come in all kinds of varieties: From seefood to charcuterie. Meat and veggies. Cold or warm. They are as diverse as they are delicious. I'm starting this recipe series with Chicken Liver Pâté Tostas. Crispy breadslices are topped with a creamy, super easy pâté, juicy chicken liver and crispy fried sage.
If chicken liver is not your thing (if you've been following my blog, you might know that I love it), fear not, there will be more tosta recipes to come!
Tostas you say?
If you're thinking "Those look like crostinis and/or bruschettas to me!" you're not mistaken. Tostas are the spanish version of those italian topped bread slices and often served as part of a tapas menu.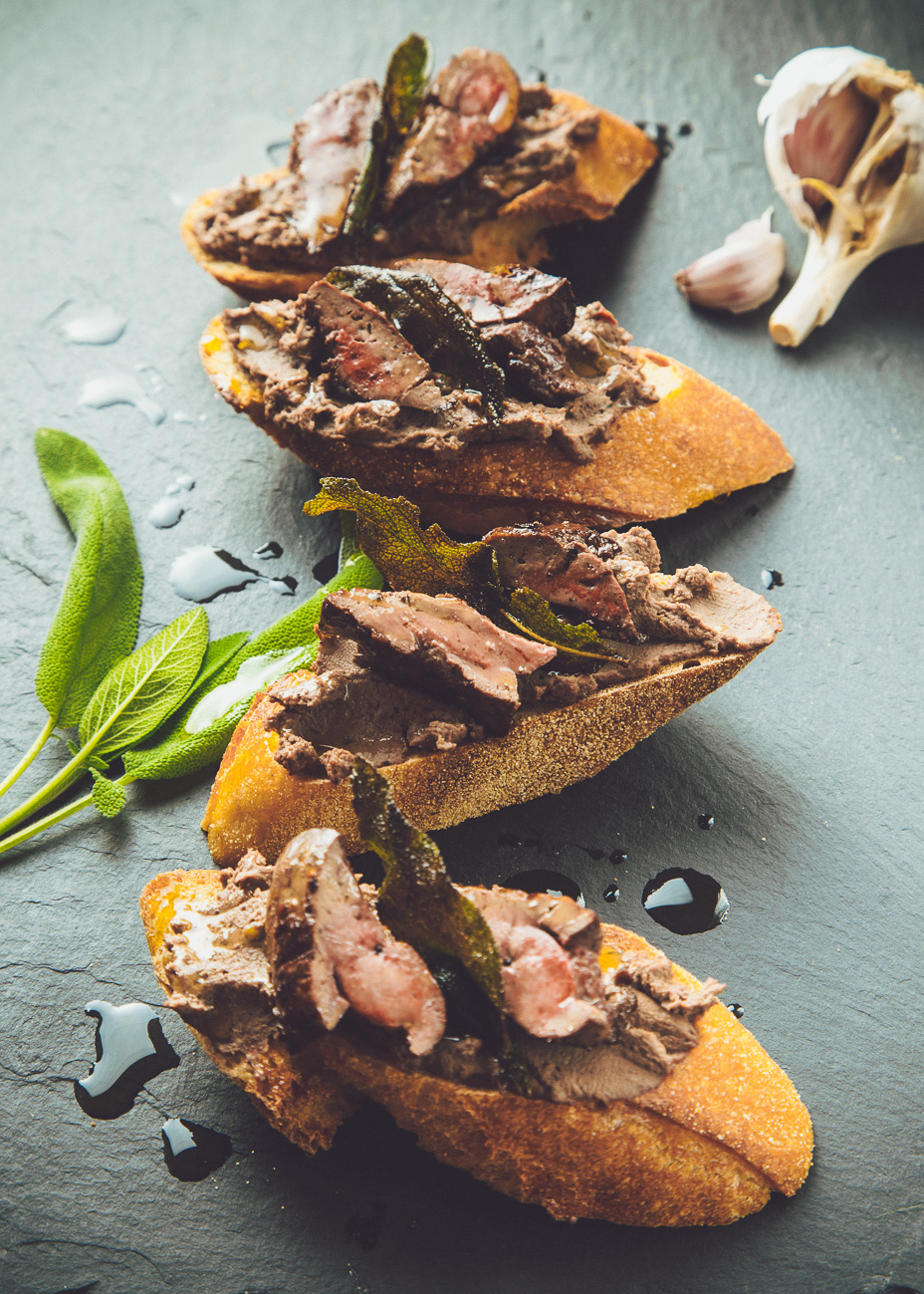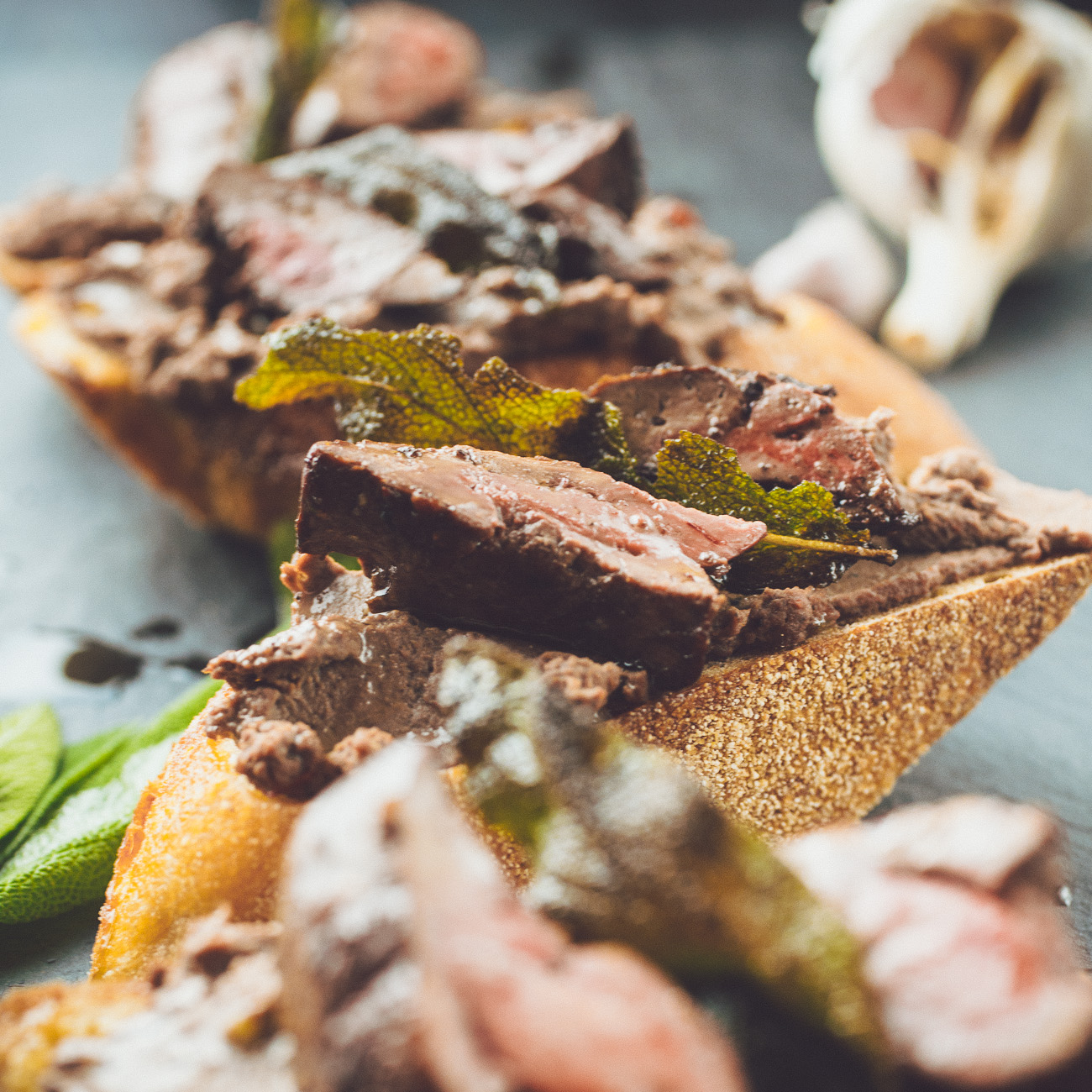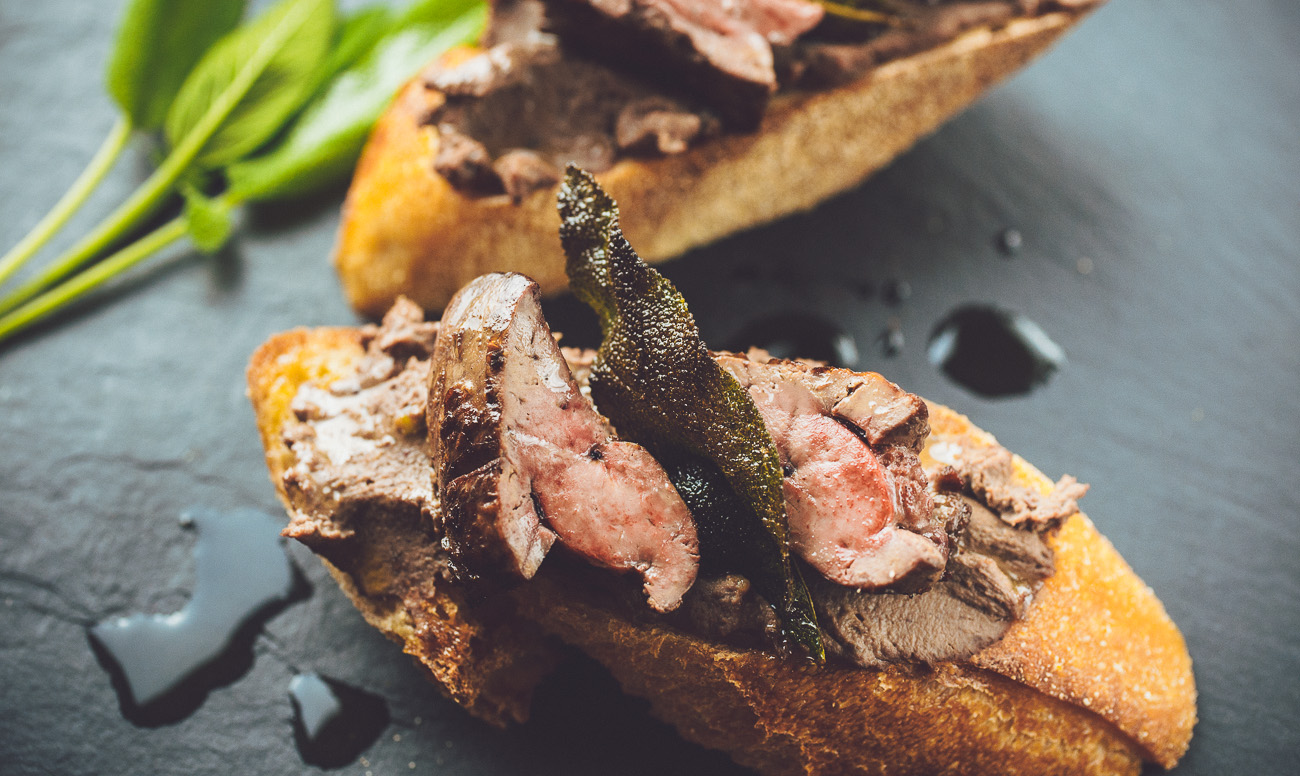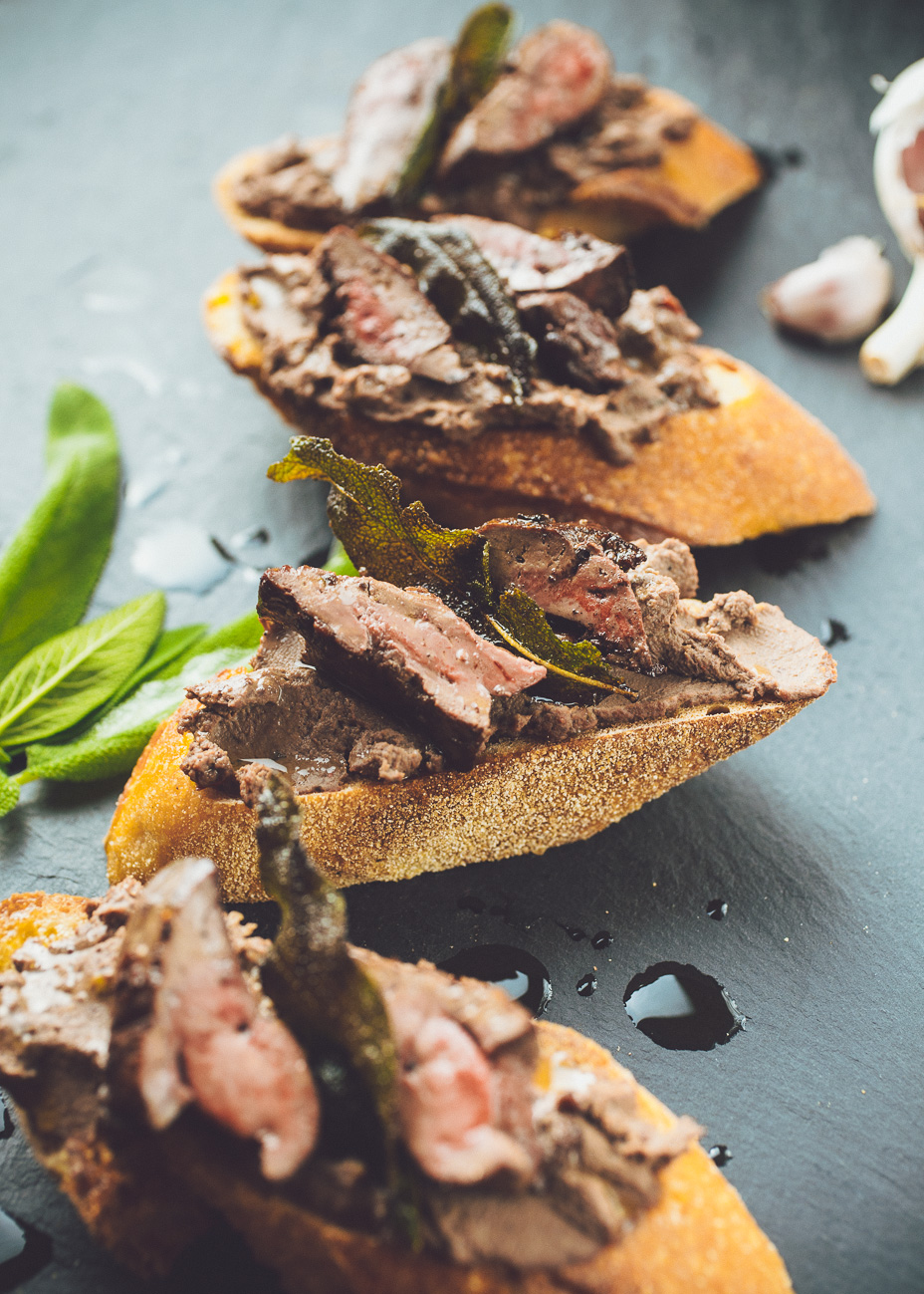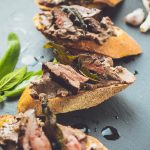 Chicken Liver Pâté Tostas
Crispy baguette topped with creamy chicken liver pâté, juicy fried liver and crispy sage.
Ingredients
10

slices

baguette

250

g

chicken liver

divided

2

onions

small, finely sliced

2

cloves

garlic

14

sage leaves

1/4

cup

brandy

2

tbsp

butter

divided

salt

pepper

olive oil
Instructions
For the pâté
Heat a tablespoon of olive in a small pan over medium heat.

Add the sliced onions and the garlic cloves and cook for 5-8 minutes until everything is golden brown and soft.

Take out of the pan and into a small mixing bowl.

Set aside around 70g of the chicken livers for the topping. Add the remaining liver with 4 sage leaves to the pan and fry for 2-4 minutes.

Add the brandy and cook the liver for 2-3 minutes more. Don't overcook the liver. Take it out while it's still pink inside. I always like to cut one open to check.

Empty the pan into the mixing bowl.

Add 1 tbsp butter and a good pinch of salt and pepper.

With a stick blender puree everything into a fine mousse and adjust the seasoning to taste. Set aside.
For the topping
Cook the remaining liver until it's just pink inside. Season with salt and pepper and set aside.

Heat the remaining butter in the pan and fry the remaining sage leaves until they are crispy.
Assemble the tostas
Toast your bread slices. If you have a large amount, you can do it under your broiler in the oven, while the pâté is cooking.

Spread a nice thick layer of pâté on the baguette slices and top each slice with a piece of chicken liver and fried sage. Serve immediately.
Notes
One very nice variation of this recipe is to skip the fried liver on top and add a nice dollop of gorgonzola cheese on the pâté and pop it under the broiler of your oven for a minute, so the cheese is slightly melted. Also very delicious!