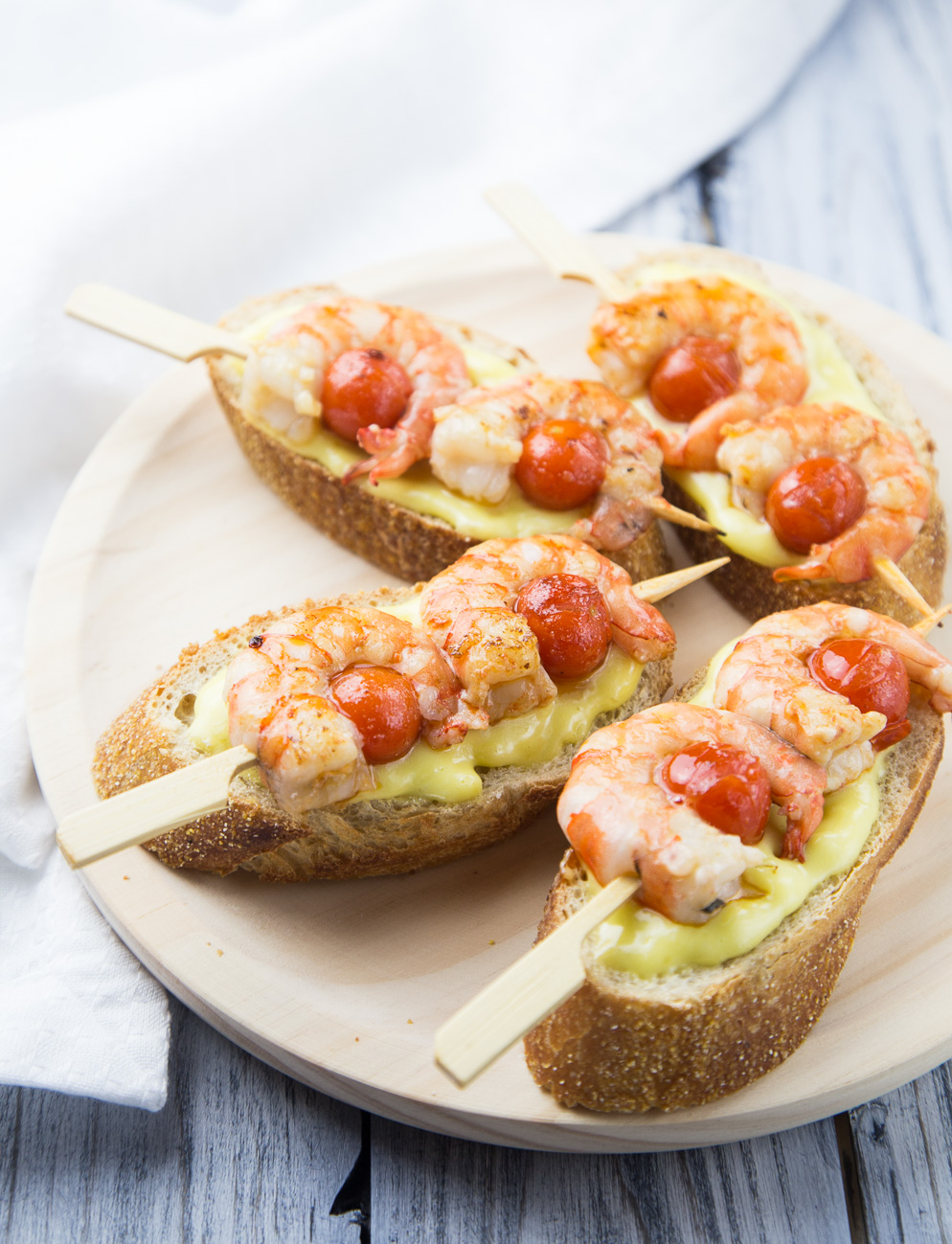 Welcome to the second part of my Tostas-Series. Last time I brought you the recipe for some lovely
chicken liver pâté toastas
well knowing that chicken liver is not everyone cup of tea. So this week I have a real crowd pleaser for you: Gambas and aioli tostas. Crispy toasted baguette, topped with lemon and garlic aioli and some lovely king prawns.
I have been serving grilled king prawns alongside garlic aioli for years, but it took a trip to Galicia to realize how perfect this combination would work on a tosta. In a small tapas joint in Santiago de Compostela I first had a tosta like that and I was amazed at how perfect it was in its simplicity. King prawns and garlic are always a great match and if you add the tartness of the tomatoes, you have a small slice of heaven on a piece of bread.
Tostas you say?
If you're thinking "Those look like crostinis and/or bruschettas to me!" you're not mistaken. Tostas are the spanish version of those italian topped bread slices and often served as part of a tapas menu.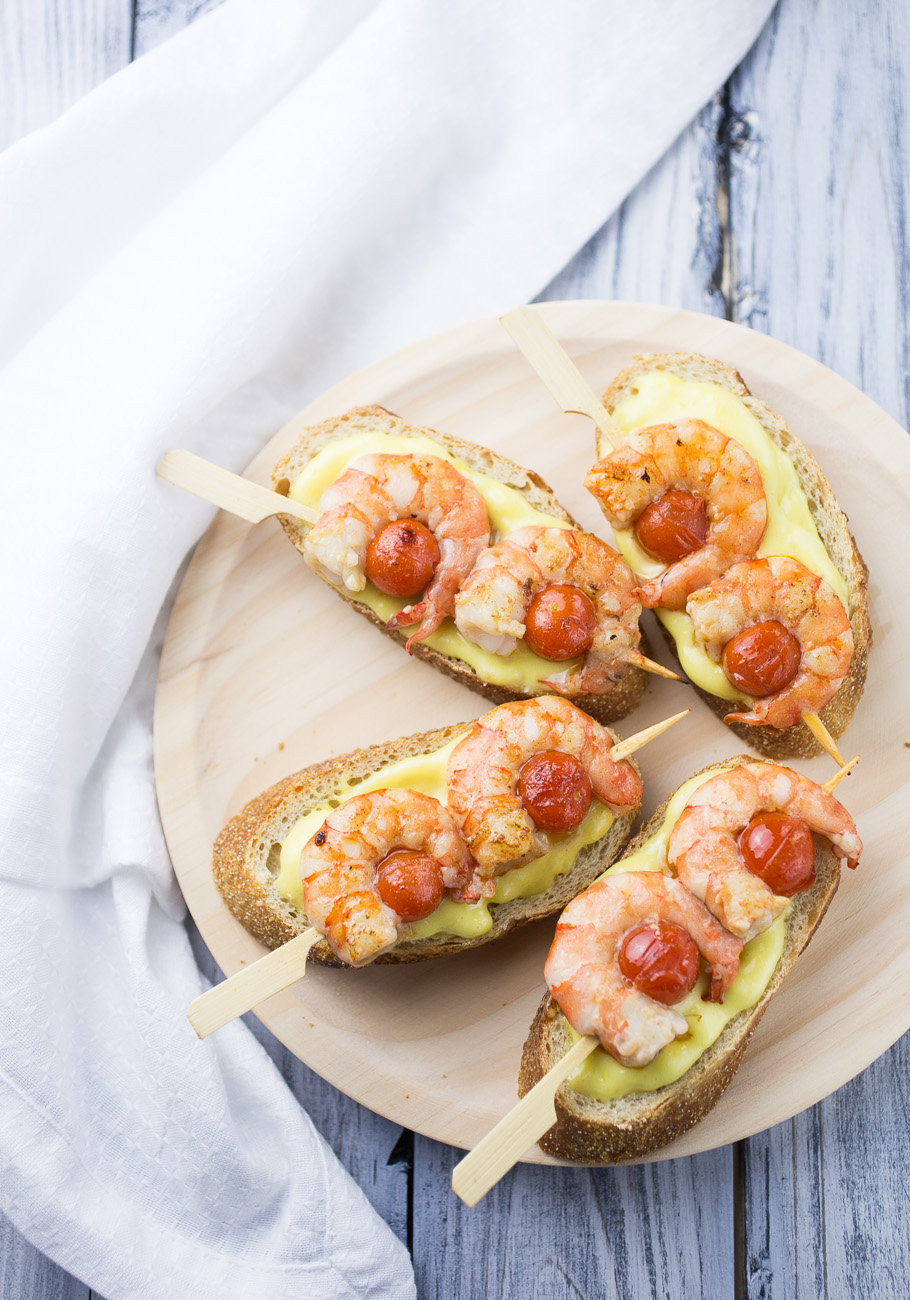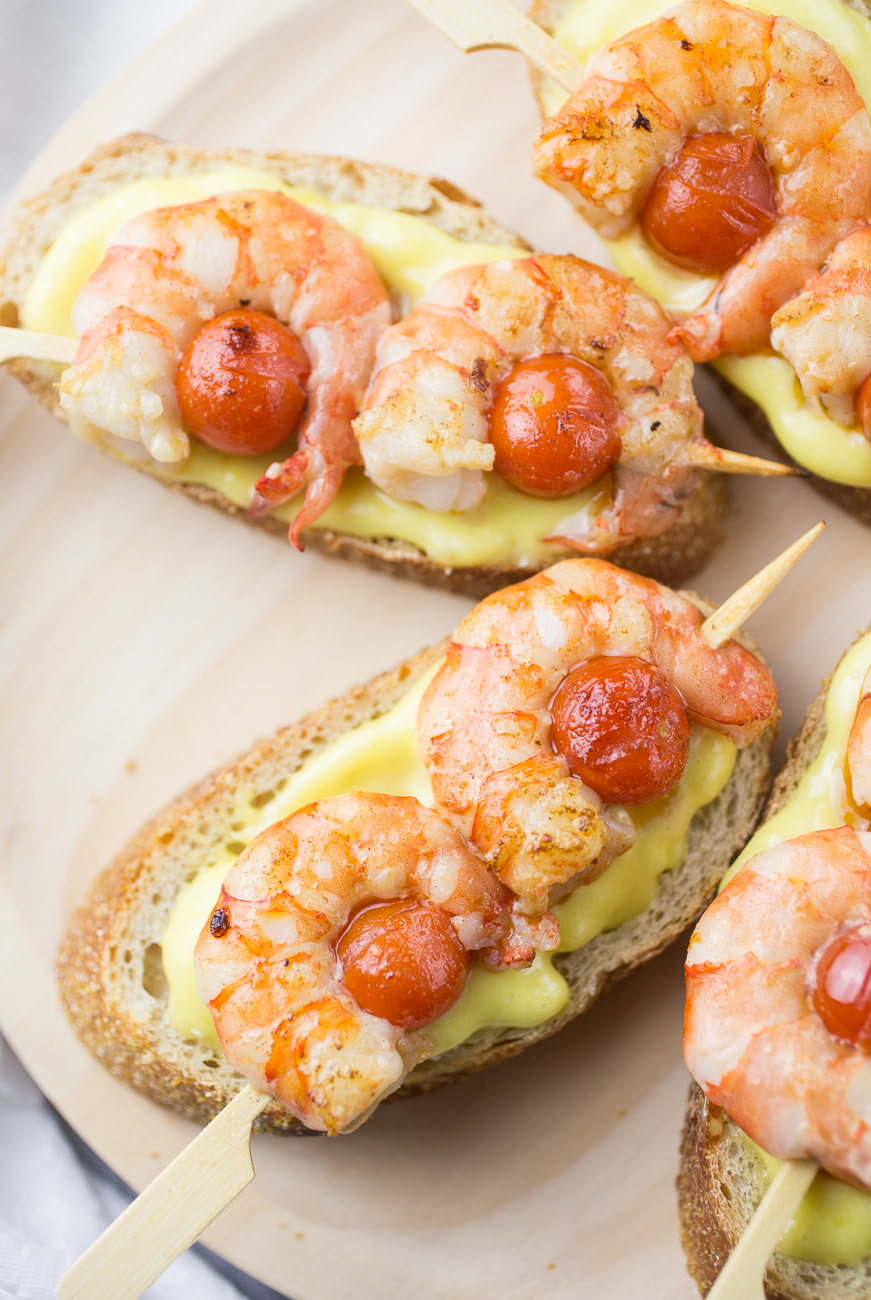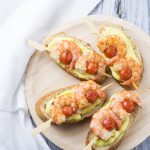 Gambas and aioli tostas
Crispy baguette slices with lemon garlic aioli, topped with king prawns and cherry tomatoes. A perfect addition to every spanish tapas spread.
Ingredients
For the aioli
1

egg yolk

1

clove

garlic

finely chopped

1

tbsp

lemon juice

olive oil

salt
For the tostas
8

slices

baguette

16

king prawns

peeled, deveined

16

cherry tomatoes

salt

olive oil
Instructions
First prepare the aioli. I always use an electric whisk but you could also use a stick blender or even whisk it by hand. You also get better results if you let the egg yolk come up to room temperature.

In a bowl whisk up the egg yolk and add a little bit of olive oil while you whisk. Make sure to add just little drops in the beginning. Keep adding oil until the mixture starts to thicken a bit.

Once it gets to that stage, you can add more olive oil in a thin stream while whisking.

When the mayonnaise has the desired consistency, add the garlic, lemon juices and season with salt. Set aside.

Gently toast the slices of baguettes. For large batches I like to do this in the oven under the broiler.

Heat a large pan on medium to high heat. Spike two king prawns and two cherry tomatoes on each wooden skewer and salt generously.

Add a splash of olive oil to the pan and fry the skewers on both sides until the prawns are just cooked through, around 2 minutes on each side.

Spread around 1 tsp of aioli on each bread slice and top with a skewer. Serve hot.