By now I'm feeling like I'm torturing my readers. I feel them all moaning: Pumpkin, again?! Everyone around me in the food blogosphere is already getting ready for Christmas, flooding blogs and social media with cookie and festive recipes and I'm just sitting here still cooking pumpkin dishes. But to be honest, I don't care. I did bake Christmas cookies last weekend with my Mum, like we do every year and they turned out the same like every year: Delicious but not very pretty. I told you many times, I am not a fancy baker, so I'll leave those recipes to those people who can do it very well. I'm doing what I can do well and this amazing pumpkin risotto definitely falls into that category.
I have to admit that risottos have found their way into my kitchen quite late. The reason for that is, that my parents don't like risottos (that's what they say, but I believe they never had a good one, to be honest), so we never had them at home. I only know dry rice dishes, like spanish paella, so this whole creamy, liquid affair was new to me. But I fell in love so so hard with risottos and especially this pumpkin risotto. It's the ultimate comfort food. It's hot, steaming, creamy, rich goodness, packed with herbs and flavour. What's not to love?
I still hear people saying nowadays: Oh, I don't cook risottos, they are too complicated! I find that baffling, because if you give that dish a little TLC, you get an amazing result with little effort. You have to stick to some ground rules (see the recipe), give it some attention and in 30-40 minutes you'll have a restaurant style risotto. And of course the possibilities are endless. Give it a try!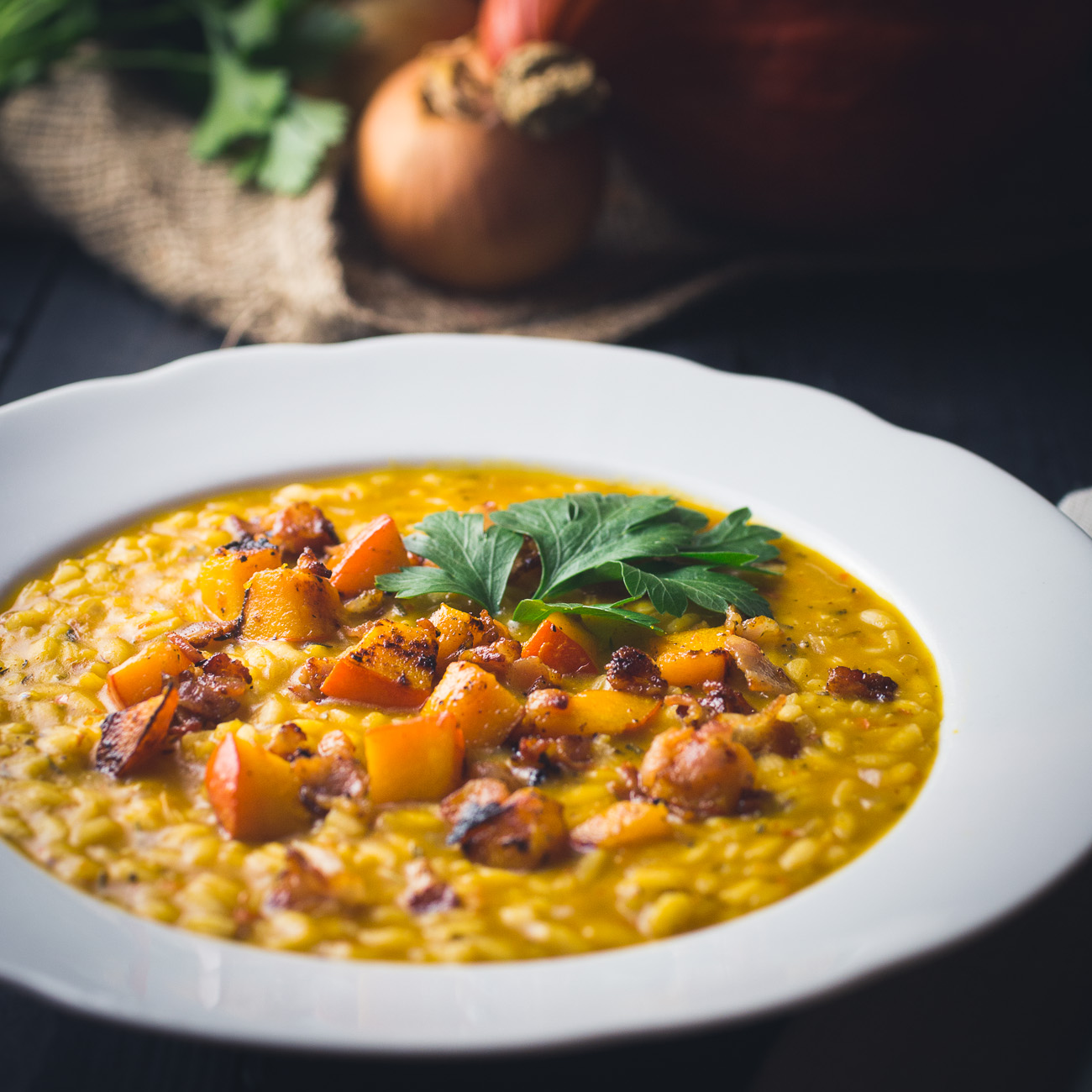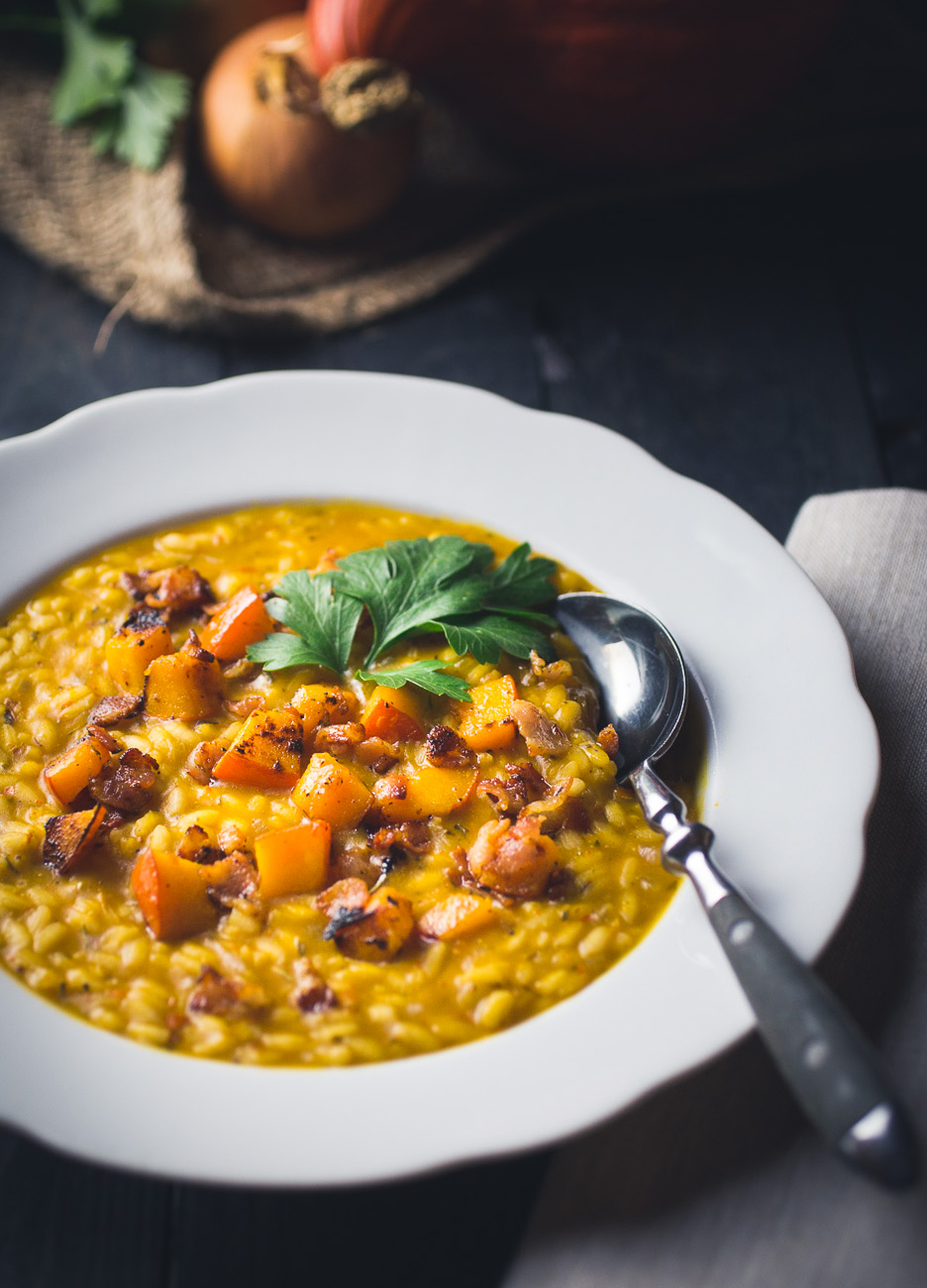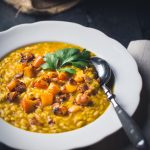 Pumpkin Risotto
A rich and creamy pumpkin risotto, packed with herbs and flavour.
Ingredients
200

g

fresh squash or pumpkin

diced

100

g

pancetta

finely diced

1

onion

finely chopped

1

cup

risotto rice

1

cup

white wine

4

cups

chicken stock

1

cup

pumpkin puree

1

tsp

rosemary

1

tsp

thyme

salt

pepper

½

cup

parmesan cheese

1

tbsp

butter

cold
Instructions
Heat a small pan over medium heat and add the pancetta and the diced, fresh pumpkin. Cook for 10-12 minutes until the pumpkin cubes are slightly brown and soft. Season with salt and pepper if necessary Set aside.

In a small sauce pan, bring the chicken stock to a simmer and turn down the heat to leave it hot during the entire cooking process.

Heat a splash of olive oil in a big pot over medium high heat, add the onions and slowly cook them, stirring occasionally, until they are soft and translucent. 5-8 minutes.

Add the risotto rice and toast the rice for 4-5 minutes until it smells fragrant and nutty.

Now add the white wine, reduce the heat and start stirring.

You don't have to stir constantly, but it's important to stay close to the pot and give it a stir every 30-60 seconds to release the starch in the rice, that gives the risotto its creamy texture. You do not want the rice to stick to the bottom of the pot, so watch the heat. The goal is too keep the risotto liquid during the cooking process. My rule of thumb is: If you see the bottom of the pot during stirring, you need to add more liquid. So whenever you feel the rice gets too dry, add another ladle full of chicken stock.

After two portions of chicken stock, add the pumpkin puree, the thyme and rosemary and season it carefully with salt and pepper. Be careful, because the chicken stock brings salt to party already.

Keep adding liquid to the risotto until the rice is cooked, but not too soft. Risotto is not supposed to be super soft.

Make sure you add enough liquid in the end, so your risotto is still flowing when you plate it. Risotto is never supposed to stand up in heap, but rather melt onto the plate.

Take the rice off the heat, stir in half the pumpkin/pancetta mix,

Finally stir in the butter and the parmesan, adjust the seasoning if necessary and serve immediately. Sprinkle each plated risotto with the leftover pumpkin/bacon mix.
Notes
Depending on your rice, you may not need the entire 4 cups of chicken stock. If you need more liquid in the end and you ran out of stock, you could always add a bit of water.
If you have some leftover roasted pumpkin or squash, like from this recipe, you could easily make your puree from that. Just be carefull with the herbs in the recipe, since the roasted pumpkin is already seasoned. But the flavour of home roasted pumpkin turned into puree is definitely superior to anything canned.