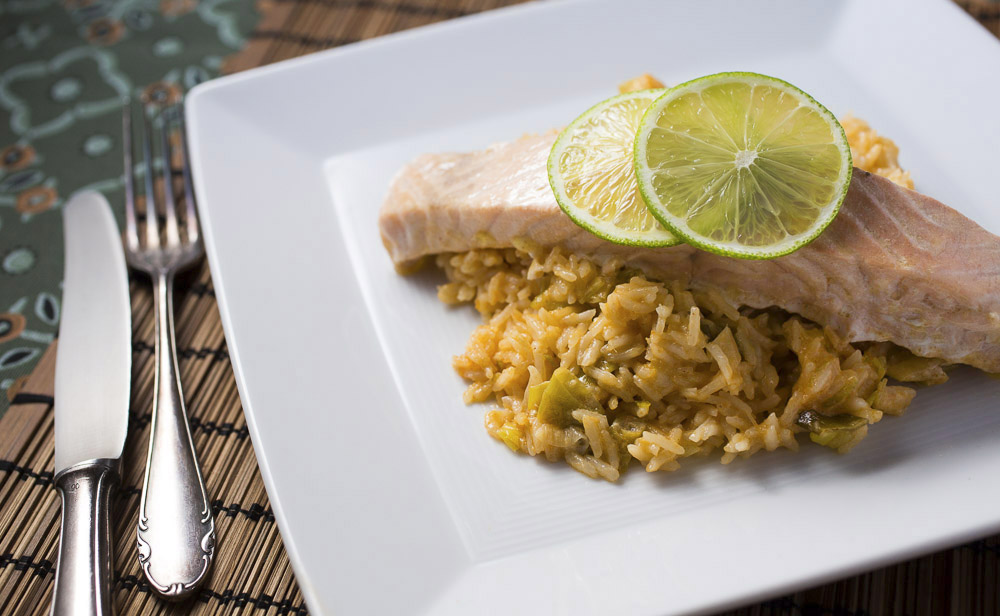 There are some flavour combinations in life that are just meant to be. Apples and cinnamon. Strawberries and cream. Lemon and fish. Pancakes and maple sirup. Steaks and green pepper. Beer and chips. Coffee and cigarettes. Bacon and bacon. But I digress…
This dish represents one of those magic flavour combinations. I'm talking about garlic, ginger and lime. Loving thai and indian food I always had a thing for huge amounts of garlic and ginger in sauces, but I never knew about the lime part.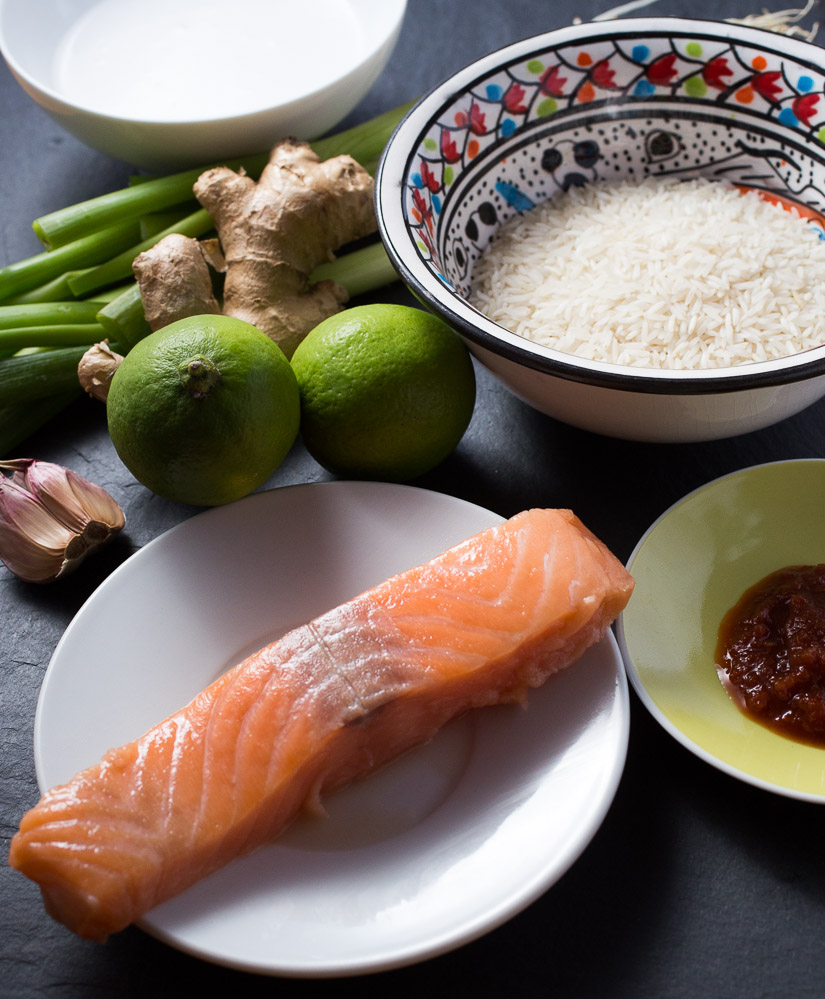 One evening a couple of month ago I was in the mood for salmon and since I inhaled a huge plate of tagliatelle with gorgonzola sauce the evening bevor I went for the healthier option and used rice instead of potatoes to go with it. I had the idea for an asian paella-style rice with a nice piece of steamed salmon on top. I fried up some spring onions, added the ginger and the garlic… and then I saw I was out of lemons. Fortunately my boyfriend Alex is cocktail drinker, so I found some limes in the back of my fridge. I added the zest and some juice to the pan… the smell, I tell you! I knew I had a winner. The rice, spiced up with some red thai curry and cooked in coconut milk, is so aromatic and fresh, needless to say I was really pleased with myself.
Since then this has become one of my favourite week-night dinners, because it's so easy and quick to prepare.
A few thoughts on the salmon. Salmon filet can get quite dry when you fry it in the pan, so my favourite method of preparing it is steaming. The results are amazing. The fish is tender, moist and just falls apart on your plate. Perfection.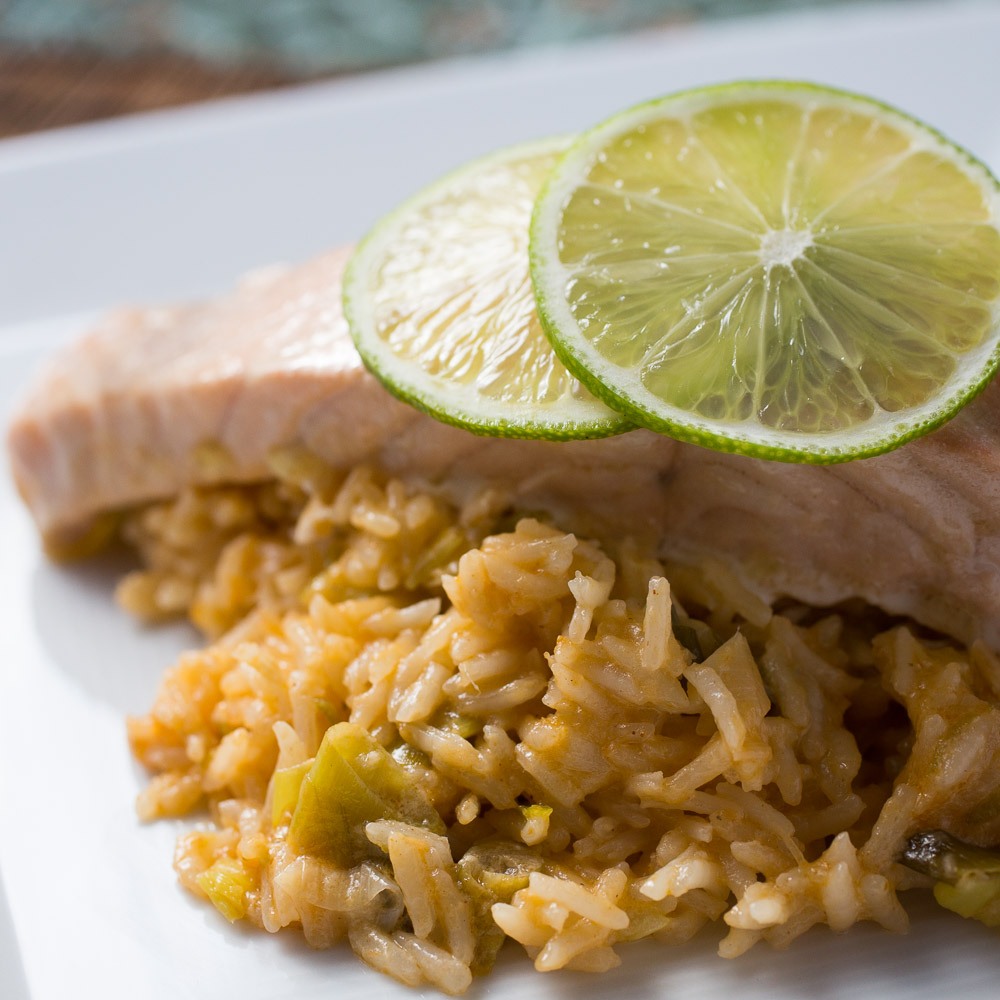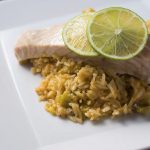 Coconut-lime rice with steamed salmon
Aromatic thai-inspired rice with tender, juicy salmon
Ingredients
6

spring onions

sliced

2

cloves

of garlic

minced

1

tbsp

of fresh ginger minced

1

tbsp

thai red curry paste

1

lime

zest and juice

1

tsp

salt

1

cup

of basmati rice

1

cup

of coconut milk

1

cup

of water

2

salmon filets
Instructions
In a shallow non-stick frying pan heat up 1 tabelspoon of peanut oil (or any other kind for frying you have at home). Add the spring onions and stir over medium to high heat for 1-2 minutes.

Add the garlic, ginger, lemon zest and the curry paste. Stir for another minute.

Next add the rice and the salt and stir everything until the rice is coated with the sauce and turns slightly translucent.

Add 1 cup of coconut milk, 1 cup of water and the lime juice to the pan and stir for the last time until everything is properly mixed. Turn down the heat to low and let the rice simmer for about 8-10 minutes. Don't stir the rice anymore, that way it'll nice and stay fluffy.

After 8-10 minutes most of the liquid should be absorbed by the rice. Now lightly salt the salmon and place it on top of the rice. Put a lid on the pan and leave it be for another 6-8 min, depending on the thickness of your salmon filet. It should be just done and still juicy in the middle.
Notes
Cooking rice this way is always a bit tricky and depends a lot on experience. The liquid has to be absorbed and the rice should be done roughly at the same time. This depends on your brand of rice, on your pan and your stove, so experience is key. The times I gave you are a rough guide.