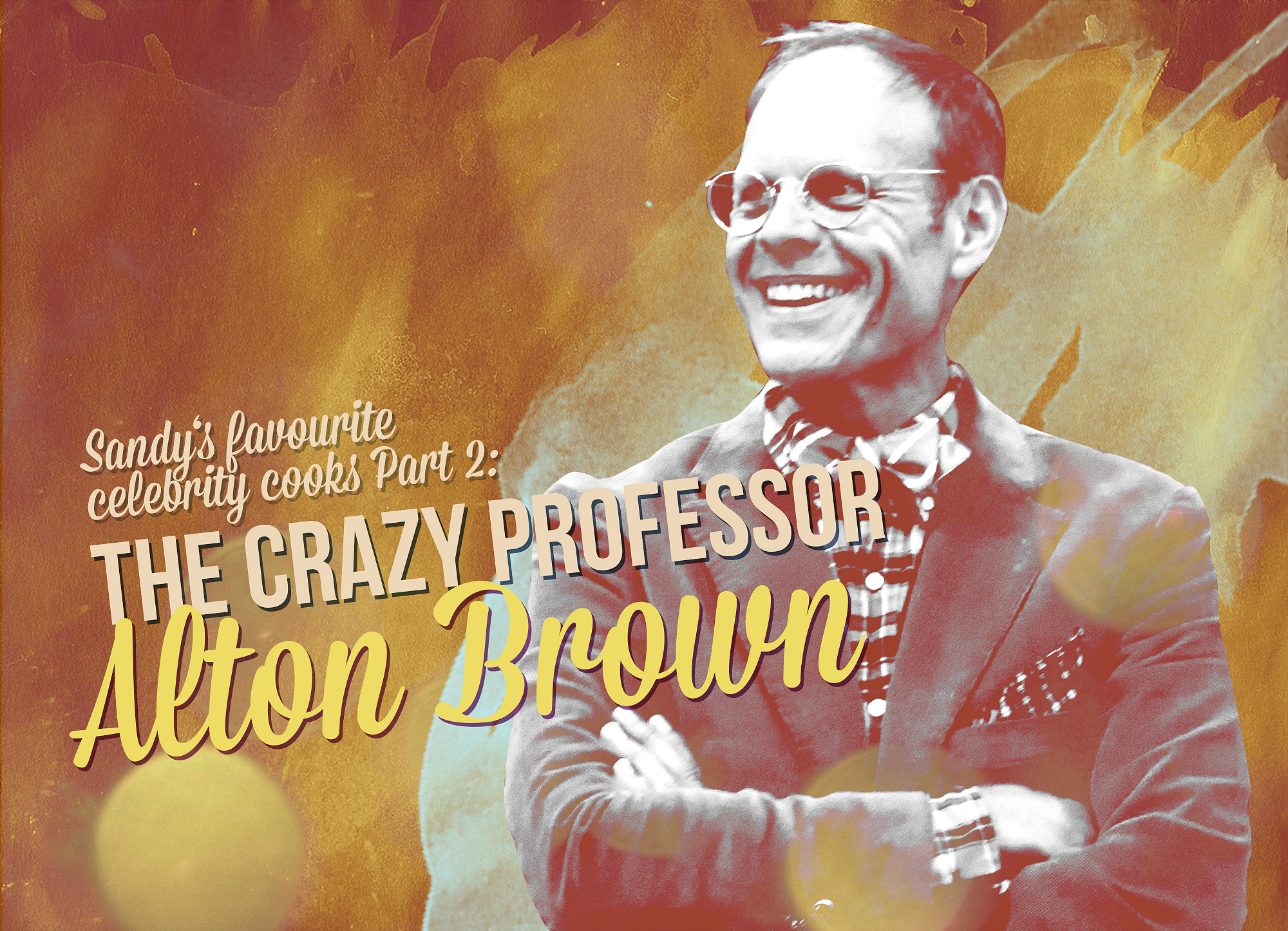 I do feel kinda special for even knowing Alton Brown, because in Germany no one ever heard of him. His shows aren't on tv here and so for many many years I had no clue who was cooking and explaining away on american telly. Needless to say my very first Good Eats episode had me hooked.

First contact
Alton Brown was a recommendation. A dear online friend of mine, a real southern boy, recommended his show to me well knowing that I will love it. He was right, of course.
The Pros
Good Eats wasn't like anything else I have ever seen on tv. No boring, bland, old-fashioned tv cook, preparing some unpronouncable dish with ingredients I never even heard of. And no Jamie Oliver-style food porn shots. Alton Brown is a mixture of professional cook and crazy professor. Cooking is a lot of chemistry after all and Alton Brown will explain every bit to you. After watching all those seasons of Good Eats I learned about the chemistry behind baking, different cuts of meat and fish, how certain ingredients are being harvested and made, how yeast works, to never ever overmix pancake batter and so so many things more. And he does it in such an easy, loveable and unpretentious way. Much like Bob Ross and his horrible, yet soothing paintings, Alton Brown created a TV-happy-place for me.
The Cons
Not much really. The only thing that sometimes "bothers" me, is that I have little to no urge to try most of his recipes myself. Some of the things he does are just plain weird to me. One episode he made a fruit salad and he used mayonnaise. I starred at my telly in disbelief. I think store bought regular mayonnaise is the work of the devil anyway, but putting it on some lovely, sweet fruit. Nooo, just no….
Also… Alton Brown isn't really in the food-porn-business. So even the recipes that would be up my ally are presented in such a "matter of fact"-way that they don't leave me drooling. But that's alright, really. He has other qualities and will give you some solid knowledge you can use to create your own food porn dishes.
Conclusion
Even though his dishes are no food porn, he is an amazing entertainer and the knowledge you'll get watching his show as a cooking novice will be with you for the years to come.