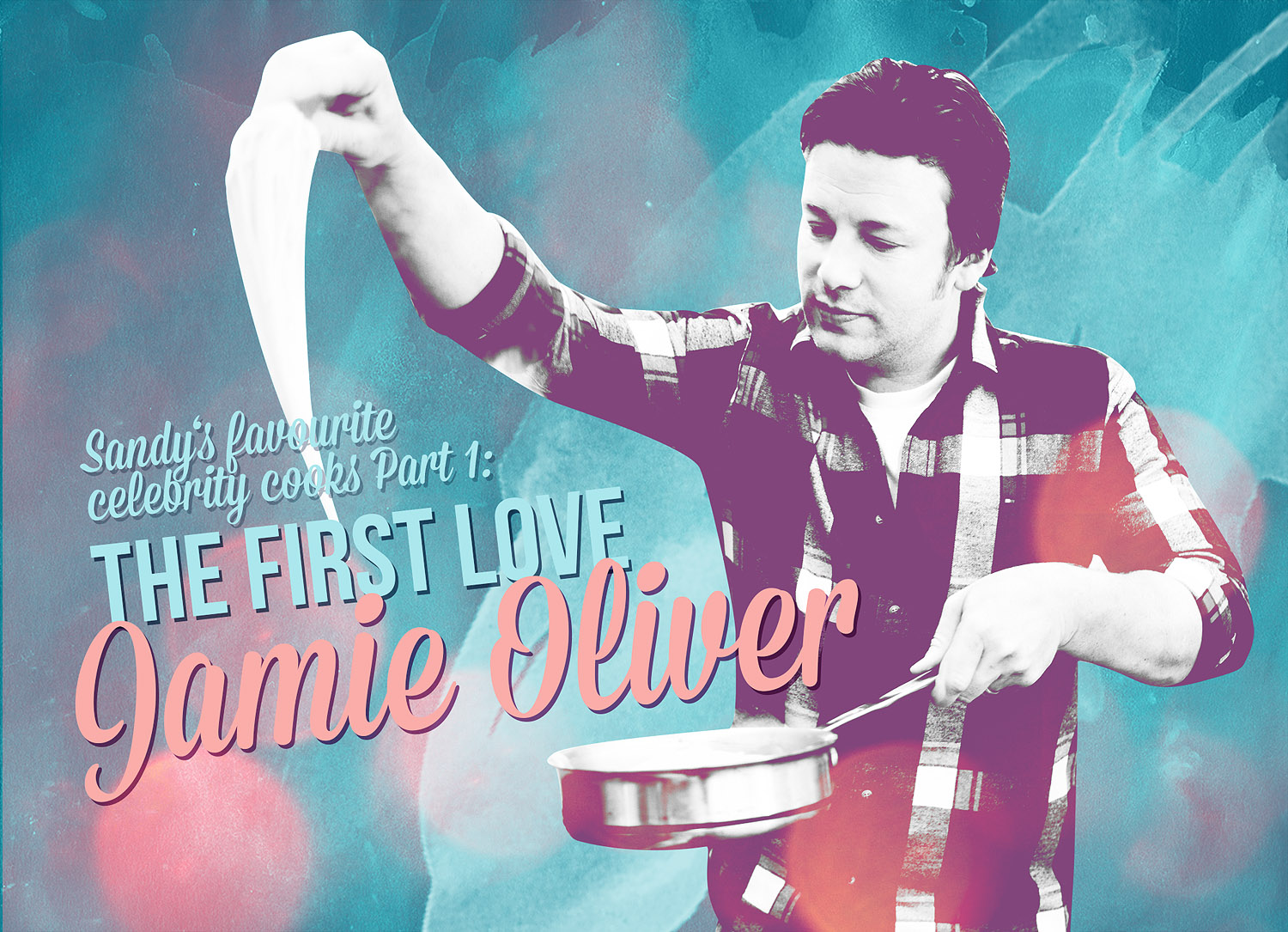 It's such an obvious choice, isn't it? And a choice that won't come as a surprise for anyone who knows me. Jamie is a fabulous cook, a smart business man, he is kinda cute and he has a british accent. The later makes me forget everything else to be honest. I always had a thing for the Brits and Jamie is right on top of my swoon-list.
First contact and further fangirling over the years
I first noticed Jamie Oliver and his cooking on tv obviously. I was around 18 years old I guess and Jamie had his first cooking show "The Naked Chef" on here in Germany. It wasn't love at first sight, but at second. Everything he did was so easy, so effortless and looked so delicious. German tv cooks I've seen before would spend hours over hours preparing some kind of weird looking dish that contained about a dozen unknown and expensive ingredients and would require techniques I had no idea of. Jamie made it look easy and young and fresh. He made me want to cook. And this is an effect he has on me till this day. I am still follwing all his cooking shows and after each and everyone I just want to run into the kitchen and just cook. Thanks for that, Jamie.
The Pros
I freaking love his cookbooks. Not only are they beautiful photographed and designed, the recipes are almost all winners and keepers. Whenever I have the kitchen blues I always come back to Jamie's books and just browse them for inspiration. No matter if it's italian, asian or indian cuisine… it's just a joy to read. And of course he made british food sexy again. British food, especially in London, is way better than its reputation. Nothing like a great Steak & Ale pie after a long day in the city.
He values high quality ingredients and took this concept to the business world. By now he has countless restaurants all over the world and I was lucky enough to have visited some of them in London. Bottom line is: The food is amazing! If you ever have the chance, go give it a try!
The Cons
Sure he's a great business man, but lately his omnipresence has become a little tiring. One cooking show after another, a new book every year and then even convenience products in the supermarket shelf. Especially the last point doesn't sit well with me. Another thing that I find a bit concerning is how he's constantly putting his family in the spotlight. Sure his image of the family man is heartwarming, but I wonder if his kids have a say in this… appearing on his shows and social media accounts all the time. He should definitely dail that back a bit. He really doesn't need it to be successful.
Another thing I often frown upon are his 30min meals. The recipes are great but to be honest, most of them are not really doable. Sure he "proves" in his cooking show that they can be done in 30min, but only, if you prepare everything BEFORE the 30min start and obviously cleaning up the freaking kitchen mess afterwards doesn't count either. So no, Jamie, 30min is quite unrealistic.
Conclusion
Even though some things annoy me a bit when it comes to Jamie's public persona, I will still continue buying his beautiful books, trying out his great recipes and always be thankful for the inspiration he's giving me.