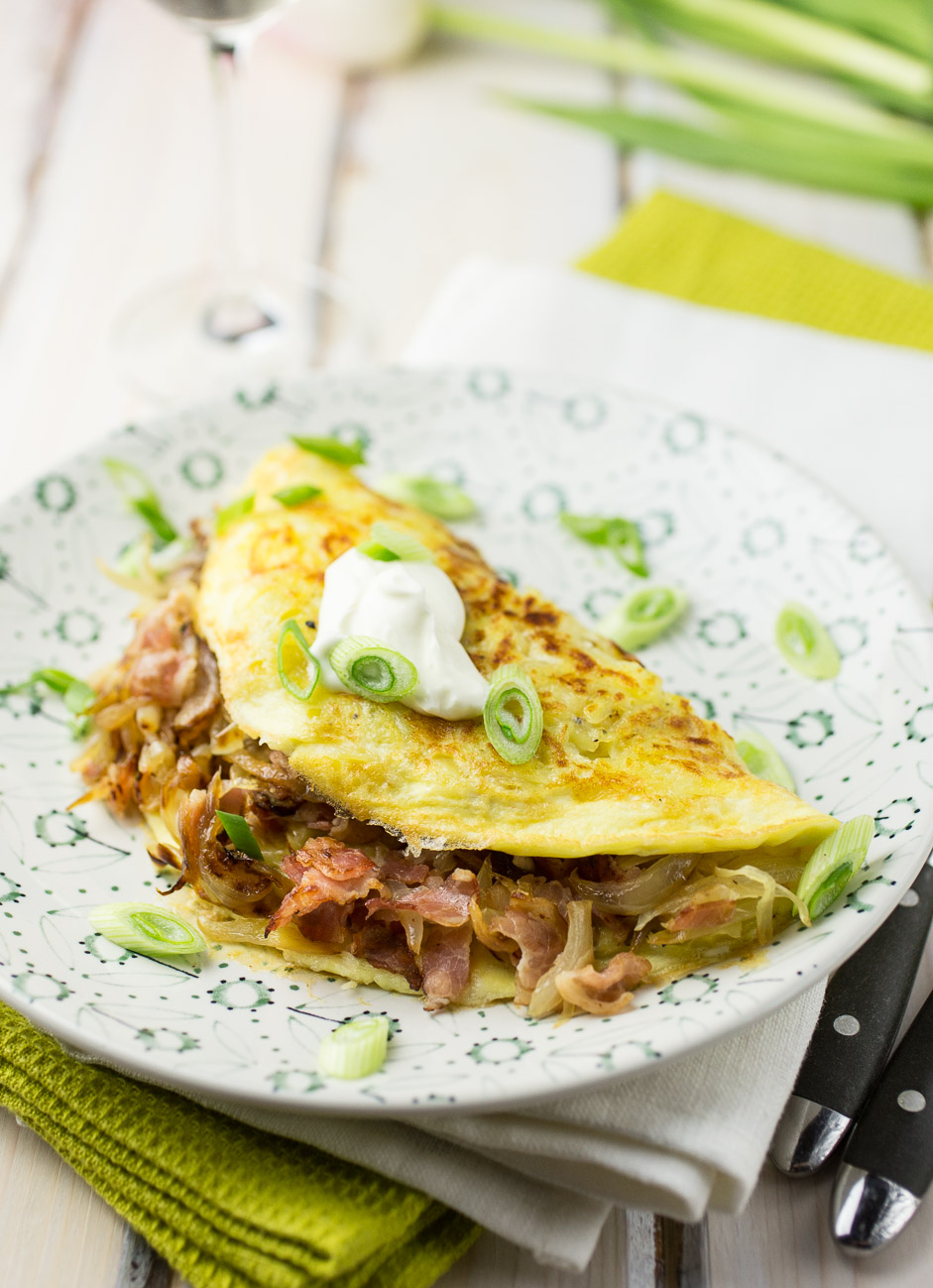 What the hell is an Alpine Omelette? You might ask yourself. Well, Potato omelette filled with cheese, bacon and onions is just a real mouthful, don't you think? So I called this my alpine omelette. If you have ever been in the alpine region, be it in France, Switzerland or Austria, the food ia always this amazing mixture of really hearty dishes and ingredients. Not kind to your figure, but so soooo delicious. So this dish features a lot of ingredients common in alpine cuisine. The omelette itself is a kind of Rösti, a swiss/german potato pancake. It's stuffed with bacon, sweet onions and, of course, gruyere cheese. The cheese being the one ingredient I associate the most with French Alps cuisine. When Alex and I where in the Savoie region in France we went crazy over the melted cheese dishes and had fondues and tartiflettes as often as we could.
So there you have it, the alpine omelette, stuffed with everything that's good and hearty.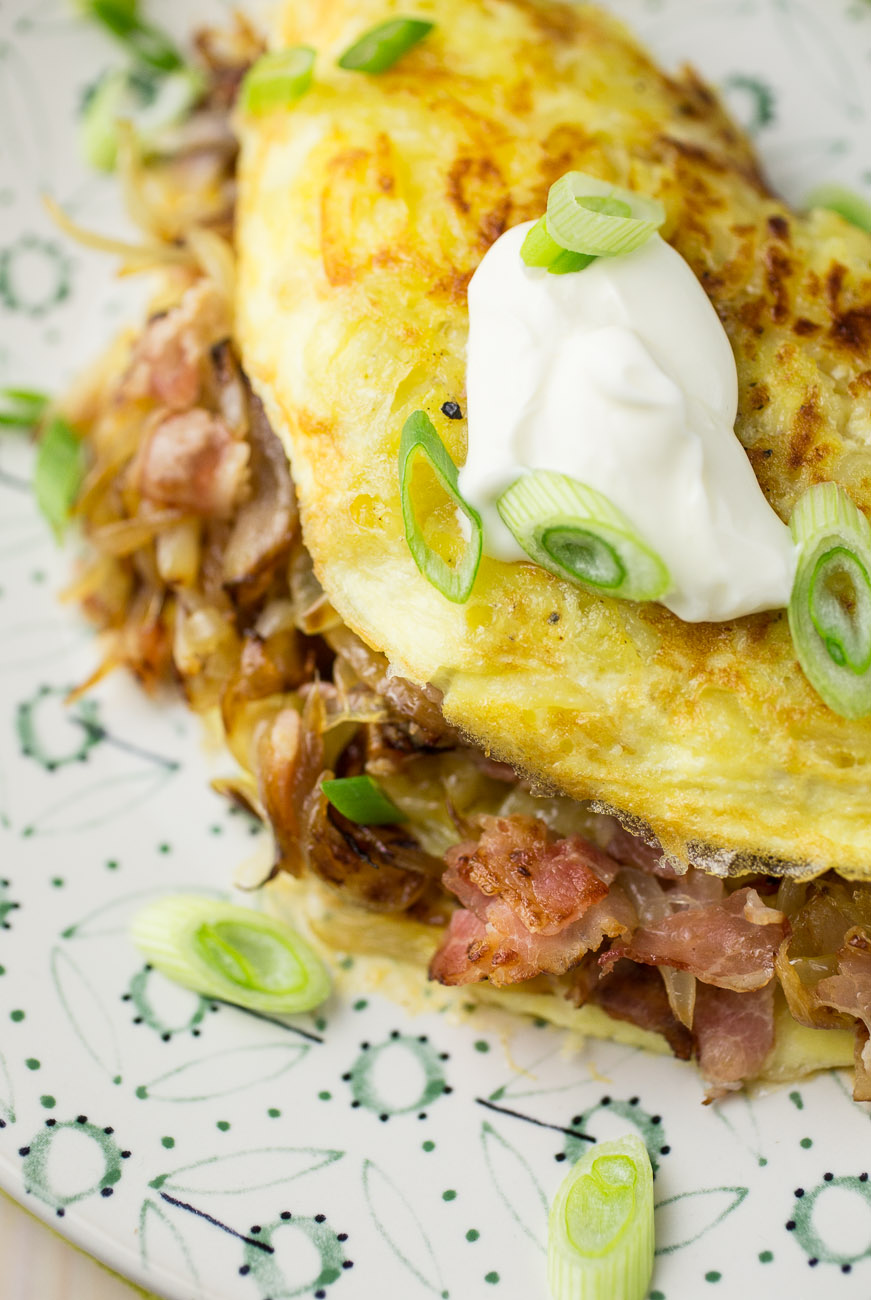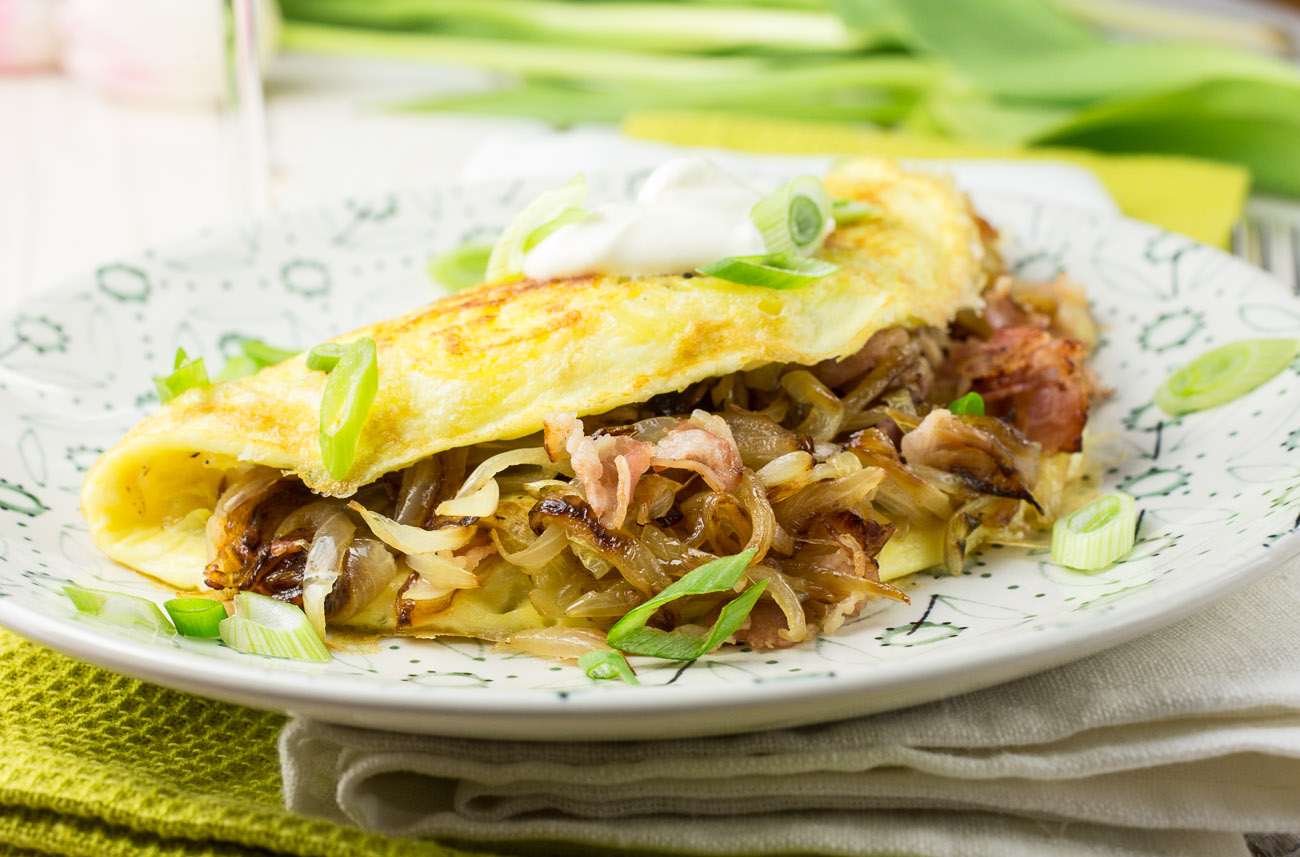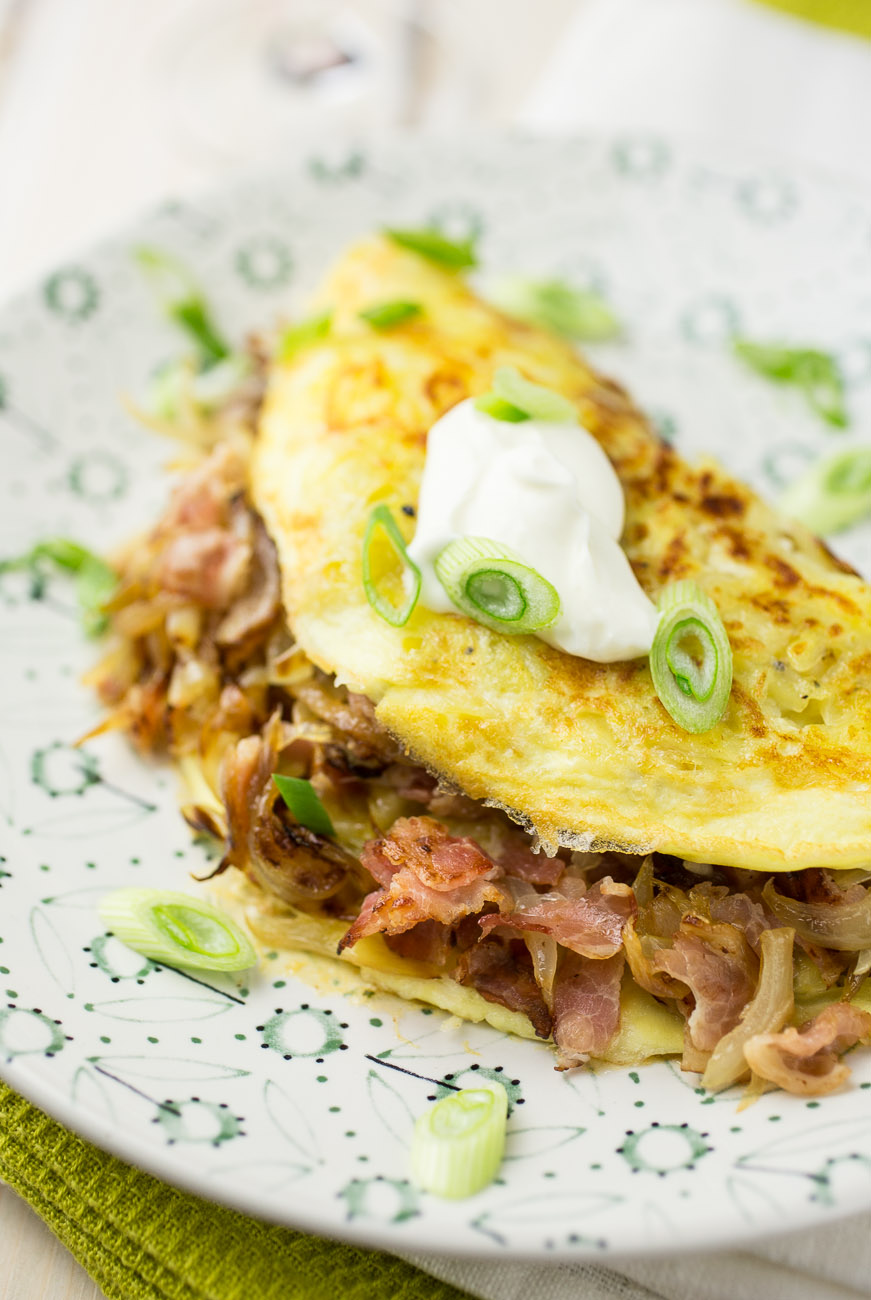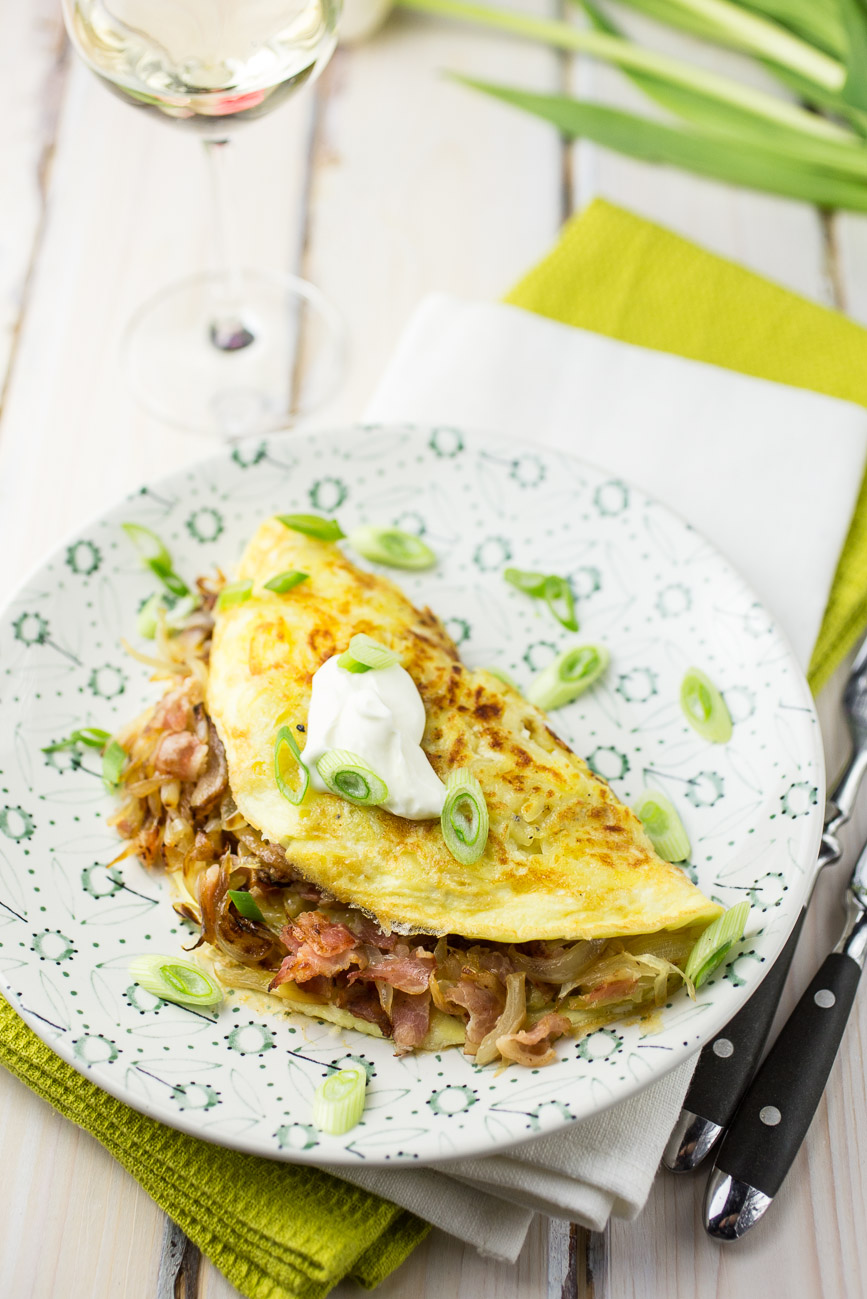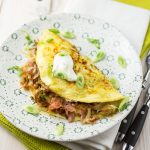 Alpine Omelette
A potato omelette filled with bacon, onions and gruyere cheese.
Ingredients
1

large onion

finely sliced

3

rashers of bacon

sliced

1

tsp

butter

200

g

potato

peeled and grated

1

egg

1

tsp

crème fraîche

salt and pepper

1/3

cup

gruyere cheese

grated

1

scallion

sliced
Instructions
Heat 1 tsp butter in a small non-stick pan. Add the onions and cook them over medium heat, stirring every once in a while. Take your time to do this. You want the onions soft and sweet. So cook them for at least 10 minutes, until they are brown.

After 5-10 minutes add the bacon to the onions and fry for another 5 minutes. Remove the mixture from the pan and set aside.

Add the grated potato to the pan and fry for 5 minutes, stirring once in a while, until they start to soften. Add salt and pepper to taste.

Mix one egg with a tsp of créme fraîche.

Flatten the potato in your pan with a spatula, until the bottom of the pan is covered. Pour the egg mixture over the potatoes. Move the pan carefully around until everything is covered with the egg.

Cook for another 2-4 minutes, then sprinkle the cheese over the omelette. Add a lid to the pan and let the cheese melt and the omelette completely set.

Finally add the onion and bacon back to the pan and spread over the top of the omelette. Let it warm for a couple of minutes and carefully let the finished omelette slide onto a plate, folding one half over the other.

Serve with some slices scallions and nice dollop of crème fraîche.
Notes
Make sure that the pan you use is really non-stick. If you use anything else, you will be in a world of pain.