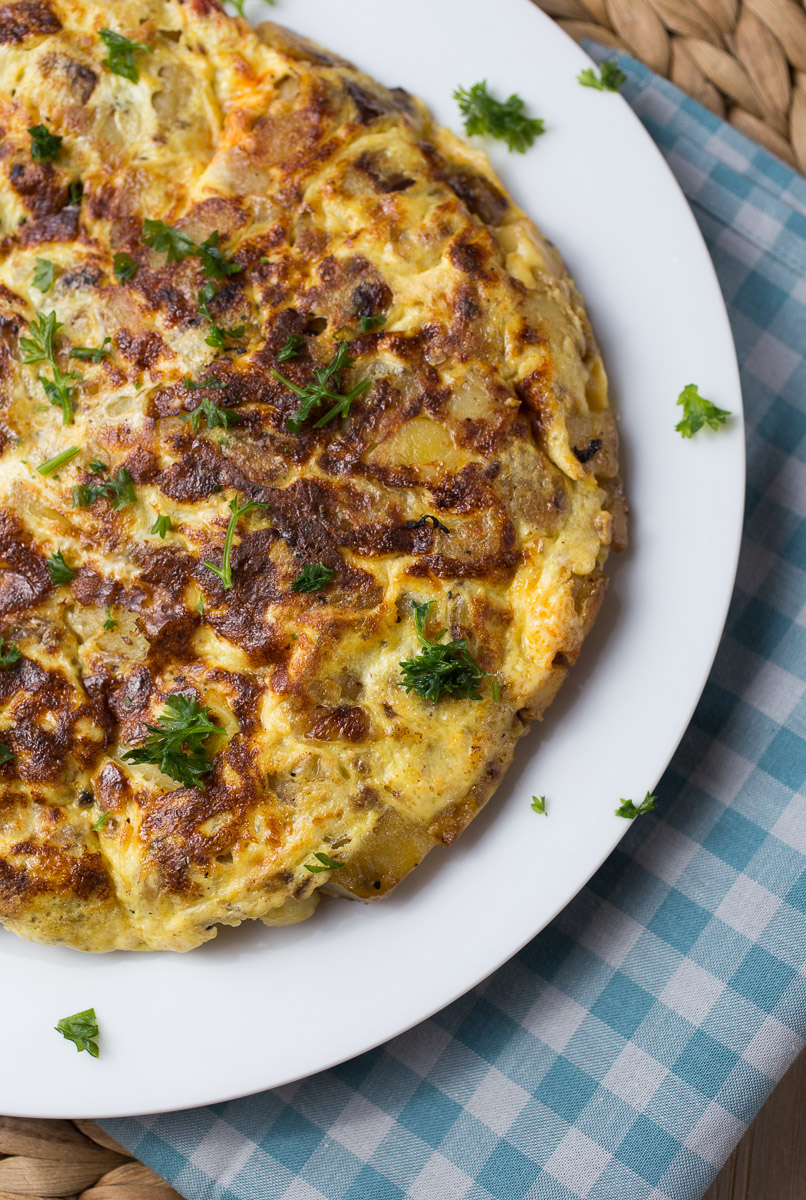 Being back at work for over a week now, I need to start planning lunch at work again. We are a small firm and so there's not really a kitchen and not even a microwave to heat up food, so you have to get creative. Once or twice a week I'm eating out with co-workers, but usually I try to bring something to eat. That's where the tortilla comes into play.
I was pondering to put that "recipe" up on the blog, because a basic spanish tortilla only has like two ingredients (minus the seasoning) and this one only has four ingredients, but it's so damn delicious and versatile. An all around winner. So why not share it? Maybe there are some people out there who haven't discovered the fabulousness that is this dish.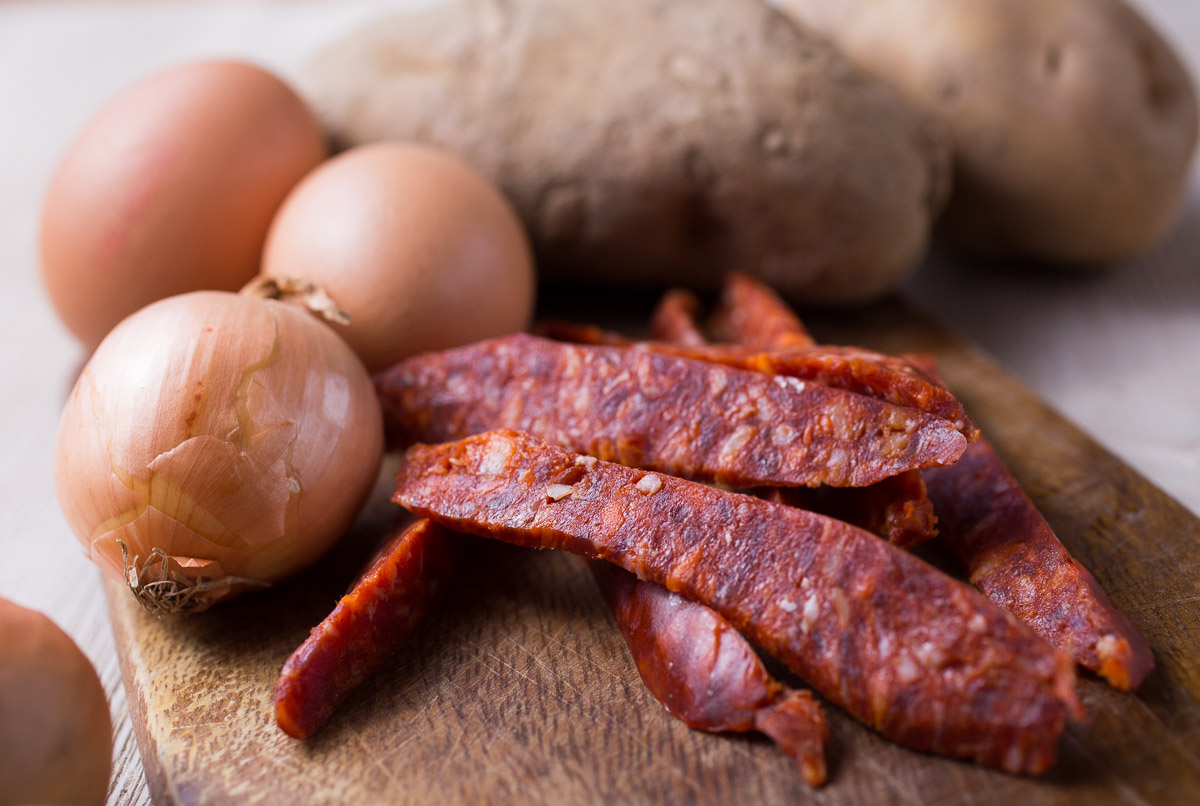 The tortilla is a constant in spanish family cooking and has been around in my family ever since I can remember. It's a dish you make when you have "nothing" at home to cook, because well… you always have some potatoes and eggs. It's a dish you prepare to take out on trips, because it tastes even better cold. You can have at as a main or side dish. You can have it for breakfast, lunch and dinner. The basic version only has eggs, potatoes, salt and pepper, but you can throw in whatever you have laying around at home. From veggies,to cheese, to leftover chicken, to seafood or in this case: Chorizo.
It's also a dish that's quick to make. When I make dinner in the evening and I have to fry some potatoes, I usually make 1-2 more and make a tortilla of the leftover potatoes. Just toss them in some whisked eggs, add whatever ingredient you like and fry it in a large pan. You can then finish the tortilla in the oven, or do what I do: Grab a large plate, put it on your pan (do this over the sink… just in case…) and flip it quickly. Let the tortilla slide back into the pan and that's it.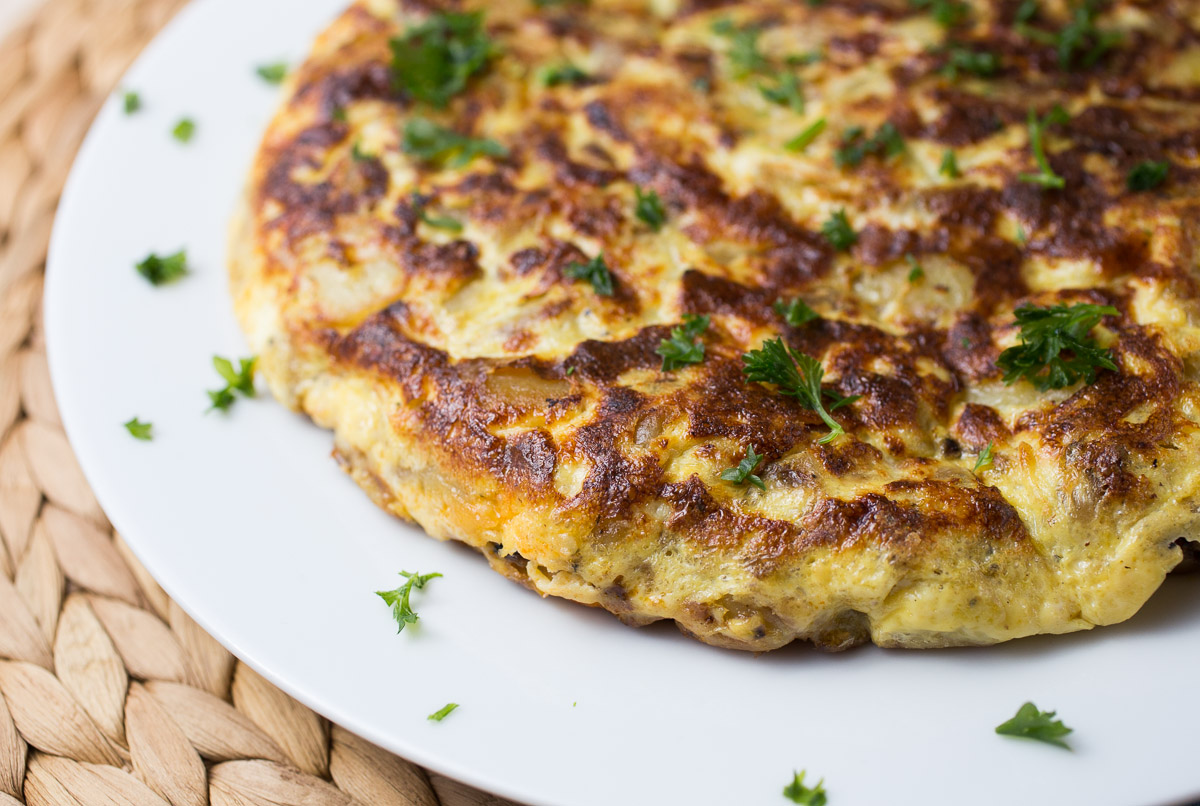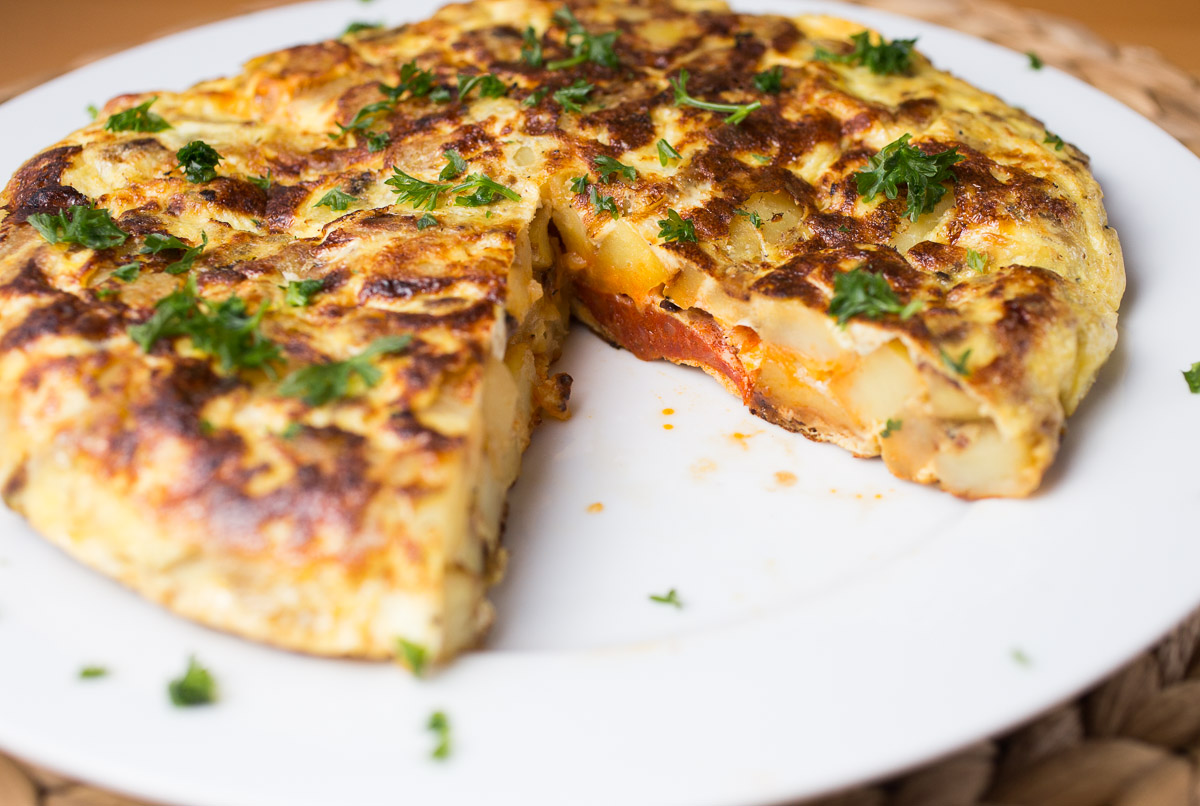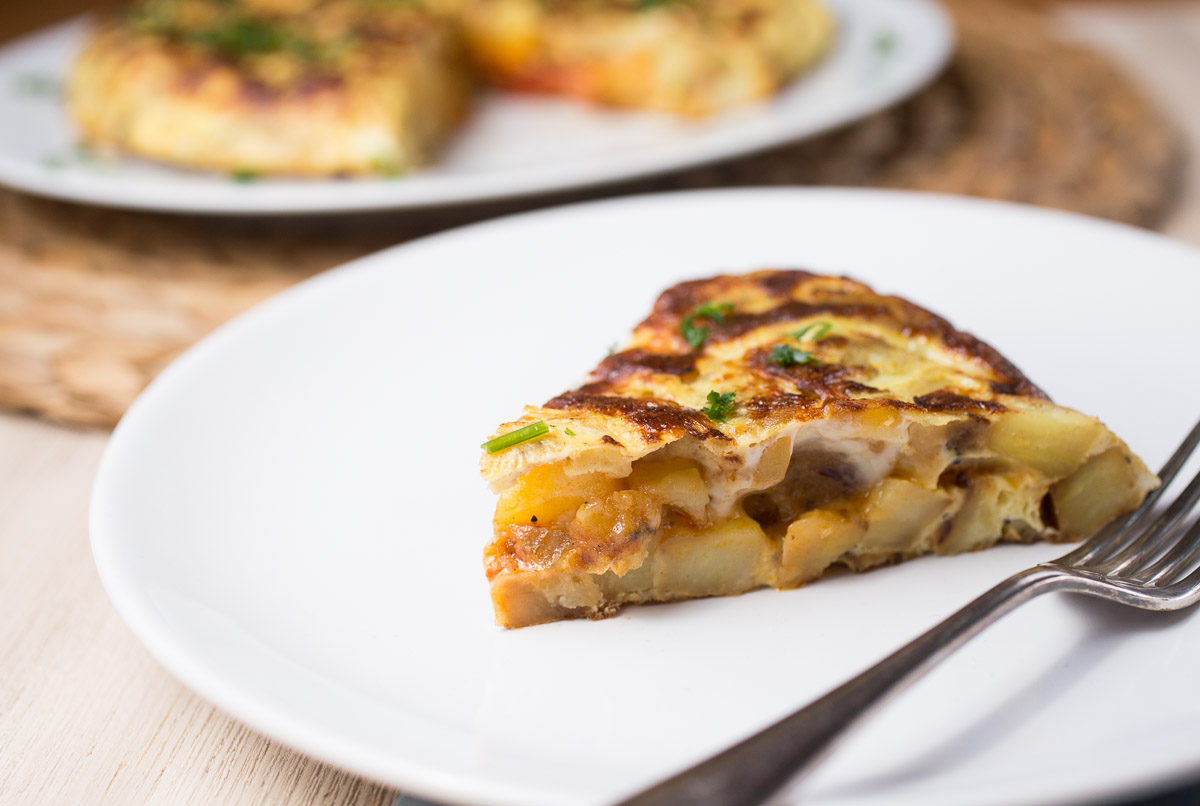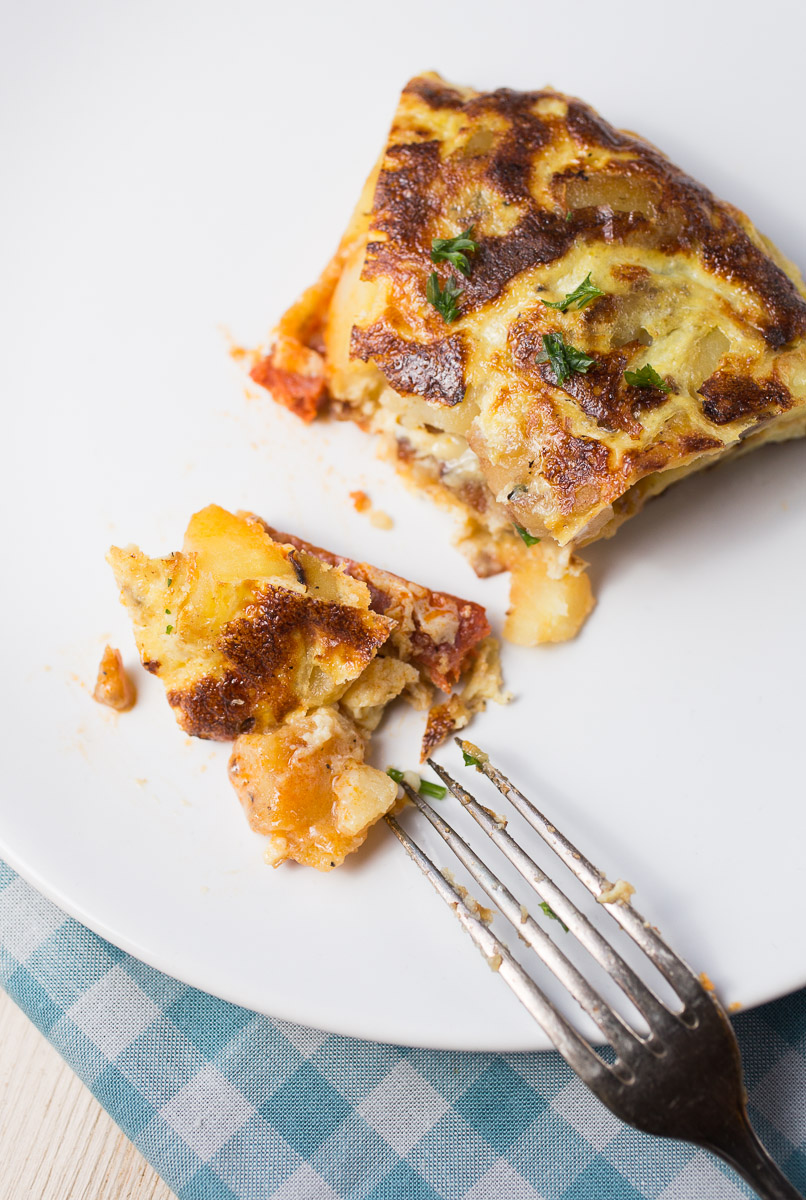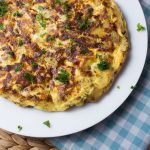 Tortilla with Chorizo
Potatoes, eggs, onions and spicy chorizo wrapped up in a delicious tortilla.
Ingredients
2

medium potatoes

peeled and cubed

3

eggs

2

small onions

finely chopped

1

chorizo

salt and pepper
Instructions
Heat a splash of olive oil in a pan and add the potatoes and onions. Fry for 20 minutes or until they are golden brown and soft.

Cut the chorizo into strips

In a bowl whisk together the three eggs and add the potatoes. Mix well.

Add the mixture to the pan and arrange the chorizo on top. Press lightly into the egg-potato mix and fry over medium heat for about 5 minutes.

Take a big plate, put it on top of the pan, press it firmly down and flip the pan around. Let the tortilla slide back into the pan and fry the other side for another 5 minutes.

Cut into slices and serve hot or cold.
Notes
In this recipe I just sliced the chorizo into strips. You could also cube it, so you have a more even distribution throughout the tortilla.