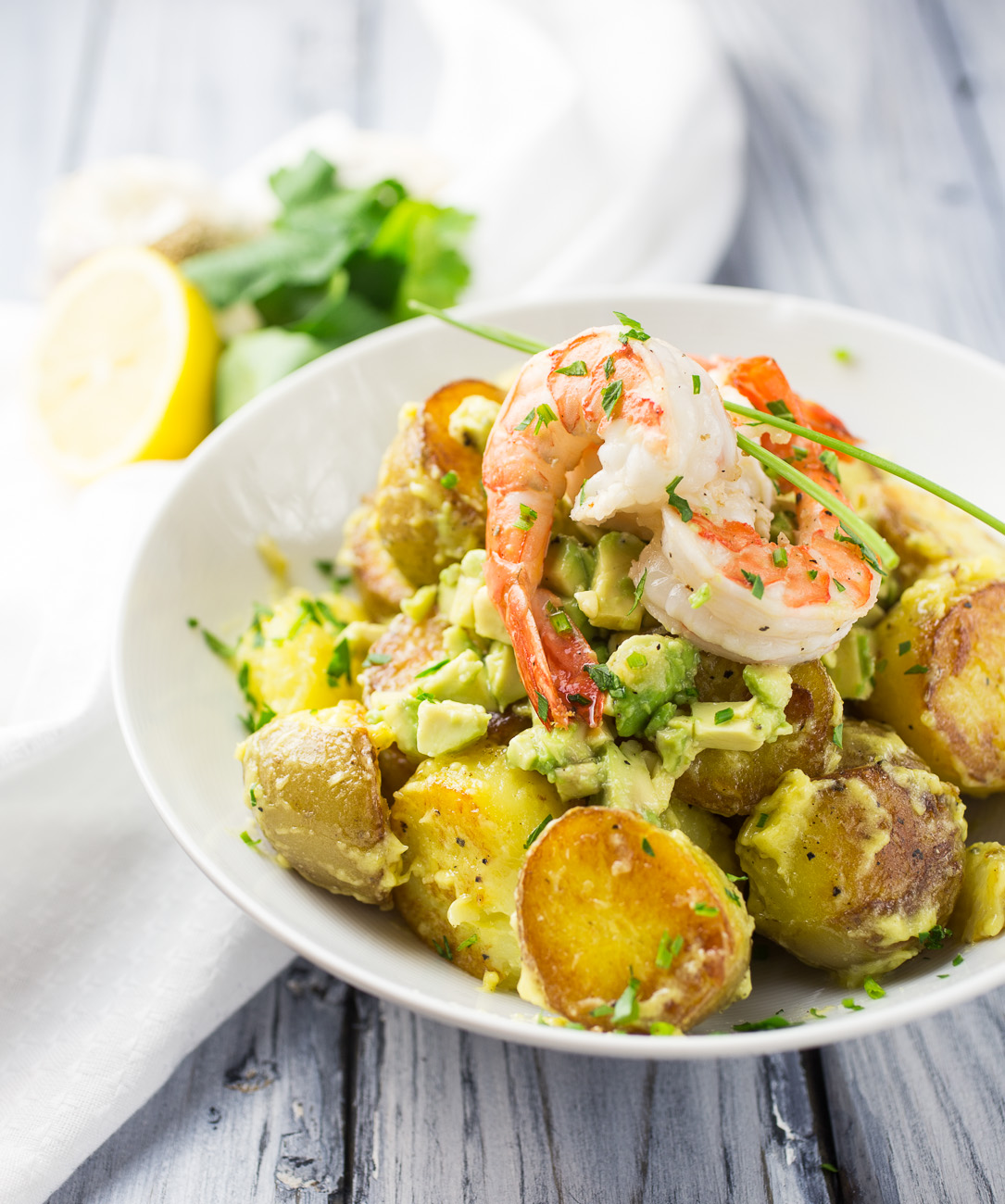 There are some combinations in life, that just work. Crisps and beer. Tea and blankets. Red lipstick and black hair. And one of the most glorious food pairings you can have is garlic and seafood.
If you know me at all, you'll probably know I'll avoid regular mayonnaise like the devil the holy water, but its mediterranean cousin, the aioli, I adore. And since I am still on a quest to produce a lot of different unusual potato salad recipes, the pairing of crispy potatoes, creamy aioli and prawns seemed like a match made in heaven to me (those were a lot of religious references for one tiny paragraph, girl).
I also had a ripe avocado laying around which made it into the salad and elevates this recipe even more, but you could always skip the avocado. Or on the other hand, if you want to make it vegetarian, you can skip the prawns. Whatever floats your boat :-)
You also have the option of making this with boiled potatoes (little fingerlings with the skin would work great), but if you crisp them up in a pan like I did in this recipe, it adds a lot to it. And it's almost in the style of spanish patata bravas. Enjoy!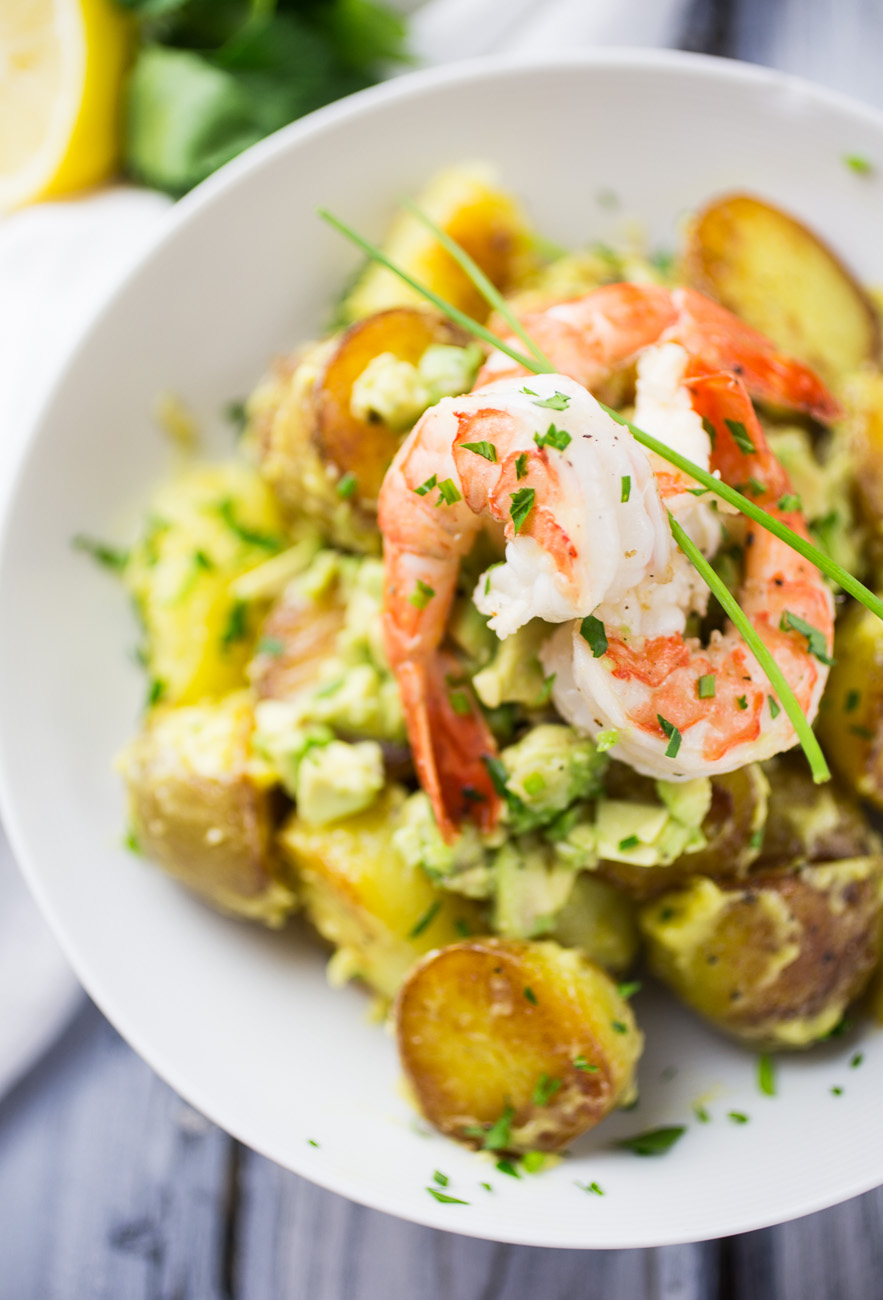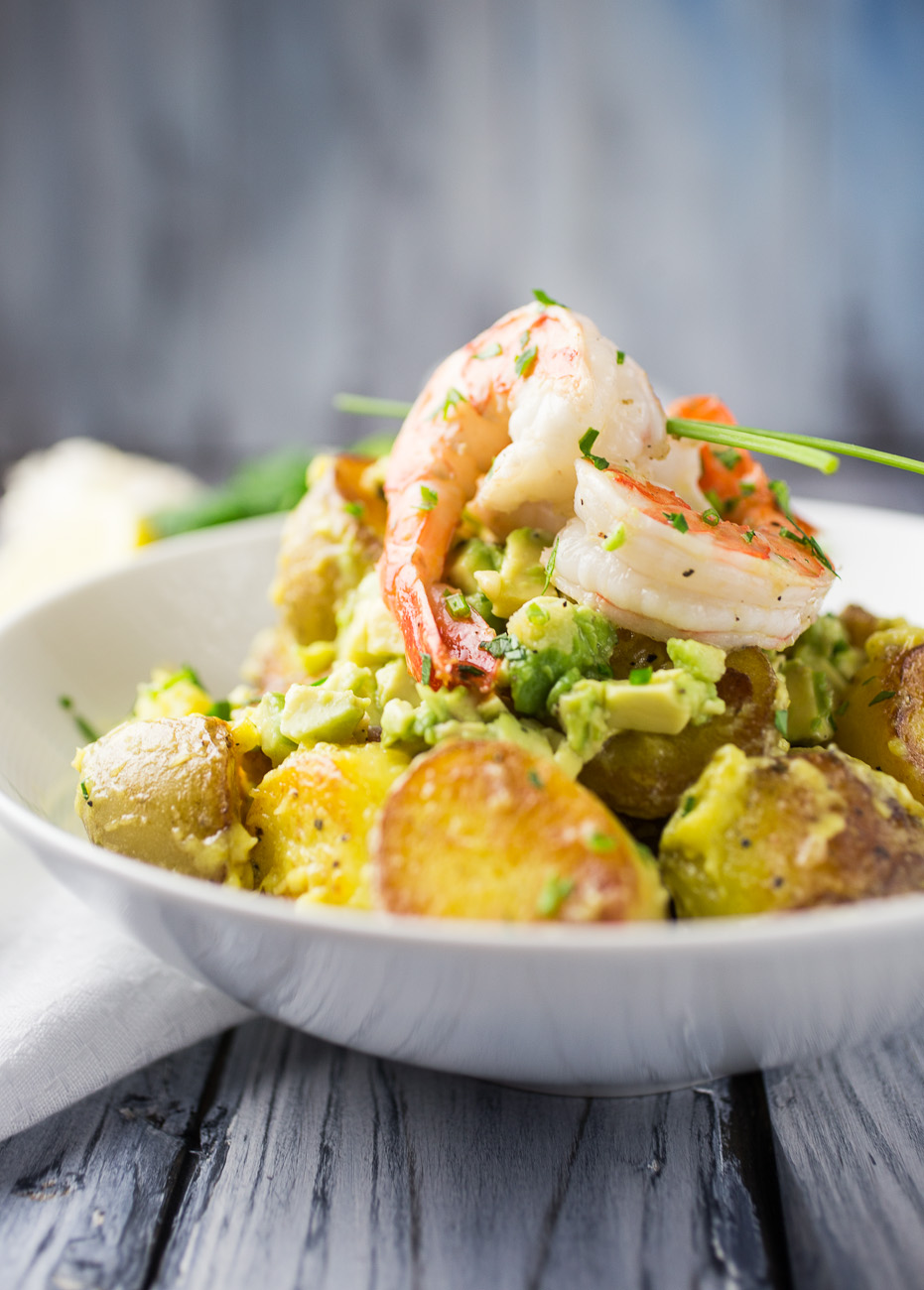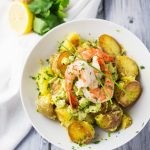 Avocado prawn potato salad
A creamy, garlicy take on a potato salad.
Ingredients
500

g

fingerling potatoes

1

cup

aioli

1

ripe avocado

10

king prawns

peeled and deveined

1

lemon

1

tbsp

parsley

finely chopped

salt

pepper

olive oil
Instructions
Thoroughly wash the potatoes and cook them in a plenty of water until they are soft, around 25-30 minutes.

Meanwhile cut the avocado into small cubes and dress them with lemon juice, salt and pepper. Set aside.

When the potatoes are cooked. Leave them to cool for ten minutes and then cut them in half. If you used larger potatoes you might want to peel them now and cut them in to larger cubes.

Heat a splash of olive oil in a large non-stick pan. Add the potatoes with the cut down in one layer and fry until they are golden brown and crisp. You might need to do this in batches, so you don't overcrowd the pan. Set aside.

In the same pan quickly fry the peeled king prawns until they are just done, 2-3 minutes.

Place the potatoes in a large bowl, mix with the parsley and salt and pepper them slightly.

Mix the potatoes with the aioli and top with the dressed avocado and the king prawns. Adjust the seasoning if needed.