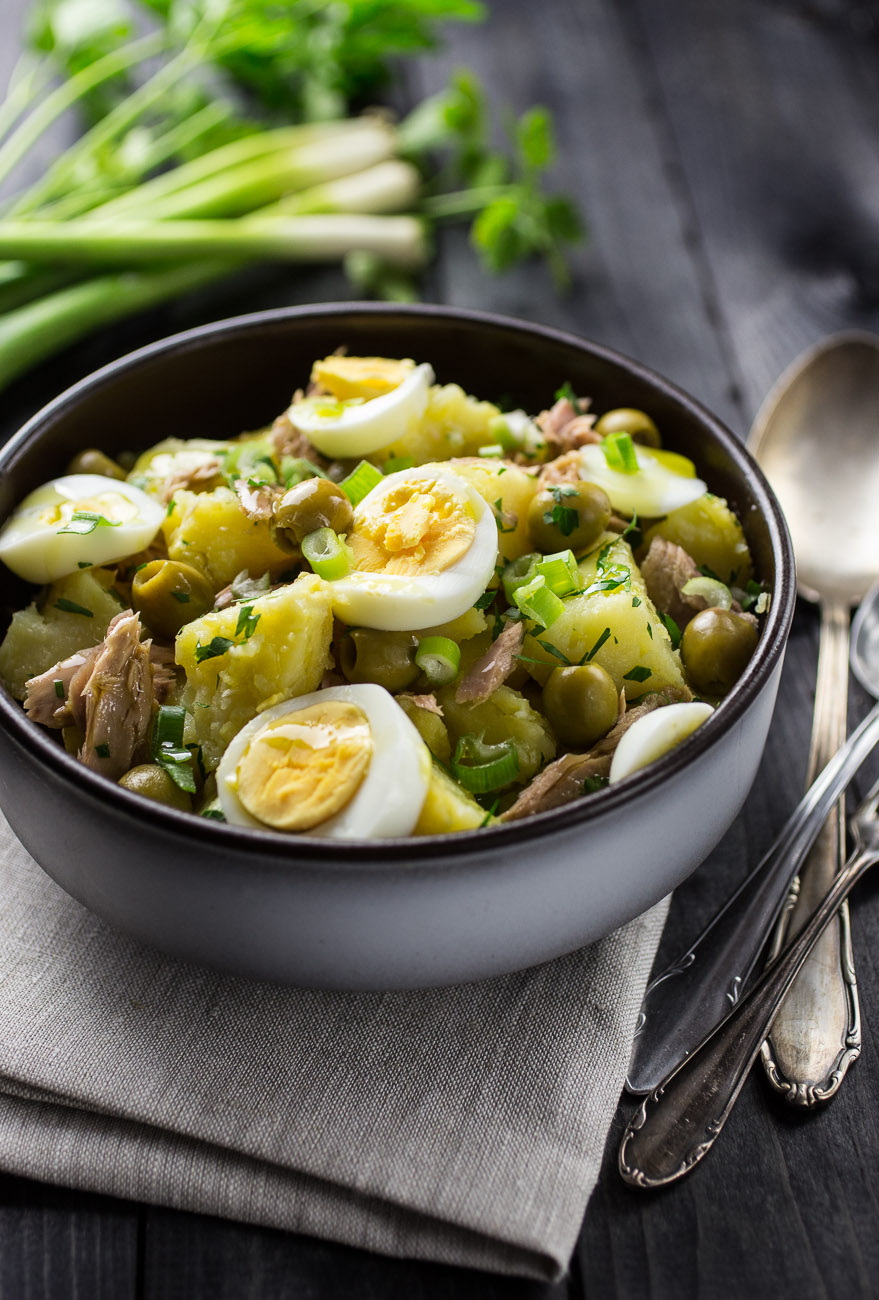 Doesn't this spanish potato salad look scrumptious? Winter is ever so slowly on its way out and with spring just around the corner this dish will be a regular one in my kitchen in the next half year. It's delicious, filling and perfect for when you need to prepare something ahead or are not in the mood for something warm to eat (which happens a lot to me in summer). You can make it a day before, take the leftovers to work, whatever you want.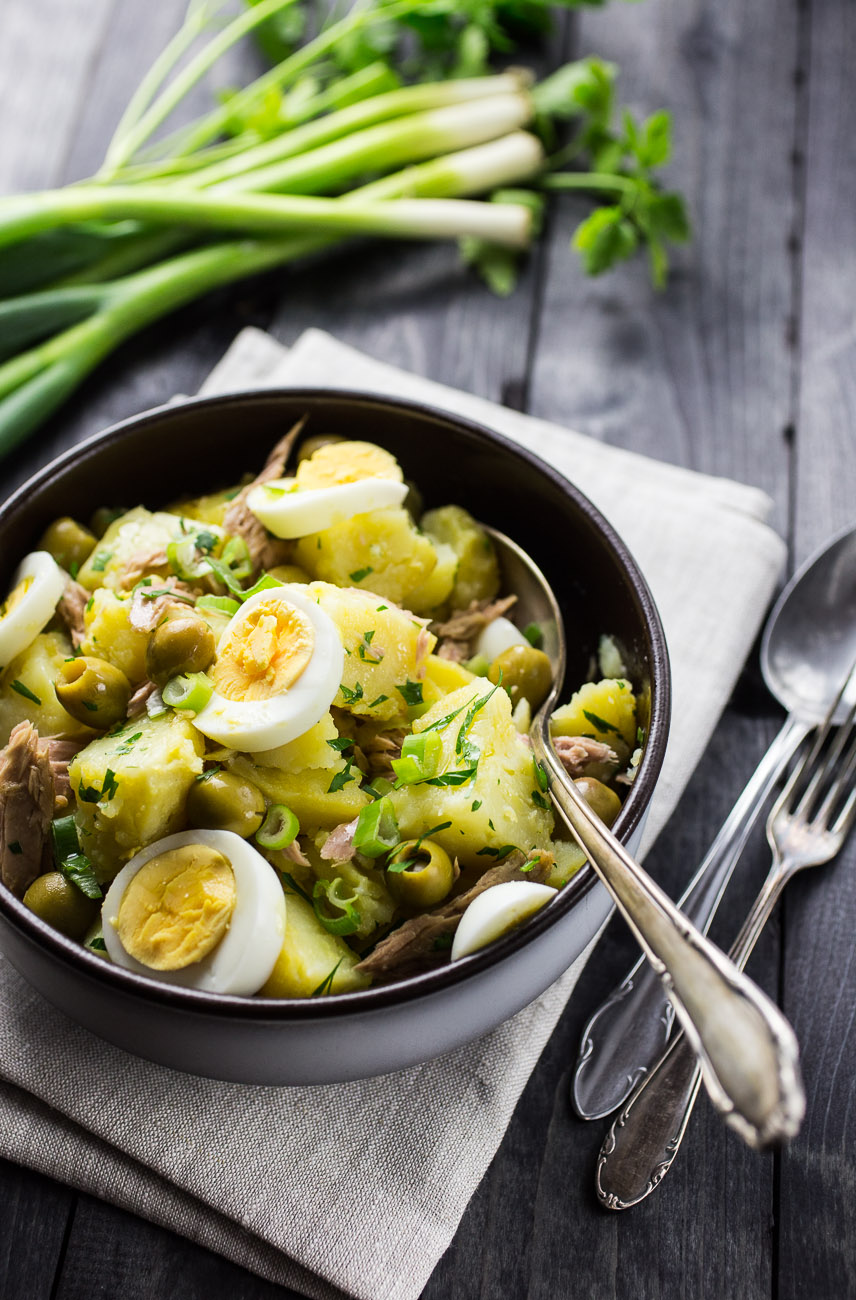 When I asked my spanish aunt and grandma a couple of years ago what this salad was called in spain, they told me it's an "Ensaladilla Rusa" ("Russian Salad"). I did some googling before I prepared this blog post and discovered that our family version of this spanish dish differs quite a lot from the traditional recipes. It varies so much, that you can't even call it a russian salad anymore. The "Ensalladilla Rusa" or "Ensallidilla Olivier" (Olivier Salad) has some of the same ingredients we use, but is very very heavy on mayonnaise. It is the key ingredient and we don't use any at all, mainly because some of us are not too fond of mayo (including myself). If you love mayonnaise, by all means, google and try the traditional recipe. But if you want something lighter and fresher, this is the recipe for you. It's not THE recipe for the traditional spanish potato salad, but it's a recipe from a very spanish family for a delicious variation.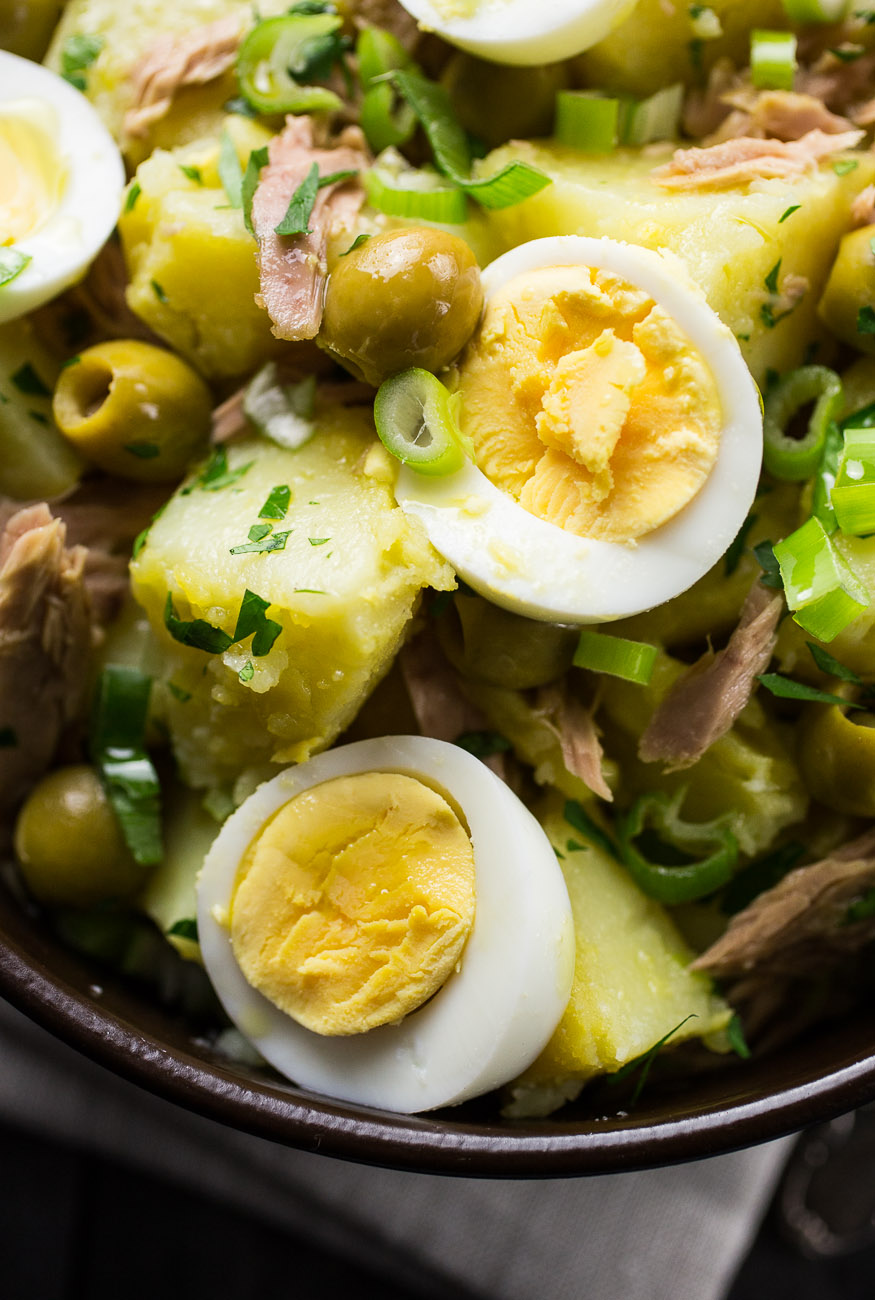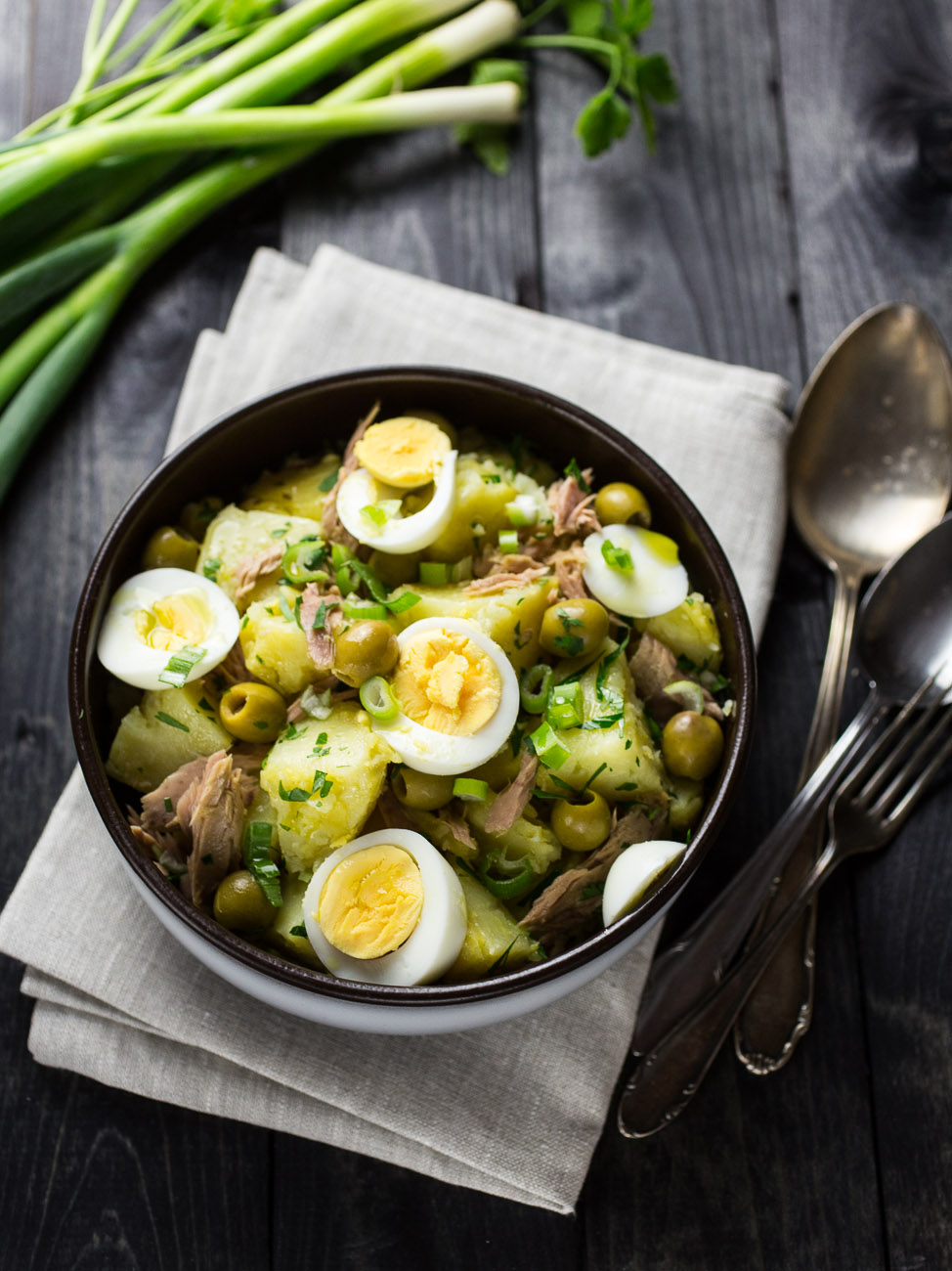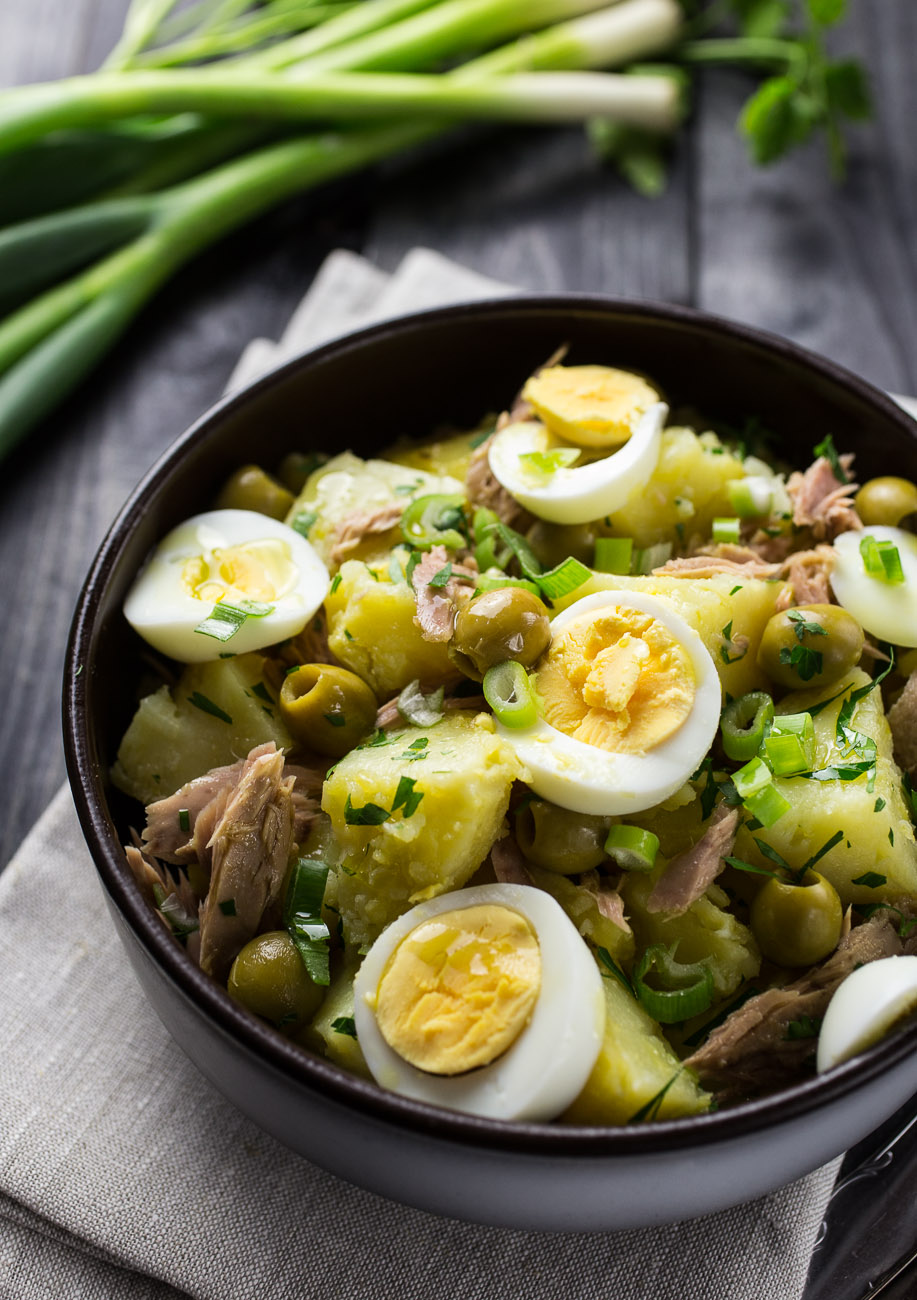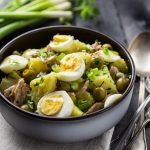 Spanish Potato salad
Potatoes paired with tuna, olives and eggs.
Ingredients
1300

g

potatoes

3

scallions

finely sliced

3

eggs

hard-boiled

200

g

tuna

canned

90

g

green olives

pitted

salt to taste

3

tbsp

olive oil

extra virgin

1

lemon

1/4

cup

parsley

chopped
Instructions
Boil the potatoes with their skin on until they are cooked through. The time they need depends on their size.

Drain the potatoes, let them cool down a bit, but peel them while they are still hot. Take a big serving bowl and cut the potatoes into big chunks.

Peel the hard-boiled eggs. Slice each into 5-6 slices and add them to the bowl, saving a couple of slices of decorating in the end.

Add the scallions, the tuna, the parsley and the green olives, saving 8-10 for garnish.

Dress the salad with lemon, salt and extra virgin olive oil and mix carefully with two forks.

Taste the salad to see if you need to adjust salt or lemon juice according to your personal taste.

Top with the leftover egg slices and olives.

Either serve immidiately, while it's still a bit warm, or serve later cold.
Notes
Key to make this salad a success is to take the best ingredients you can get. Get some good potatoes that taste great on their own, get high quality tuna fish and most importantly use some great olive oil. You will certainly taste the difference.