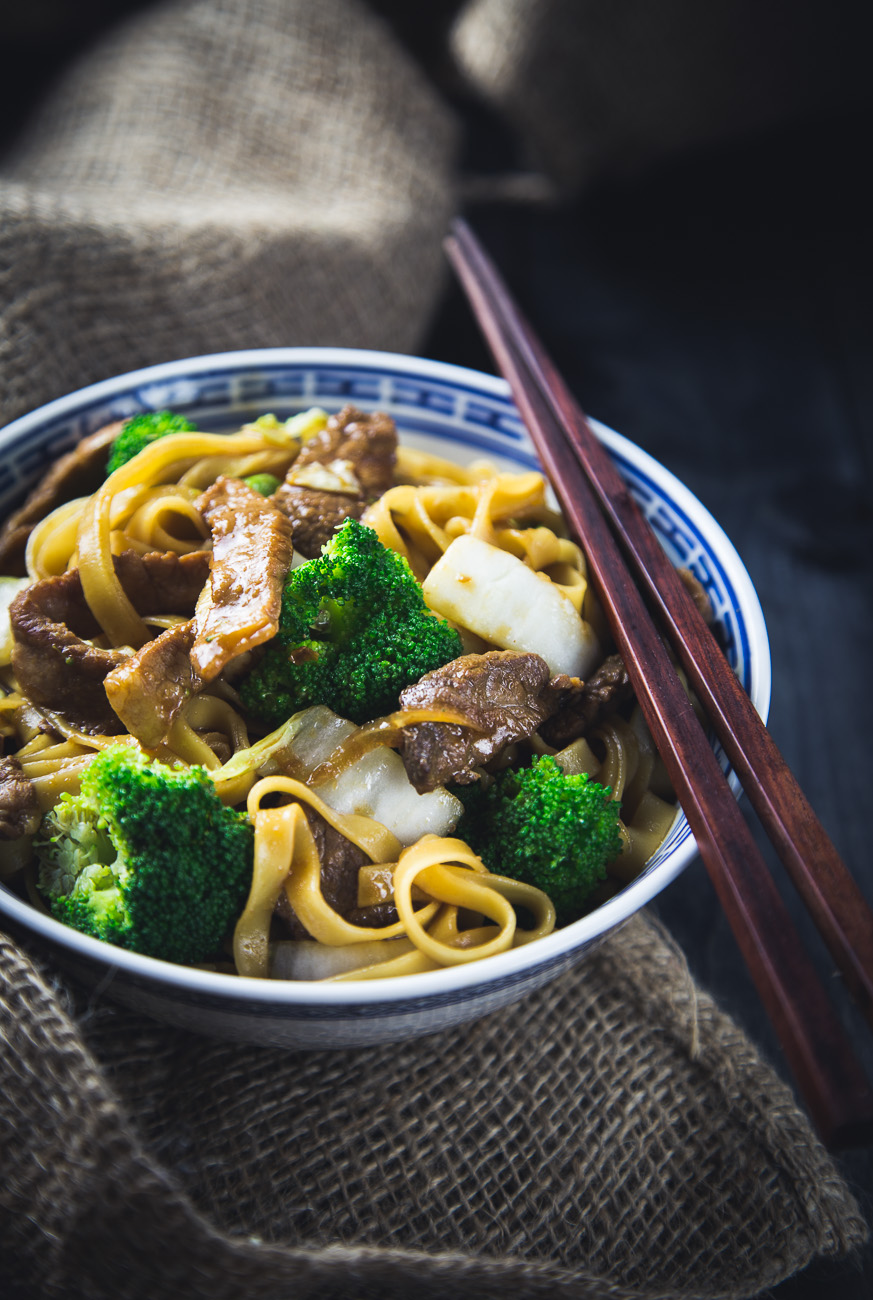 Christmas was nice, wasn't it? But if you celebrate Christmas like I do, you probably spent the holidays stuffing your face with all kinds of heavy food. All crazy delicious, but now that it's all over it's time for some different flavours and a lighter cuisine. So I bring you today: Pork 'n' beef asian noodles. Pork and Beef? Doesn't sound very light, you say? Trust me, if you have been devouring sweets for two weeks that have pig fat as their main ingredient… it's a good start. And hey, the noodles have some broccoli too!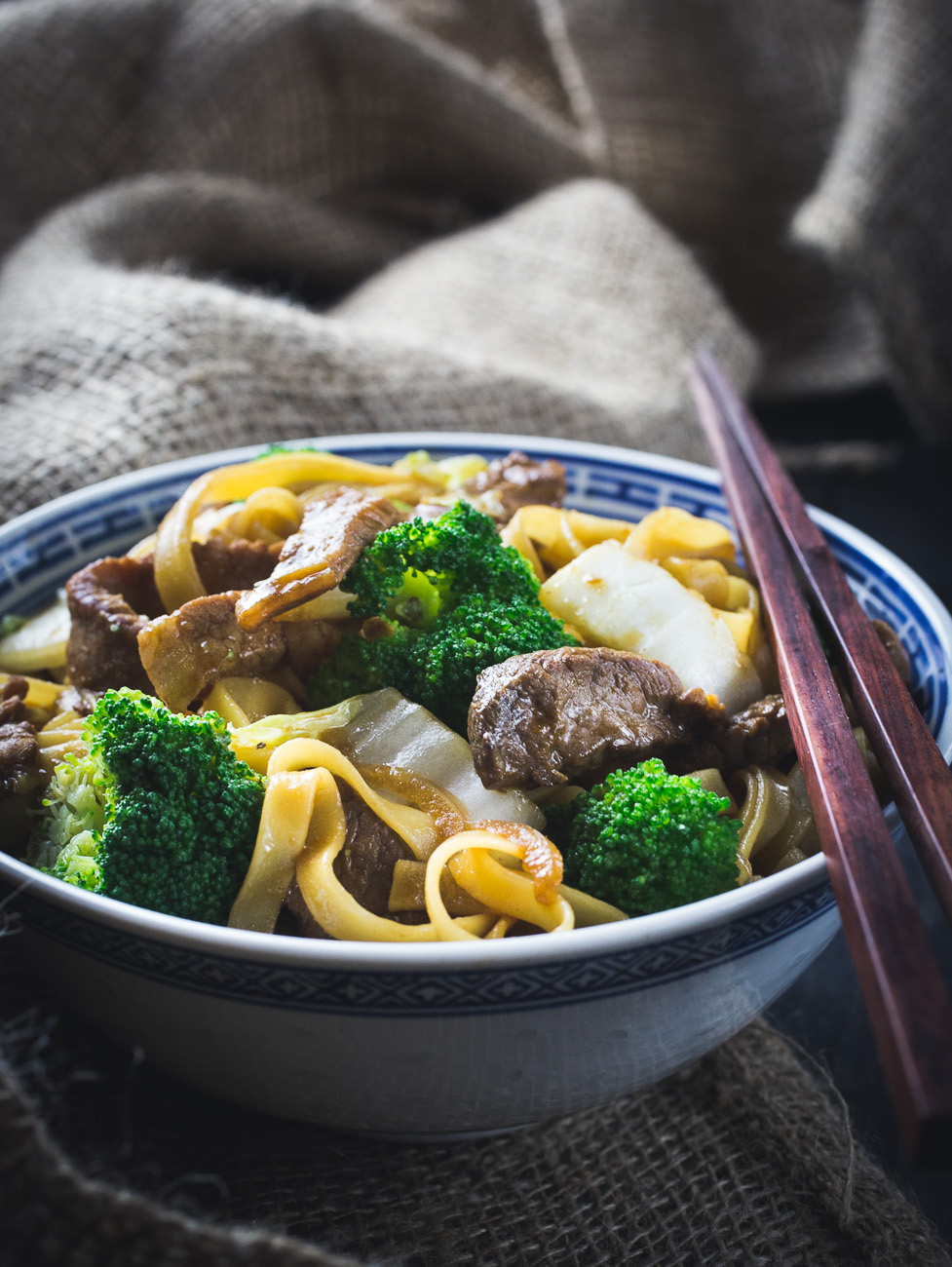 This is also a fairly quick dish to prepare. Once all the ingredients are chopped, which is most time consuming of the whole meal, it's on the table in 10-15 minutes. It's one of my favourite asian dishes and one of the first I ever learned to prepare. The first one that didn't taste like an European dish with some soy sauce. I always make a big wok full of those noddles, because they even taste better the next day when the noddles marinated in the sauce overnight. Give it a try!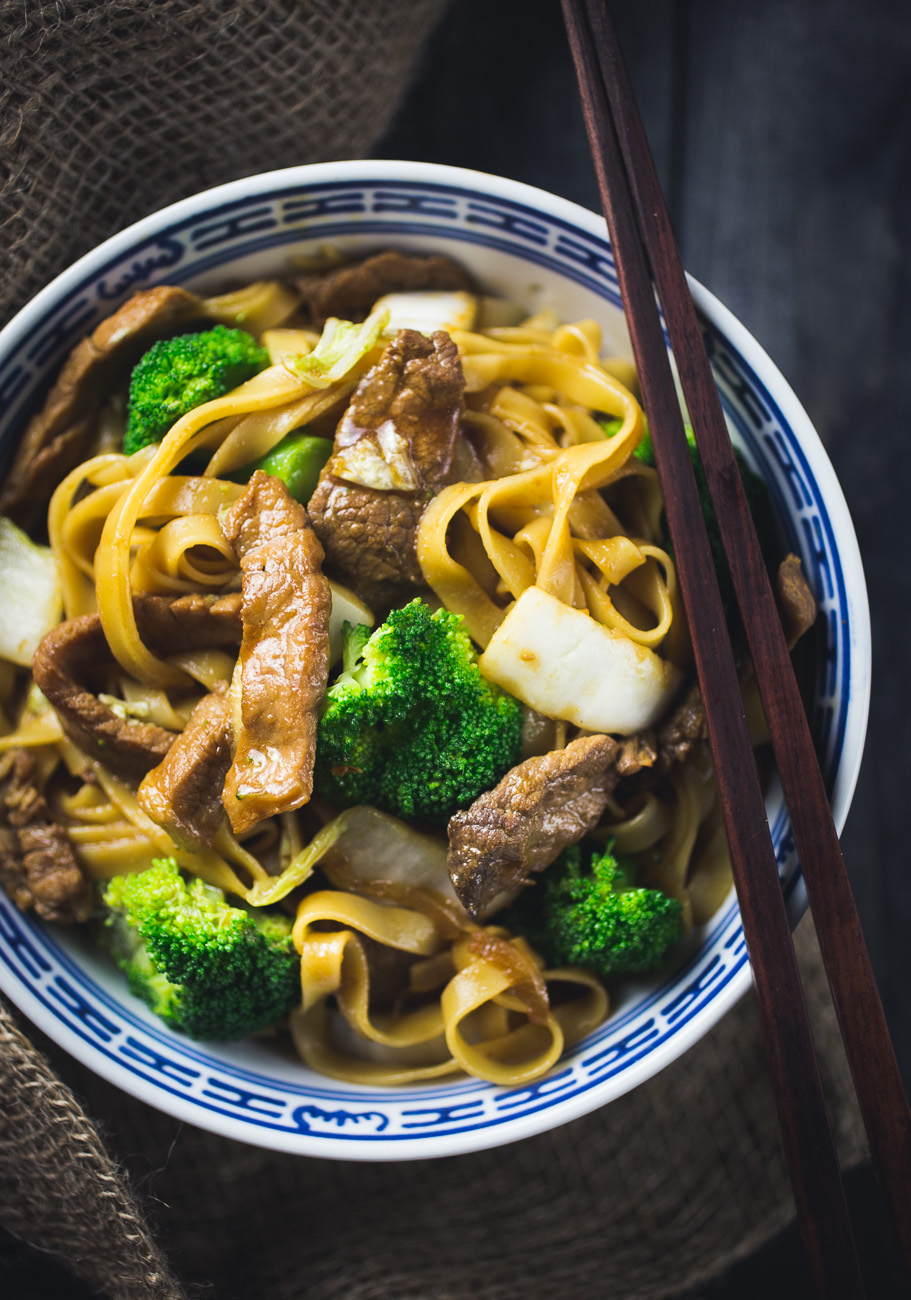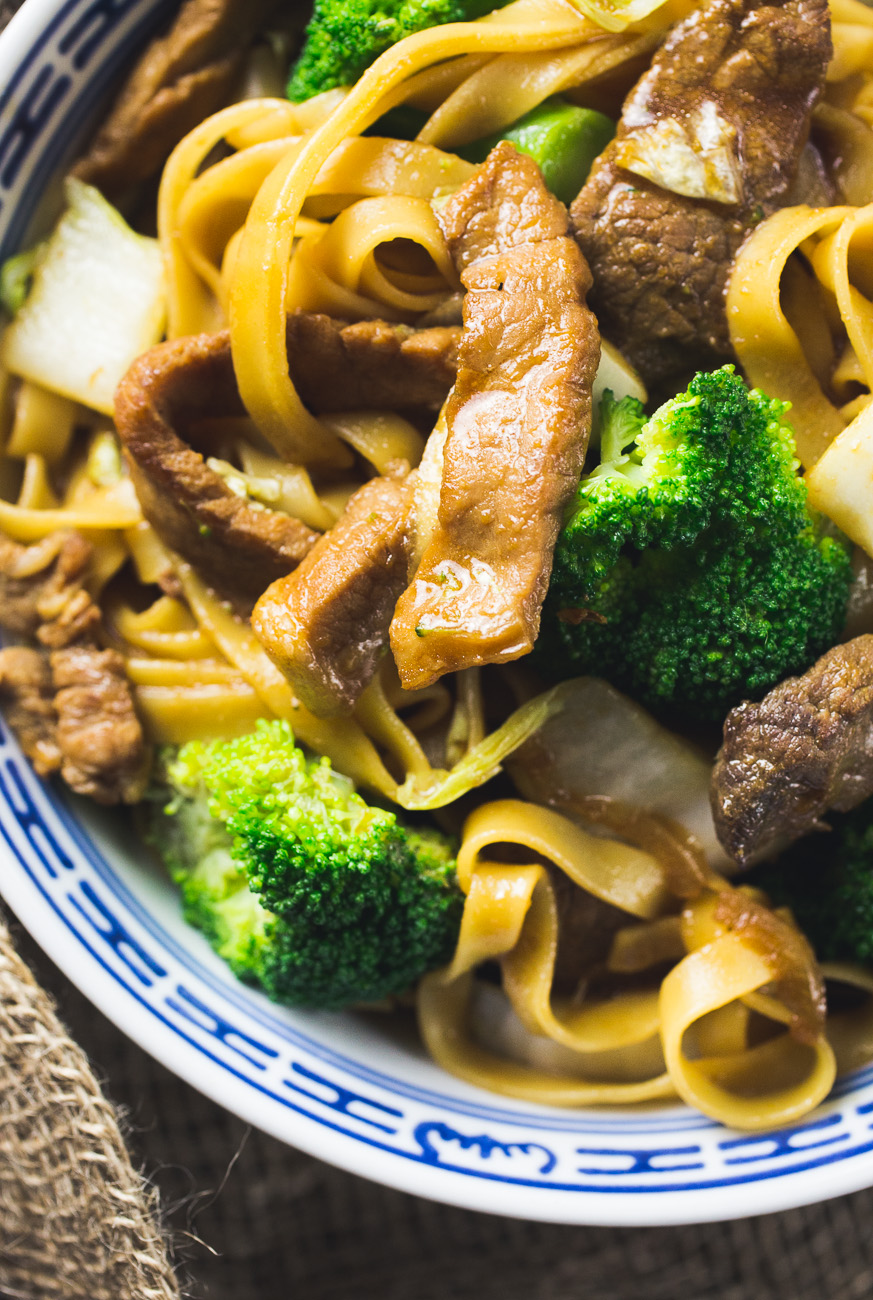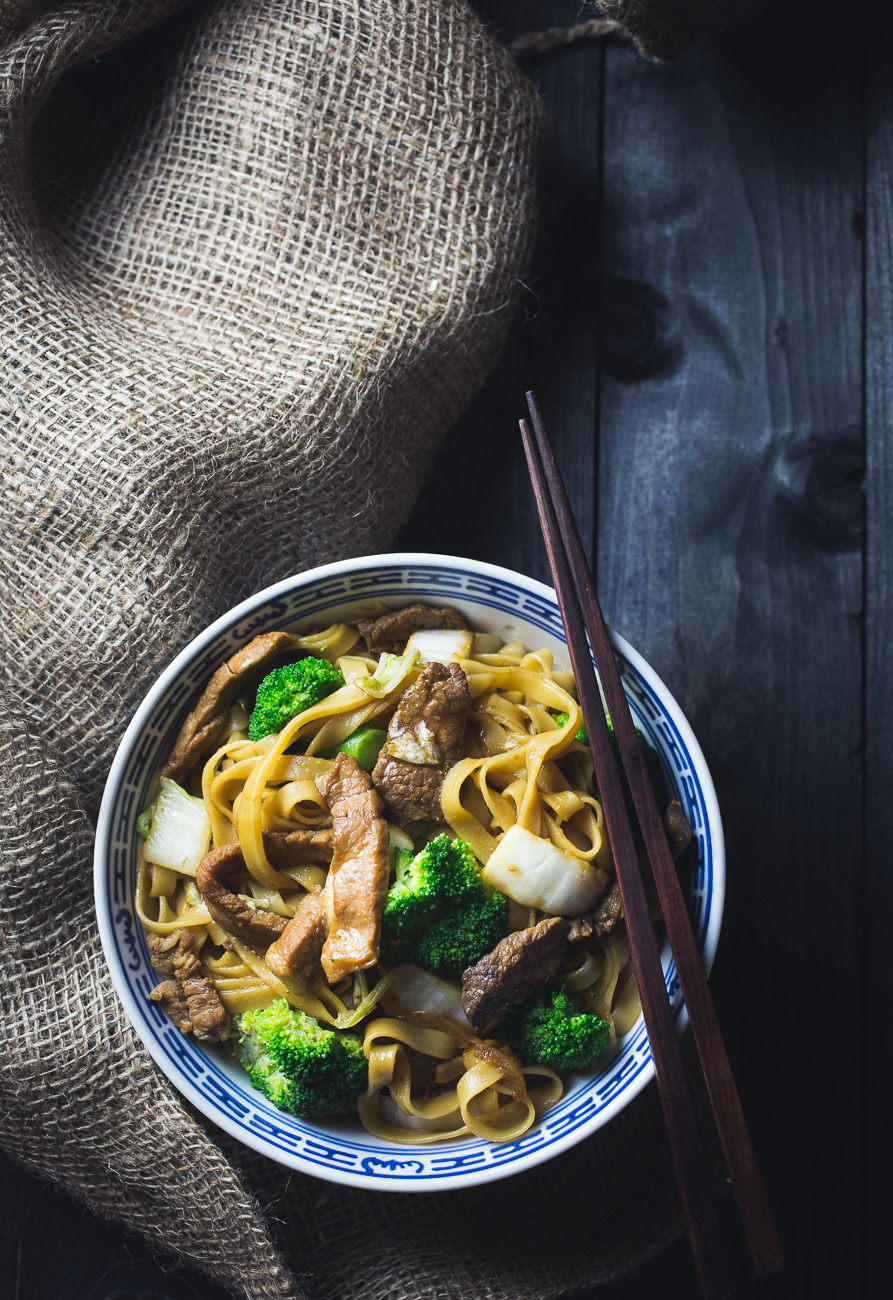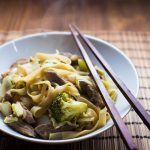 Asian Pork 'n' Beef Noodles
Spicy noodles with beef and pork and some veggies.
Ingredients
200

g

beef shoulder

200

g

neck of pork

or any other fatty cut of pork

250

g

ho fun noodles

or tagliatelle if you don't have any

1

onion

cut into thin slices

2

cloves

garlic

chopped finely

1/2

tsp

chili flakes

2-3

cm

piece of fresh ginger

grated finely

200

g

broccoli florets

fresh or frozen

1/2

chinese cabbage

cut into slices

3

tbsp

soy sauce

devided

sesame oil
Instructions
Cut the pork and beef into thin strips, mix them in a bowl with 1 tbsp sesame oil and 2 tbsp soy sauce. Cover and leave to marinate for at least an hour.

In a big pot of salt water cook your noddles according to package.

While the noodles are cooking, heat one tbsp of sesame oil in your wok and fry your meat until it starts to brown (I always fry it in two batches, so the temperature doesn't drop too far in the pan). Take it out and set aside.

If necessary add another small spalsh of oil and add the onions, ginger, garlic and chili flakes and fry for one minute, stirring constantly.

Add the broccoli and stir-fry for 2 minutes. If you like your broccoli on the softer side, you can blanch it before you add it to the wok.

Add the chinese cabage and fry for 1 minute.

Add the beef, pork (don't forget the meat juices on the plate!) and the noodles. Add soy sauce to taste and mix well. Yum!