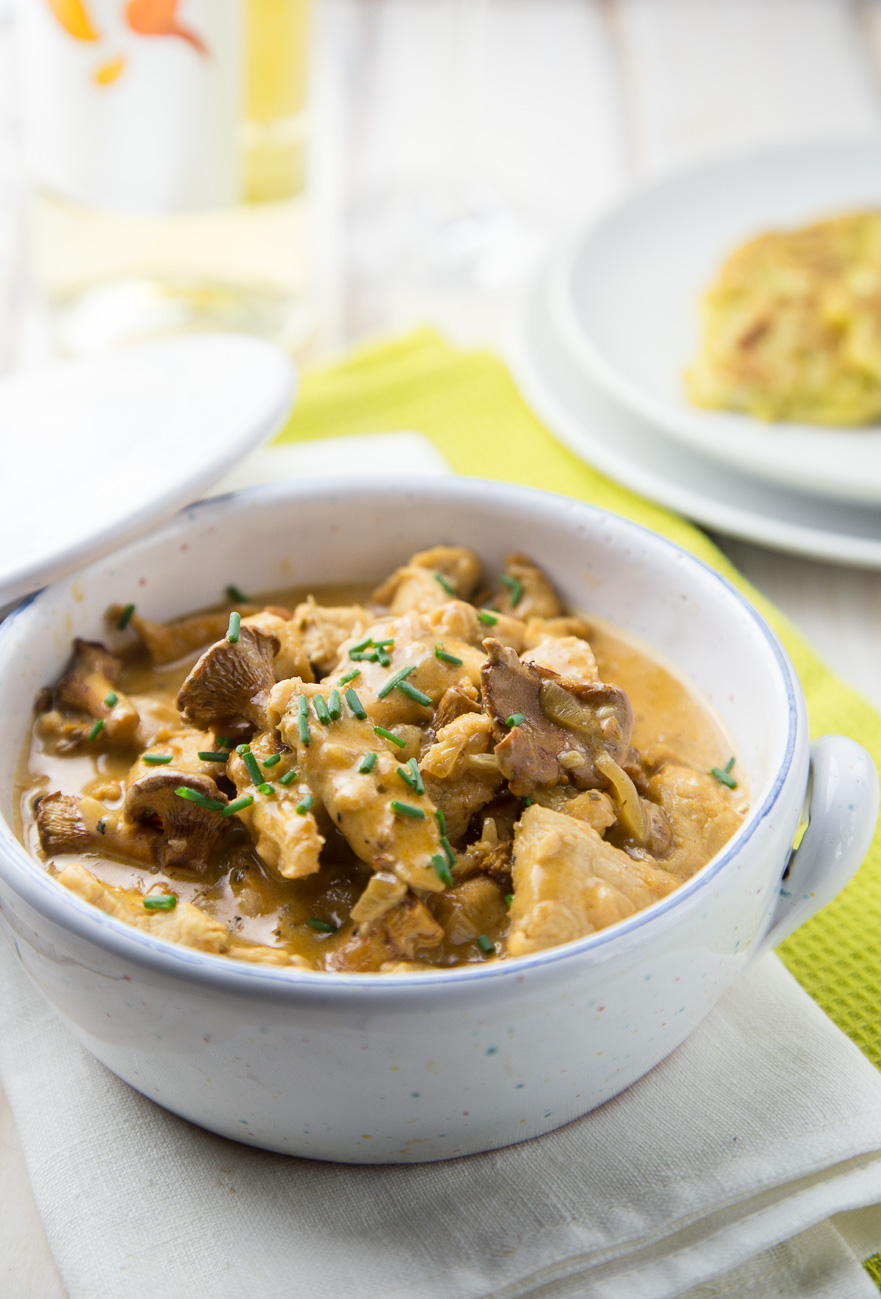 I wasn't ready for autmn this year and after I spend about week whine and bitch about the cold temperatures, I have now made my peace with it. I took the the thick blankets, thick socks and fuzzy slippers out of the closet, made me a nice cup of tea and lit a fire in my fireplace. All is good with the world now, because autumn is also the time for comfort food. A time for rich and hearty flavours and thick, creamy sauces, just like in this dish: Geschnetzeltes with Chanterelle Mushrooms.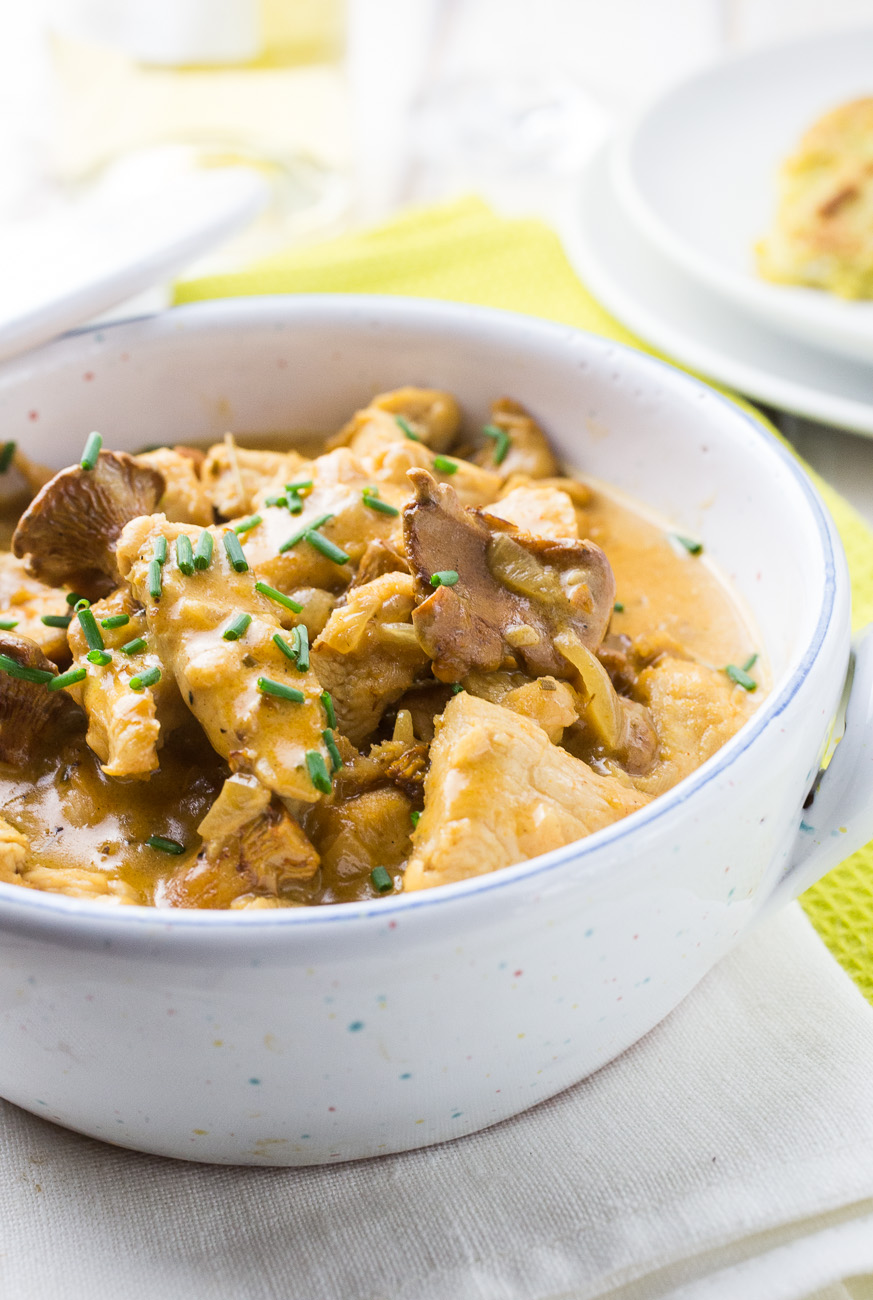 Geschnetzeltes can be translated into "sliced meat". The traditional version of this dish is the swiss "Zürcher Geschnetzeltes", which is traditionally made with veal, white wine, cream and stock and is served with rösti (potato fritters). When there's a classic, there's always popular variations of it. Mushrooms are a very popular addition and you could use pretty much any mushroom you like. I just used those lovely chanterelle mushrooms because they are still in season, but button mushrooms are a good choice all year round. You don't have veal available, no problem. I rarely use veal for this dish, since it's very expensive. In this very recipe I used turkey, but you can also use chicken breast.
So get yourself a nice steaming hot bowl of Geschnetzeltes, serve it with rice or potato fritters and enjoy!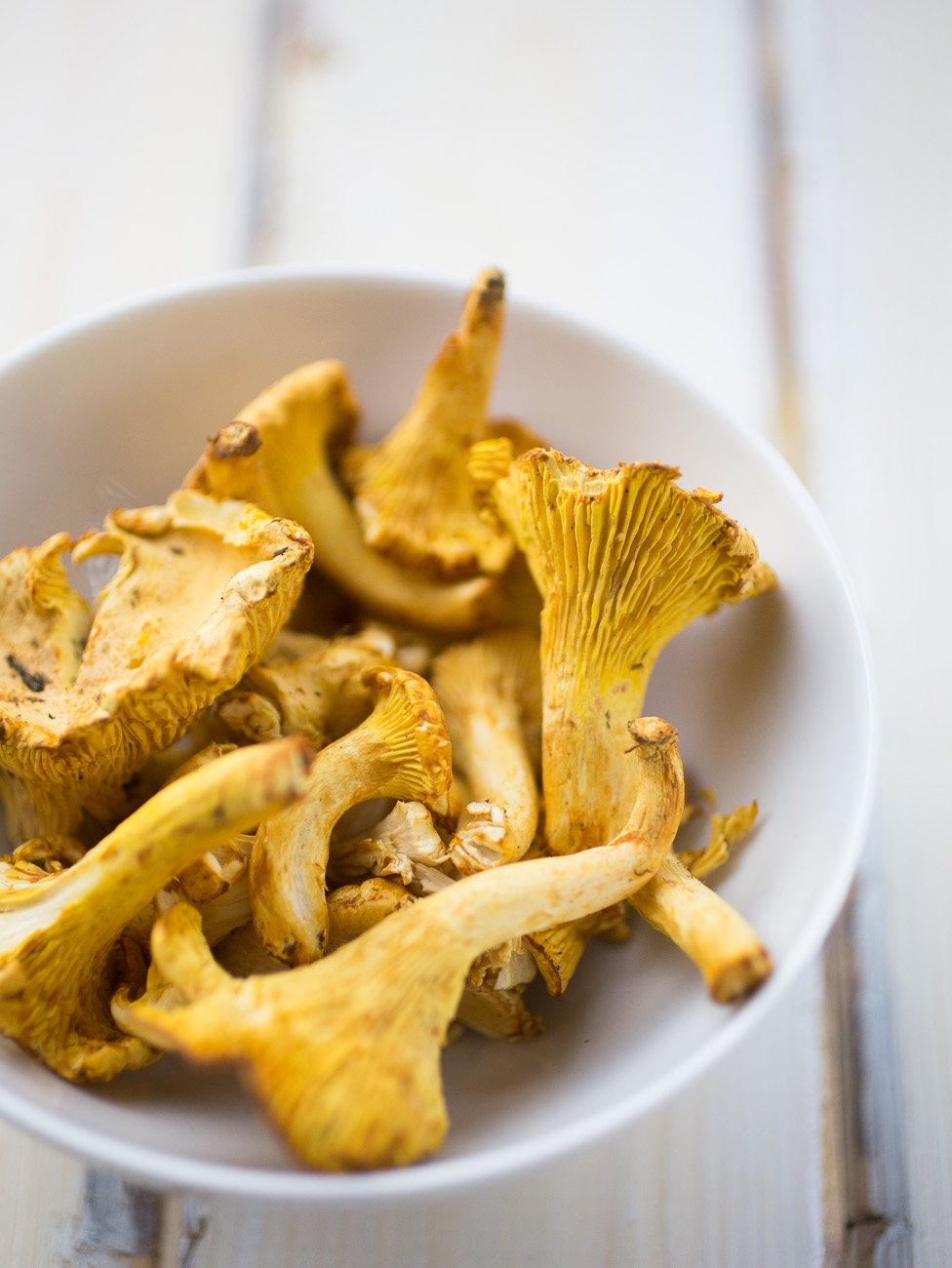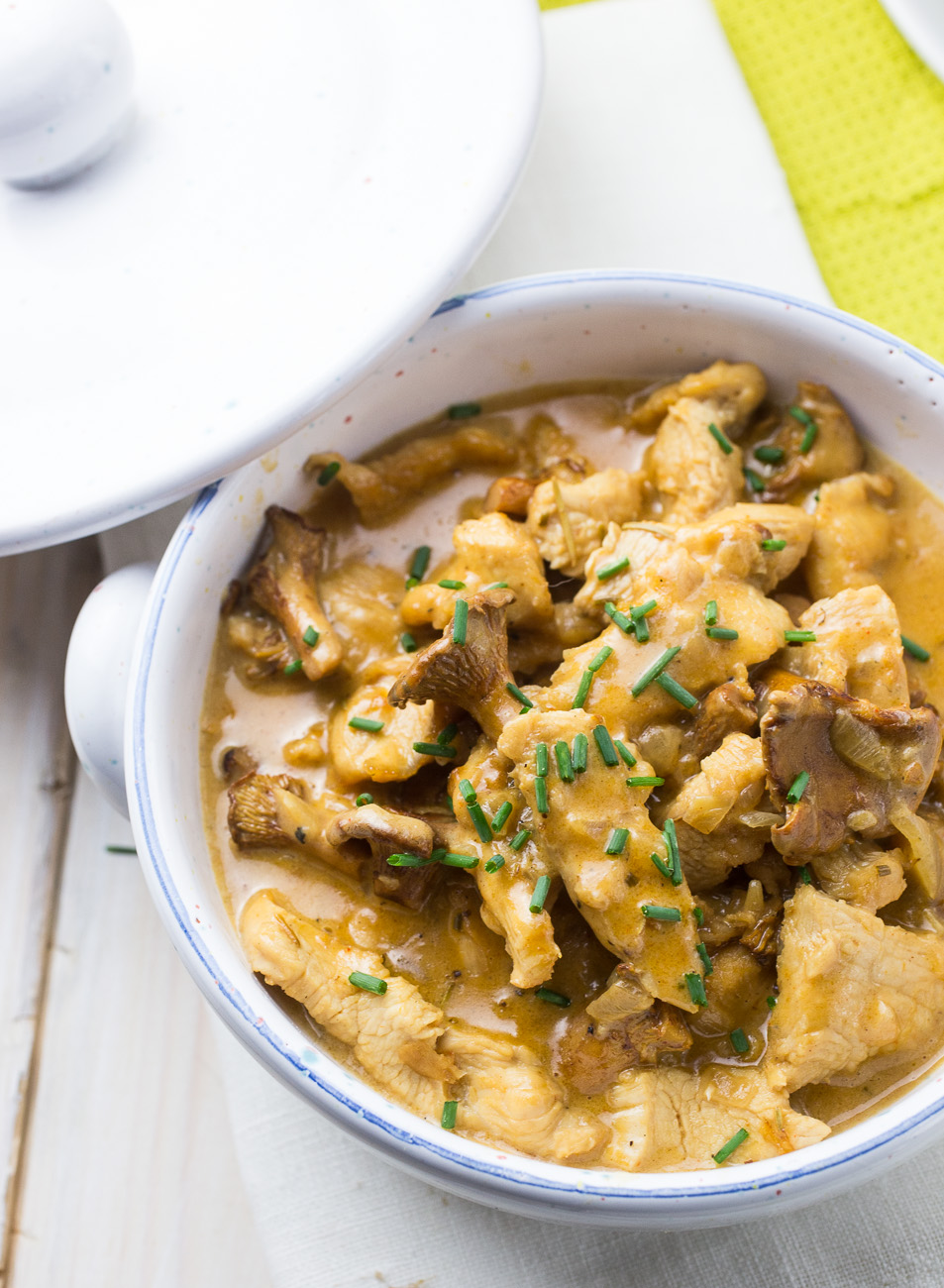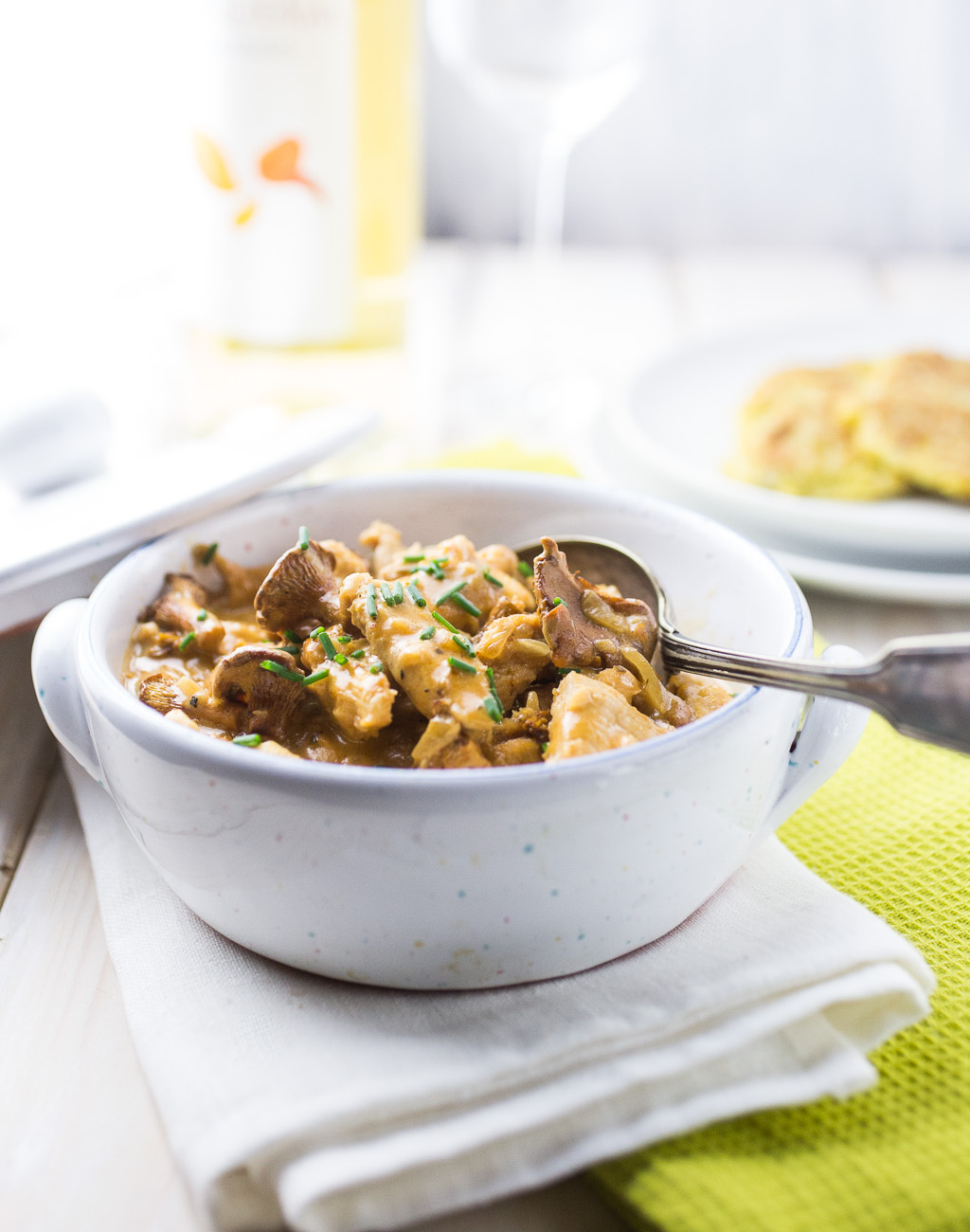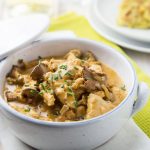 Geschnetzeltes with Chanterelle Mushrooms
Sliced meat strips in a creamy white wine sauce with chanterelle mushrooms.
Ingredients
400

g

chicken breast

1

onion

finely chopped

1

clove

garlic

finely chopped

200

g

chanterelle mushrooms

1

tbsp

tomato paste

1

tsp

mustard

1

tsp

flour

1

cup

white wine

dry

1

cup

heavy cream

1

tsp

rosemary

½

tsp

sweet paprika

salt and pepper to taste
Instructions
Wash the chicken breast, pat them dry and cut them into thin strips.

Heat a large pan over high heat. Add a small splash of frying oil and cook the chicken breast until it's lightly brown, but not yet cooked through. Take out and set aside.

Reduce the heat to medium and add the onion and garlic to the pan. Cook until lightly brown.

Add the mushrooms, mustard and tomato paste. Cook for 2-3 minutes stirring gently.

Dust the flour over everything and then deglace the pan with the white wine.

Add the cream, rosemary and paprika stirring frequently. Add salt and pepper to taste and let it cook for 3-4 minutes.

Return the meat back to the pan and cook everything together for 5-6 minutes or until the meat is cooked through and the sauce is creamy.

If the sauce is too thick, add a splash of water in the end.

Serve with rice or potato fritters.
Notes
You can use veal, chicken or turkey for this dish.
Button mushrooms instead or together with the chanterelle work really well.
If you wanna skip a few of the calories, substitute 1/2 of the heavy cream for low sodium chicken stock.