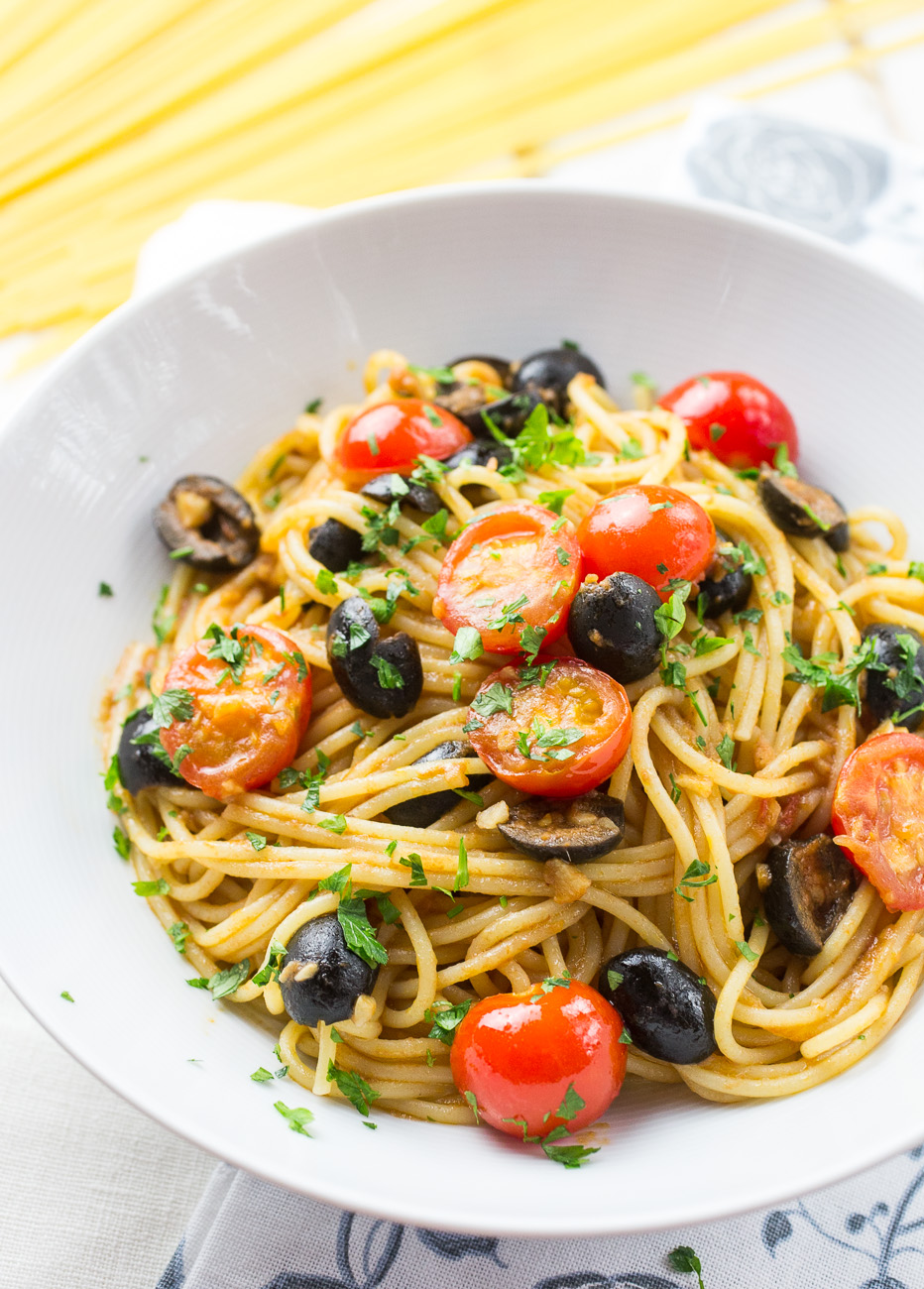 What a lovely last weekend and following week I had. It was my birthday a week ago and I celebrated it with my loved ones at one of favourite portuguese restaurants. I had a wonderful, WONDERFUL rabbit dish (if you never had rabbit… it tastes and looks a lot like chicken, only a lot finer and tastier) with some generous glasses full of vino verde. What a treat.
The first day back at work after my birthday, I organized and cooked a huge cold tapas spread for all my coworkers. Usually everyone just brings cake on birthdays, which is lovely too, but I like to do something a bit different and everyone seems to love something hearty once in a while.
I'm also looking forward to my upcoming (late) summer vacation this year, which will lead Alex and me to the North-West of Spain, to Galicia. During our last vacations in hotels we always had a great time, but we always regret not being able to shop locally and cook ourselves. So this time we just rent holiday flat near the beach and we will take full advantage of Galicia's amazing seafood markets and restaurants. I can't wait!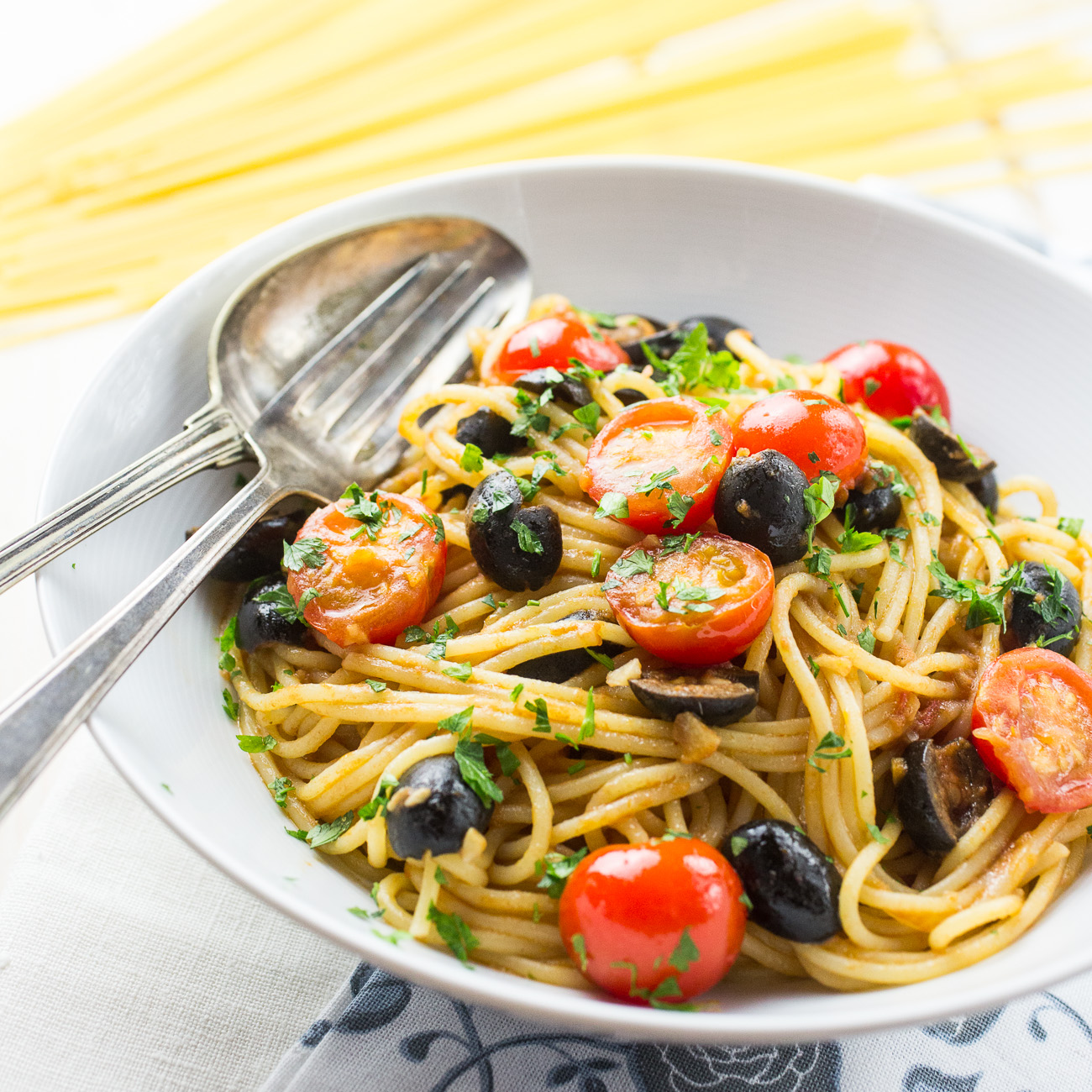 But for the next six weeks, I'll be here. Working and cooking and blogging occasionally. This week I bring you another lighting fast pasta dish. I'm slowly becoming pasta-girl on here, if I don't be careful. People always tell you, to pick a niche, when you start blogging and if I HAD to choose (which I never will, thank God) it would probably be pasta. Pasta is quick, versatile and it never feels like a compromise. A quick 30 minutes mid-week pasta dish, still can taste like a restaurant-quality dish.
Such as this one: Slutty Spaghetti or if you wanna use the italian term Spaghetti alla puttanesaca. The speculations about the origins of the names are plenty, but what's a fact that it's a great tasting dish. Salty anchovies, a generous portion of garlic and olive oil, cooked into a tasty sugo, topped with chili and black olives… yum! Just the dish to satisfy your mid-week pasta cravings!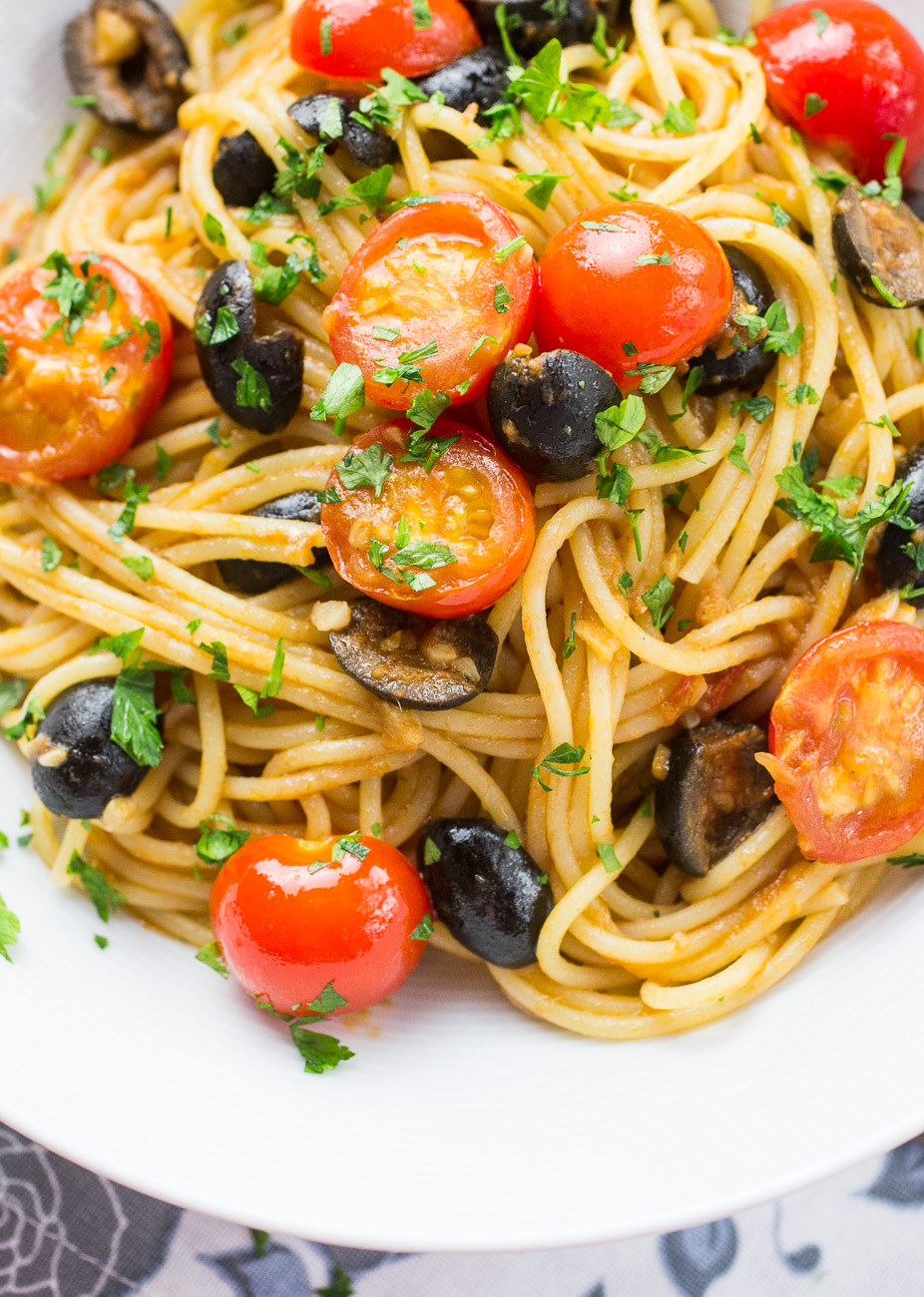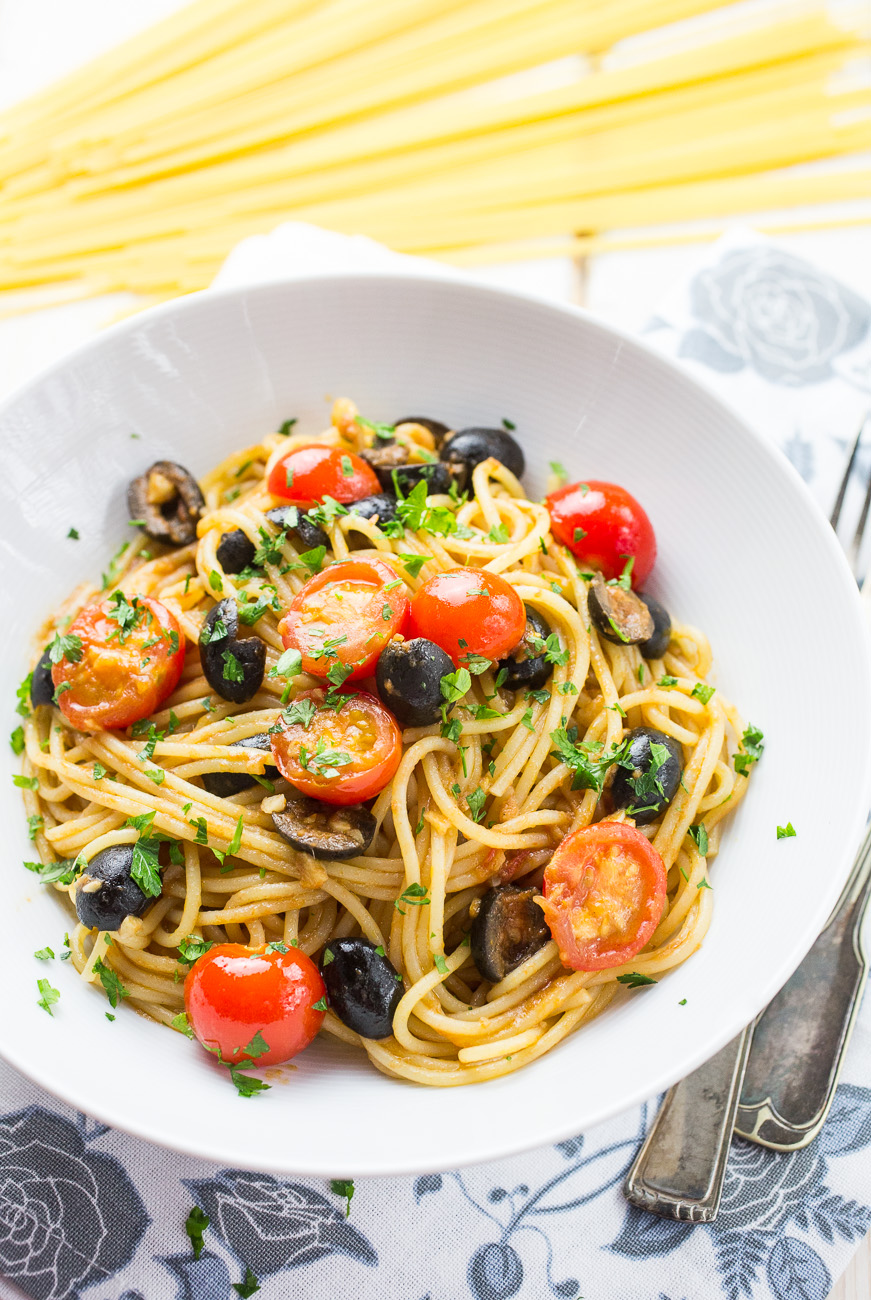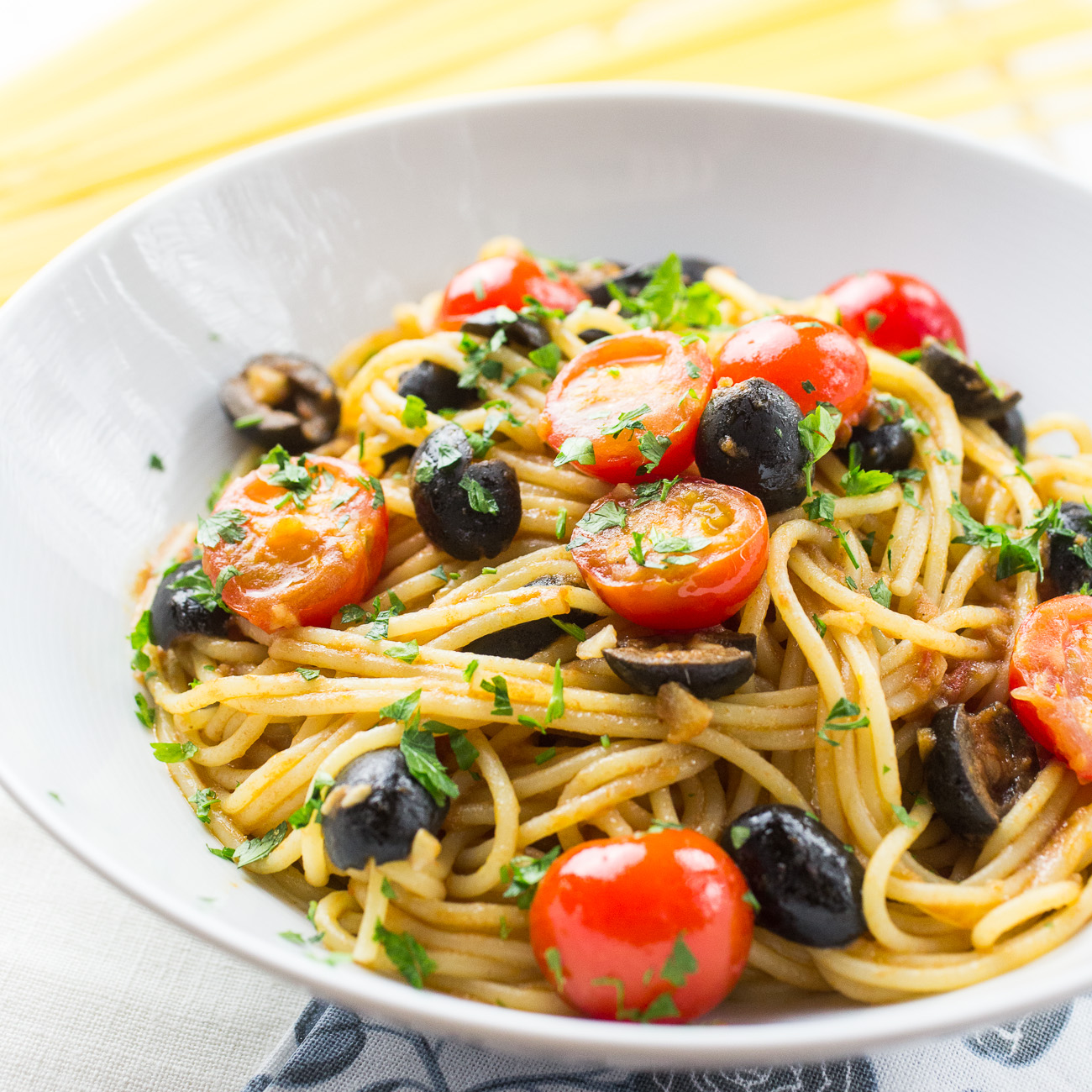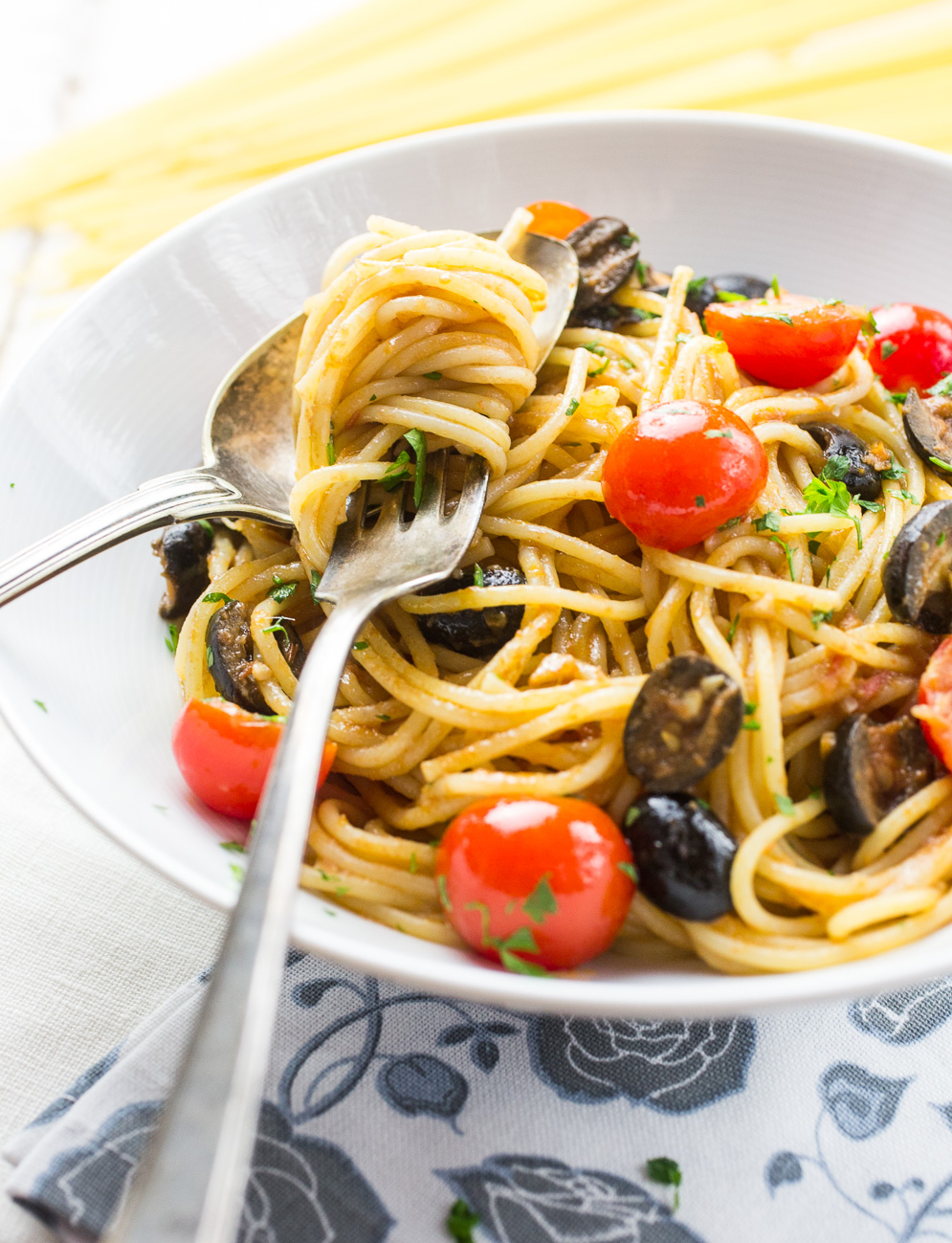 Slutty Spaghetti aka Spaghetti alla puttanesca
Spicy Spaghetti in a sauce of tomato, anchovy and olives.
Ingredients
300

g

spaghetti

4

cloves

garlic

finely chopped

6

anchovy fillets

finely chopped

1

tsp

chili flakes

1

cup

tomato passata

1

cup

black olives

halved

1

tbsp

capers

8

cherry tomatoes

halved

2

tbsp

parsley

chopped

salt and pepper to taste

parmesan for serving
Instructions
Cook the pasta according to package and reserve one cup of the cooking water before draining.

Meanwhile heat a splash of olive oil in a large pan over medium heat. Add the garlic, chili and the anchovies and fry them for 3-4 minutes, until the anchovies have almost melted into the oil.

Add the tomato passata and let it cook until the sauce has thickened, about 10 minutes.

Add the olives, capers and cherry tomatoes. Mix well.

Now adjust the seasoning with salt and pepper if needed (the sauce will already be quite salty due to the anchovies).

Add the cooked pasta to the pan and mix well. Add some of the pasta cooking water, if the spaghetti are too dry for your taste.

Sprinkle with the chopped parsley and serve immediately with parmesan.