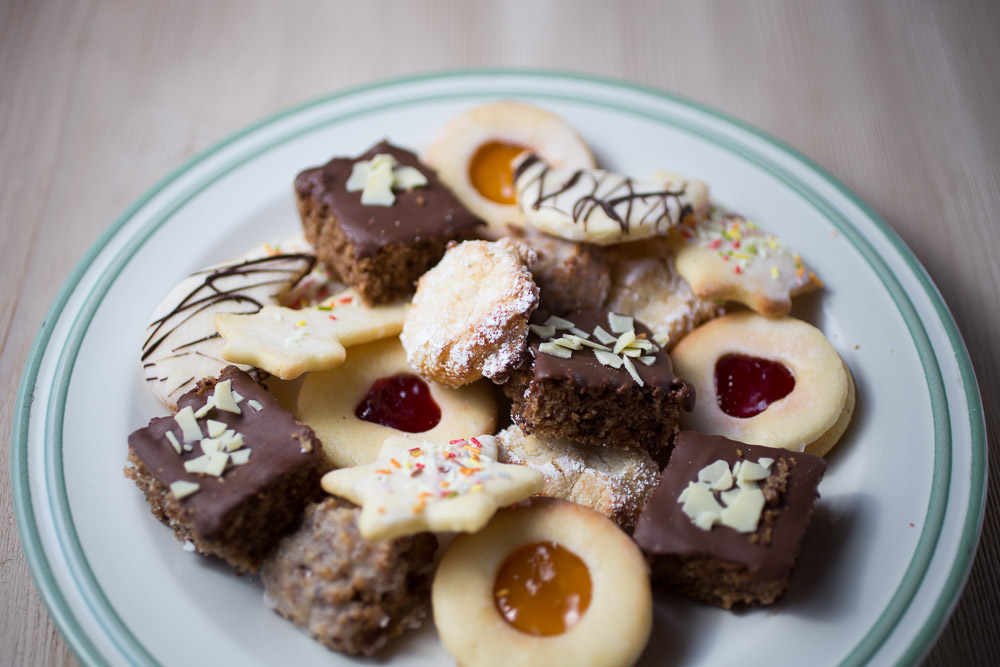 Fairy lights, cookies, baking, family… oh yeees, Christmas is just around the corner. And I LOVE it. I am cynical and bitchy about so many things in life, but Christmas always brings out the best in me. I love everything about it. The tacky music, the amazing smell from the Christmas markets in my city, the beautiful light, the quality time with loved ones and of course all the amazing food.
Like every year, just before the first advent weekend, I spent the last weekend at my parents house and we just baked, baked and baked some more. My Mum, my Grandma and me took care of the classic cookies. Chocolate bread, sugar cookies, jam filed sugar cookies and two types of macaroons. And my Dad, as always, is in charge of the spanish sweets. He makes some kick-ass authentic polvorones de almendras (will do a post about that later). They are to die for and no one else has the patience to make them… I am very enthusiastic about eating them though.
We got a lot of practise over the years and by now we work like a well oiled christmas-cookie-machine. I work the sugar dough, my Mum takes care of the baking and makes sure I don't trash the kitchen completely and my Gran does the icing. Three generations getting ready fpr Christmas.
After those days my back was killing me, I was covered in water icing up to my elbows and I licked way too much chocolate off my fingers. But the outsome is always satisfying. Not only do we have a tables full of delicious cookies (we always bake for the entire extended family showing up around Christmas), but we also had a great time, shared a lots of laughs and all went to bed happy that day. Love. Love. Love.