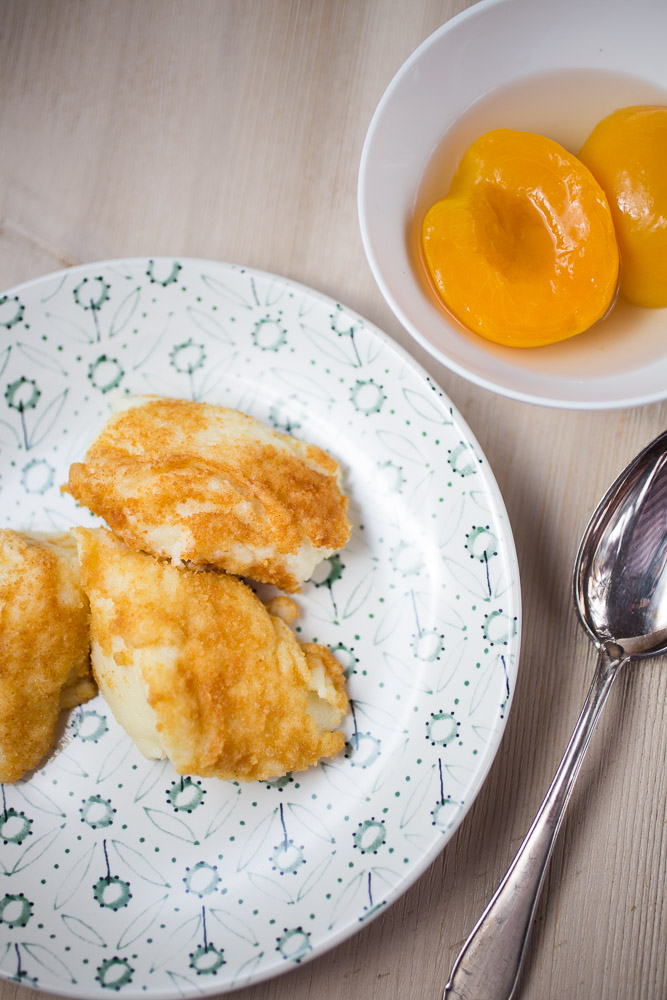 Say what? What's that strange title with the funny looking characters. Trust me, even some German folks wouldn't understand the title. It's palatinate dialect. My hometown isn't directly in the palatinate region, but right next to it. Roughly translated it means: Semolina dumplings with peaches. And it's one of my favourite "I have nothing at home and I'm on no mood to cook"-dishes. It's super-fast. All the ingredients can be found in the fridge or a well stocked pantry at all times.
It's also a childhood memory. This is a dish my german Grandma used to make often when I was a kid and ate at her place after school. My Mum had this dish as a kid just the same way and so did my Grandma. Basically it was poor-people food. After WWII there wasn't much, but you always had some semolina and some stale bread for the bread crumbs.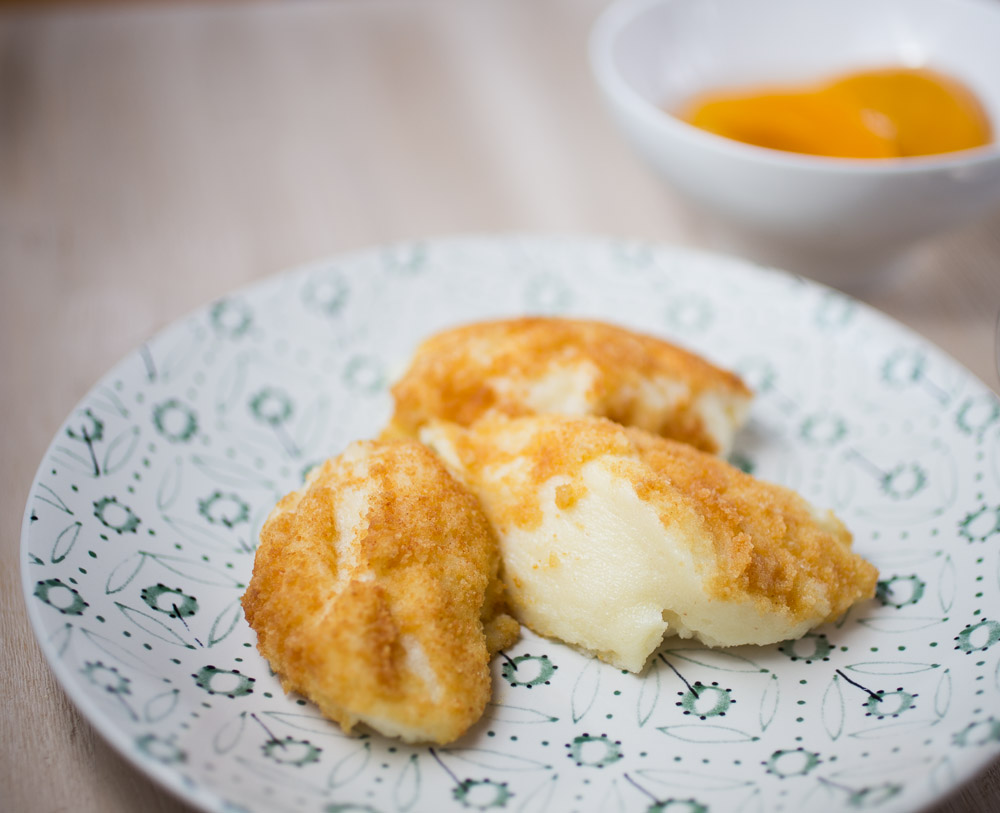 I've never googled this recipe before, but I did now. And it seems that there are some variations I wasn't aware of. My Grandma always used to make the dumplings salty, but it seems some folk are making them with sugar. I guess that's a matter of personal taste. I don't like my dinner to resemble dessert too much, so I would always go for the salty version. I also like the contrast with the sweet peaches. But if you have a sweet tooth, go for the sweet kind.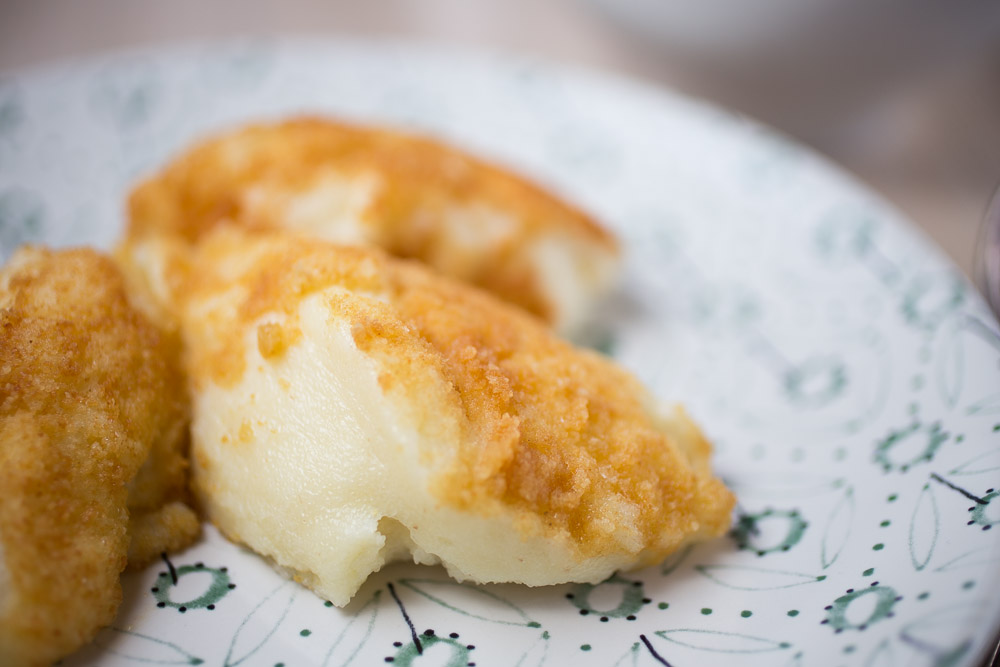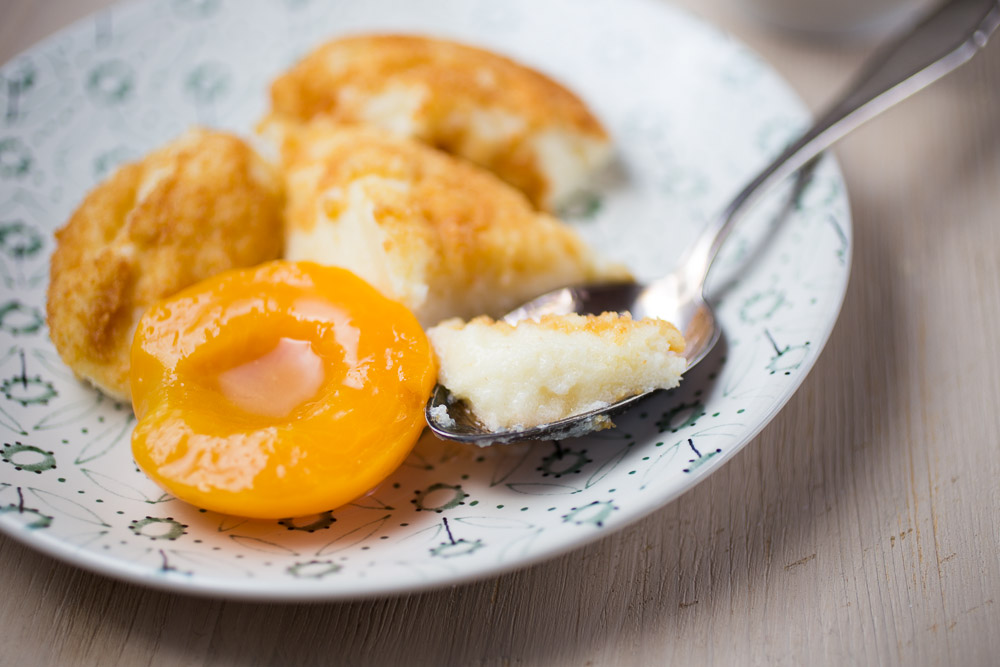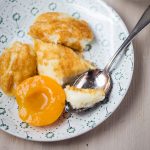 Grießknepp mit Pärsching
Semolina dumplings with peaches
Ingredients
500

ml

milk

1/4

cup

semolina

1/2

tsp

salt

1

tbsp

butter

2

tbsp

bread brumbs

1

can peaches in syrup
Instructions
In a medium pot heat the milk and the salt until it starts simmering. Whisk in the semolina and kill the heat. Keep stirring until the mixture thickens. Set aside to thicken some more.

In a small pan heat the butter and add the bread crumbs. Stir for 4-5 minutes until the bread crumbs are golden brown. Take off the heat.

Take a tablespoon and cut out big dumplings of semolina. Carefully roll them in the bread crumbs.

Serve with peaches or other preserved fruit.