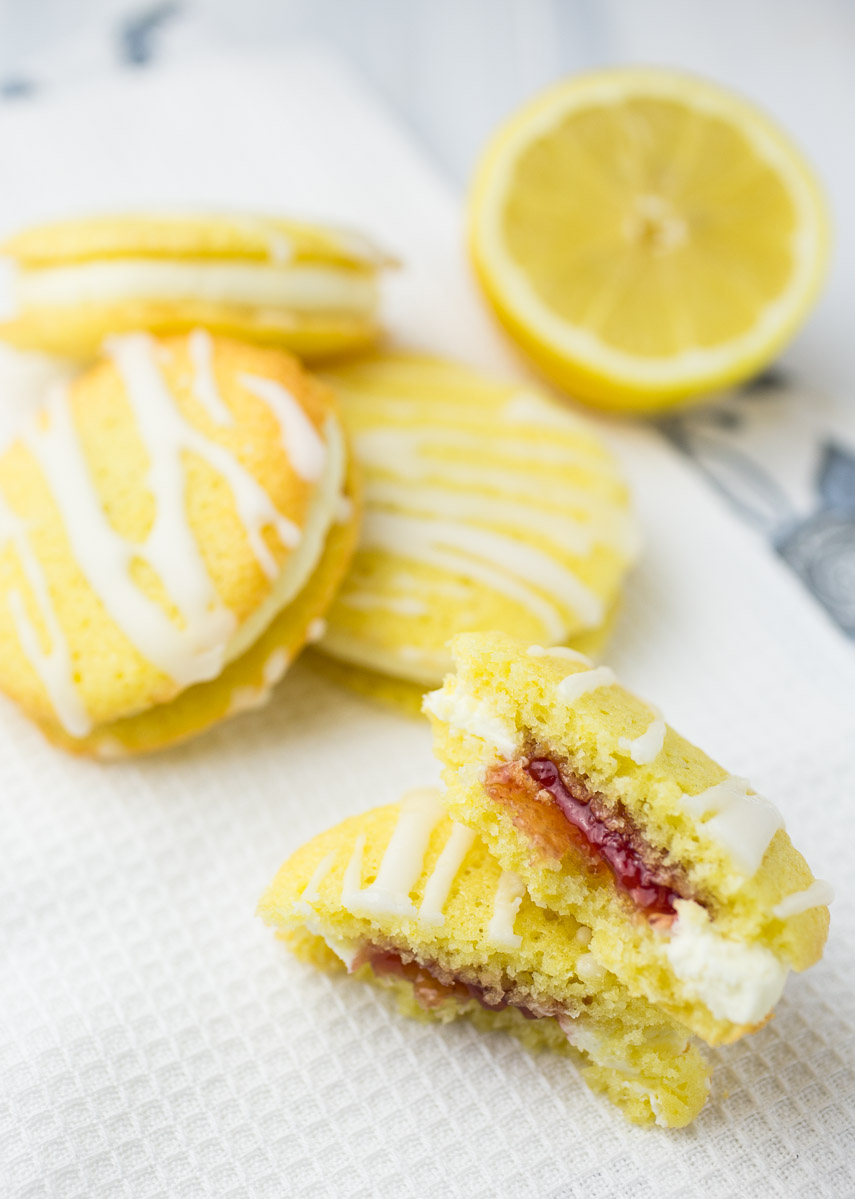 I'm often a bit ashamed to admit… but I am not a good baker. I'm a decent baker… when the recipe is easy enough, but I just suck at the complicated and sophisticated recipes. That's why I only have two measly cake recipes on the blog right now.
I'm a great cook, but cooking is a whole nother thing. Cooking is a lot about intuition. You can tweak and adjust and substitute and get amazing results as long as you have a feeling for what's going on in your pots and pans. Baking…. not so much. Deviate from the recipe and you're screwed.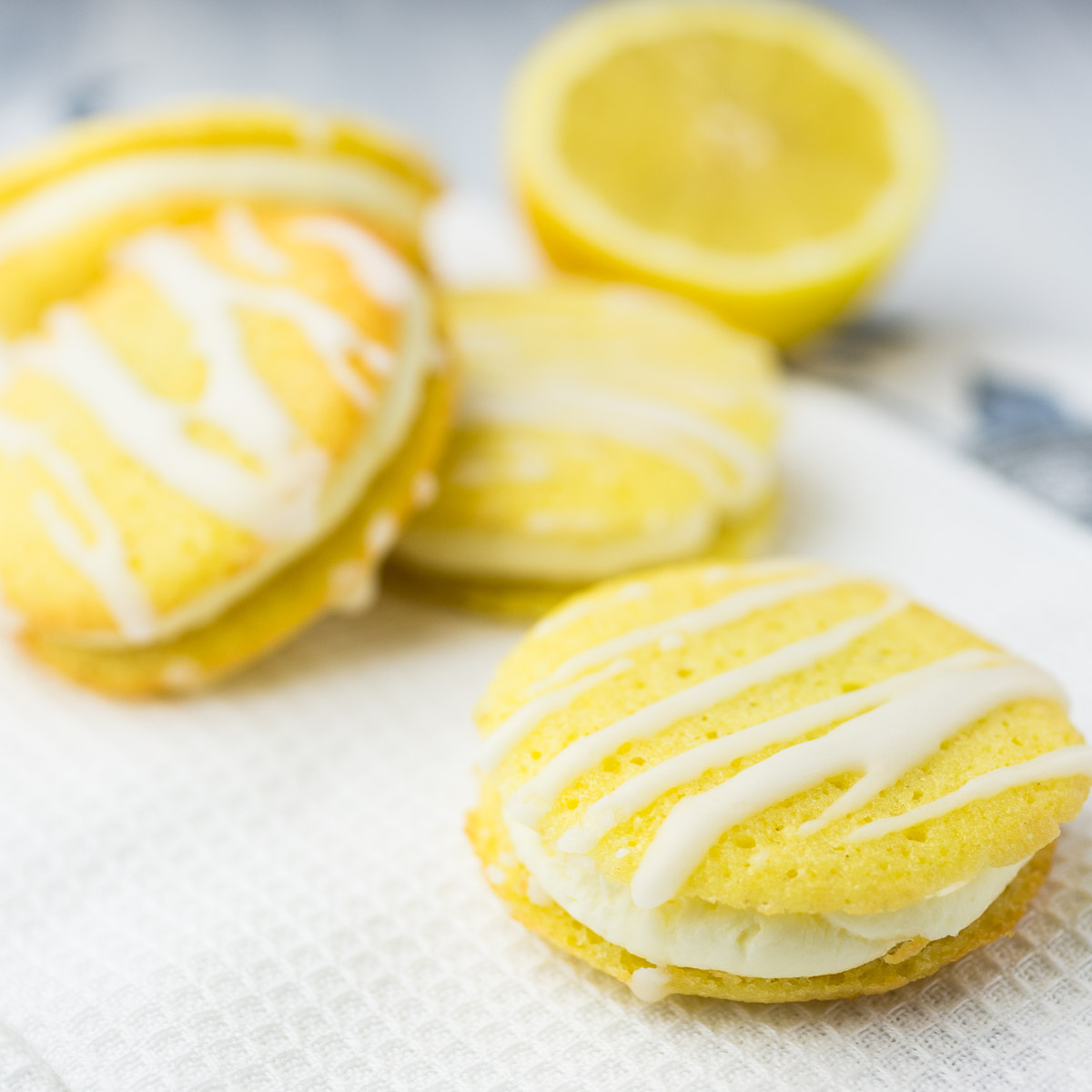 I might not be a great baker, but I am however a good photographer, that's why those whoopie pies look quite alright. I can tell you that those where the pretty ones, the other ones where a bit out of shape and looked… wonky. Because my baking sheet is uneven, because my oven is not the right temperature, because I had bad karma, or because it was Thursday and I was wearing pink socks. Who knows!
So I took the pictures of the prettier ones and thought about not even posting this, BUT they taste sooooo great. The tart and soft cookies combined with the creamy mascarpone and fruity strawberry jam are just yummy. The recipe is solid and if you are good at making things pretty and even, then you can make them all the same looking. I can just make them wonky, but delicious.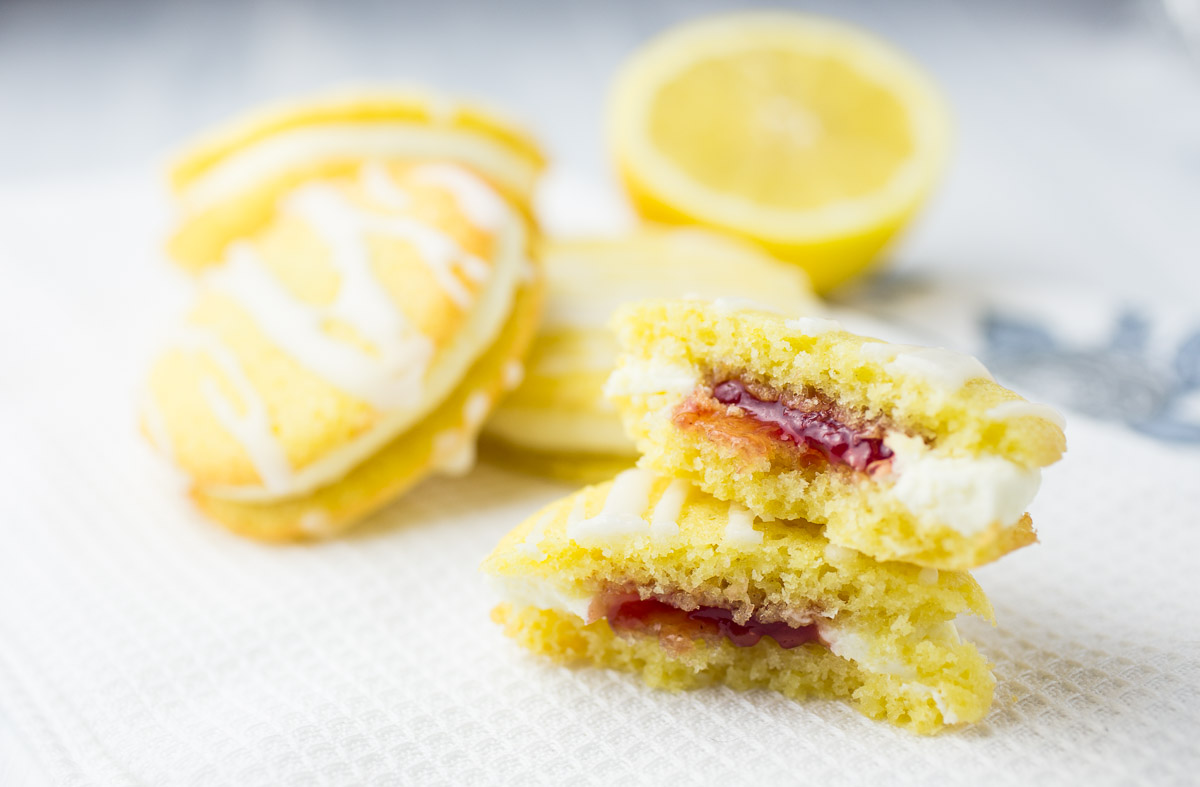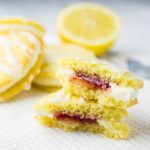 Lemon Whoopie Pies
Tart whoopie pies filled with creamy mascarpone and strawberry jam.
Ingredients
For the dough
150

g

butter

softened

140

g

sugar

3

eggs

2

tbsp

lemon juice

175

g

flour

1

tsp

baking powder

Zest of one lemon

grated
For the filling
200

g

mascarpone

85

g

confectioners' sugar

100

g

creme fraîche

2

tbsp

lemon juice

100

g

strawberry jam
Instructions
Preheat your oven to 175° C / 347° F and line two baking sheets with baking paper.

In a bowl combine butter and sugar and whisk for at least 5 minutes or until it's creamy and fluffy. Add one egg at a time until all three are incorporated.

Add the lemon juice

Mix the flour, baking powder and lemon zest and gently fold into the dough.

Fill the dough into a piping bag with a big round tip and pipe 14 circles with a diameter of ca. 5cm on each baking sheet. Bake for 15 min and let them cool on a cooling rack.

Meanwhile in a bowl combine the mascarpone, the creme fraîche, lemon juice and the confectioners' sugar and whisk until well combined.

Fill into a piping bag with a big round tip and pipe a generous border around the flat side of half the baked circles.

Add a tsp of jam in the middle and assemble the whoopie pies.