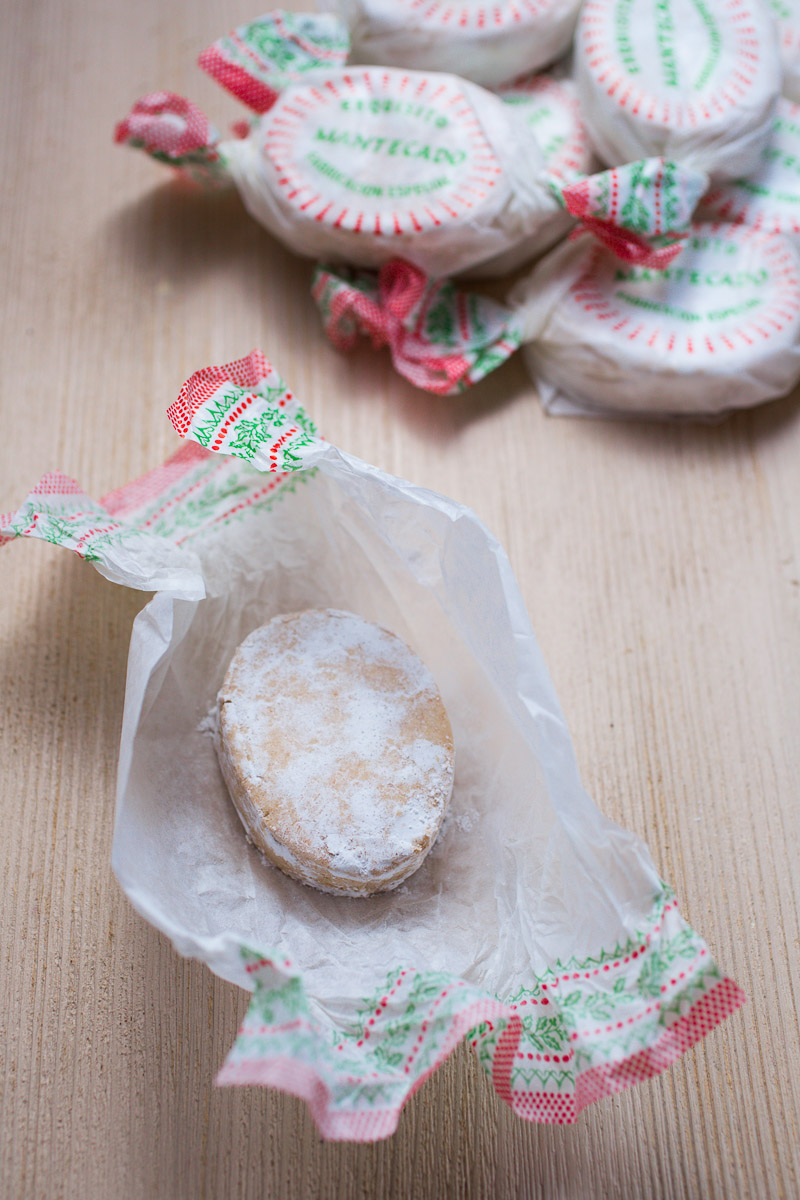 Christmas is just around the corner, you guys, and I am already in foodie heaven. Cookies, chocolates and these babies! My Dad's polvorones de almendra. Polvorones are a kind of heavy, crumbly, short-bready kind of cookie originated in Andalusia. It's main ingredients are flour, lard and sugar and, depending on the type you're making, cinnamon, almonds, lemon extract or other flavours. It has very few ingredients, so the quality of the ingredients define the outcome.
When I was a kid we usually bought polvorones around Christmas. Sometimes we were lucky and some spanish relative brought some high quality ones from Spain but usually we were stuck with the cheap factory brands we could get a hold of here in Germany. Not very good, but better than nothing. Until my Dad started to make them himself. After eons of searching for an authentic recipe and trying and tweaking, he finally nailed it a few years ago. Since then they turn out perfect every time. Crumbly, heavy, sweet goodness. Just amazing.
No one else in my family has the patience to make them except my Dad. And he is sooooo fussy with the process and the ingredients. The almonds for example. The recipe calls for ground almonds. No biggie… just pop down the store and get a pack of ground almonds. Nooooooo! The taste is not right. We need to grind them ourselves. Alrighty… get some peeled almonds. Noooooo! The prepeeled ones are not right either. So what's happening is that we buy almonds with their skin on and then peel them all by hand, roast them in the oven and then ground them. Only then they are right.
Making the dough for the polvorones is another thing that would drive my Mum and me INSANE. You have no liquid in the dough, just the pig fat and huge amound of dry ingredients. It seems impossible. In the beginning it looks like the dough will never ever come together. You have to be patient and knead it, slowly warming it with your hands, and knead some more. Until it finally resembles a dough you can actually work with.
When the dough is finally somehow magically rolled out (did I mention I could never do this), you have to cut out neat little ovals and bake them. Took us forever to find out the right baking time. They need to be just a tiny tiny bit crispy on the outside and soft and very crumbly on the inside. You bake them too long and they get tough all the way through, you bake them not long enough and they fall apart when you touch them.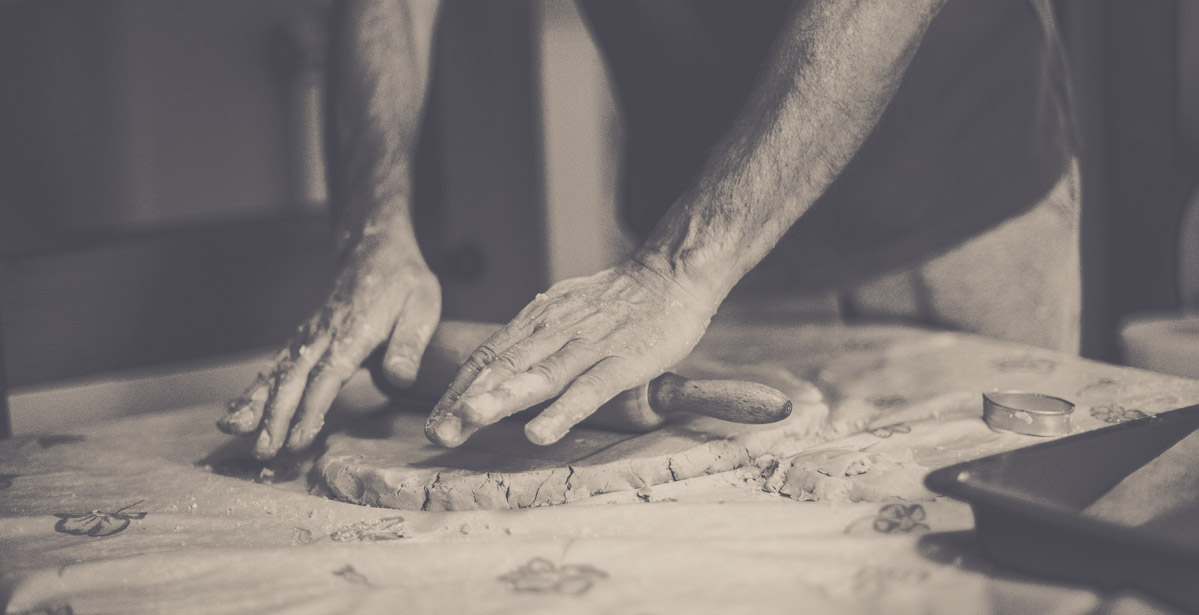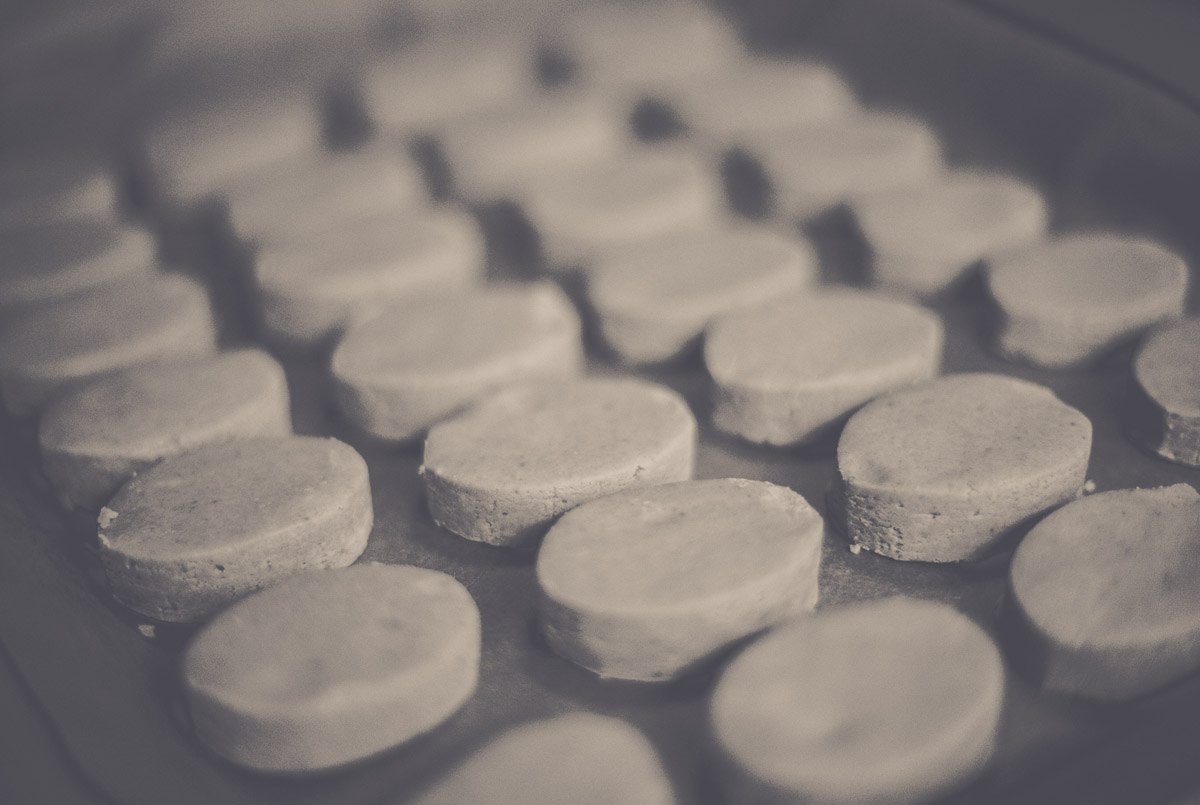 When they are finally baked they need to cool off completely, because they are still crazy soft when they come out of the oven. They need some time so the fat can harden again. But when they are cold the next workload is just waiting around the corner. They need to be coated in confectioners' sugar and then wrapped. For wrapping we use a special kind of silk paper a friend always brings back from Spain for us.
So the whole family is gathered around the kitchen table. Everyone gets a plate full of sugar, a stack of papers and we start wrapping. Making these is really a family event and that's how it should be!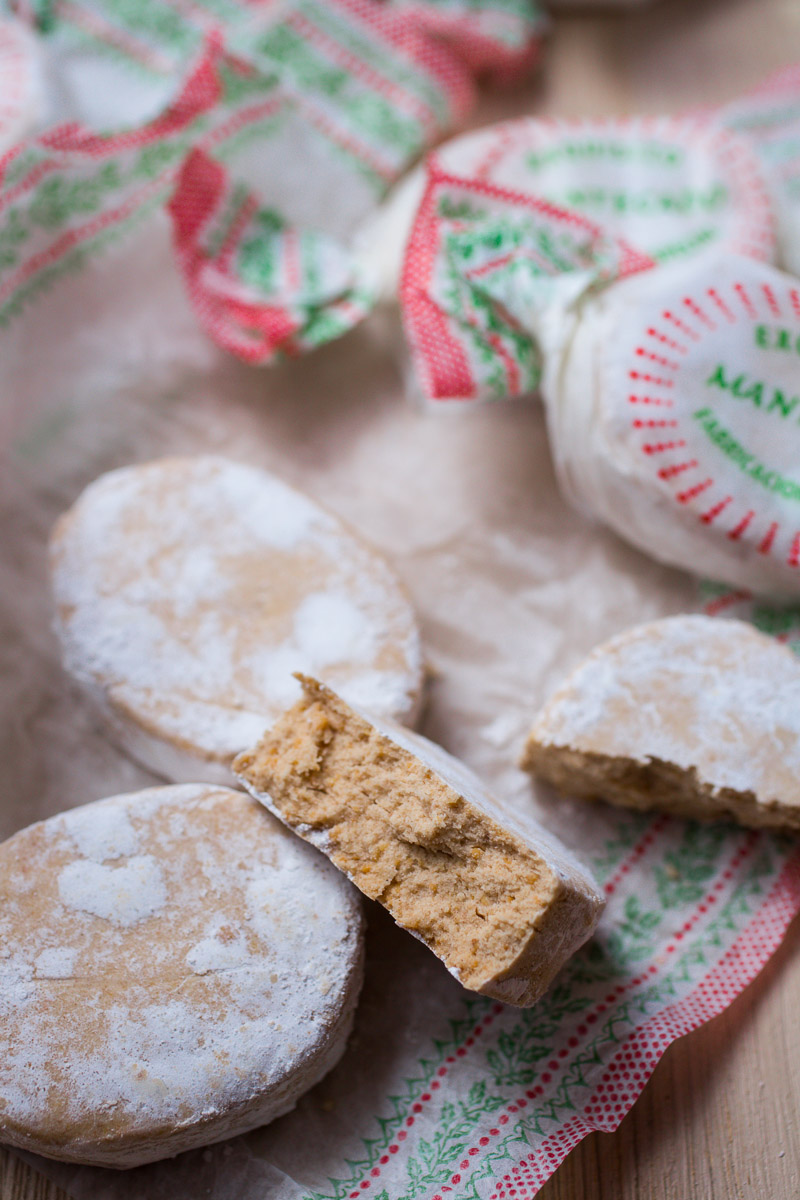 So here it is: Our super secret recipe for authentic andalusian polrones de almendras! Enjoy!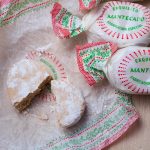 Polvorones de Almendra
The classic andalusian christmas cookie!
Ingredients
500

g

flour

250

g

lard

350

g

confectioners' sugar

divided

125

g

unpeeled almonds

2

tsp

cinnamon

Polovores papers for wrapping
Instructions
Preheat your oven to 170°C / 340°F and take the lard out of the fridge. It needs to be at room temperature so you can work with it later.

Spread the flour on a baking sheet and put it in the oven to dry out for 30 minutes. Mix it from time to time so it doesn't catch.

While the flour is drying out pour boiling water over the almonds and leave them in there for 2-3 minutes. Drain and pour cold water over them. That way the skin will come off easily. Peel the almonds and spread evenly on a baking sheet. Place them in the oven for 10 minutes. Have an eye on them. You want them to brown just a tiny bit, but not too much or else they will turn bitter.

When the almonds are toasted, take them out the oven and leave them to cool down. When cold grind them in a food processor.

In a big bowl sift in the flour and 250g of the sugar. Add the almonds and the cinnamon and mix well.

Cut the lard into small pieces and add to the bowl. Work the dough with your hands until it all comes together. It might seem impossible in the beginning, but after a while a dough will form.

Set your oven to 200°C / 392°F fan.

On a worktop roll out the dough around 1cm thick.

Cut out 6x4,5cm ovals (or rounds or whatever shape you want really...) and place them on a baking sheet.

Bake for 15 minutes.

Take the polvorones out and leave them to cool off completely or else they will fall apart when you touch them.

When they are cold and firm, coat each one in confectioners' sugar and wrap in silk paper.