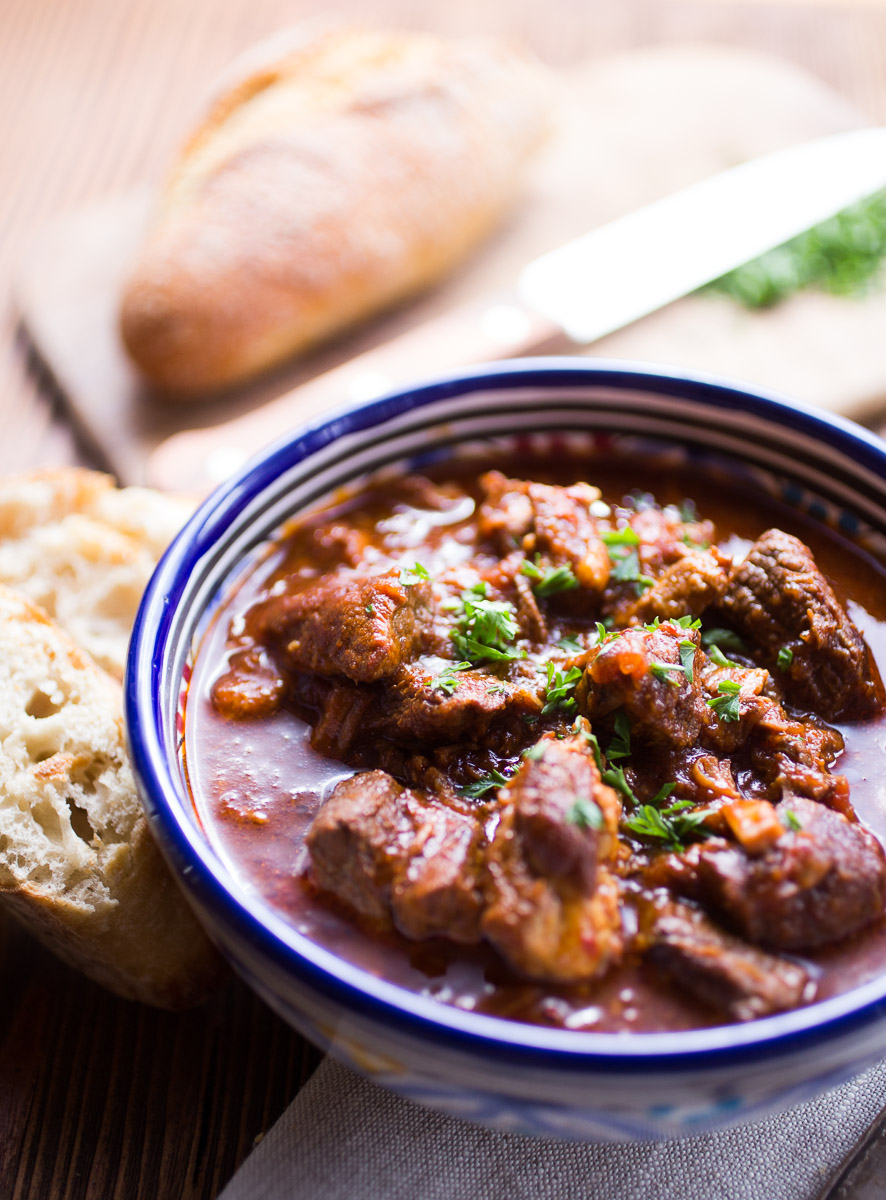 Welcome to another episode of "Sandy's misconseptions about food". This episode: Chili Con Carne. In Germany when you order a chili in restaurants you usually get a spicy stew of low quality minced meat mixed with kidney beans of some sort. So naturally for a long time I thought that's what chili is. The taste was alright, but I'm not the biggest fan of beans, so I never thought about making chili at home. Lovely Alton Brown finally educated me on chili in his TV show "Good Eats". In it's original recipe chili didn't have beans and it wasn't made with minced meat. It was more like a spicy stew with slow cooked meat chunks in it. Now that's my kind of dish.
Then Alex came along and with him his love of spicy food, so soon he started to make chili con carne at home and after a few tries he came up with this amazing recipe, that I'm sharing with you today.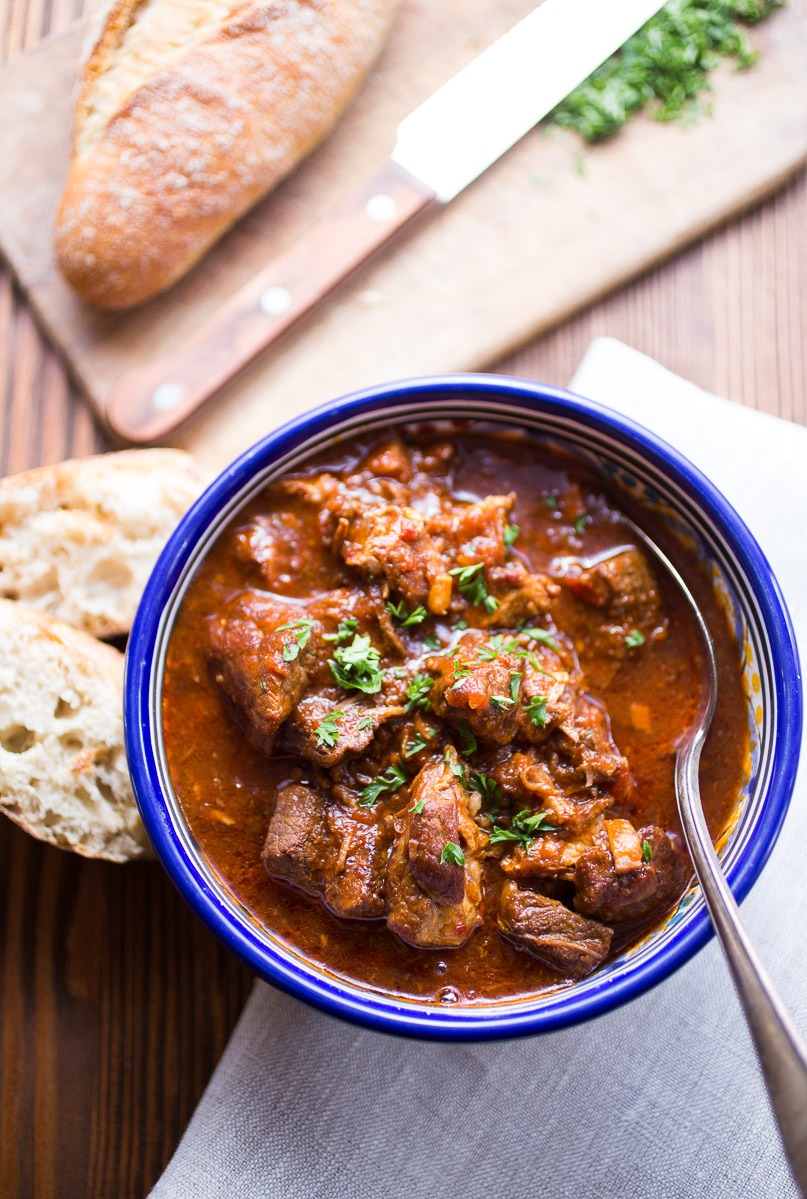 There's something manly about chili. When you eat it, you can imagine cowboys cooking it in a pot over open fire, next to the cattle on the field. Well we are so very far away from that scenario here in Germany, but I can still get a cowboy-ish, caveman-y kinda feeling when I'm walking through the grocery store and suddenly find myself with what looks like half a cow and half a pig in my shopping cart. "You gonna buy ALL that meat?!" I tend to ask and Alex always tells me chili freezes well and he's right about that. Make a big ass pot and freeze the rest. It will make some lovely quick after-work dinners.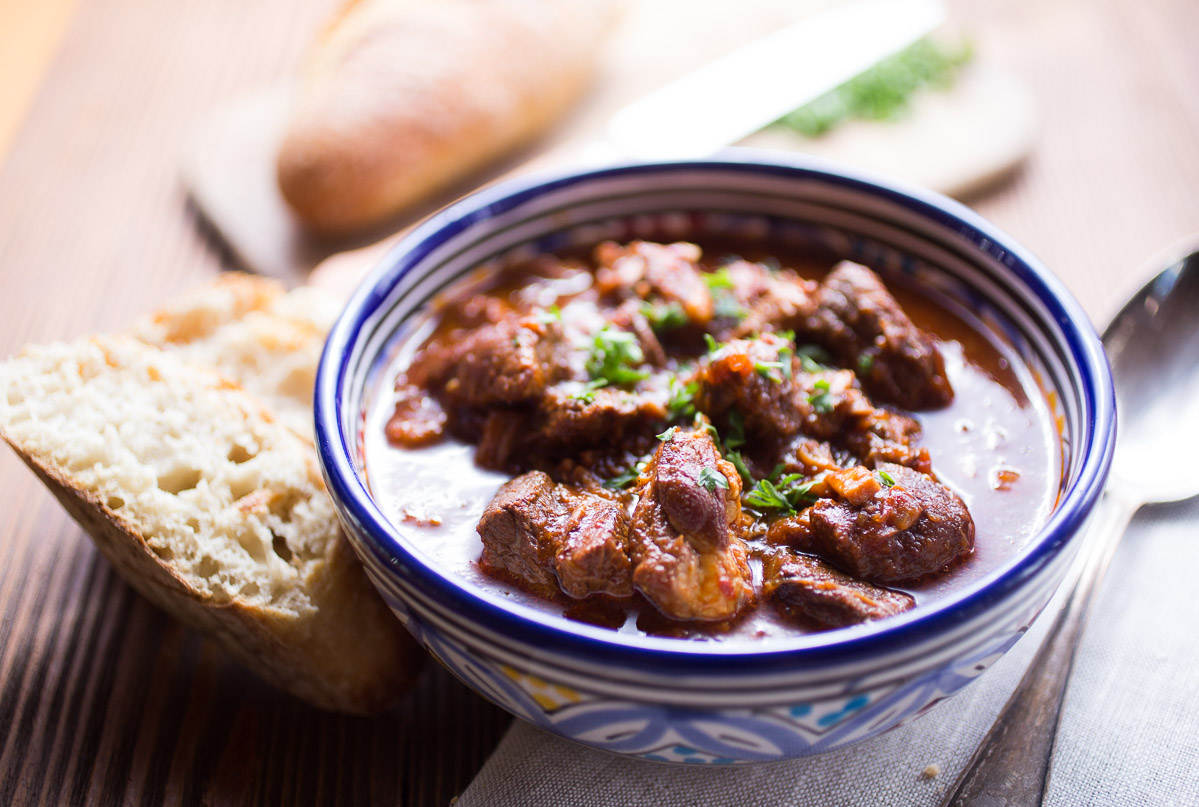 A few words on the meat. In this recipe I'm using beef and pork. We always buy the cheaper cuts for stews and chilis, meaning pork shoulder or neck and beef shoulder. You get a good value for the price and the meat will be really tender after the long cooking. So need buying more tender cuts of meat. You could of course always use lamb for chili as well. We used it before and it's delicious, although the more expensive option.
So, look out for those cheap cuts and get cooking!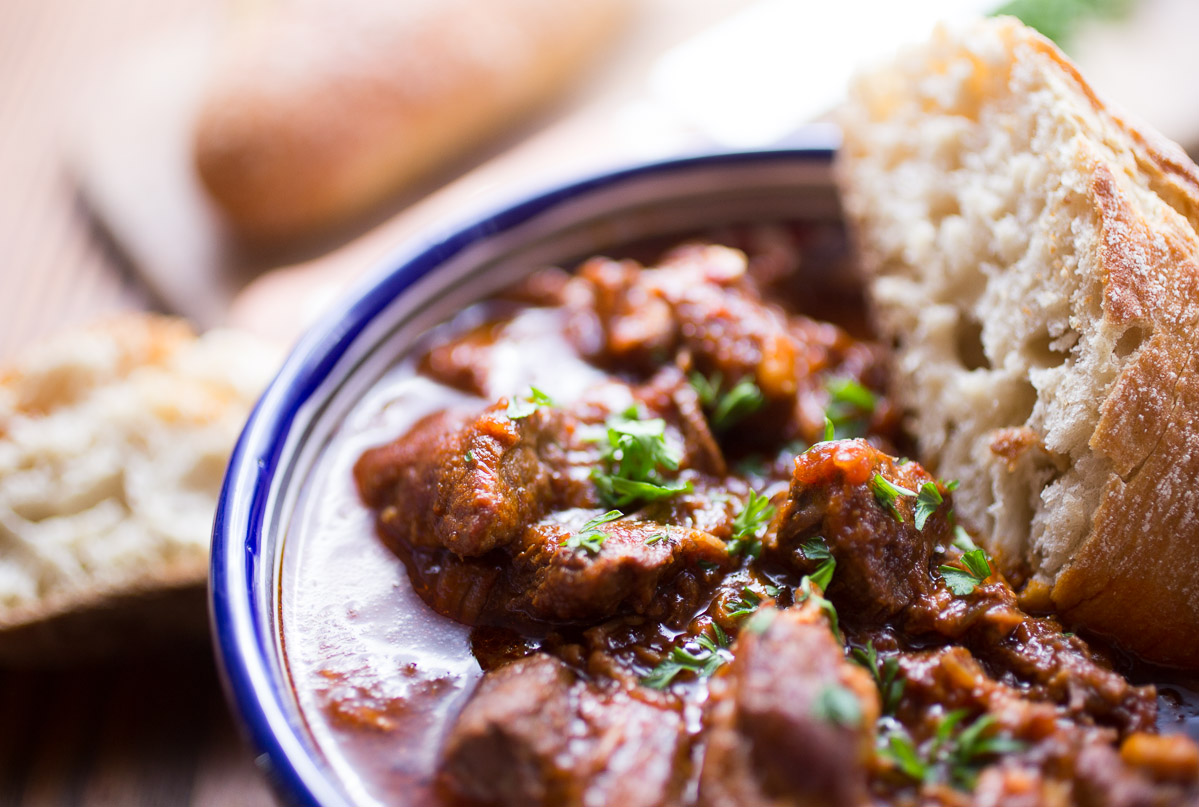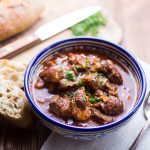 Chili con carne
A delicious spicy chili recipe made with pork and beef.
Ingredients
750

g

pork neck

cut into cubes

750

g

beef shoulder

cut into cubes

3

large onions

finely chopped

8

cloves

of garlic

finely chopped

2

dried ñora chiles

finely chopped

4

chiles

jalapenos or piri piri, stemmed, deseeded and finely chopped

1

tbsp

tomato paste

1

bottle of beer

Guinness or any other stout

1

can of chopped tomatoes

500

ml

beef stock

2

tsp

cumin

2

tsp

oregano

2

tsp

paprika powder

1/2

tsp

smoked paprika powder

1

tsp

cayenne pepper

1/4

tsp

cinnamon

salt and pepper to taste

olive oil
Instructions
Heat a splash of olive oil in a large non-stick pot and fry the meat until brown on all sides. You might have to work in batches. Take the meat out and set aside.

Add the onions and fry for 3-5 minutes.

Add the garlic, the chillies and the tomato paste and fry together for another few minutes stirring occasionally.

Now add the beer, the canned tomatoes and the beef stock, together with the cumin, paprika powders, oregano, cayenne and the cinnamon. Stir well to combine.

Add the fried meat and any leftover meat juices back to the pot and add salt and pepper to taste.

Put a lid on the pot, turn the heat down and simmer for at least 2 hours or until the meat is tender.

Adjust the seasoning before serving if necessary.