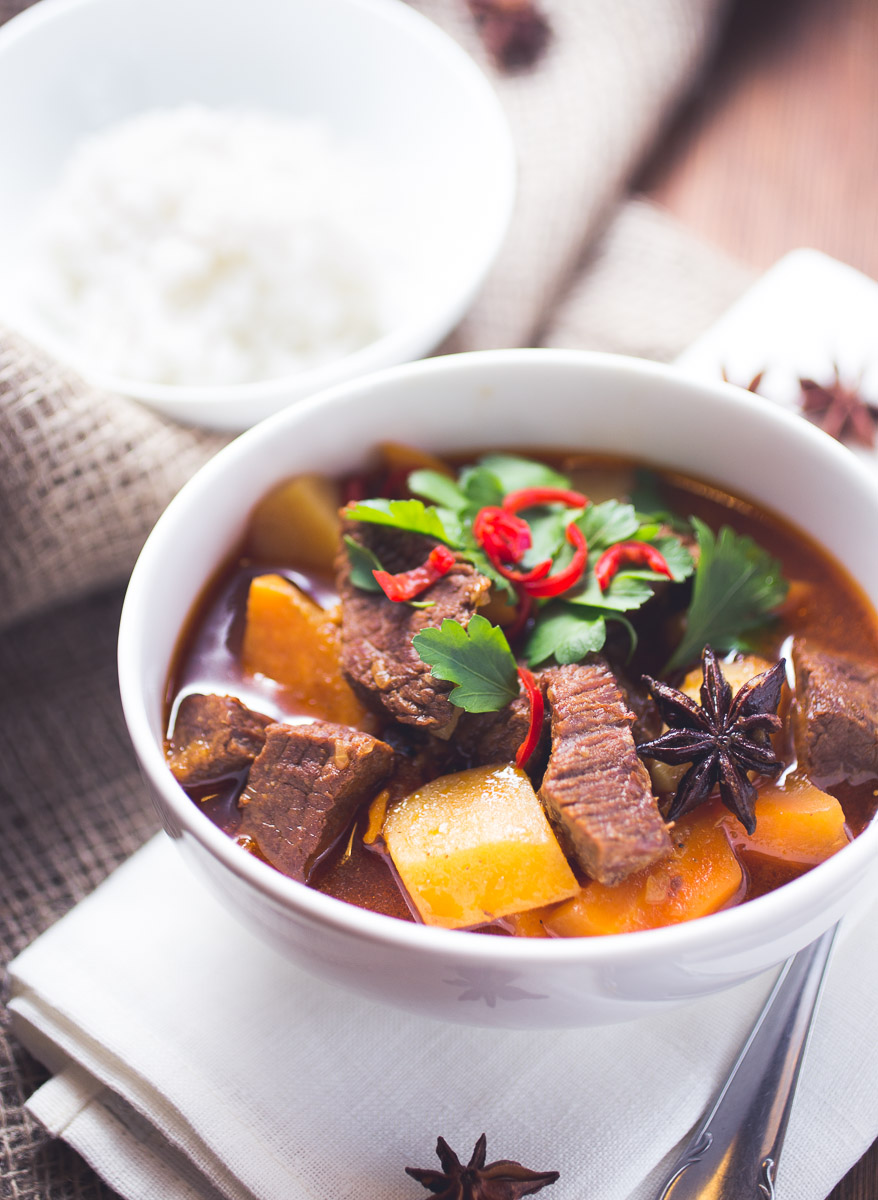 I looove stews. Irish lamb stew. Beef and ale stew. Spanish chard or cabbage shew. There is nothing better, especially in winter.
Last Friday one of my co-workers took me to a lovely vietnamese restaurant I have never been to before. They had the usual fried stuff you often find in asian restaurants in Mannheim, but one dish completely stood out and instantly got my attention (thank god, the menu had pictures!). As soon as I had that fragrant bowl of hearty beef chunks, potatoes and carrots in front of me I knew this was a winner. I left the restaurant knowing I need to learn to make this dish. God bless Google and its endless resources. Soon I found this lovely recipe by Thien-Kim and gave it a try today.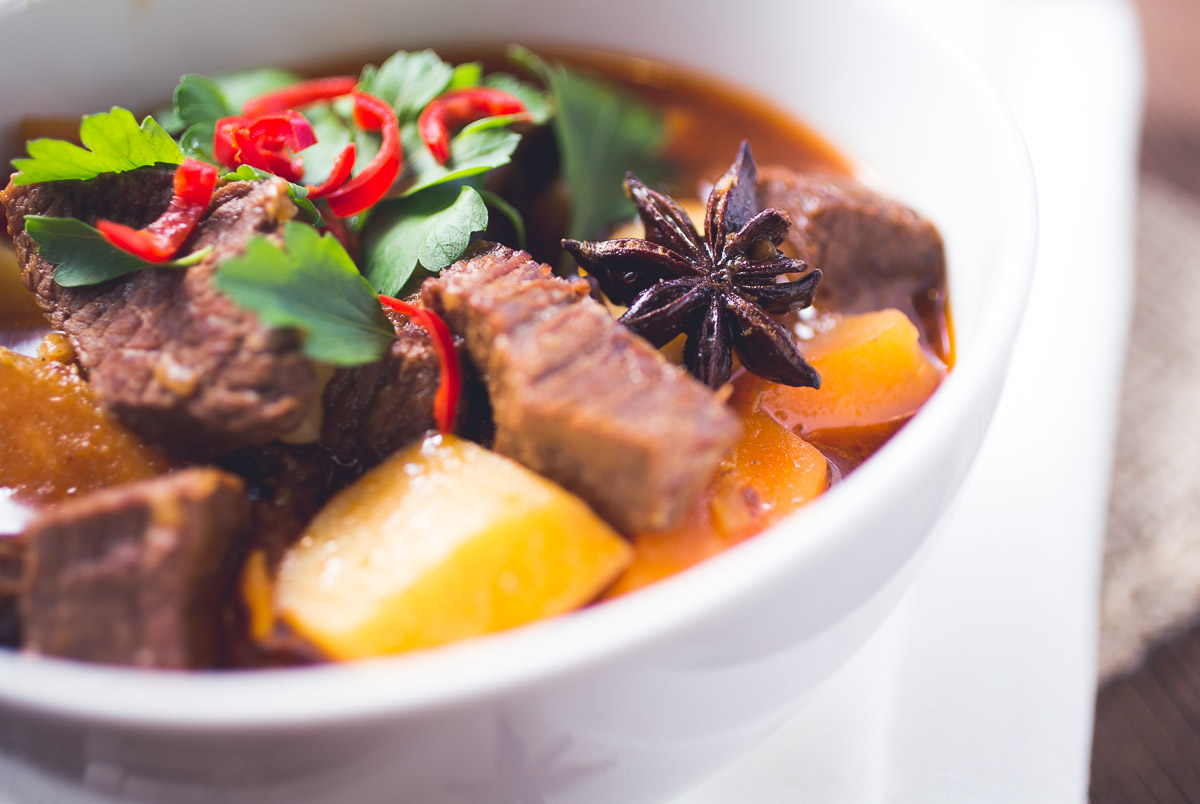 I nearly had all the ingredients at home already and was surprised how great it turned out. The outcome was just as good as the one I had at the restaurant… no actually I liked it even better with my minor adjustements. I added some sweet potatoes to the mix. I have no clue if sweet potatoes are out of place in that dish or not… I just know they tastes damn fine. The real highlight is the broth of this stew. It's flavoured by garlic, ginger, five-spice powder and star anis. What an amazing combination. The result is a fragrant broth that smells so amazing, slightly sweet, but still hearty. Just sooooo delicious!
I guess this will be my last post before Christmas… and it even looks a tiny bit christmas-sy with the star anise in the picture, don't you think? I will be busy those next 10 days. Being with my family, eating tons of delicious food and then again going to France over NYE… for even more food. Have a lovely Christmas, everyone!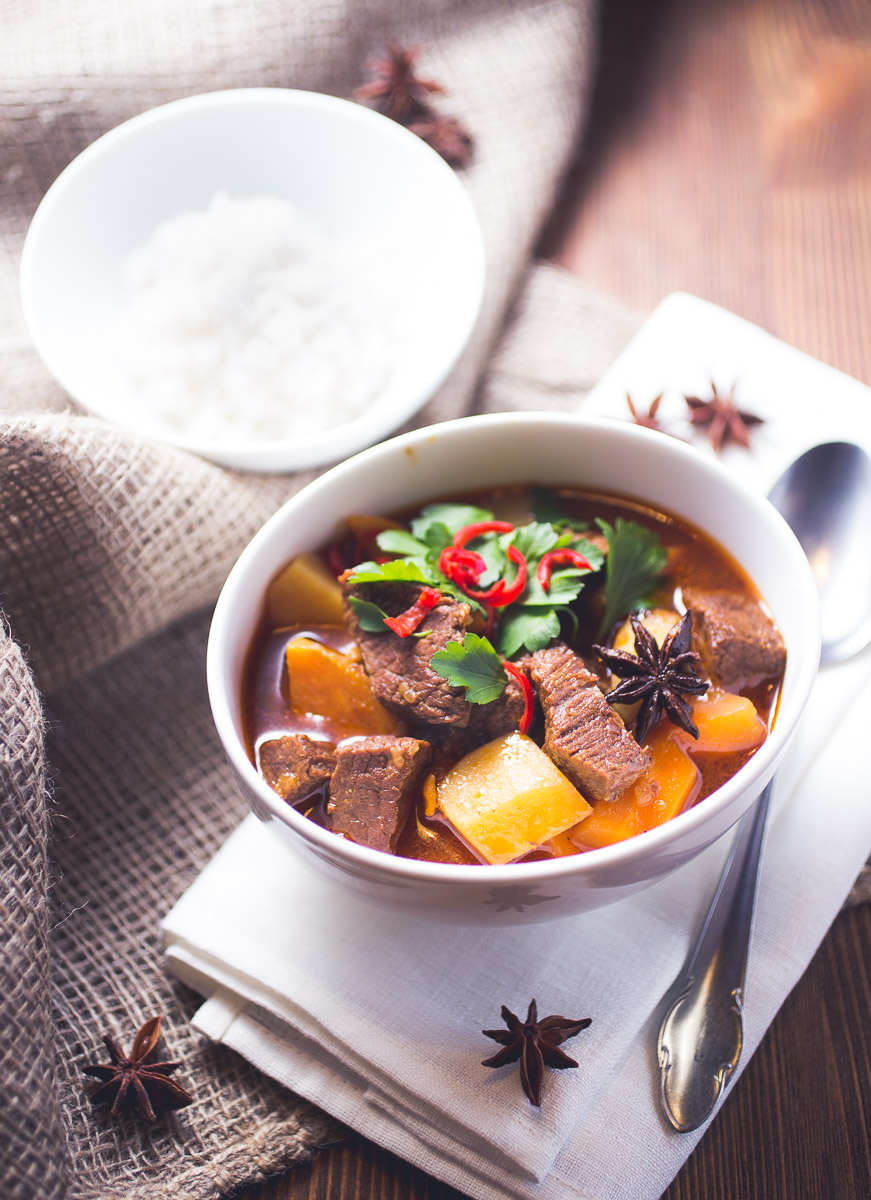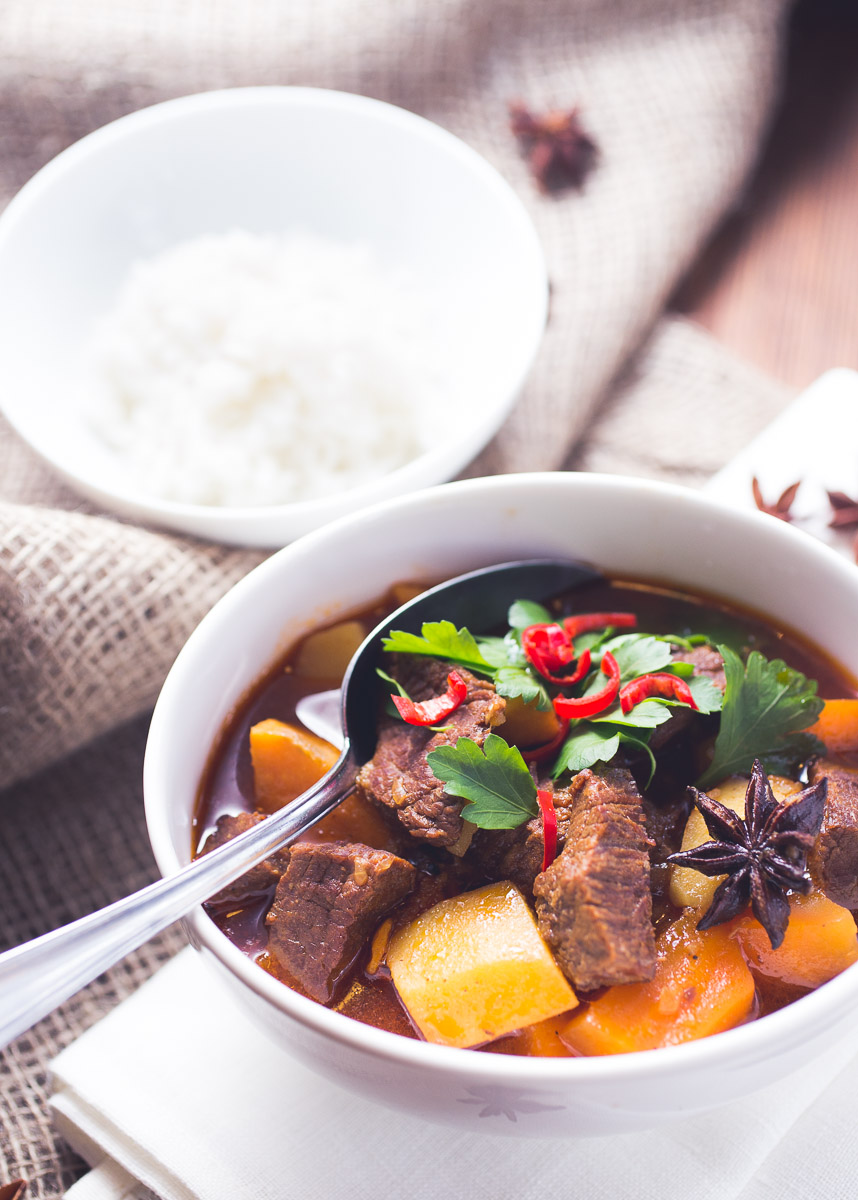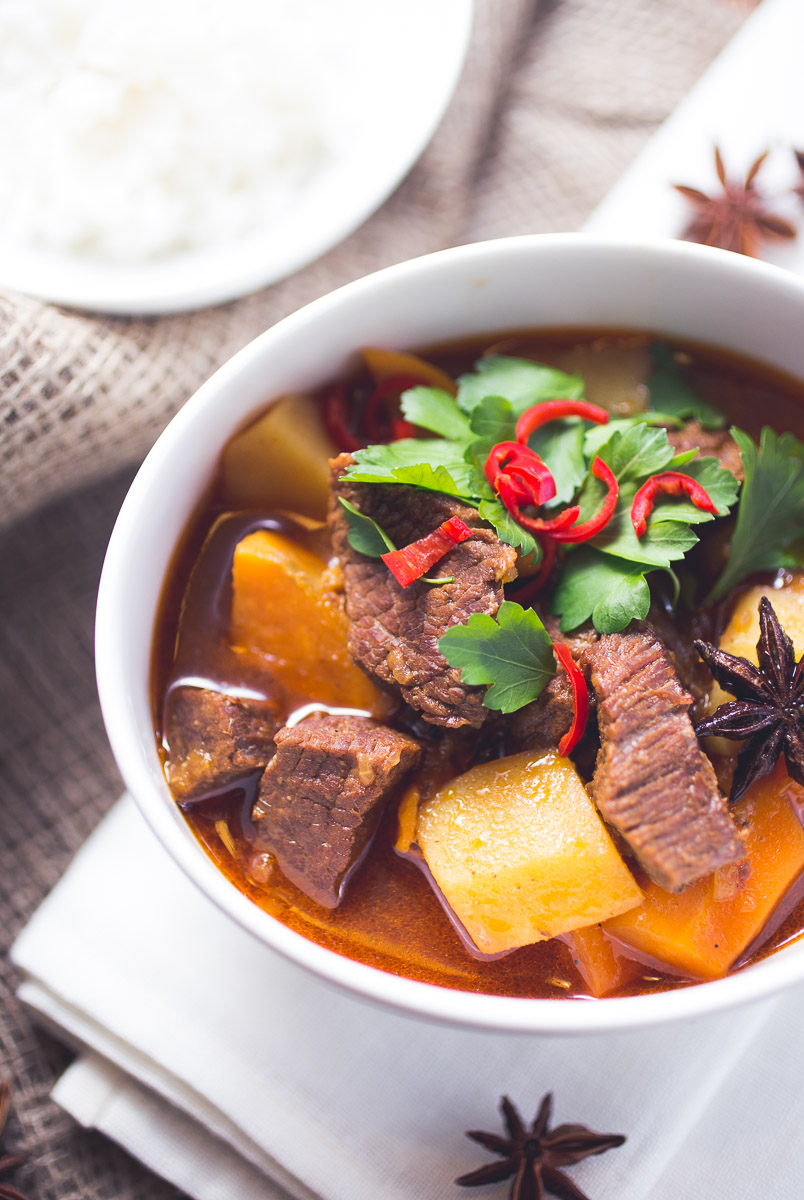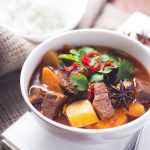 Bò Kho - Vietnamese Beef Stew
Tender beef chunks in a spicy, fragrant broth with carrots and potatoes.
Ingredients
For the marinade
300

g

beef shoulder

2

cloves

of garlic

finely chopped

1

tsp

five-spice powder

1

tsp

brown sugar

2

tbsp

fish sauce

1

tbsp

fresh ginger

finely grated
For the stew
1

large onion

finely chopped

2

tbsp

tomato paste

½

tsp

five-spice powder

2

stalks lemongrass or 1 tsp lemongrass paste

1

tsp

black pepper

1

star anise

1 ½

cups

coconut water

1

cup

water

2

carrots

cut into 2cm chunks

1

medium potato

cut into 2cm chunks

½

sweet potato

cut into 2cm chunks
Instructions
Cut the beef into 2-3 cm chunks and place them in a bowl. Add all the ingredients fort he marinade, mix well and leave for at least 30min to marinate.

Heat a splash of canola or sunflower oil in a large pot and start frying the beef until it's starting to brown on the outside. Work in small batches so the temperature in your pot won't drop. Take out the meat and set aside.

Lower the temperature and add the onions to the pot. Cook für about 3-5 minutes until the onions turn translucent.

Add the tomato paste and cook for another 3 minutes stirring occasionally.

Now add the five-spice powder, lemongrass, black pepper and star anise and let it cook for another 3-5 minutes.

Finally add the coconut water, the water and the cooked beef and let the covered stew simmer for at least an hour or until your beef is tender.

In the end you can add the potatoes and the carrots and let everything cook together for another 20-30 minutes.

Add salt and pepper to taste.

Serve with rice or bread.