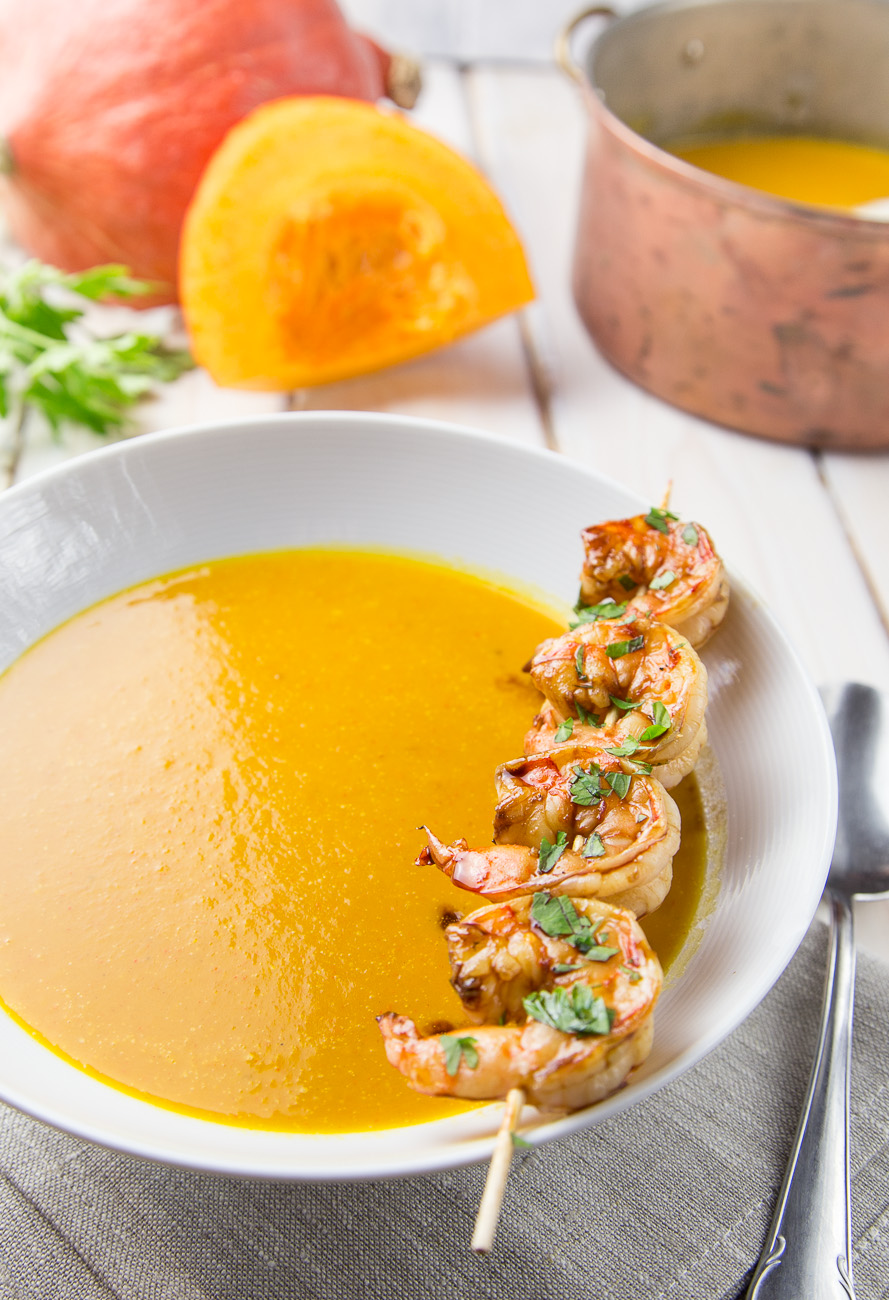 It's the last one! I swear! After that, I think I have exhausted my pumpkin recipes for this year. So I'll finish my orange phase with something quite classic and traditional: A creamy, asian flavoured pumpkin soup with teriyaki prawns. It's spicy, comforting, quite quick to make and it also freezes well, if you want to cook ahead for busy weeknight dinners. The teriyaki king prawns are just a little extra kick. To be honest, I just like to have something to bite as well when I have soup. So here you go. The last pumpkin / squash recipe for this year. I promise you I'll be back next week with something entirely different. So stay tuned, lovelies!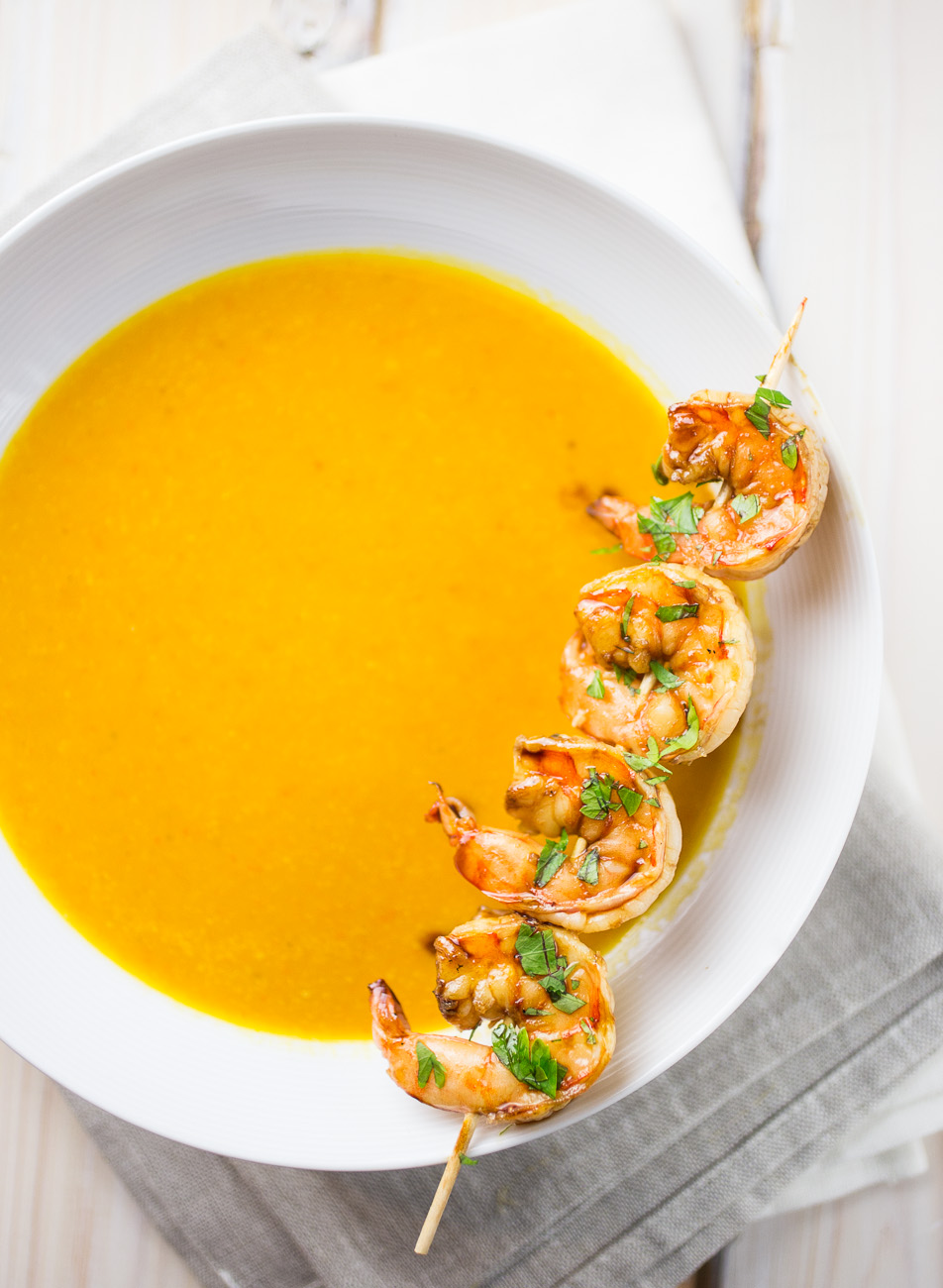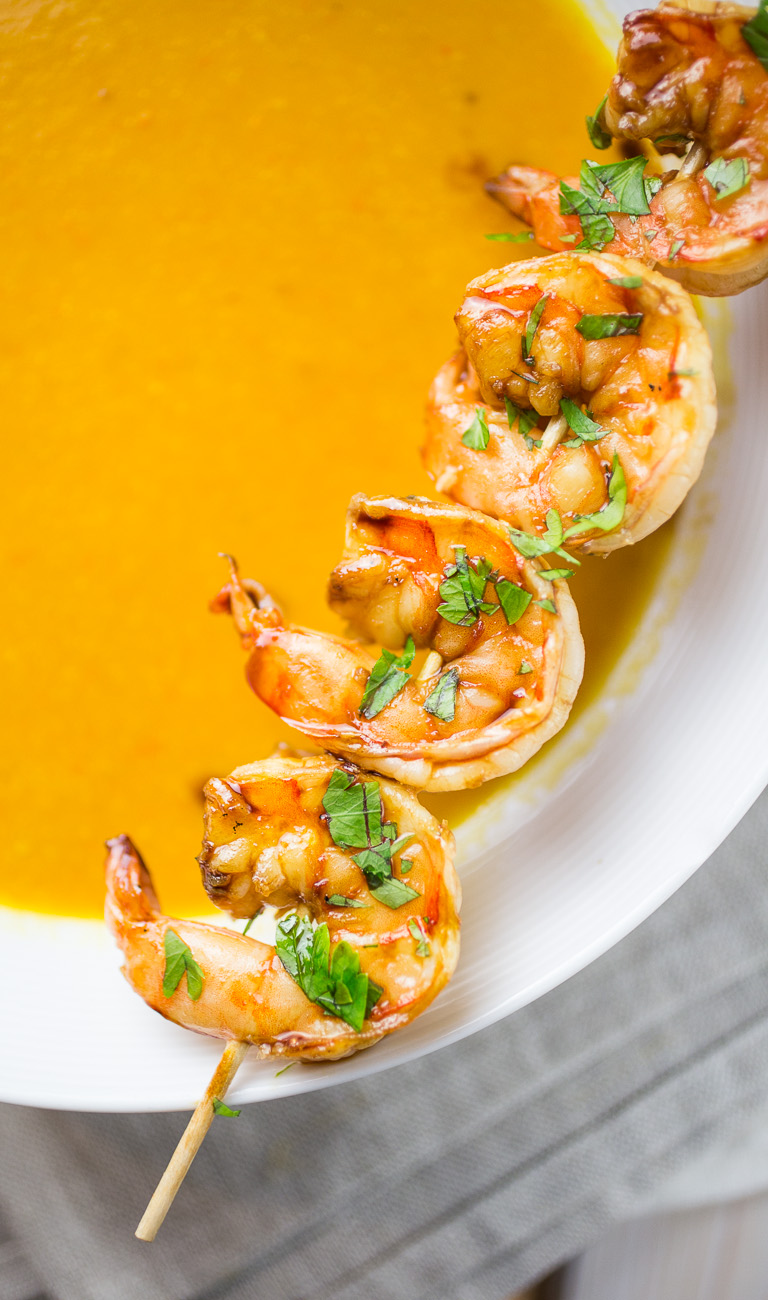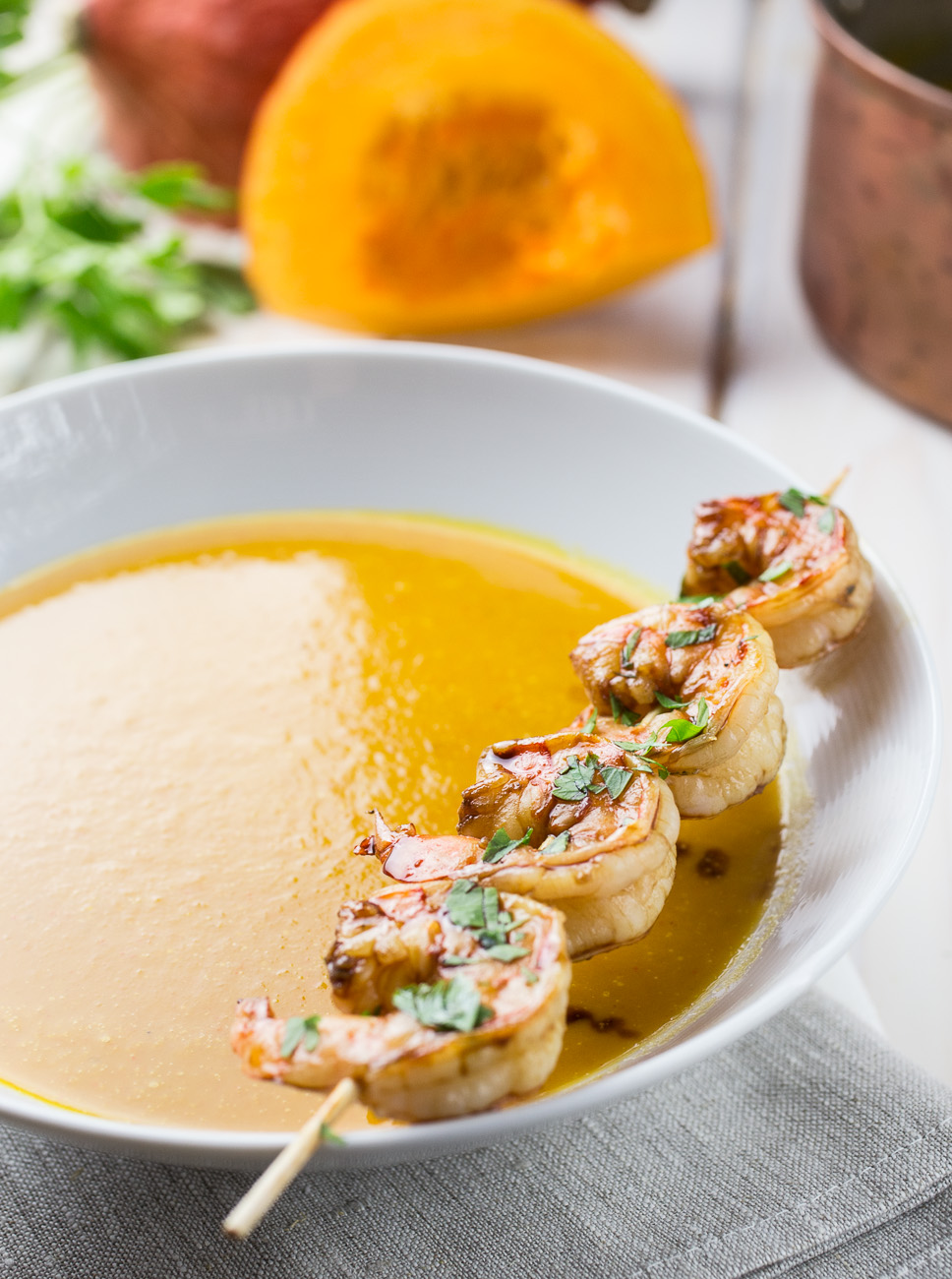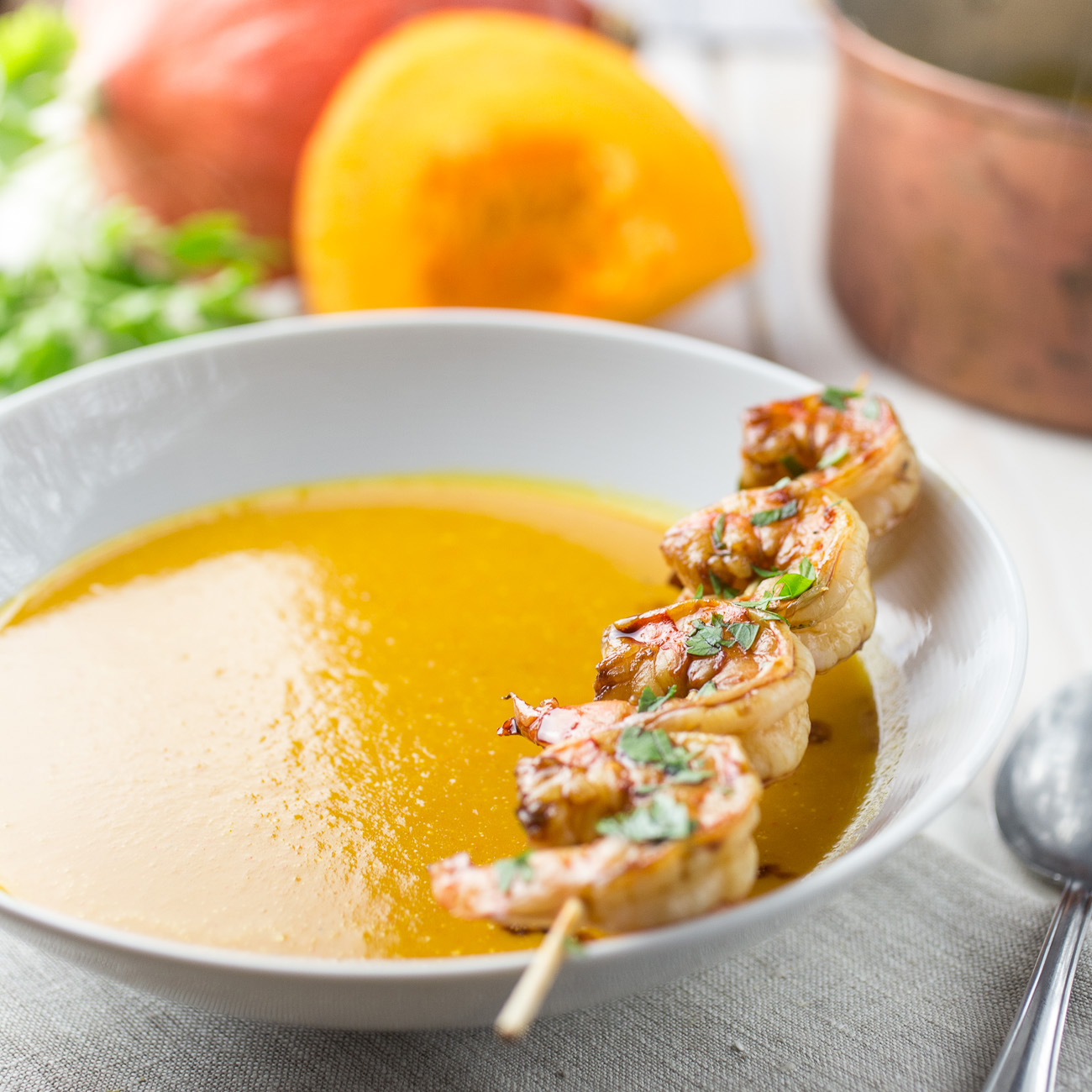 Pumpkin soup with teriyaki prawns
2016-12-12 16:18:42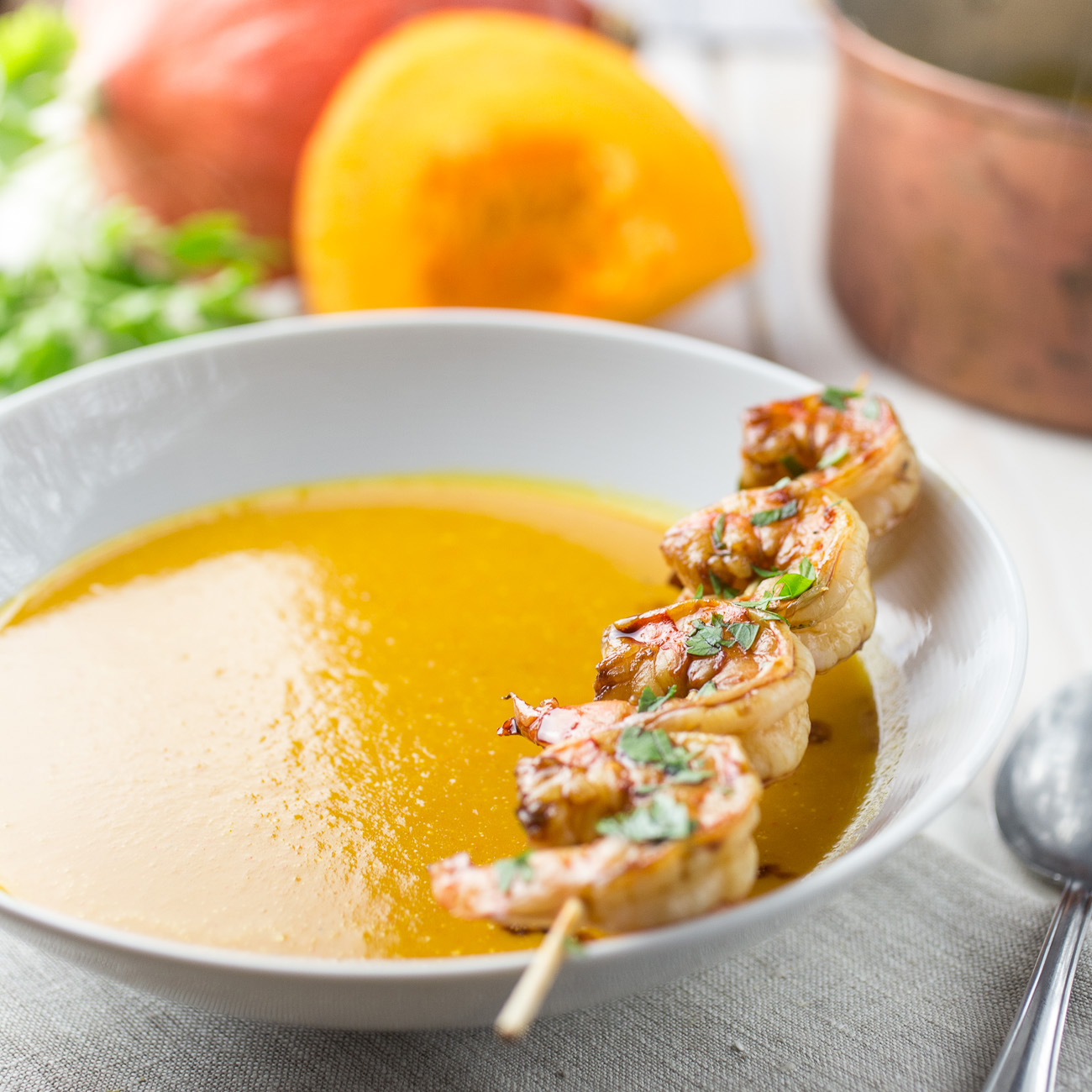 Serves 2
Creamy and spicy coconut flavoured pumpkin soup with grilled teriyaki prawns.
For the soup
1 carrot, peeled
1 celery stalk
1 onion, peeled
300g fresh squash or pumpkin
2 cloves of garlic
1 tsp fresh ginger, finely grated
1 cup chicken stock
1 cup water
1 tsp curry
½ tsp cayenne pepper
1 cup coconut milk
salt
For the prawns
8 king prawns, peeled and deveined
1 tbsp teriyaki sauce
salt
Instructions
Roughly chop the carrot, celery, onion, squash and garlic.
Heat a big pot over medium to high heat and add a splash of olive oil. Add the vegetables and cook for 5-6 minutes, stirring occasionally.
Add the water, chicken stock, ginger, curry and cayenne.
Lower the heat, out on a lid and let the veggies cook for 10-15 minutes or until they are soft.
Add the coconut milk and puree the soup with a stick blender until it's smooth.
Add salt to taste.
Salt the raw king king prawns and spike them onto two wooden skewers.
Heat a griddle pan and grill the prawn skewers evenly on both sides until they are just cooked through, ca. 4-5 minutes.
Take them out and brush them down with the teriyaki sauce while they are still hot.
Serve together with the soup.
The Girl Loves To Eat https://thegirllovestoeat.com/