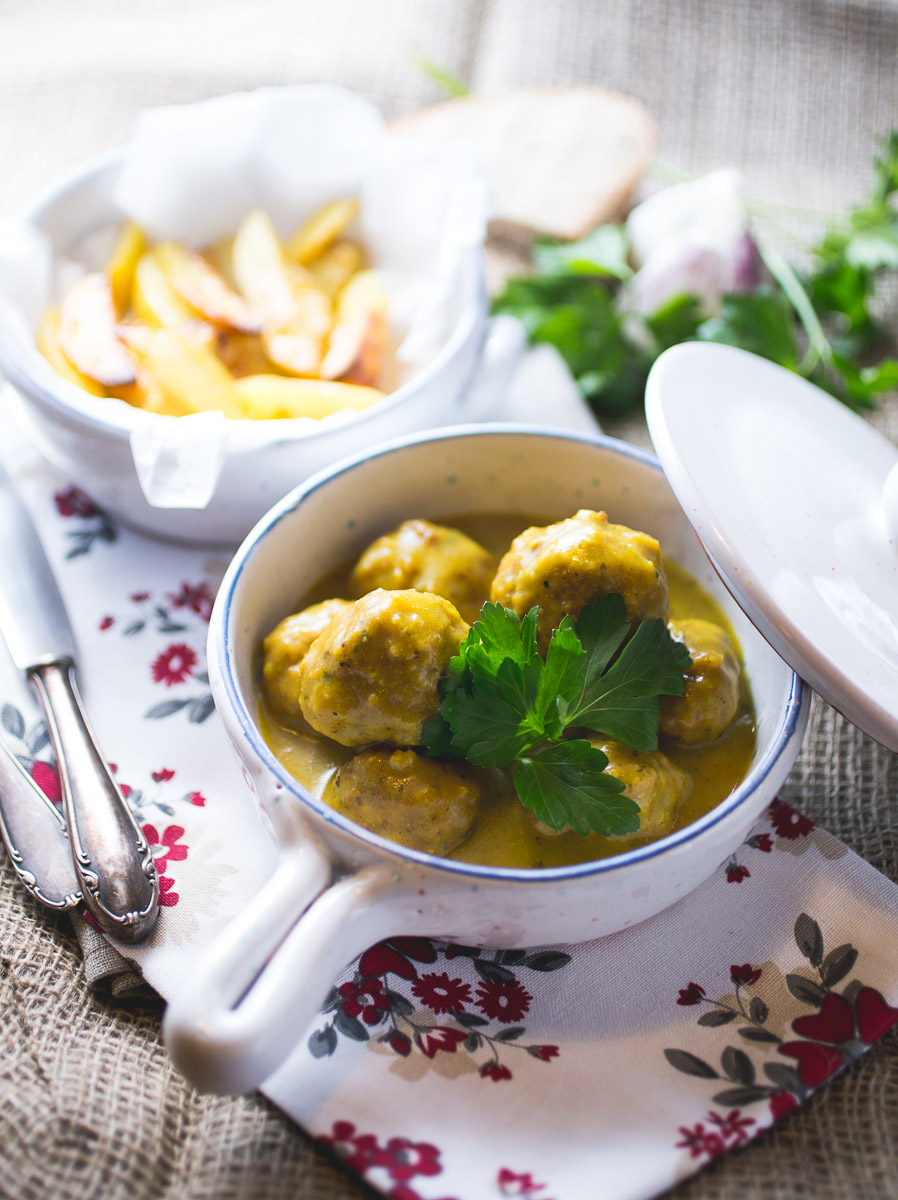 Hello lovelies… today I have for you someting truly special: Meatballs in a rich yellow almond sauce. No other dish reminds me so much of my childhood in spain and my Grandmother. Ever since I can rememder she made this dish either with meatballs, like in this recipe, or sometimes with chicken drumsticks or other meat or even fish. The yellow sauce was always the same though and it was always finger-licking good. She served it with a big pile of fries and some bread to mop up the last bits of sauce from your plate. This was probably my favourite dish as a child and my Grandmother was the only one who ever made it for me (oddly enough this recipe didn't quite find its way into my Mum's kitchen).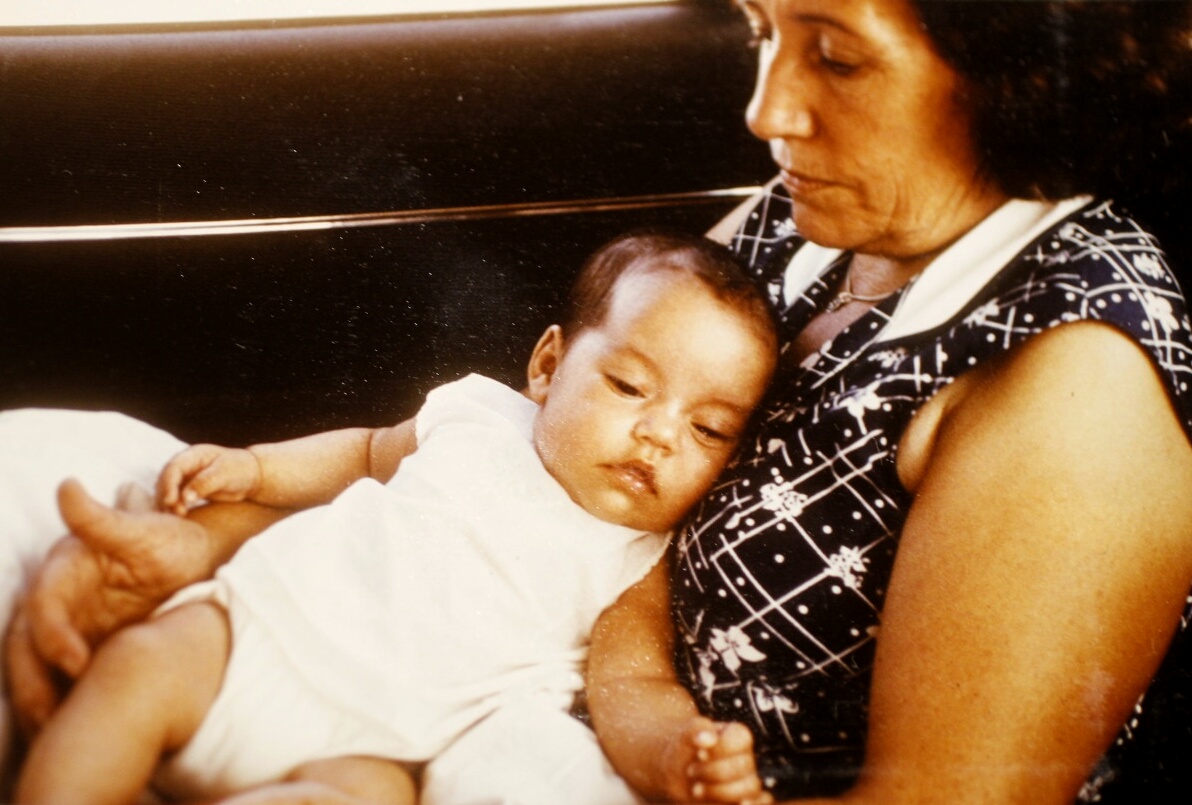 My Grandmother and Little ol' me
Last night my spanish Grandmother passed away.
This didn't come as a surprise for me and my family. She was in need of nursing care for quite some time now and her mind wasn't was it used to be. She didn't recognize her family anymore and we got the feeling that her spirit went a while before her body now finally followed. Everyone who had a family member in need of nursing care while their body and mind deteriorates more and more knows the feeling of sadness mingled with relief when that loved one finally passes on. That's how I am feeling now.
She was a great woman and an amazing Grandmother to me. She lived for her children and grandchildren and always provided a home full of love and of course delicious food. Her influence on my life is without doubt and she will be missed so so much.
So this dish is my personal tribute to her on this little blog I call my own. I will never ever make it as good as she did it for me on so many spanish family dinners, but it is the next best thing…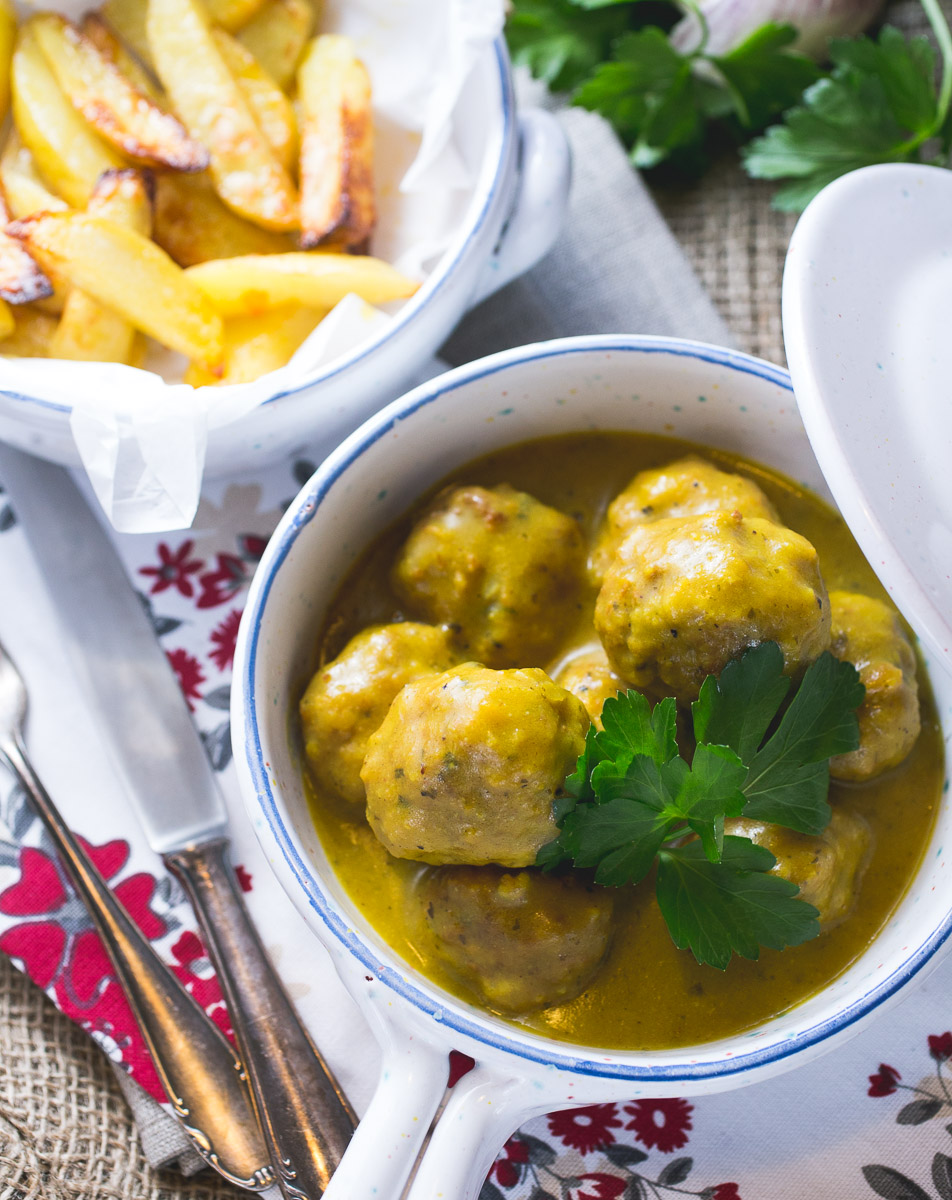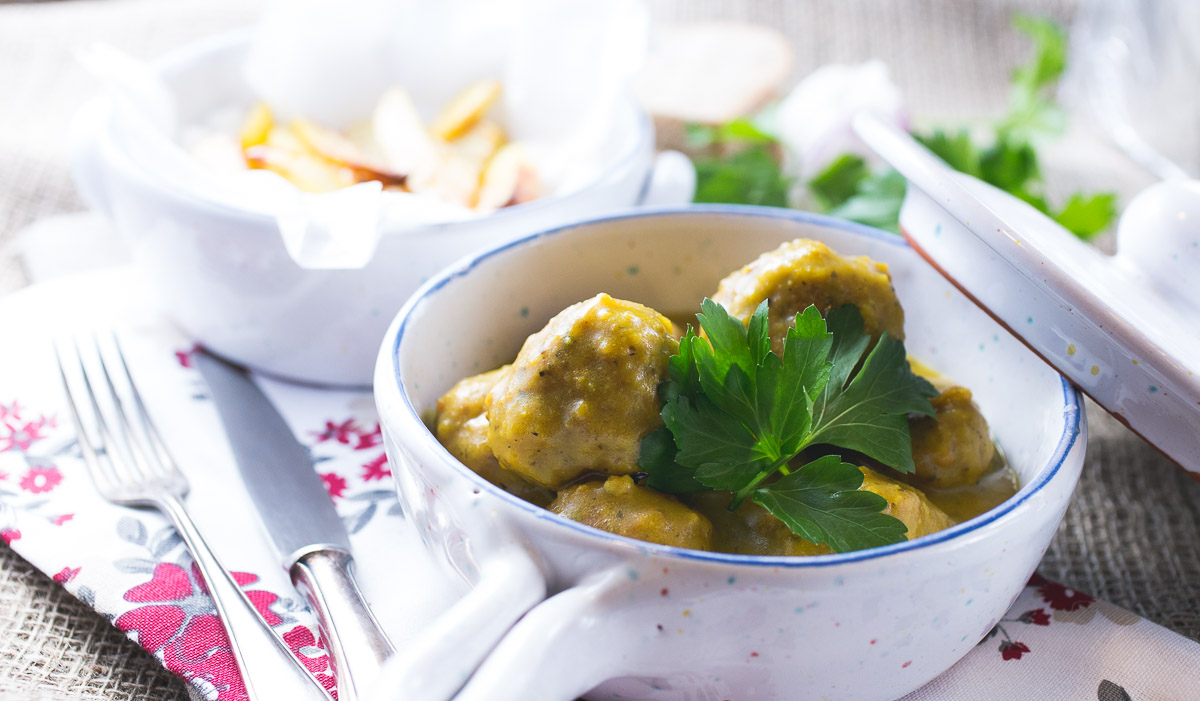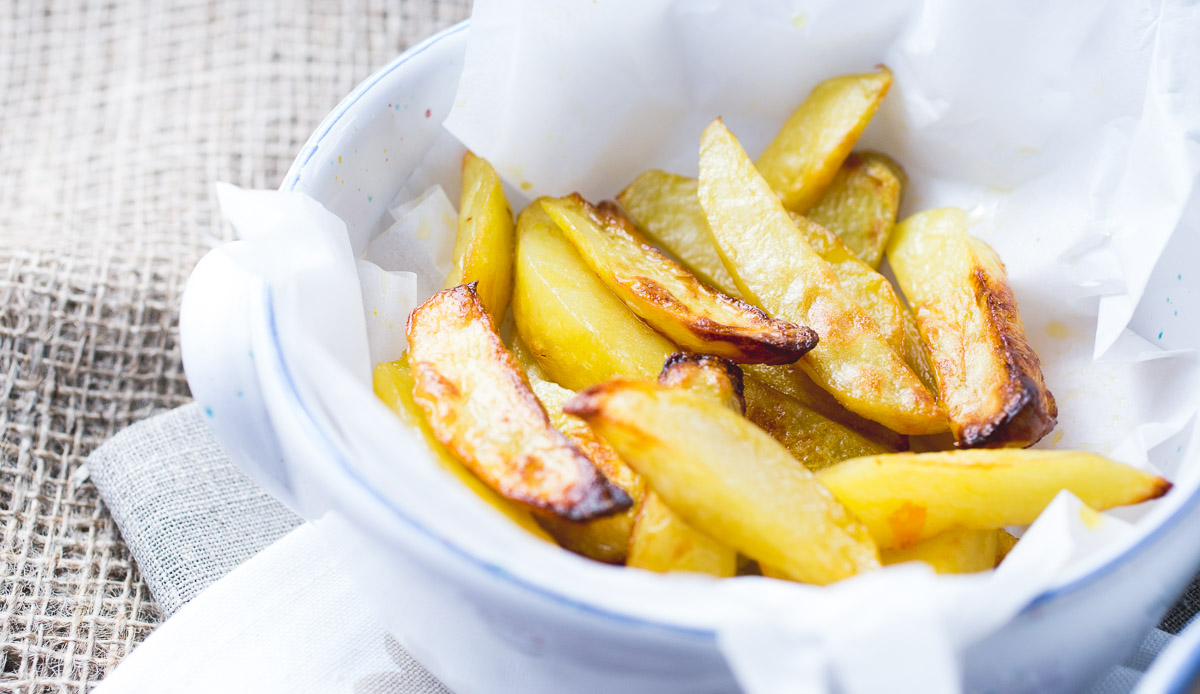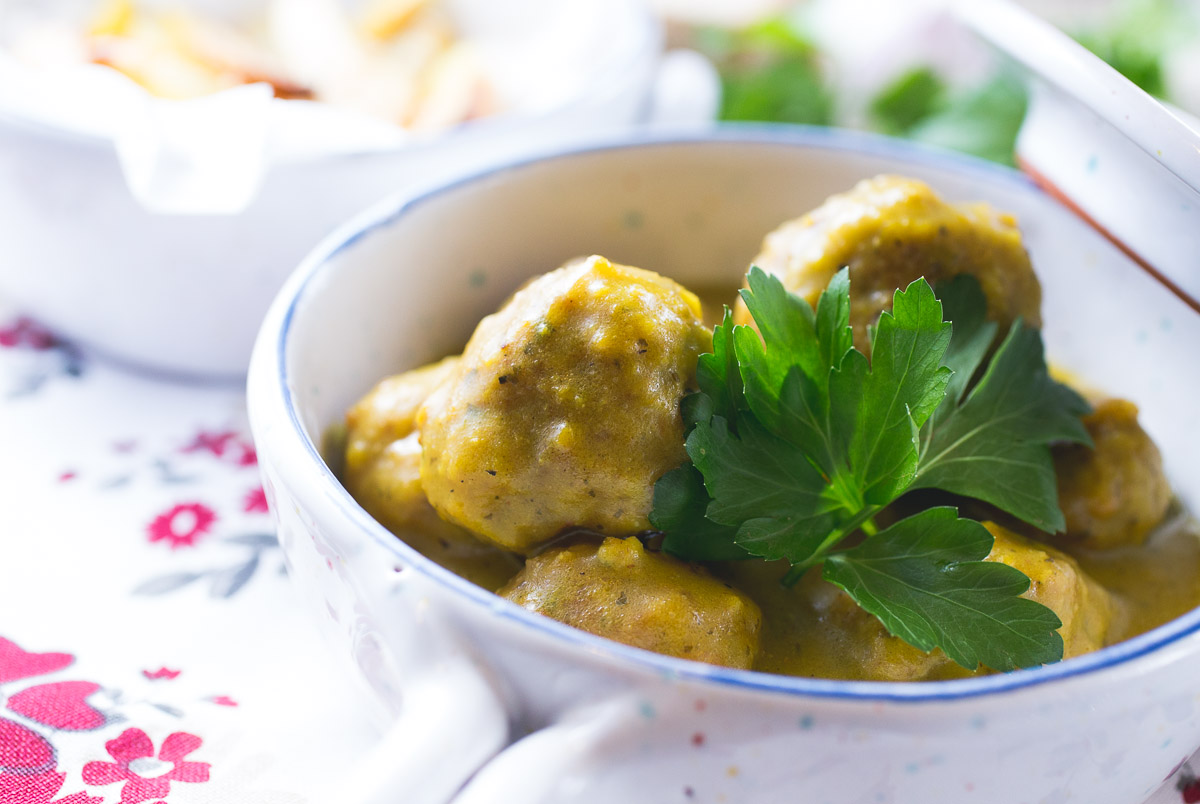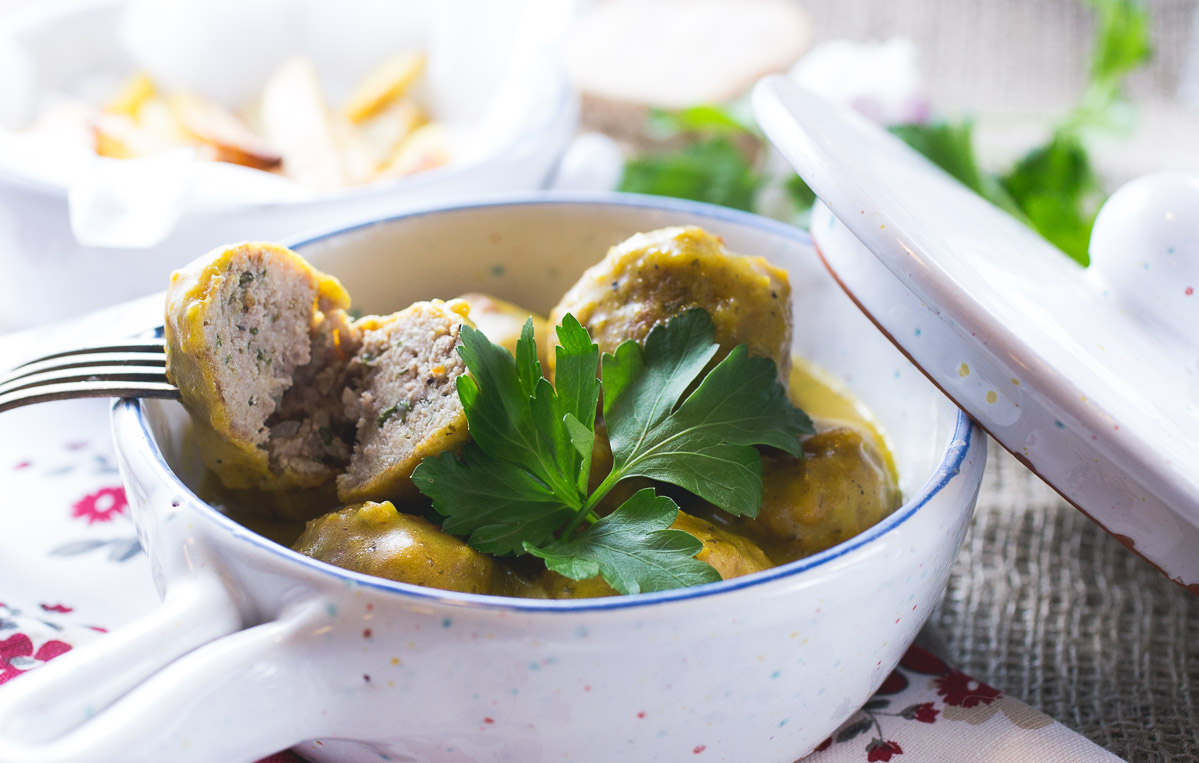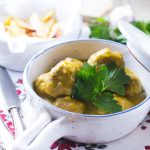 Albóndigas en salsa amarilla de almendras
Juicy meatballs in a rich yellow sauce with garlic and almonds. An andalusian classic.
Ingredients
For the meatballs
300

g

minced meat

beef and/or pork

1

egg

1

tbsp

parsley

finely chopped

2

cloves

of garlic

finely chopped

1

small onion

finely chopped

3

tbsp

bread crumbs

1

tsp

dried oregano

salt and pepper to taste

3

tbsp

flour

olive oil
For the sauce
1

slice

of stale bread

3

cloves

of garlic

peeled

1

small onion

roughly chopped

3

stalks of parsley

1/2

cup

of white wine

1

tbsp

almonds

finely ground

1

cup

chicken stock

1/2

cup

water

1

pinch

of saffron

salt and pepper to taste
Instructions
In a bowl combine the minced meat, egg, chopped parsley, garlic, onion, oregano, breadcrumbs, salt and pepper. Mix well using your hands. If the mixture is too wet add some more breadcrumbs.

Form 12 small meatballs and lightly coat them with flour.

Pour olive oil around 2cm deep into a frying pan and put on high heat. When the oil is hot, add the meatballs and fry them until they are golden brown on the outside. Take out and set aside. Take the pan off the heat, you won't be needing that anymore.

In a pot, heat a splash of olive oil. Cut the slice of bread in 4-6 pieces and add to the pot together with the garlic cloves and the onion. Fry until the bread is browned and the garlic starts to soften.

In the last minute add the stalks of parsley.

Take everything out and mix it into a creamy paste together with the white wine. You can use a food processor or a hand blender.

Add the paste back to the pot and add the almonds, chicken stock, the water, saffron and salt and pepper to taste.

Add the meatballs to the sauce and let everything simmer for 10-20 minutes. If the sauce is too thick for you add some more water to it.

Serve with fries or just with some fresh bread.
Notes
A few words on the saffron. The original recipe calls for saffron, but I know my Grandmother never used the real stuff. No one in my family does actually. Saffron is so damn expensive and in a lot of spanish families something called "Colorante alimentario" is used (which is mainly yellow food colouring). It gives your dish the desired yellow colour and most of the dishes taste just as delicious without the real saffron.