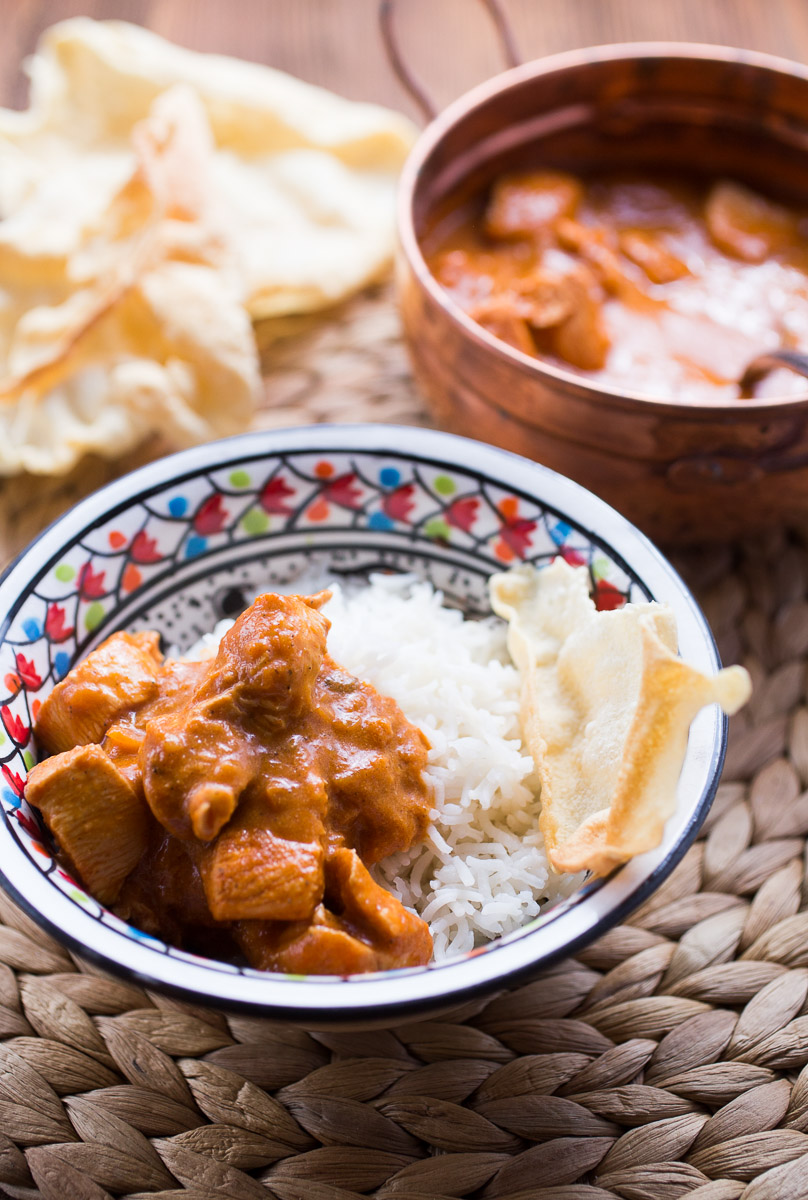 Ahhh… Indian food. It truly was a late discovery for me. I was never shy to try foreign cousines, but due to a really ridiculous assumption I avoided indian food until 2 years ago. So, what was that assumption, you ask? I do not like the taste of curry-anything and by curry I mean the yellowish spice powder you get at every supermarket. You know the one I mean. And whenever you order curry-anything at a restaurant that is NOT an indian restaurant everything tastes like this odd spice mix. And I do not like that taste. So my crazy assumption was, that indian currys must also taste like this. Boy, was I wrong.
When Alex and I just met, he insisted on taking me to an indian restaurant he loved and I agreed. It was a true revelation. The dishes there tasted NOTHING like that awful yellow spice powder. Instead I got delicious, tender meats in rich, spicy, creamy sauces. It was love at first bite. Since then I have become a real fan of indian cuisine and naturally I needed to learn how to cook some of the dishes.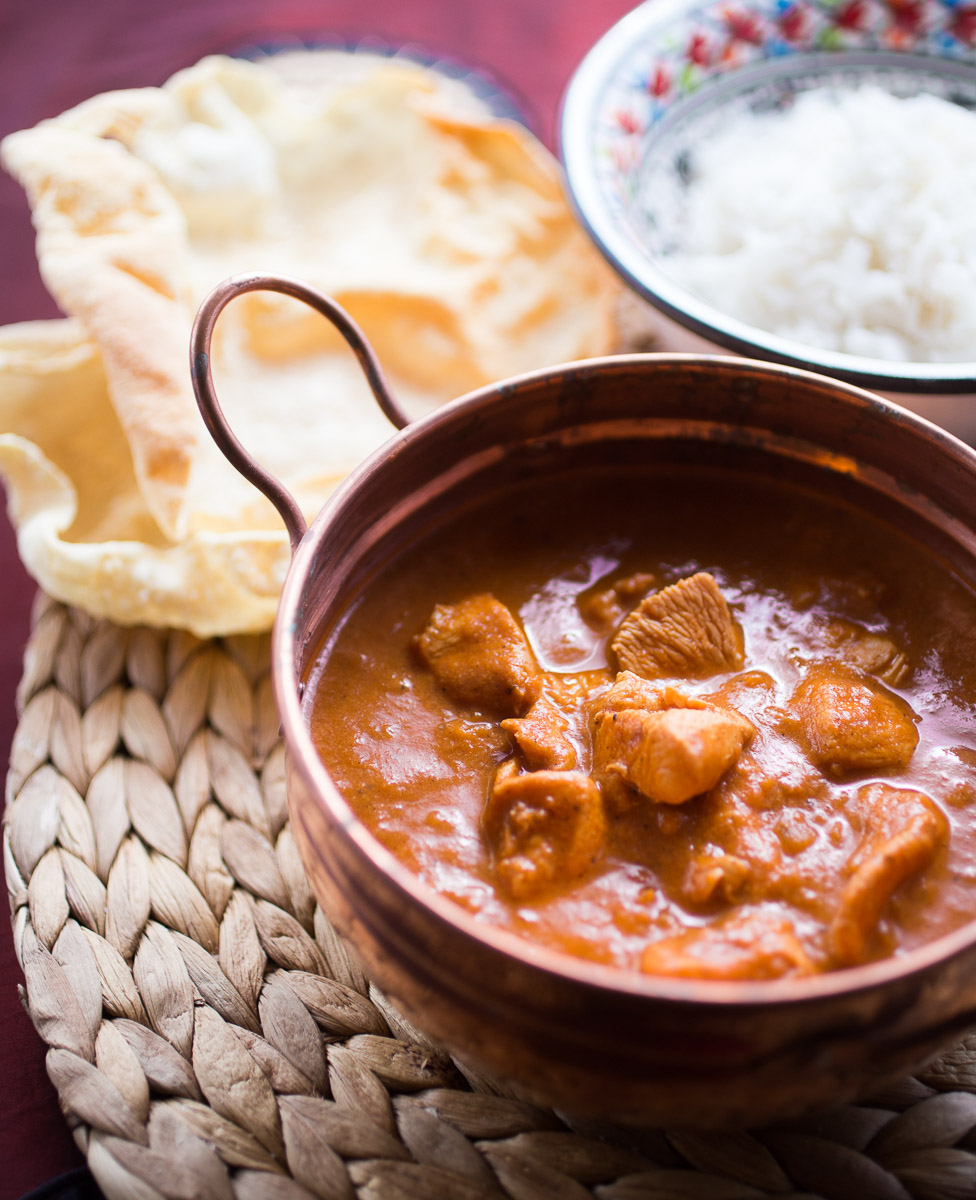 Now Chicken Tikka Masala is not technically authentic indian food. It is rumoured to have its origins in England. Some gravy-craving englishman allegedly complained that the tandoori grilled chicken tikkas where to dry, so the savvy indian cook whipped up a creamy sauce with tomato soup and some indian spices… creating the Chicken Tikka Masala. A dish that is probably more british than english, but still found on indian menus all over Europe. And I have to say, I don't care where it really came from. I just love it, so this was one of the first dishes I learned to make.
It took my a while of trying and tweaking until I got the taste of the sauce just right and now I'm really pleased with this recipe. I have to say, that my method of preparation is highly simplified. Almost every recipe calls for preparing chicken tikkas first, which means you have to grill the marinated chicken pieces before adding them to the sauce. I don't do that. Maybe if I had the equipment to make proper chicken tikkas (i.e. a tandoori oven) it would make this dish even better, but to be honest, I think it's pretty awesome the way it is. And it's a lot quicker that way.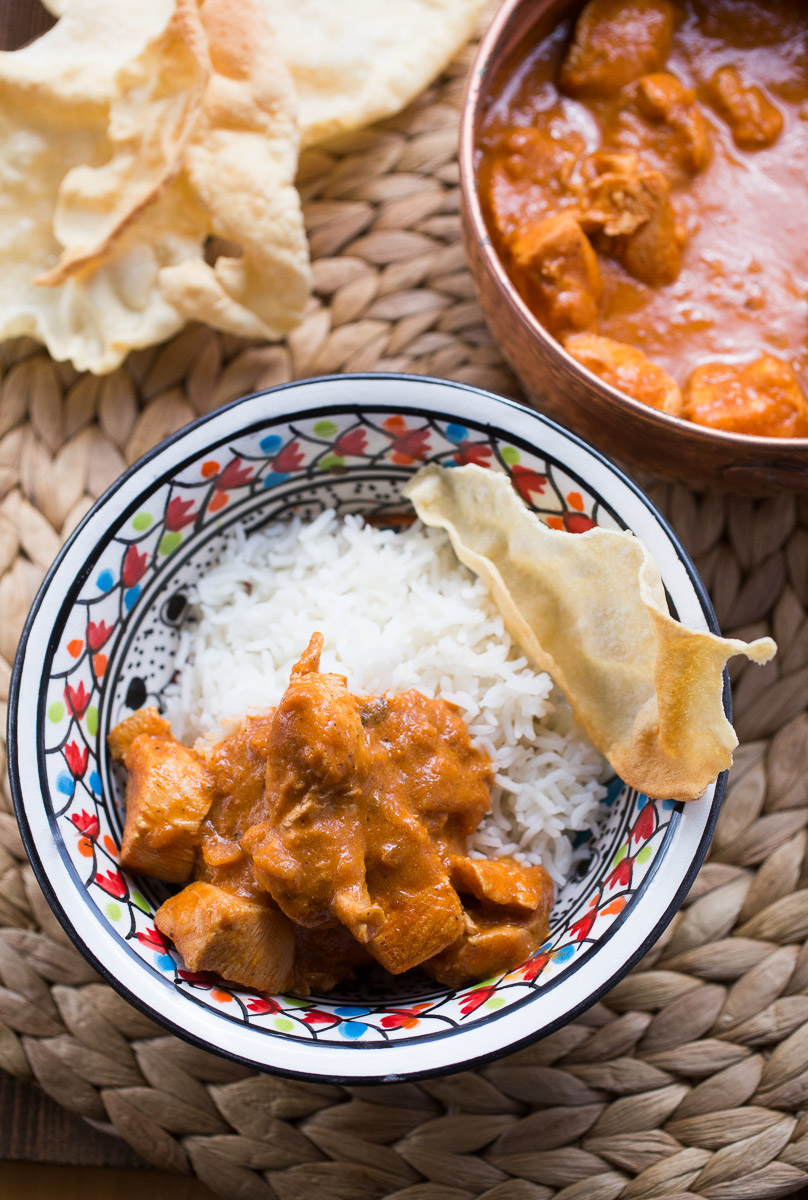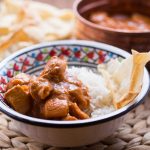 Chicken Tikka Masala
Tender chicken pieces in a creamy, spicy tomato sauce
Ingredients
For the marinade
1

cup

plain yoghurt

1

tbsp

ginger

freshly grated

2

tbsp

garlic

minced or better pureed

1

tsp

salt

1

tsp

garam masala spice mix

1/4

tsp

chili flakes

pepper

4

chicken breasts
For the sauce
1

tbsp

ginger

freshly grated

2

tbsp

garlic

minced or better yet pureed

1

large onion

minced

2

tbsp

tomato paste

1

tsp

garam masala spice mix

2

tsp

sweet paprika

1

can chopped tomatoes

1

cup

water

1

cup

coconut milk

salt to taste
Instructions
Wash the chicken, pat dry and cut into bite sized pieces. Place in a bowl.

Mix all the ingredients of the marinade with the chicken and leave in there for at least 30 minutes.

In a big pan, heat a table spoon of vegetable oil and add the onions, the garlic and the ginger. Fry and stir over medium heat for five minutes.

Add the tomato paste, garam masala and paprika and stir for another 2-3 minutes.

Add the canned tomatoes and the water and cook for 15 minutes.

Finally add the chicken with the marinade to the sauce and stir in the coconut milk. Cook until the chicken is just cooked through.

Season with salt to taste.

Serve with basmati rice. Enjoy!