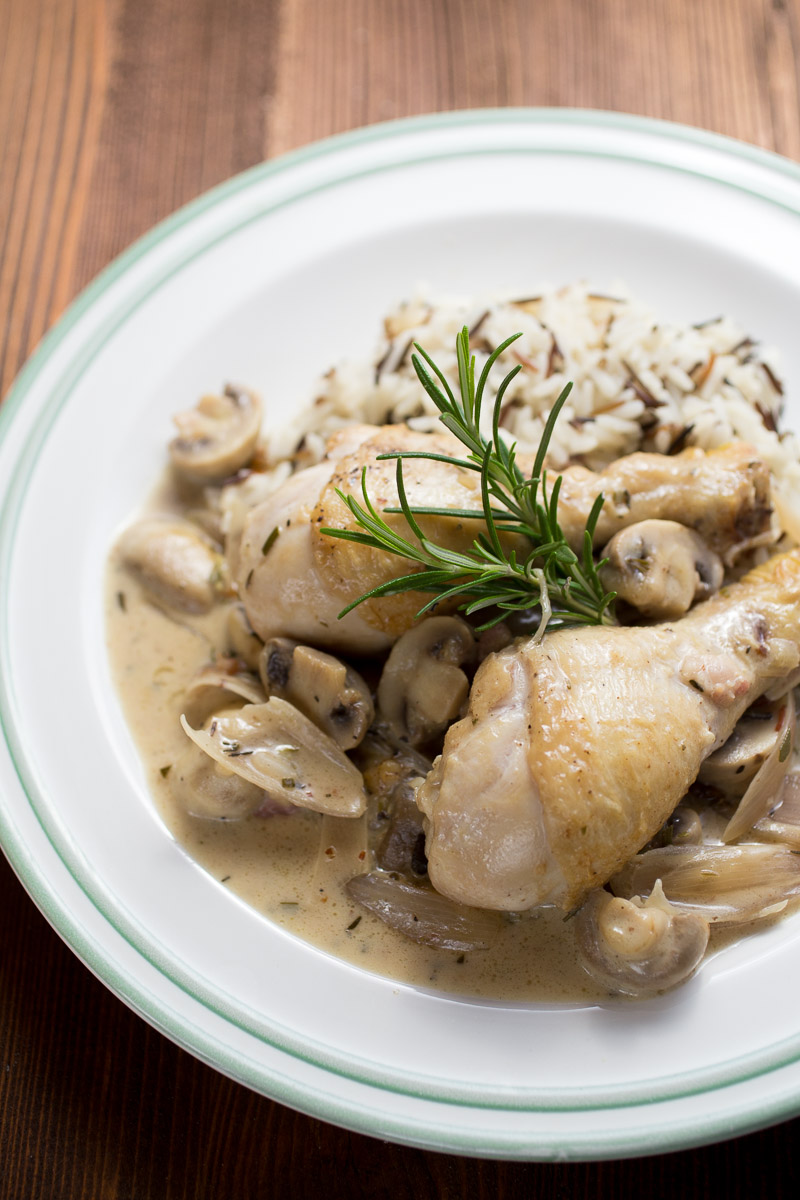 This is quite new to me. Most of the recipes I shared until now were tested classics and dishes I have been making for years… this though is a newbie and it became an instant favourite. Juicy, tender chicken, cooked in a creamy sauce packed with herbs and flavours.
I have made classic coq au vin before. The one where you have to reduce red wine and then braise the chicken in the oven. It's delicious but quite time consuming. My variation of coq au vin blanc on the other hand is a fancy weeknight dinner, that you can prepare quickly if you're a bit organized. And the result is phantastic! It's every bit as good as classic coq au vin.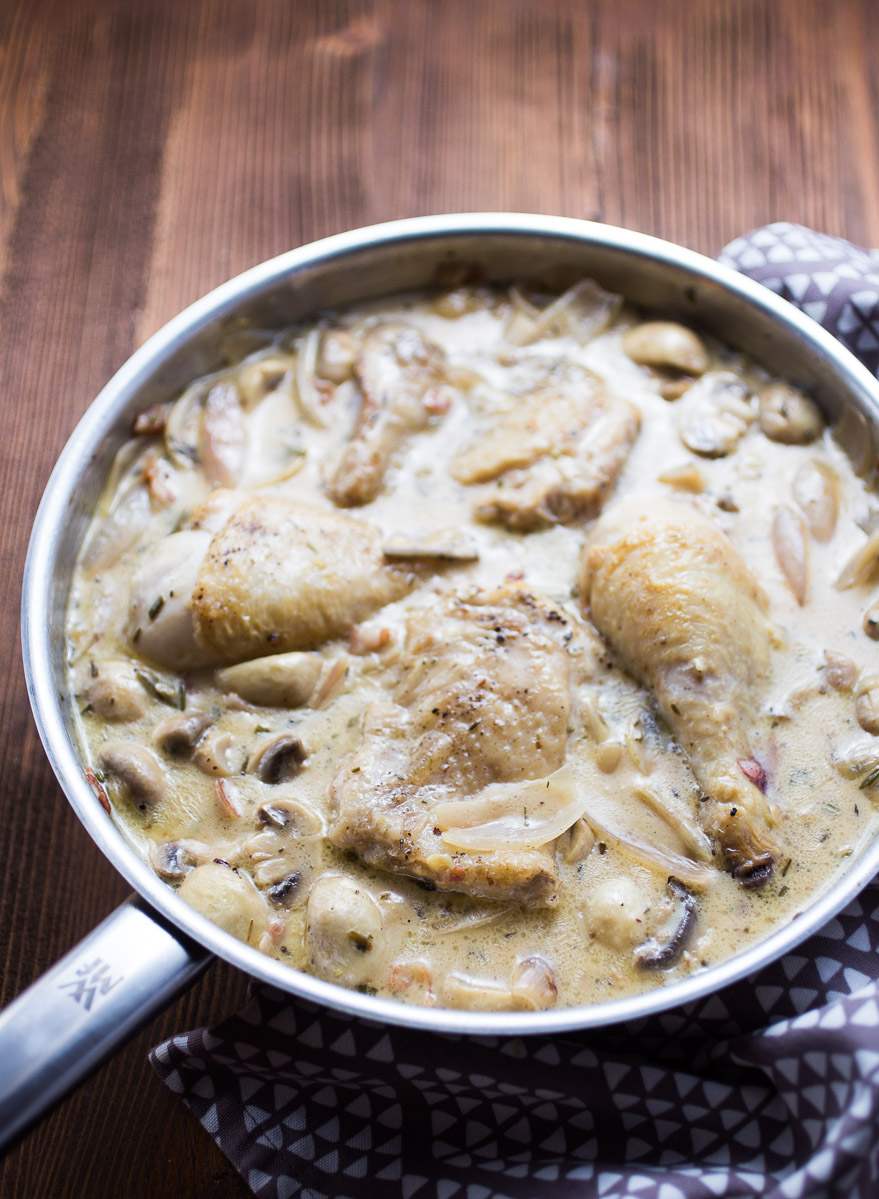 I have said this before and I will say it again: Try to get the best chicken possible for this dish. I have been eating crappy, antibiotic-infested chicken for years and now that have had organic chicken from a local farmer I never ever want to go back. It's not just the knowledge that high quality meat is better for me, it's also the taste! The difference is stunning. High quality chicken is so forgiving when you cook it. It stays juicy and tender even if you leave the meat cooking for a bit too long. And it actually tastes like something. It has substance.
A few words on the white wine I use in this. I have seen so many comments on recipes online where people ask what specific wine to use in a dish. Most seem to be clueless because they are not wine aficionados. Well, I'm slowly (verrrrry slowly) getting into wine. I'm starting to acquire a taste for the different grape varieties and I have found some favourites. But I'm still ages away from being a connoisseur. But one thing I can tell you for sure, don't overthink your wine choice when you want to cook with it.
For this dish, for example, I used a Chardonnay. But you could use any dry white wine you can get your hands on. My rule of thumb is: Never buy cooking wine, because that stuff is just nasty. Don't buy super fancy wine either, because it's just a shame to pour that into a sauce and boil to death (pour it into a glas and enjoy instead!). I always tend to buy wine in the 3-4€ range for cooking. It's beneficial if the wine isn't too sour, but it's not a must. I have been balancing the acidity in my sauces with a pinch of baking soda if the wine turns out too sour. I have no clue whatsoever if this is something any professional cook would frown upon, but hey…. it worked for me.
So don't be afraid to cook with wine. Because the results are usually damn delicious!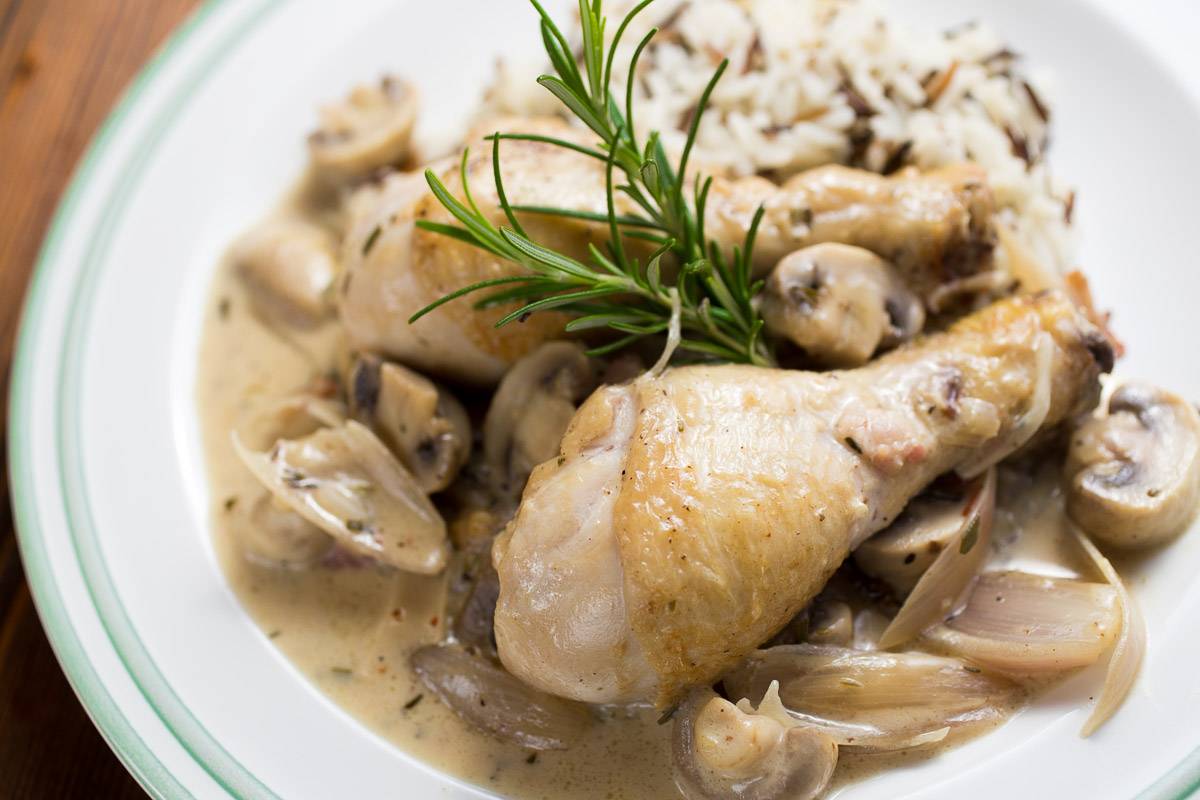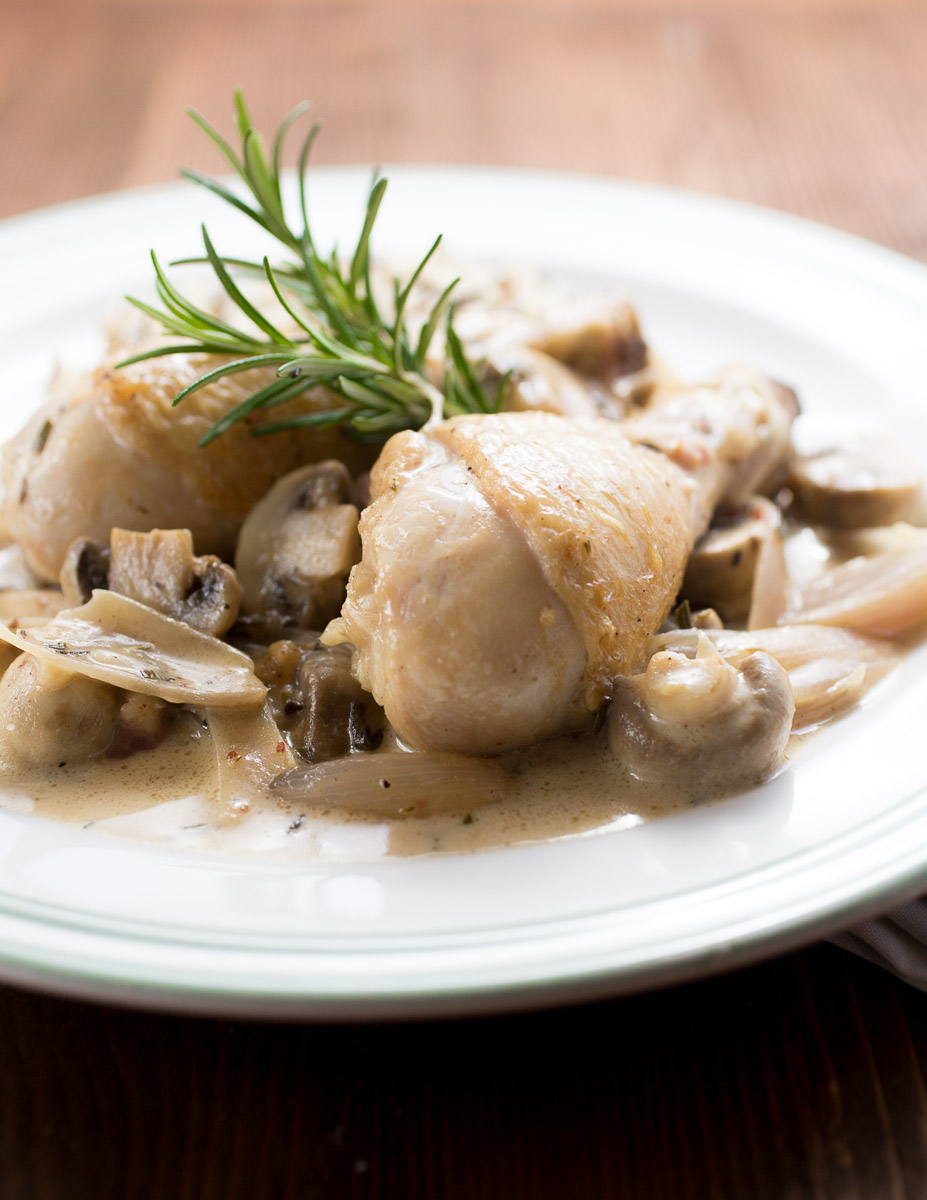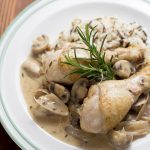 Coq au vin blanc
Tender chicken, mushrooms and onions in a creamy white wine sauce flavoured with herbs.
Ingredients
2

high quality chicken legs

5

shallots

200

g

button mushrooms

4

rashes of bacon

1

tbsp

dijon mustard

1

tbsp

flour

1/2

cup

chicken stock

1

cup

dry white wine

1/2

cup

heavy cream

1

tsp

rosmary

1/2

tsp

thyme

6

sage leaves

salt and pepper to taste
Instructions
Wash the chicken legs. Pat them dry and season them with a bit of salt and pepper.

In a large pan heat a tablespoon of olive oil and sauté the chicken legs until brown on every side. Take out and set aside. Remove all excess oil from the pan.

Cut the bacon into small chunks. Clean the mushrooms and cut them in halfs or quaters if they are really big. Small ones you can just leave whole. Peel the shallots and quater them.

Reheat the pan and add the bacon. Fry it until it's rendered out.

Add the mushrooms and the shallots to the pan and stir for 3-4 minutes.

Stir in the mustard and the flour and the add the chicken stock and the white wine.

Add the rosmary, thyme and sage before you pour in the cream.

Add salt and pepper to taste and return the chicken into the sauce. Cover and let it simmer for 10 minutes or until the sauce has thickened and the chicken is cooked through.

Serve with wild rice and nice glass of white wine.