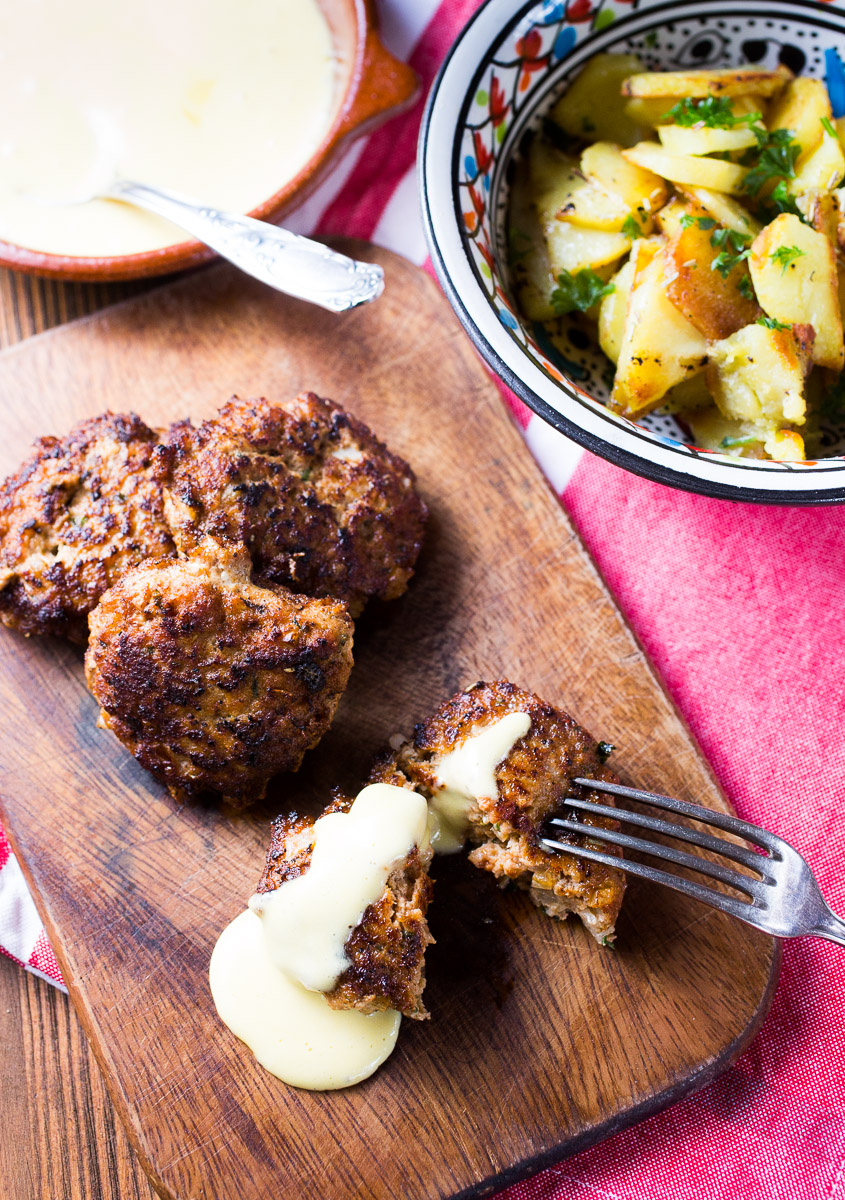 I freaking love meatballs. They are delicious in sauces with pasta and they are amazing with potatoes. And they taste great cold making them a great lunch snack at work. I've been making meatballs ever since I started cooking myself and I never deviated from the recipe I learned from my mother. Then Alex came along and with him his meatball recipe which made me feel unworthy…
The first time he made them at my place I was watching him suspiciously. The minced meat looked too wet and mushy and he added mustard which made me wrinkle my nose (I don't like mustard…). It looked all wrong to me, but taking the first bite made me shut up for good. They were spicey, rich, juicy and fluffy. The perfect meatball. Needless to say I never went back to my recipe.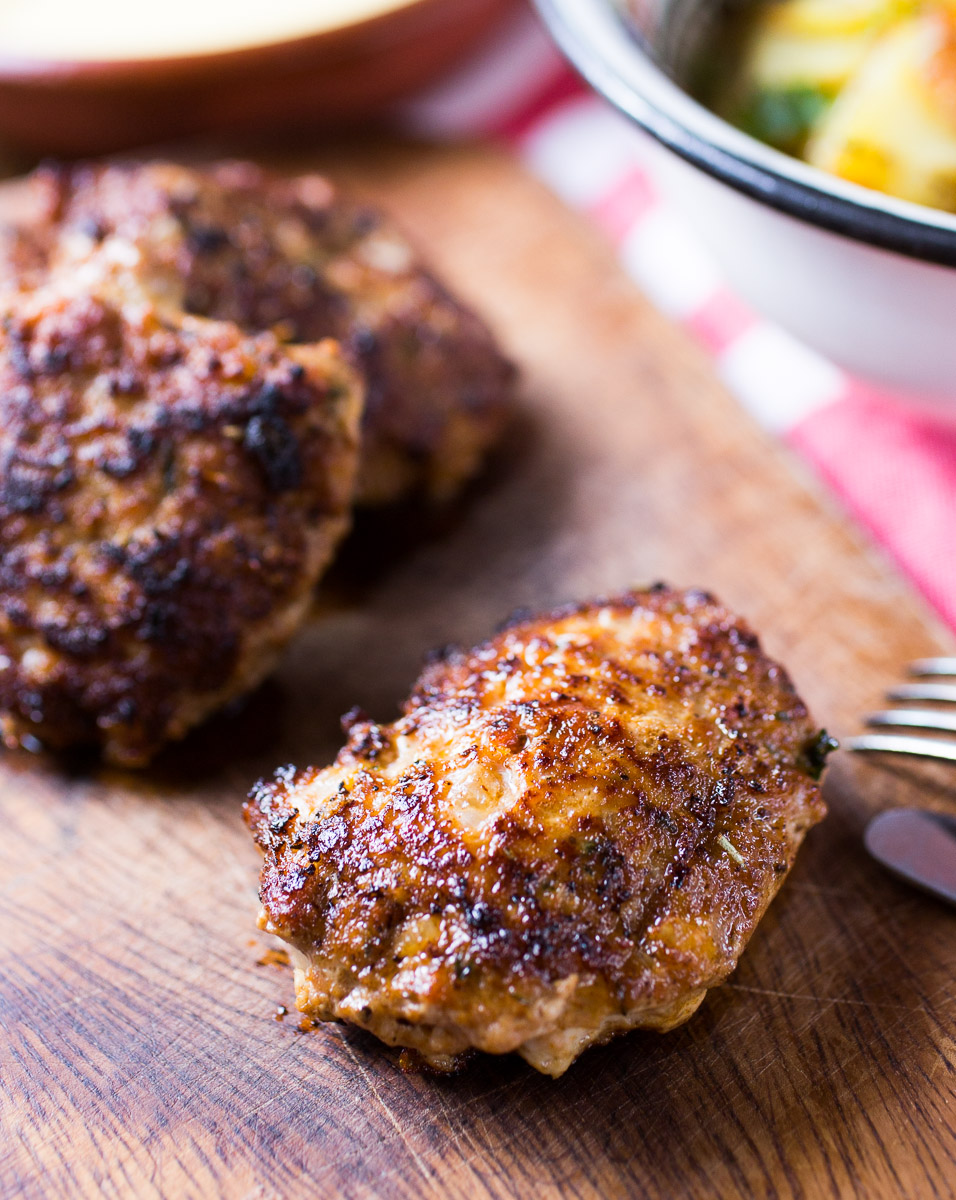 When I asked Alex for the recipe he just grinned and told me he just improvised it everytime. So next time he made them, I stood beside him, watching him like a hawk and writing down every ingredient. The meatballs I make are turning out pretty good by now… lightyears better than the ones I used to make… but I also have to admit Alex's are still a bit better.
The aioli in this recipe is really just a cheeky addition. The meatballs are so juicy that they taste delicious without any sauce at all, but the heavy garlic taste of the aioli just takes it over the top. Give it a try!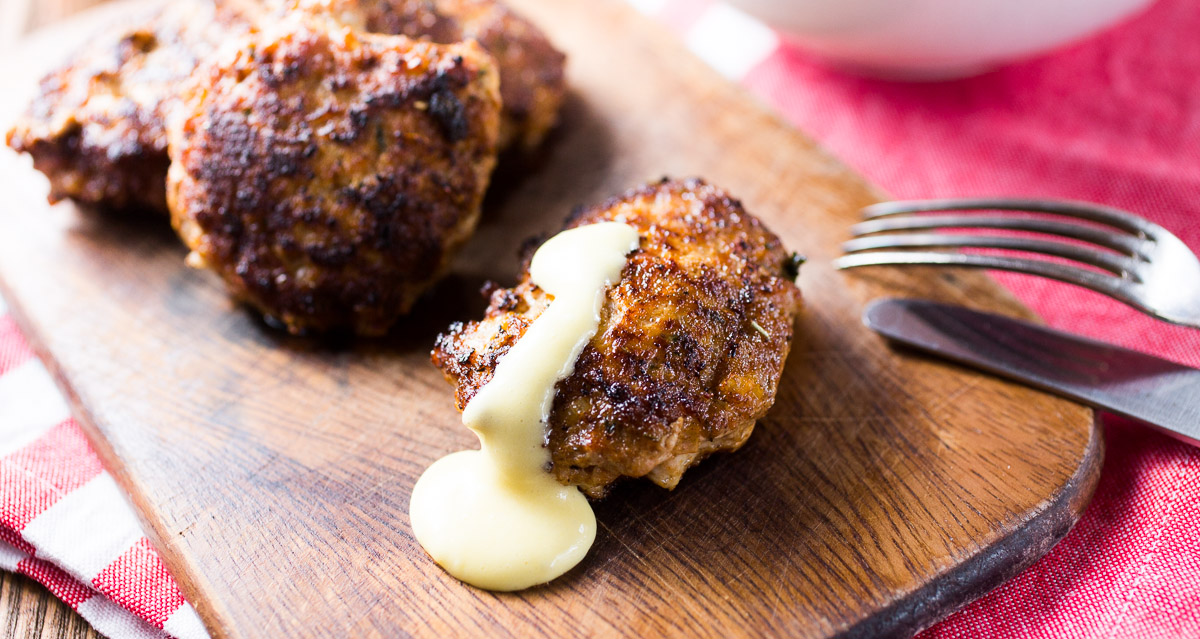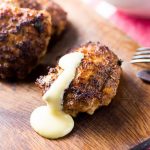 Meatballs with aioli
Juicy, fluffy meatballs topped with garlicy aioli.
Ingredients
For the meatballs
500

g

minced meat

half pork, half beef

1

large onion

chopped finely

3

eggs

1

stale bread role

2

tsp

mustard

2

cloves

of garlic

1

tbsp

chopped parsley

2

tbsp

tomato paste

1

tbsp

sweet paprika powder

1

tbsp

thyme

1/2

tsp

rosmary

1 1/2

tsp

salt

pepper to taste
For the aioli
1

egg yolk

2

cloves

of garlic

copped finely

Juice of 1/2 lemon

Extra virgin olive oil

salt to taste
Instructions
First prepare the aioli. I always use an electric whisk but you could also use a stick blender or even whisk it by hand. You also get better results if you let the egg yolk come up to room temperature.

In a bowl whisk up the egg yolk and add a little bit of olive oil. Just add it while you whisk and make sure to add just little drops in the beginning. Keep going until the mixture starts to thicken a bit.

Once it gets to that stage, you can add more olive oil in a thin stream while whisking.

When the mayonnaise has the desired consistency, add the garlic, lemon juices and season with salt.

For the meatballs first soak the stale bread role in water.

In a big bowl add all the ingredients for the meatballs. Drain the bread roll and press all the water out of it. Add to the meat mixture.

Mix everything well. You can do it by hand or you can use a hand mixer. It might look odd to mix some meat with it, but then the mixture comes together really well.

In a large pan heat a a couple of teaspoons of oil. Form the meatballs with your hands or using two spoons and fry them until they are cooked through and browned on both sides.