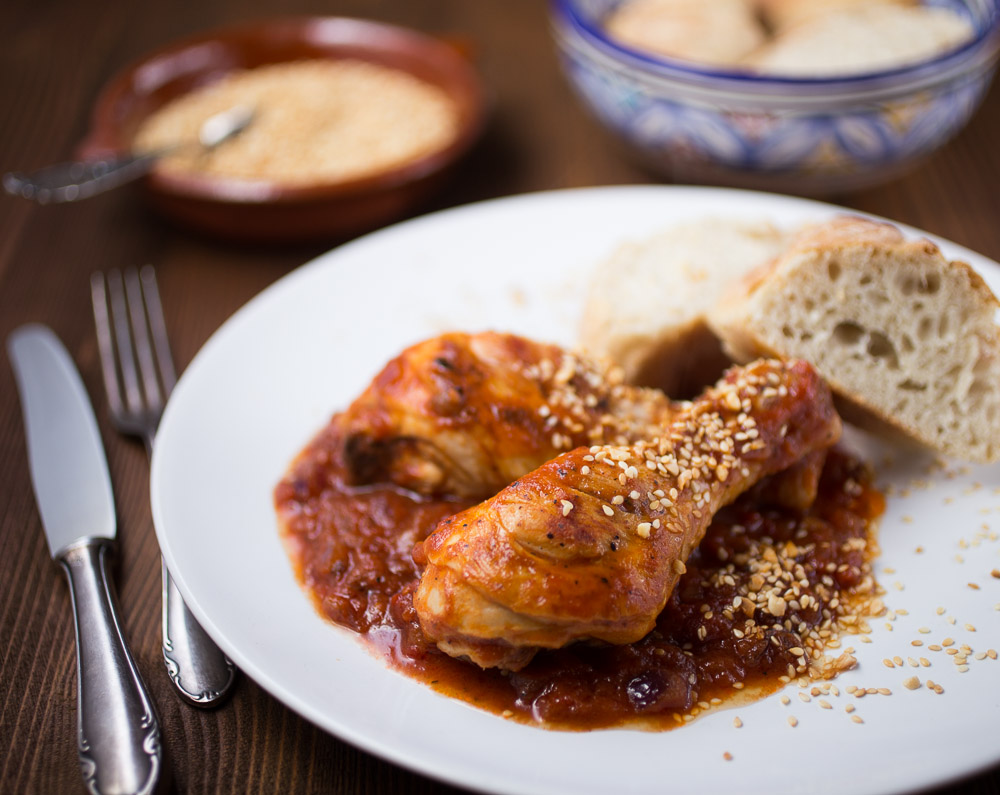 I'll give you a warning right away… you'll see alot of tomato sauce dishes here. I was never aware of how much tomatos find their way into my kitchen until Alex pointed it out. Whenever he asked me what's for dinner, 7 out of 10 times it would have been something with tomato sauce. So bottom line is: I love tomato sauce in every possible variation and so does my entire family.
This little dish here is quite an exciting addition to my tomato sauce repertoire. Tender, juicy chicken drumsticks in a rich, spicy tomato sauce. The ginger, cinnamon and chili gives it its oriental taste. The nuts on top give it a lovely taste and crunch. Serve it together with some bread you can dip into the sauce. Mmmmm… delicious.
It's also an amazing dish to just make for your friends. Make a huge pot of it, buy some flatbread and you're ready to go.
A few words on the chicken. I'm making a big effort to buy only quality meat lately. Meaning I avoid supermarket chicken whenever possible. It gets dry to quickly, tastes bland and most of all it's stuffed full of antibiotics. Not good. So I'm buying my chicken at a little farm store near my parents. Their chickens live outside, are fed naturally and not medicated. It costs a bit more than the meat at the supermarket, but once you tried it you never wanna go back. The meat looks different already when you buy it. It's a lot darker and firmer. And when you cook it, it doesn't get dry so quickly. But most of all… it taste SO MUCH BETTER. If you can afford to buy meat like that, I highly recommend it.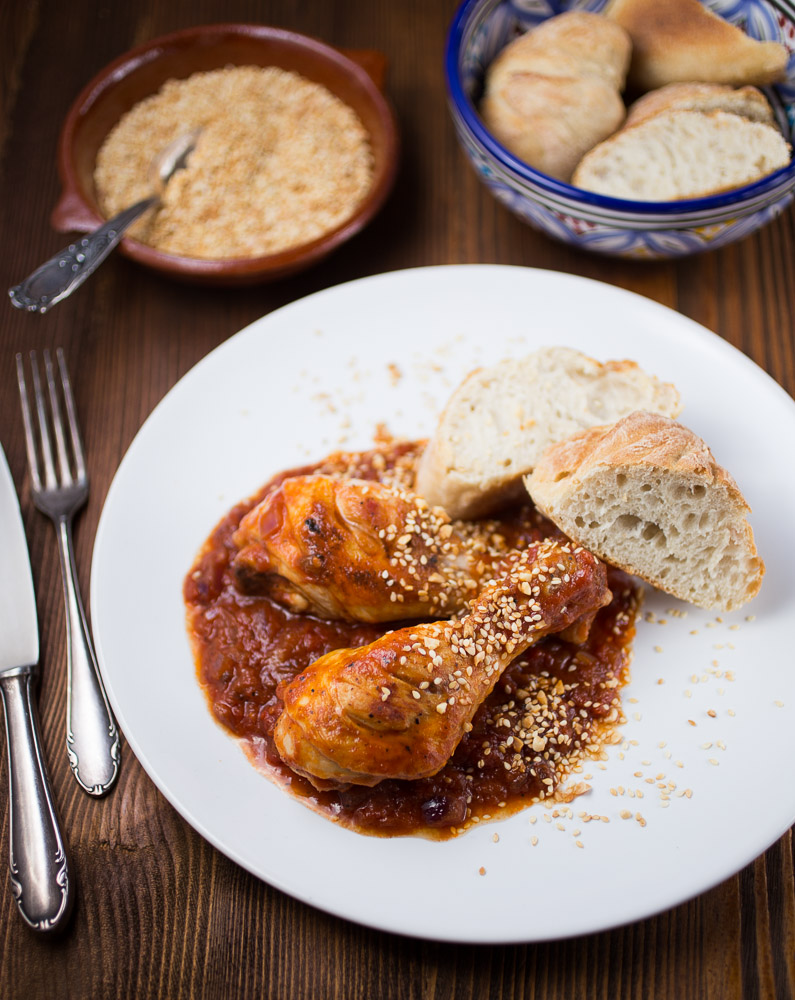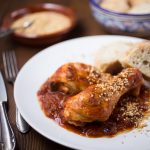 Moroccan Chicken
Tender chicken in a rich, spicy tomato sauce.
Ingredients
4-6

chicken drumsticks

1

Lemon

1

tbsp

olive oil

Salt and pepper

1

onion

chopped

1

can chopped tomatoes

2

tsp

ground dried ginger

1

tsp

cinnamon

1/2

tsp

chili flakes

3

tbsp

honey

3

tbsp

sesame seeds

2

tbsp

almonds

chopped

flatbread or baguette
Instructions
With a sharp knife make 2-3 incisions into every chicken drumstick. In a small glas mix the juice of one lemon, a tbsp of olive oil and some salt and pepper. Rub the mixture into the chicken.

Heat a big skillet over medium to high heat. Add the chicken drumsticks and fry them until they are golden brown all around.

Add the chopped onions and stir for a few minutes.

Add the tomato sauce, the ginger, the cinnamon and the chili flakes. Stir until everything is combined. Cover the pan with a lid, turn down the heat and let it simmer for 20-25 min.

In a small pan roast the sesame seeds and the almonds until they are starting to brown. Set aside.

When the chicken is done, add the honey to the sauce and salt and pepper to taste.

Sprinkle the sesame-almond-mixture over the chicken when you serve it. Yum.