On today's menu was a lovely, juicy chicken schnitzel with lemon garlic butter and I'll serve it to you with a big hot pile of good news.
I'll be moving soon! After two and half years of sucky long distance relationship with Alex (the long distance part was sucky, not the relationship part) we are finally moving in together. I was agonizing over finding a flat for months now, which turned out to be totally unnecessary. We have been looking at offers online for 10 days. On Saturday we had two appointments to look at flats. We liked the second one and got it right on the spot…. wham bam, thank you m'am! It's a lovely two storey flat with a fireplace in the living room and a huge balcony. I will be getting a slightly bigger kitchen and finally: a dishwasher. Yeah, you heard me, since I moved out of my parent's house I never owned a dishwasher. I know, I was pratically living in the stone ages.
So, those next months are going to be stressful but very exciting. Happy Sandy is happy. But back to the delicious meal I had today. I've been making a lot of chicken lately, thanks to my Mum. She's been making regular drives to a nearby farmer and buying all sorts of meat there. Usually she brings me chicken legs, but yesterday she brought me a lovely free-range-happy-chicken chicken breast. I have said it in the past and I'll say it again, the quality really makes a huge different. Buy a cheap supermarket chicken breast, fry it two minutes too long and you have a pile of dry meat. Yuk. The farmer's happy chicken is far more forgiving and you always end up with a juicy, tender piece of meat that is well worth the few extra bucks.
So today I made schnitzel. And not just any kind of boring old schnitzel. I treated them to a garlic, lemon and parsley coating and made a lemon parsley butter to go with it. I fried them to crispy perfection and served them with some humble fried potatoes, but you could choose whatever side dish you want. Or just enjoy the schnitzel by themselves. They sure are amazing. Juicy on the inside, crispy on the outside. Just like they should be.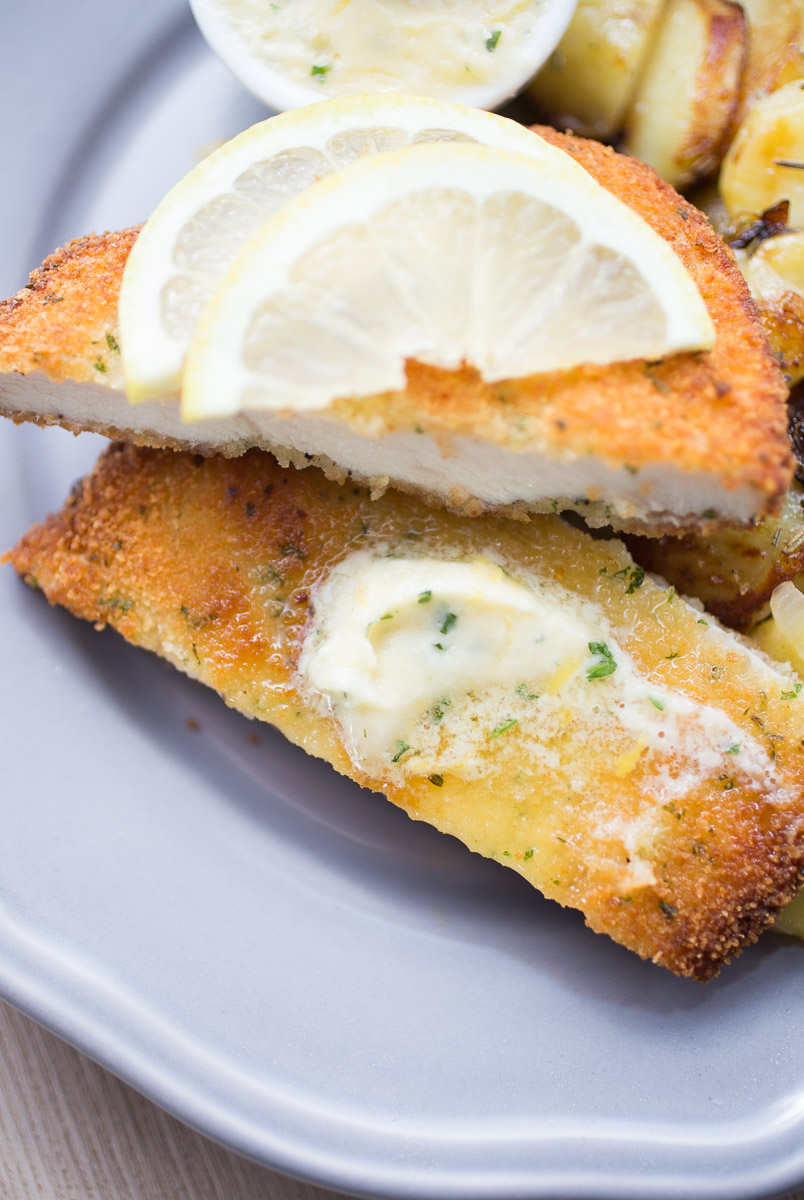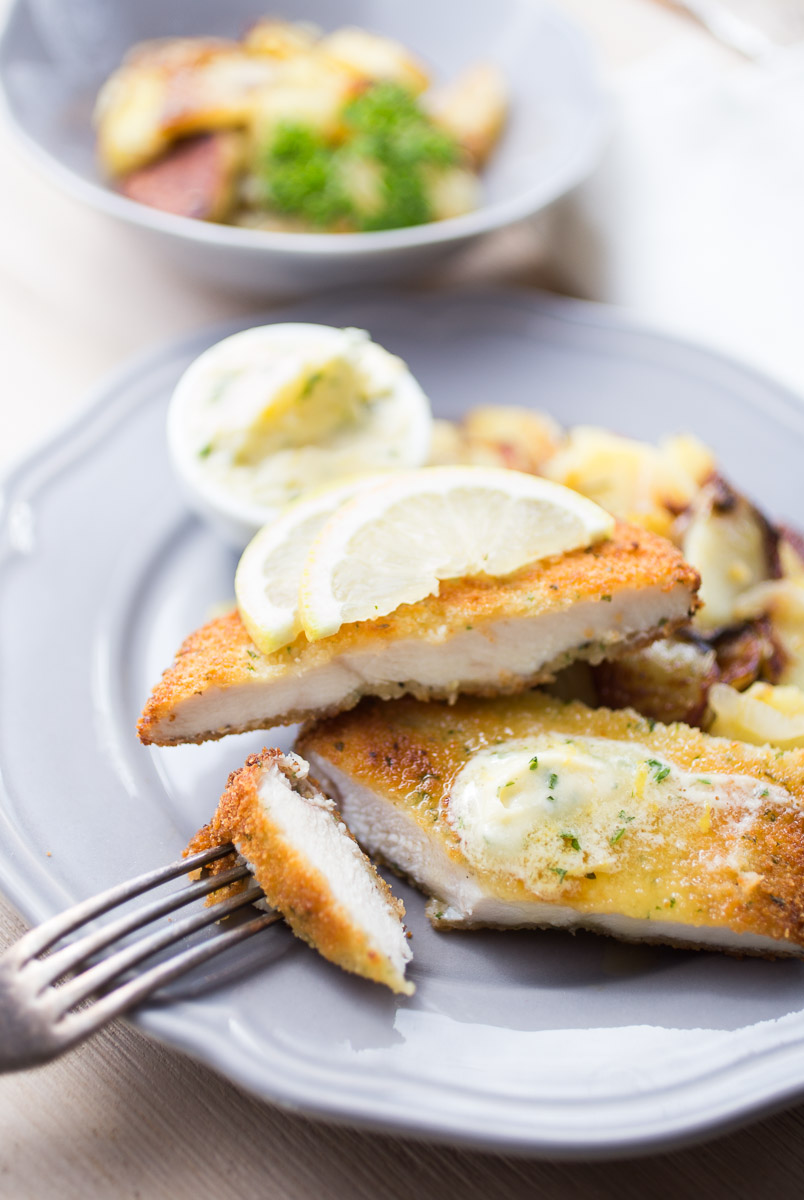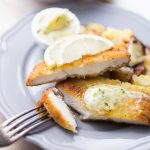 Schnitzel with lemon parsley butter
Crispy chicken schnitzel with a fresh lemon parsley butter
Ingredients
For the schnitzel
1

chicken breast

3

tbsp

bread crumbs

2

tbsp

panko bread crumbs

1

tsp

lemon zest

1

clove

of garlic

1

tbsp

parsley

chopped

salt

pepper

1/4

cup

flour

1

egg

1/4

cup

of milk

oil
For the lemon parsley butter
2

tbsp

unsalted butter

softened

1

tsp

lemon zest

1

tsp

garlic

finely chopped

1

tbsp

parsley

finely chopped

salt to taste
Instructions
In a small food processor mix the two kinds of bread crumbs, the garlic, the parsley and the lemon zest. Set aside.

In small bowl add all the ingredients for the lemon parsley butter and mix well with a fork. Keep in the fridge until serving.

Wash and pat the chicken breast dry. With a sharp knife slice the meat into 2-3 Schnitzel (depending on the size of the breast). Salt and pepper both sides.

In a flat bowl mix the egg and the milk. Add the flour and the mixed bread crumbs into two other flat dishes.

First coat each piece of meat with flour, than with egg and then with the breadcrumbs. Dip it again in the egg and finish with a last layer of breadcrumbs (the last two steps are optional, but they give you a super crispy schnitzel).

In a large pan, add frying oil until it's around 1cm deep and heat it up. Fry the schnitzel on both sides until they are golden brown.

Serve hot with some fresh lemon and the lemon parsley butter and with whatever side dish you like!