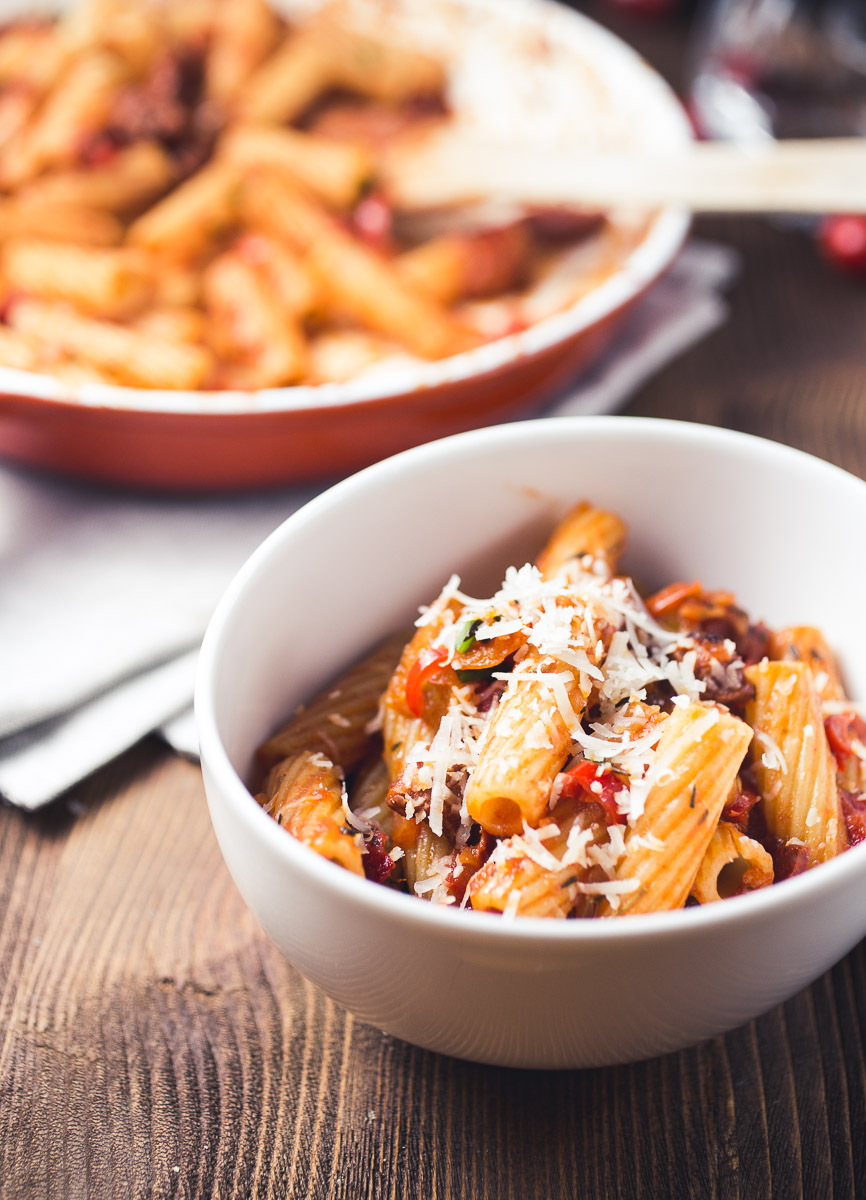 Oh look at me, making regular blog posts. Seems like I'm slowly getting into the flow again. And just in time when this little number here is turning one year old. I thought briefly about making a post about how my first year of blogging was for me and what I have learned… yadda yadda… but I decided against it. I felt like my already limited free time nowadays would be better invested by keeping on cooking and posting recipes. So here I am, with yet another pasta recipe. I stumbled upon this recipe, by the fabulous Nicky, during work this week and as soon as I read the word "chorizo" I knew I had to try it. Any excuse to use this delicious spanish sausage. It makes so many things so so much tastier, it's ridiculous.
I know a classic arrabbiata pasta and I love it the way it is, but I was intrigued by the addition of chorizo and roasted peppers. You can by all means make the roasted bellpeppers yourself if you have the time (you can check out how here), but if you're looking for a lazy weeknight dinner like I did, you can always use roasted peppers from a jar.
The outcome of this recipe was a real delight. I tweaked it here and there to my liking and it was an instant success. The sauce is so rich, spicy and full of flavours. You will love it!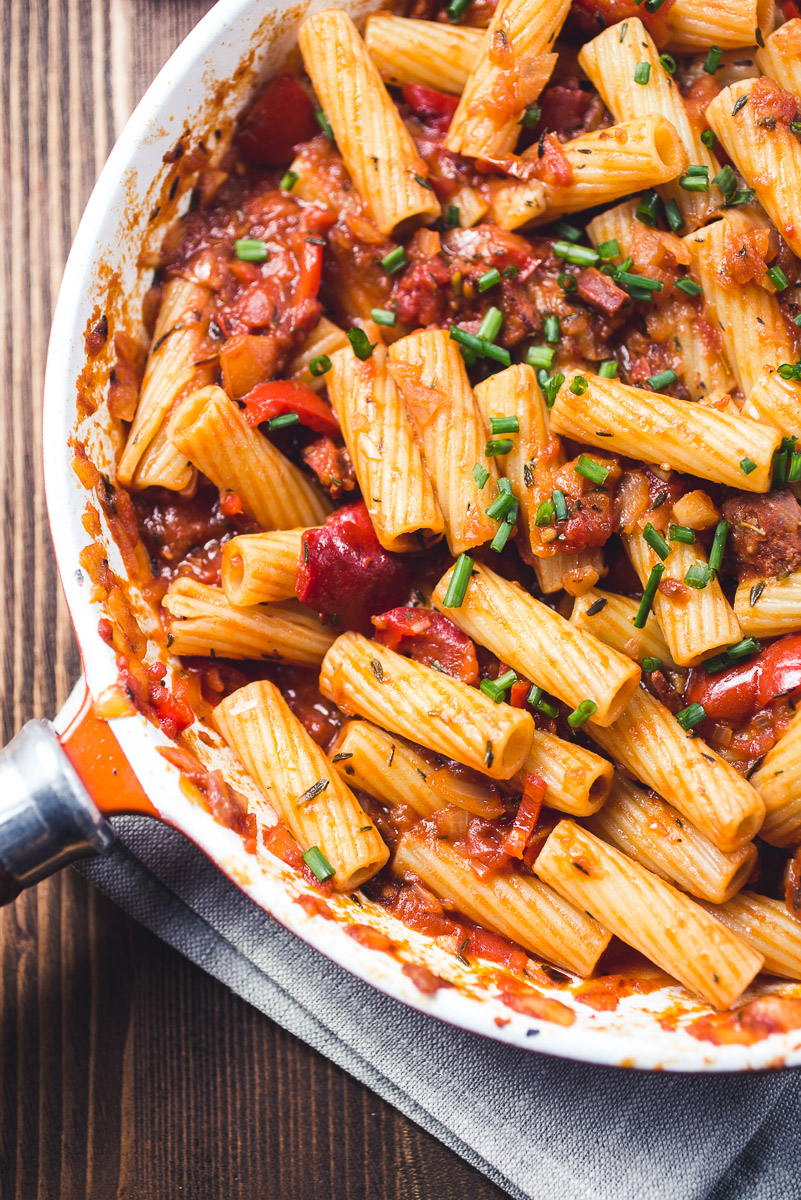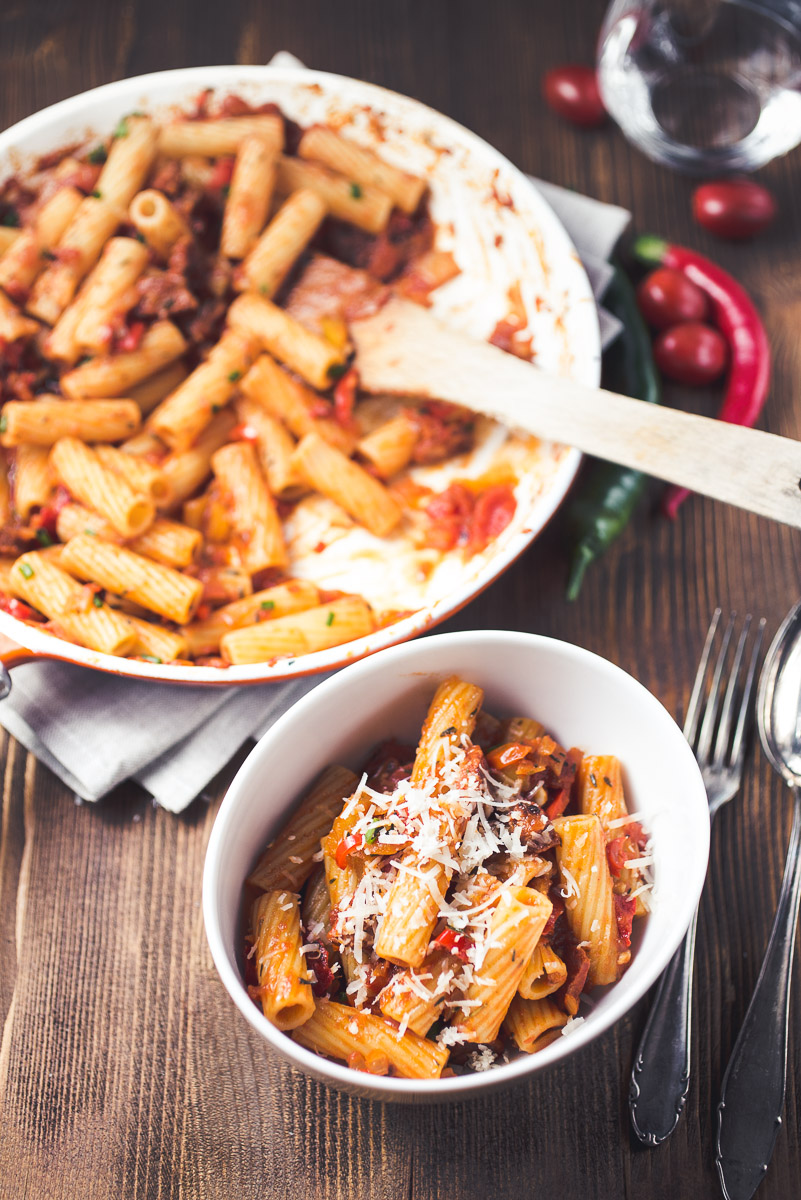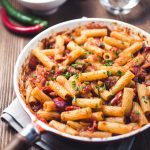 Penne all'arrabbiata with chorizo
Penne in a spicy, rich tomato sauce with chorizo and roasted peppers
Ingredients
300

g

penne

1

chorizo

thinly sliced

1

large onion

finely chopped

2

cloves

of garlic

finely chopped

1

chili

finely sliced

1

tbsp

tomato paste

1/2

cup

white wine

500

g

canned tomatoes

chopped

100

g

roasted peppers

roughly chopped

1

tsp

dried thyme

1

tsp

sugar

salt to taste

parmesan for serving
Instructions
Heat up a large pan over medium heat and add the sliced chorizo. Cook for 3-5 minutes until it darkens slightly and releases its fat.

Add the onion and the garlic and cook for another 5 minutes. No need to add any extra oil, since the chorizo takes care of that.

Add the chili and the tomato paste and cook for 5 minutes. Deglaze with the white wine.

Add the canned tomatoes, the sugar, the thyme and some salt to taste. Turn down the heat and let it simmer for 10 minutes.

Meanwhile cook the pasta according to package.

Stir the roasted peppers into the sauce and finally add the pasta. Stir well and serve immediately with some parmesan cheese.
Notes
As always: Know your chilis and add them according to your taste!