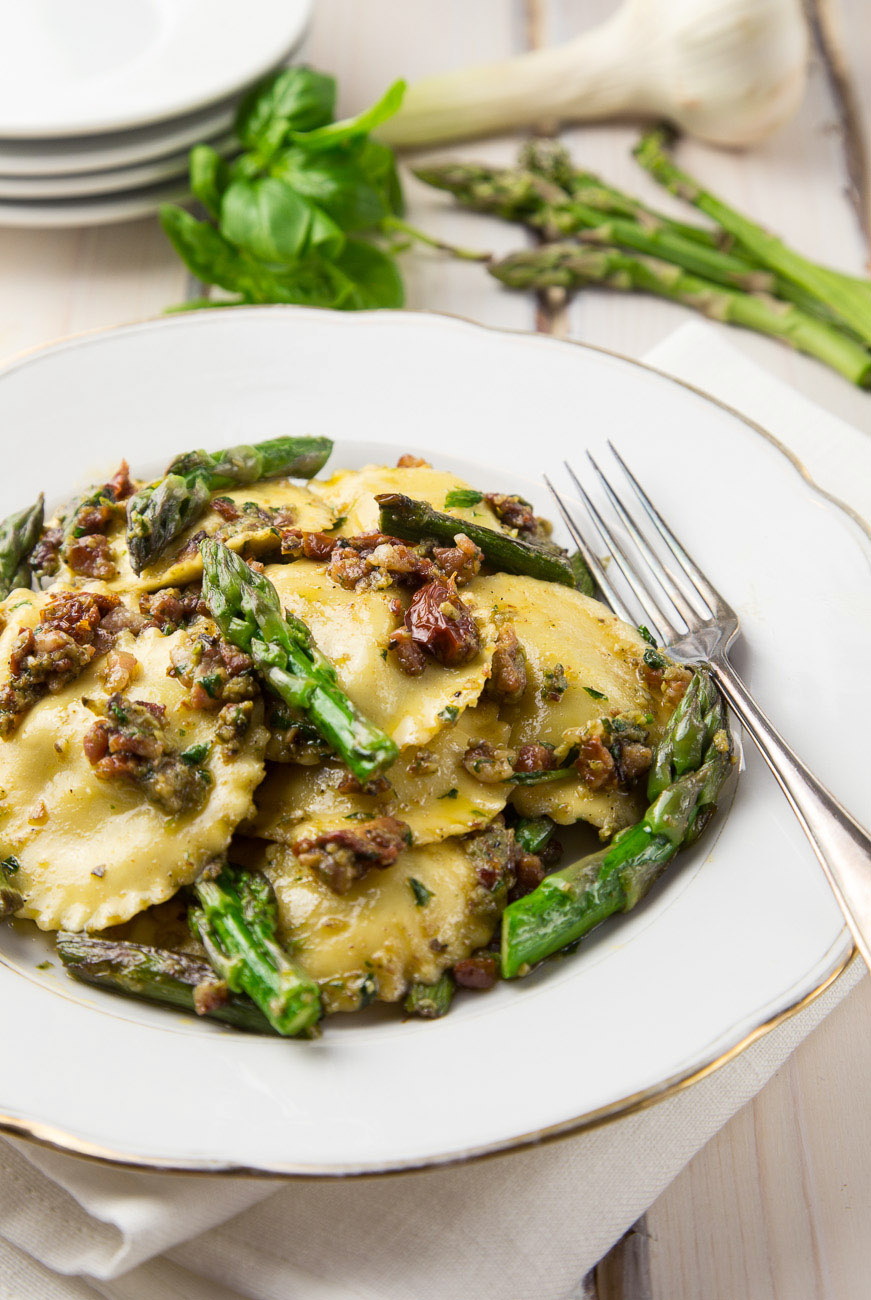 I am still riding high on a beautiful wave of green asparagus, that is still full in season around here and after I had a very simplistic recipe with some chicken skewers last week, let's do some pasta today! These pesto ravioli with asparagus and pancetta are a beautiful quick weeknight dinner (unless you're super awesome and make your own ravioli…).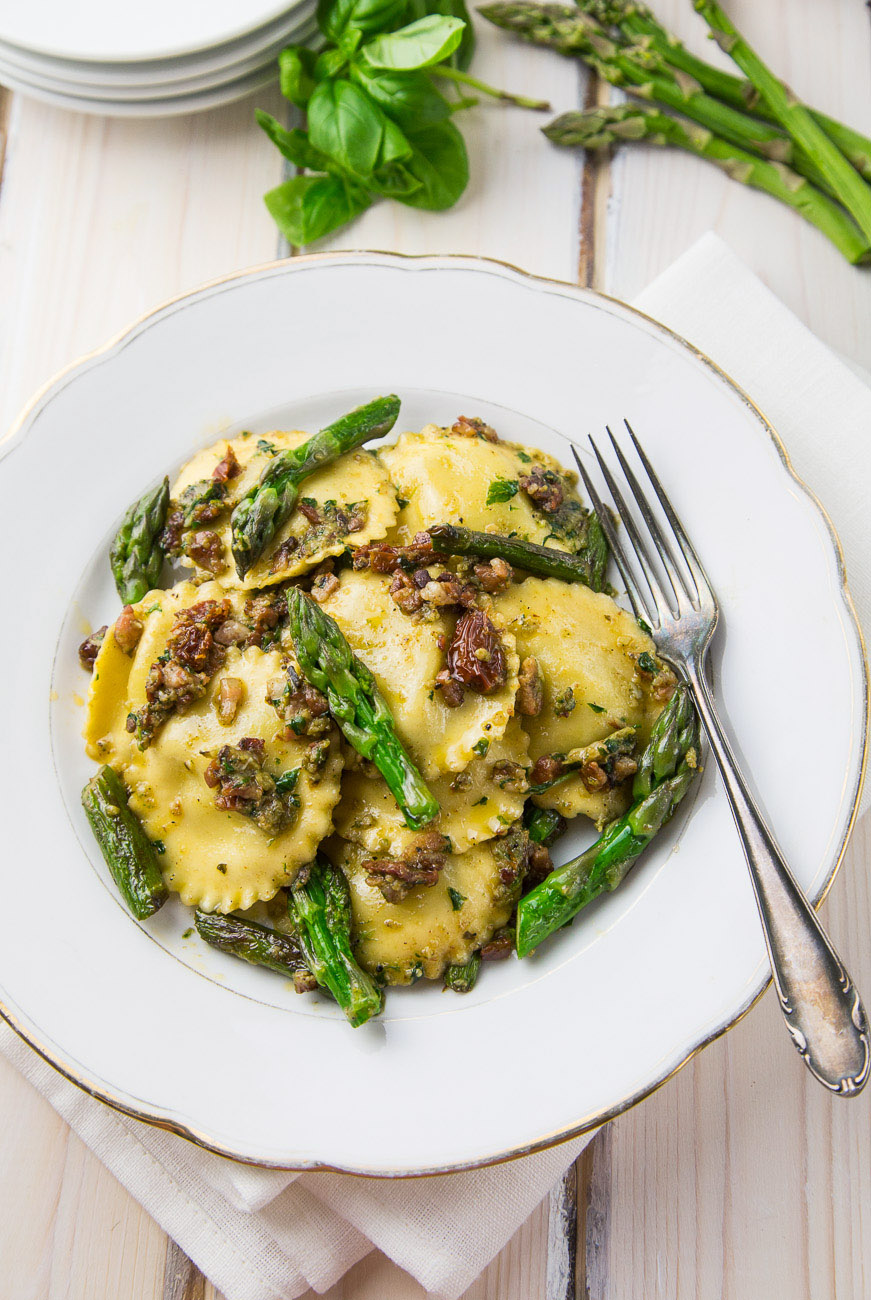 I had such a hardcore craving for some pasta this weekend, because the rest of the weekend was all about grilling. Alex and I got ourself a new gas grill for our balcony and we've been grilling pretty much every night this week. I'm not complaining. It's so comfortable compared to a charcoal grill and I love grilled veggies, meat and sausages. But after all those days I was craving something completely different. Something that hasn't been done on a grill. So pasta it is!
I used some fresh store bought goat cheese ravioli for this dish, but you can use whatever kind you like, made some basil pesto with cashews instead of pine nuts (store bought is NOT an option here, trust me, unless you get your pesto from an italian delicatessen and even then, make it yourself! It's super easy!) and added some pancetta and sundried tomatoes to the asparagus for some extra flavour. The outcome is a wonderful seasonal pasta dish, that makes me always coming back for more.
A little note for all the vegtarians out there: You could always make this dish vegetarian, by either just skipping the pancetta or even better substitute it with 1/2 cup of dried porcini mushrooms. Soak them in warm water for an hour, drain them, cut them up and you're golden.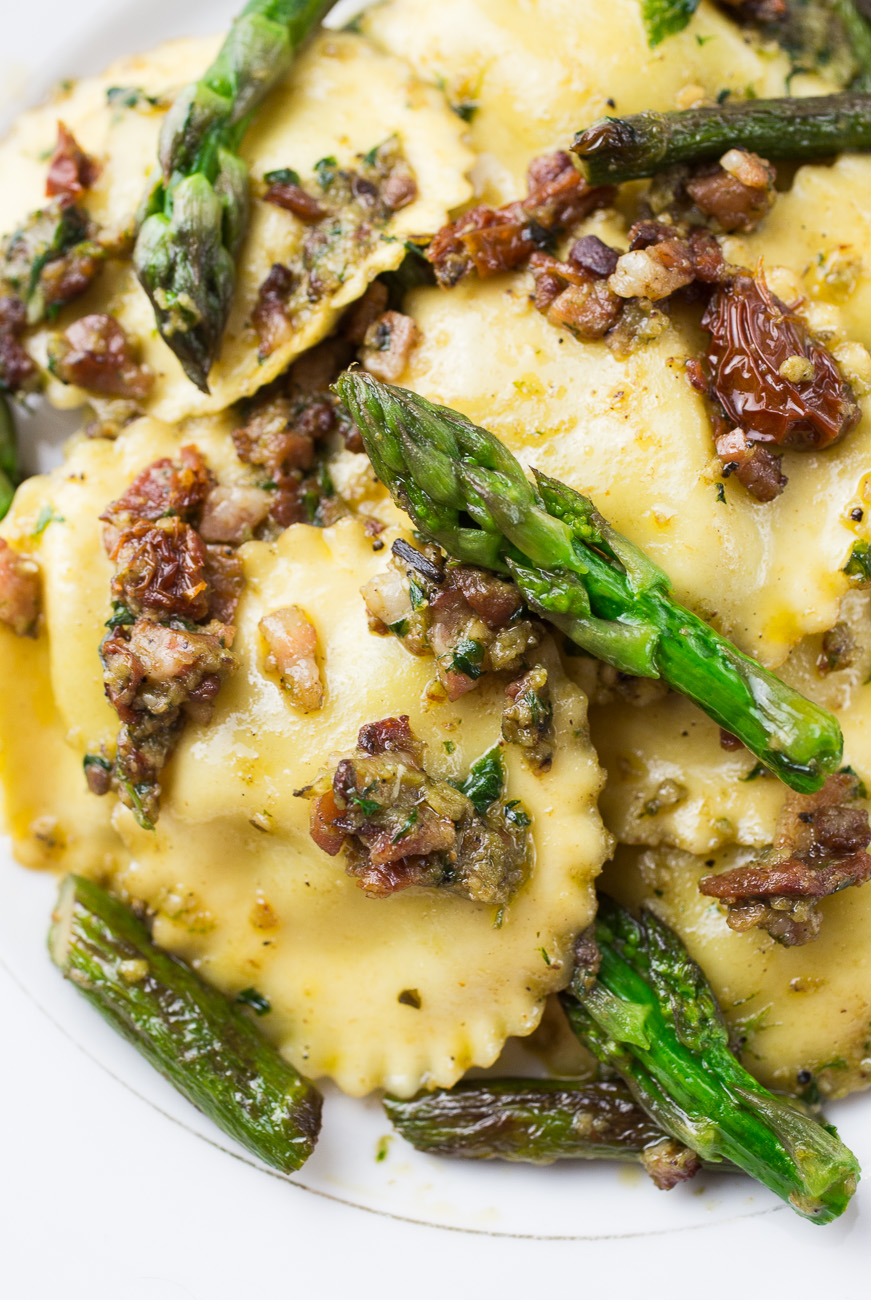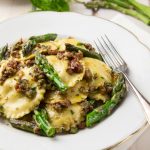 Pesto ravioli with asparagus and pancetta
Ravioli tossed with basil pesto, pancetta and sun dried tomatoes.
Ingredients
For the pesto
1

cup

of fresh basil

2

tbsp

cashew nuts

toasted

1

clove

of garlic

2

tbsp

parmesan

grated

olive oil

salt and pepper to taste
For the pasta
500

g

green asparagus

1/4

cup

pancetta

finely chopped

4

slices

dried tomatoes

roughly chopped

350

g

ravioli

salt and pepper to taste

parmesan for serving
Instructions
For the pesto roast the cashew nuts in a small pan without fat, until they are golden brown. Combine the basil, cashews, garlic and parmesan and blend everything together with a stick blender. Add olive oil until you have a smooth paste. Add salt and pepper to taste. (Alternatively you can use a small food processor for making the pesto or what I like to use sometimes: pestle and mortar. You definitely need less oil for the pesto of you use this method.)

Heat a splash of olive oil in a large pan.

Cook the ravioli according to package and save ½ cup of the cooking water.

Wash and dry the asparagus. Cut them up into 2 inch pieces, separating the heads from the stalks. We don't want to overcook the delicate heads.

Add the asparagus stalks to the heated pan and fry for 3-4 minutes.

Add the pancetta and dried tomatoes and cook for another 3-4 minutes.

Add the asparagus heads and cook for another 3-4 minutes, stirring occasionally.

Spoon in the pesto and stirr carefully until everything is coated. Season with salt and pepper to taste.

Add the drained ravioli together with the cooking water and toss until everything is coated.

Serve with some freshly grated parmesan cheese.