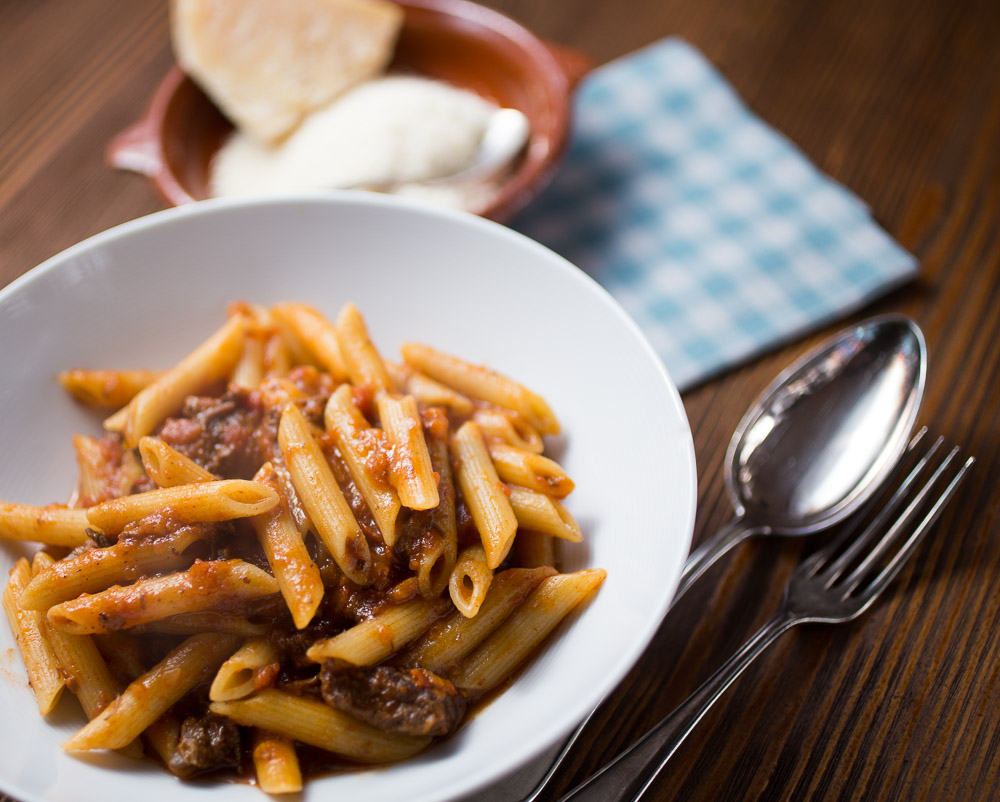 I love pasta in almost every variation possible. Pasta is versatile and pasta dishes are always crowd pleasers. Usually I make pasta when I get home from work, because it's quick and tasty. This particular dish is different though. It requires a bit of time, but it's totally worth it.
It's one of those dishes that has been with me ever since I have been old enough to eat solid food. Until this day my Mum makes Penne with beef at least once a month and I learned the recipe directly from her. When I moved out and started cooking myself I tweaked it a bit here and there… I dare say I improved it a bit. My Mum's version is as basic as can be with only a few spices, but I added a new spice mix that goes so well with the tomato sauce. The outcome is a hearty, rich pasta dish with an oriental twist.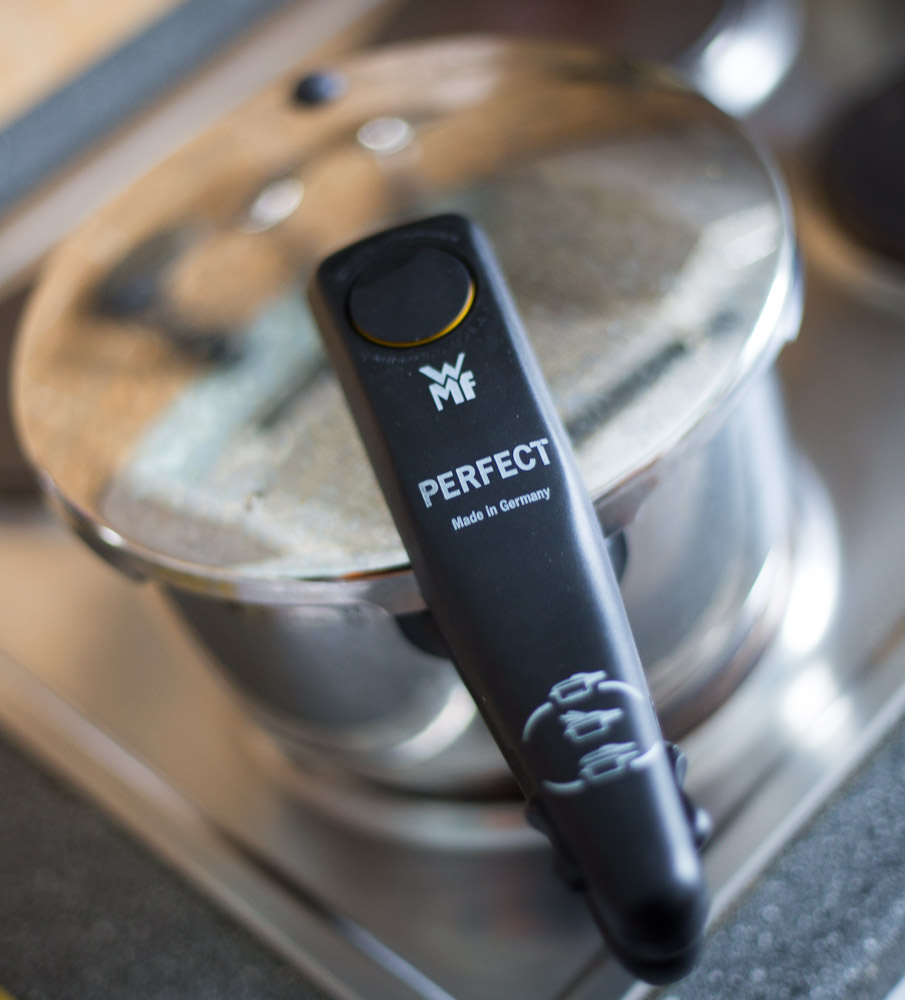 At this point I have to tell you about my pressure cooker I use for this dish. If you don't own one of those babies you should get one asap. I was hesitant at first too, because the good ones are quite expensive, but I promise you won't regret it. Making stews and soups and gloulash just becomes a breeze. No more simmering for hours and hours. Just throw everything in there, seal it up, cook for 30min and … BOOM… rich sauce with tender meat.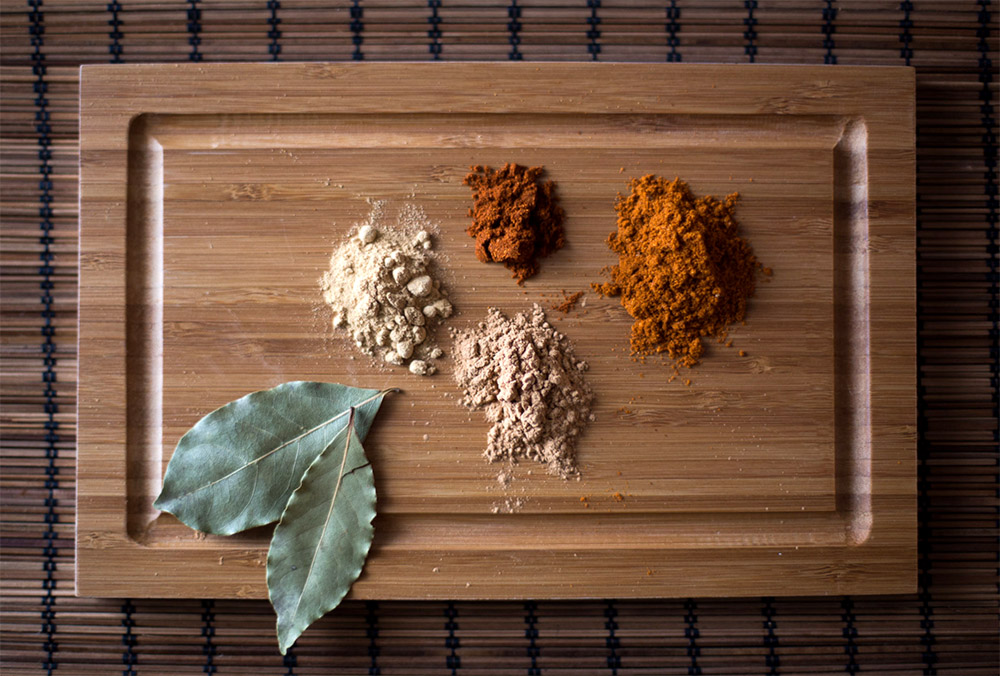 This dish is all about the spice mix. In the classic version my Mum and my spanish Gran used to make there's only bay leaves and sweet paprika in the sauce and while it's still yummy, I wanted a bit more.
A few years ago a good friend of mine made a moroccan chicken dish that just blew my socks off. The tomato sauce was flavoured with ground dried ginger and cinnamon. A combination that enhances the taste of the tomato and makes it more interesting. When changing my Mum's recipe I had this in mind and tried out the same combination on the penne dish. I stuck to the sweet paprika and the bay leaves, but added ginger, cinnamon and to give it a bit of fire… a bit of cayenne pepper. That's the winning combination.
Besides the spice mix another vital ingredient is the beef and I get the best results with beef shoulder. Of course you could always use a cheaper cut like skirt, but it won't be as tender. So I highly recommend using beef shoulder. It's not too expensive and after 30min in the pressure cooker the meat just falls apart when you touch it. Totally worth it!
Another tip from me to you: If you work full-time like I do, it can be a real pain to come home at 7pm and still have to rustle something up for dinner. That's when the freezer comes in handy. Most of the time I make more of one dish and freeze the leftovers. That way I have a homecooked meal in fastfood-time when I come home from work totally knackered. This dish is perfect for freezing aslong as you don't freeze the pasta with it. Just make more of the sauce and use it with some freshly cooked pasta. Easy peasy…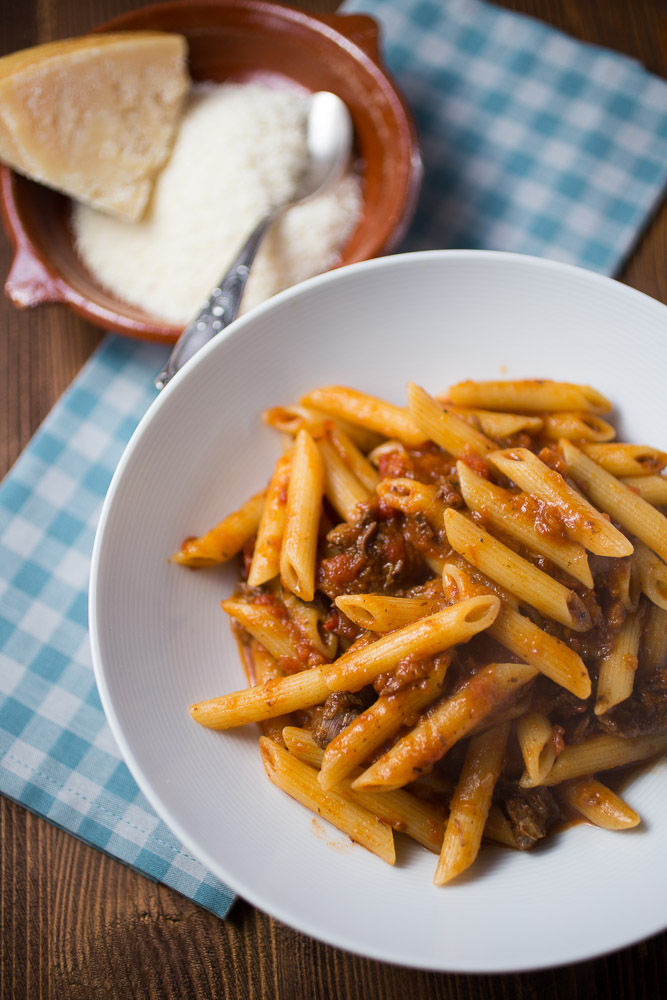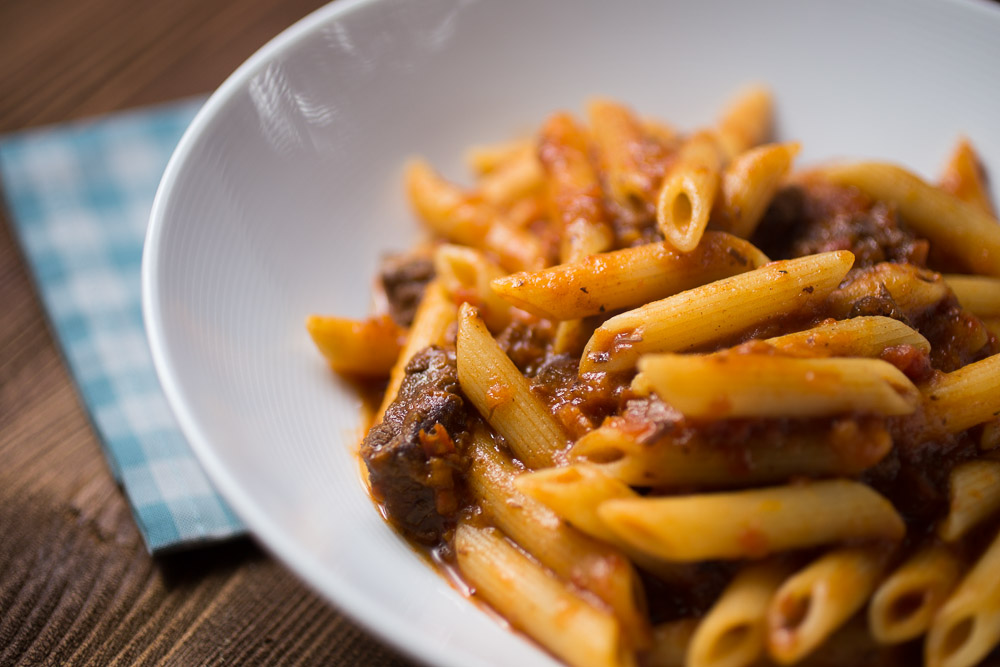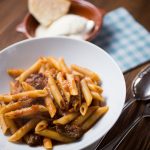 Penne with Beef
A spanish family classic with an oriental twist.
Ingredients
500

g

of beef shoulder

cut into small chunks

2

carrots

cut into round slices

1

large onion

chopped finely

2

tsp

sweet paprika

1

tsp

ground dried ginger

1/2

tsp

cayenne pepper

or chili flakes

1/2

tsp

cinnamon

2

bay leaves

150

ml

dry white wine

1

can chooped tomatoes

1

tsp

salt

400

g

penne
Instructions
Heat one tbsp of olive oil in a large pot or pressure cooker. On high heat add the beef and cook for 3-5 minutes until it starts to brown. Turn down the heat and add the chopped onions and the carrots and stir for another 5 minutes.

Add the sweet paprika, the cayenne pepper, the ground ginger and the cinnamon and stir until everything is coated. Don't fry the spices for too long because the paprika might turn bitter. Deglaze everything with the white whine and add the bay leaves, salt and the can of tomatos.

If you use a pressure cooker, put on the lid, seal it and let it cook for about 30min. If you use a large pot turn down the heat and let the sauce simmer for 45-60min or until the meat is tender and the sauce has thickened.

In a large pot with salt water cook the pasta. Drain it and add to the sauce stirring well. Let everything cook together for another five minutes.

Serve with grated parmesan cheese.