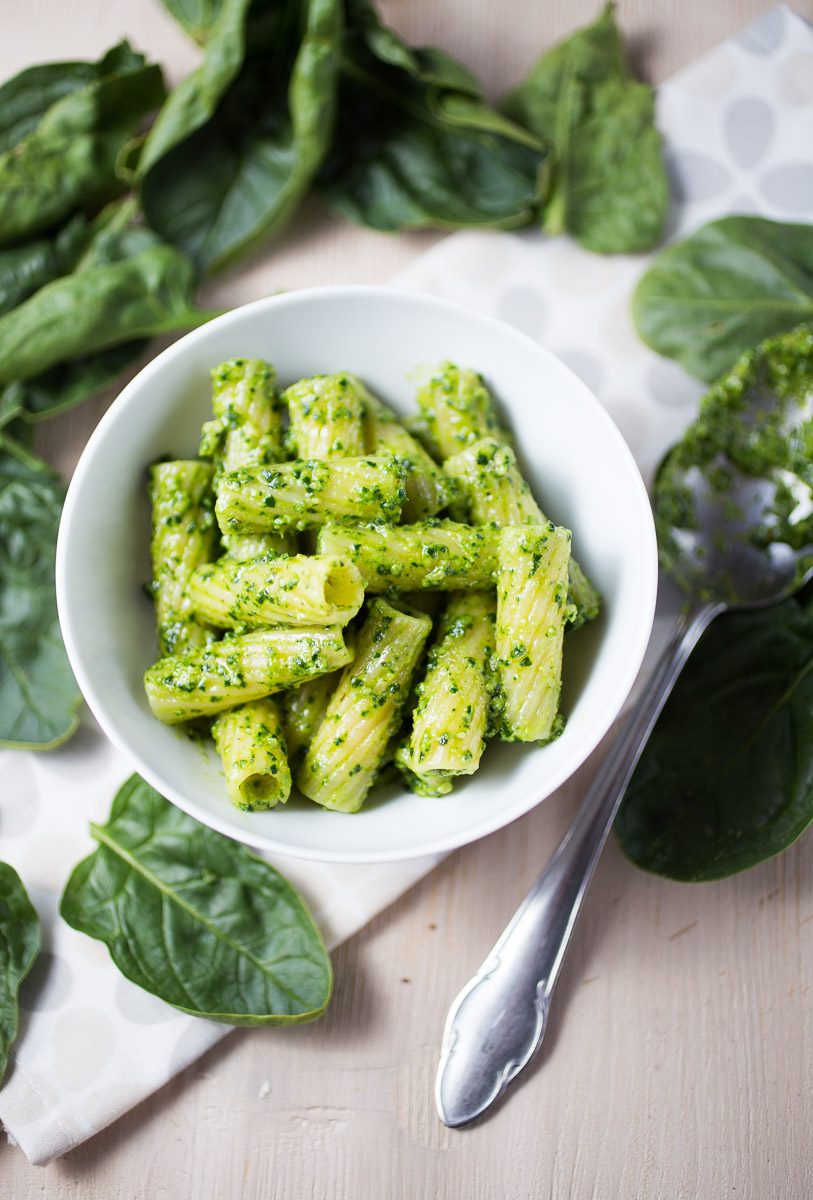 I have to start this post with a huuuge mea culpa. I have been so busy with work and life those past weeks that I have neglected all cooking and blog business for way too long. And if that wouldn't be enough I'll be off to Portugal in a few days for a well deserved vacation (I kid you not… I am so ready to get out of here) and it will be rather quiet here too while I'm awake, but after that I'll be back to posting more often and bringing you new recipes from my chaotic little kitchen.
But today I have a delicious little dish for you that is the perfect weeknight dinner. It's quick and it's delicious. From start to finish these rigatoni with spinach pesto will take you nothing more than the cooking time for the pasta. That's pretty good, isn't it?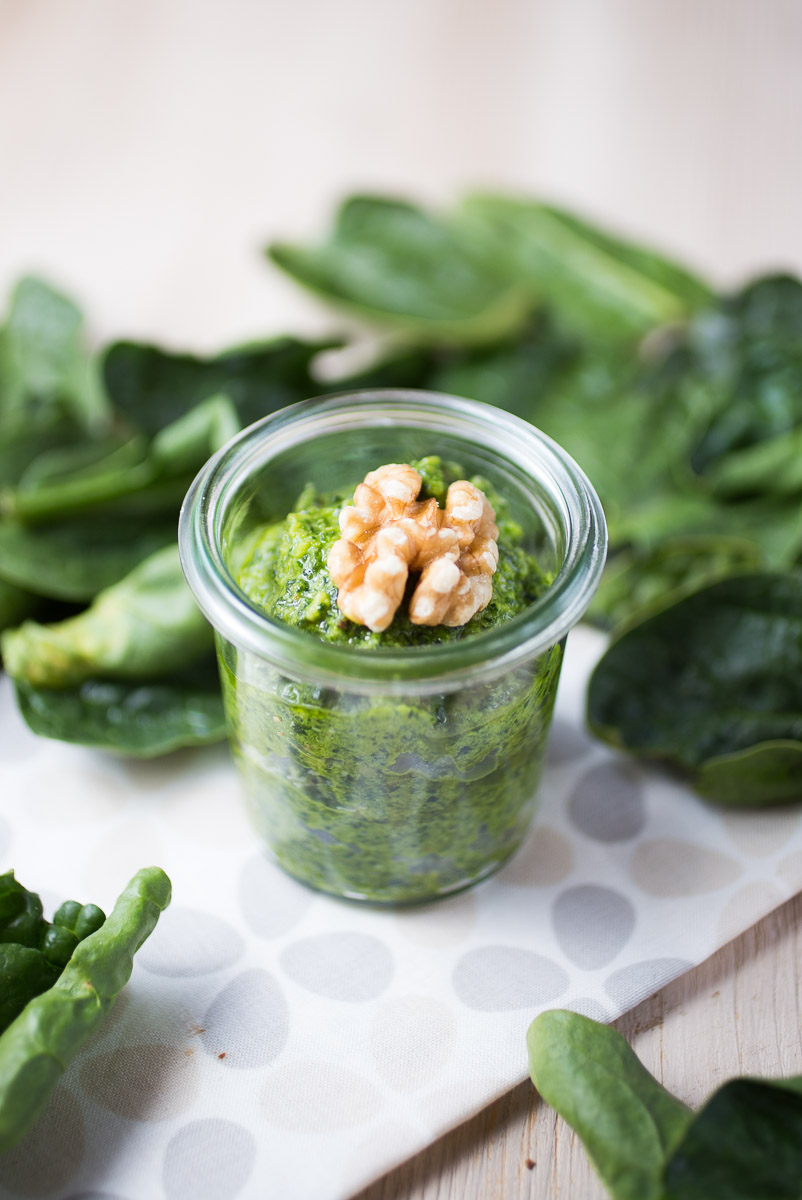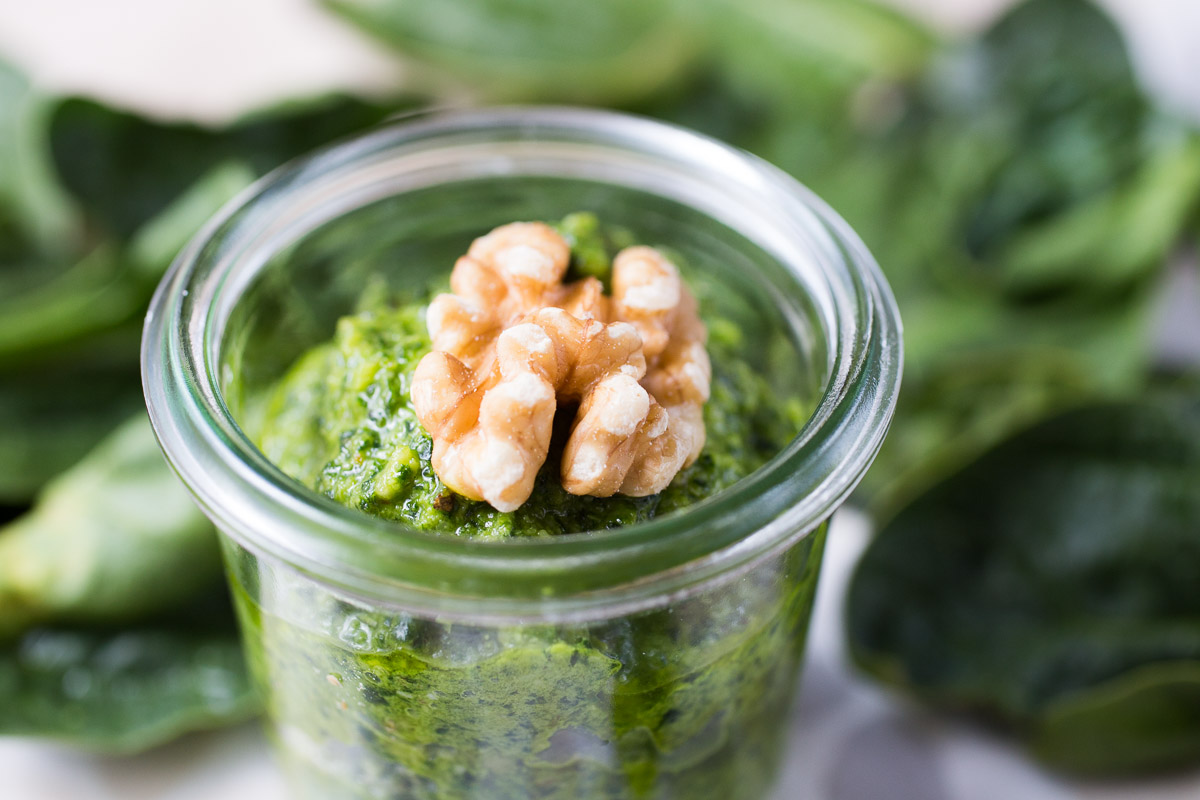 I stumbled over this pesto variation by coincidence. I had a huge craving for pesto one night, but no fresh basil was found in my house. The only thing I had left was half a bag of fresh spinach and I thought…. eh, why not.
The principle of this pesto recipe is the same as with every other pesto I have ever made. You have the main ingredient, like basil, dried tomatoes or in this case the spinach. You need nuts of some sort, like pine nuts, almonds or in this case walnuts. You mix them with parmesan or peccorino, salt and pepper, garlic and good quality olive oil. Violá pesto! It's so damn easy… if you never tried it, you should. You will never go back to the weird store bought kinds.
You can make the pesto easily in those 15-20 minutes while the water heats up and you cook the pasta.
In this dish I like to use rigatoni pasta, but you could use anything you fancy really. Tagliatelly, penne or simple spaghetti will work just as well. Enjoy!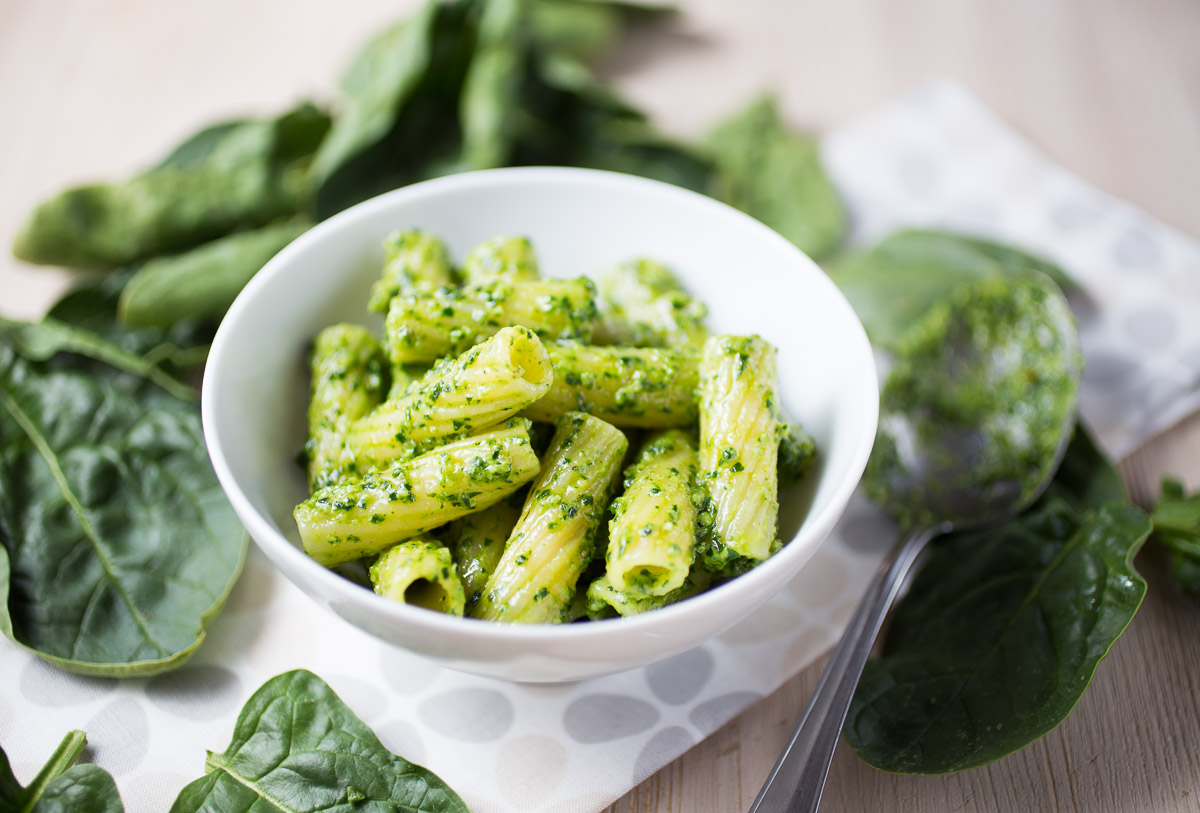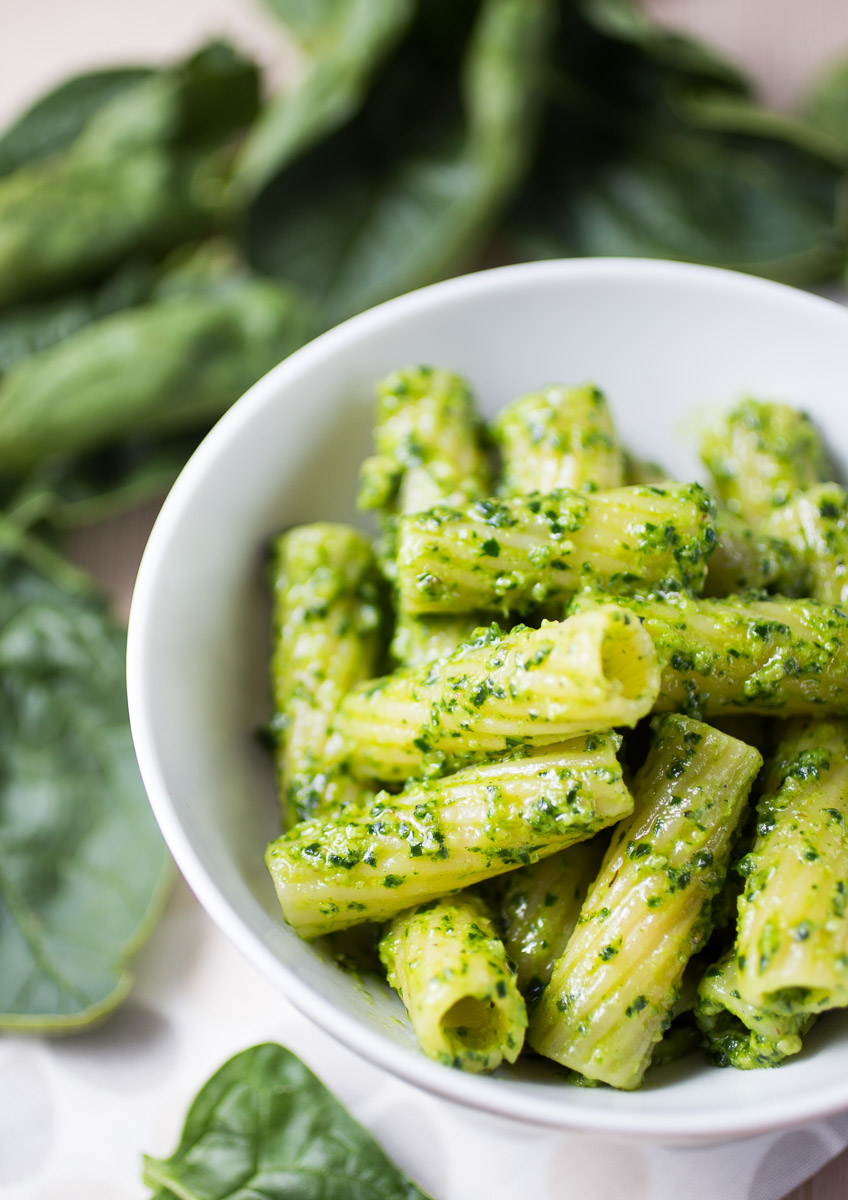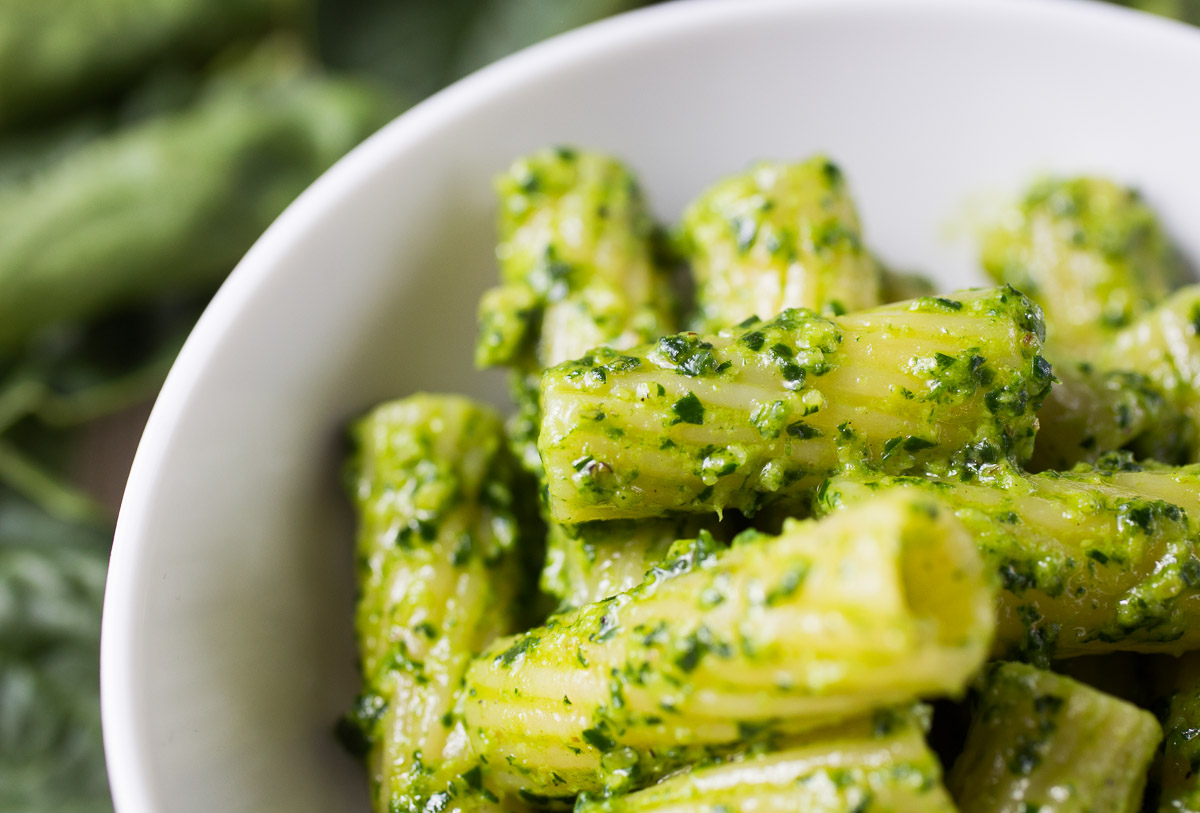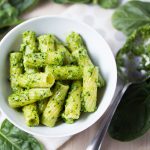 Rigatoni with spinach and walnut pesto
Rigatoni with creamy, garlicy pesto.
Ingredients
60

g

fresh spinach

20

walnut halfs

a handful grated parmesan

2

cloves

of garlic

salt and pepper to taste

olive oil

250

g

pasta of your choice
Instructions
Put on a big pot of salted water for the pasta before you start with the pesto.

In a small pan over medium high heat, roast the walnut halfs until they are slightly browned.

In a small food precessor or in a bowl using a stick blender, combine the washed and drained spinach, the parmesan, the walnuts and the garlic.

Add a generous splash of olive oil and start mixing until it all comes together in a creamy pesto.

Keep adding olive oil until you have the desired texture.

Season with salt and pepper.

Cook the pasta according to package.

Mix the drained pasta with the pesto and serve with parmesan on the side.