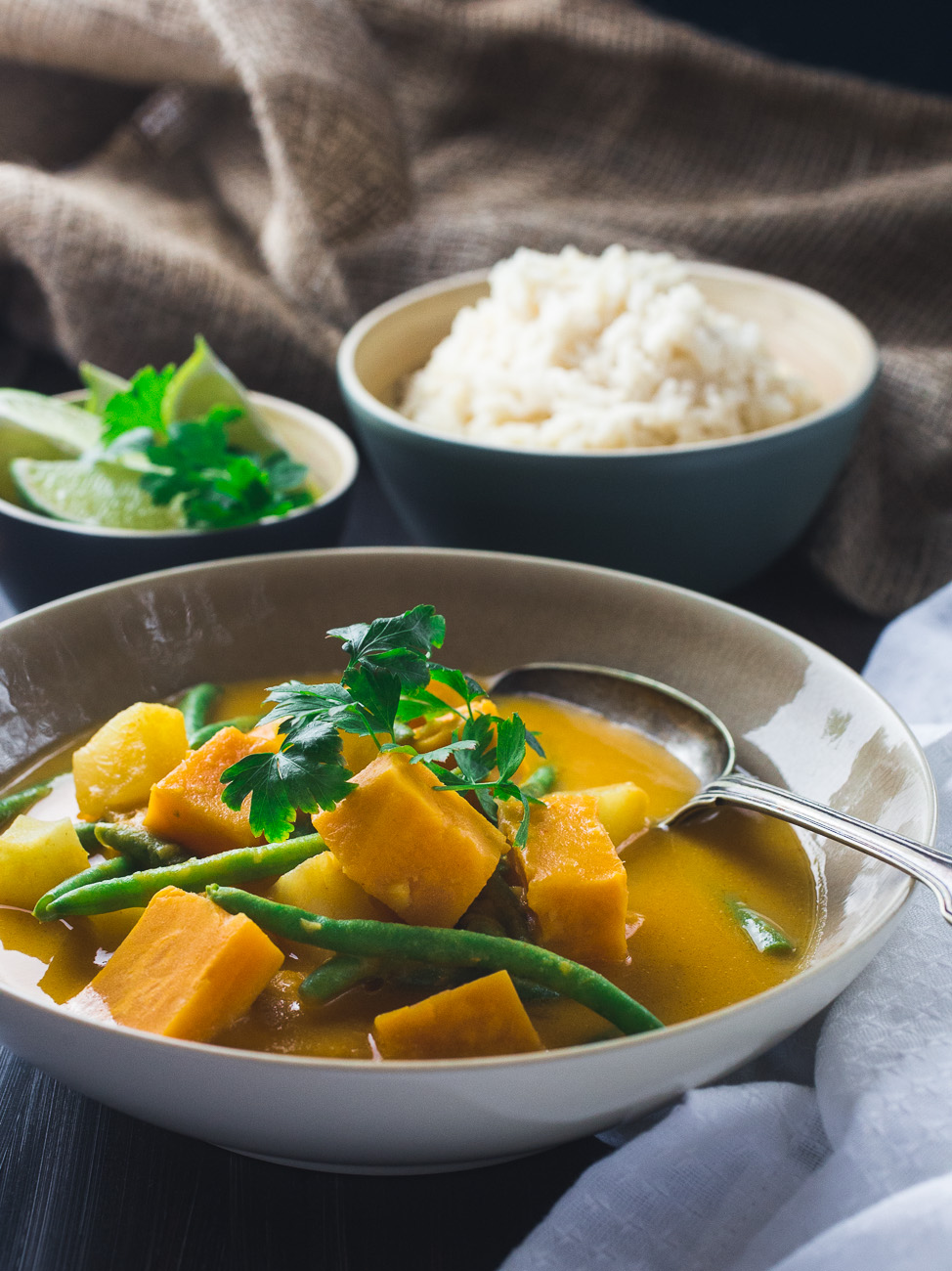 I think we can agree that curries are a great thing. They are versatile, you can pack them with veggies, with meat, with whatever you have lying around at home and I find them infinitely more satisfying than, let's say, a stir-fry. This sweet potato and pineapple curry is one of them.
Also I absolutely adore meat-based curries, but curries, whether it's Indian or Thai curries, are one of the few dishes I find deeply satisfying even without meat. When I'm having dishes from other cuisines and they are vegetarian I keep thinking: "Some bacon would definitely make this better". Curries are different. They richness of the sauce and the spices is enough for me. And this little recipe here is a perfect example for a (almost) meat free curry, I love to bits. It's a sweet potato and pineapple curry, which you can amplify with any veggies you have in your fridge. In this recipe I used green beans, because I always have a bag of those in the freezer, but bellpeppers, broccoli or green asparagus would work great, too. Be creative!
The only meaty thing in this recipe is a splash of Thai fish sauce. It just gives it that last bit of umami goodness. If you want to make this recipe vegan, just leave it out or substitute with some soy sauce.
What also amazing about this recipe is that you don't need that much coconut milk to make it creamy. I blend a part of the cooked sweet potato into the sauce and that gives it this great texture with only a little added coconut milk for flavour. Enjoy!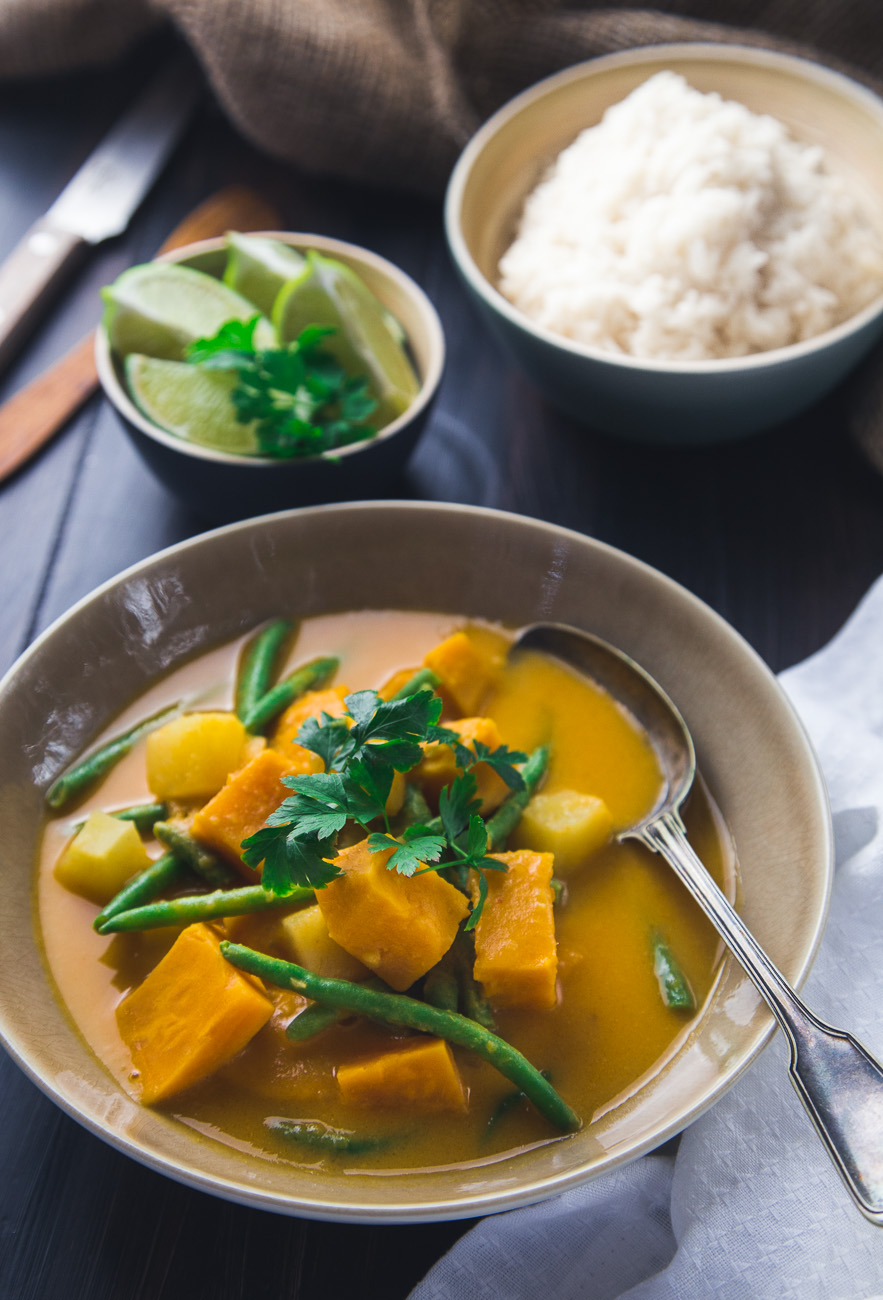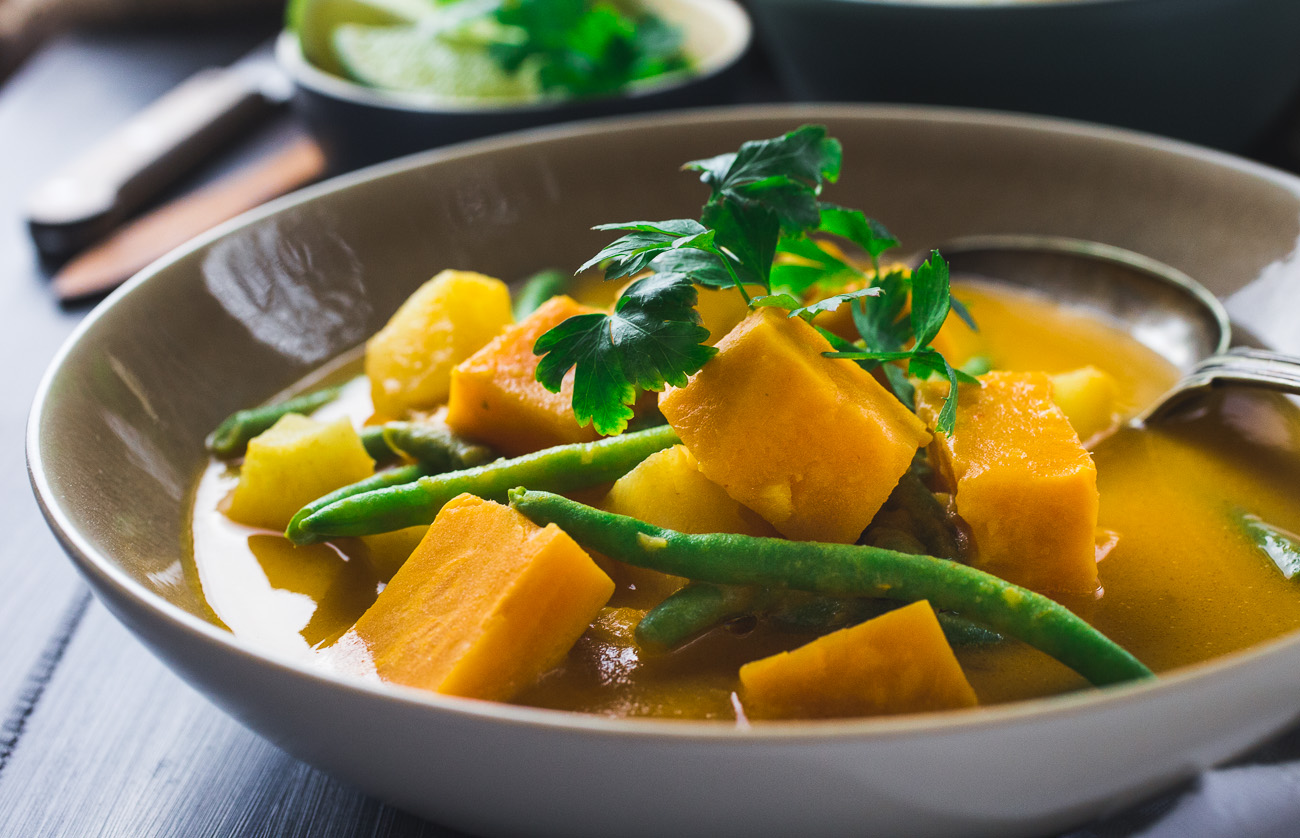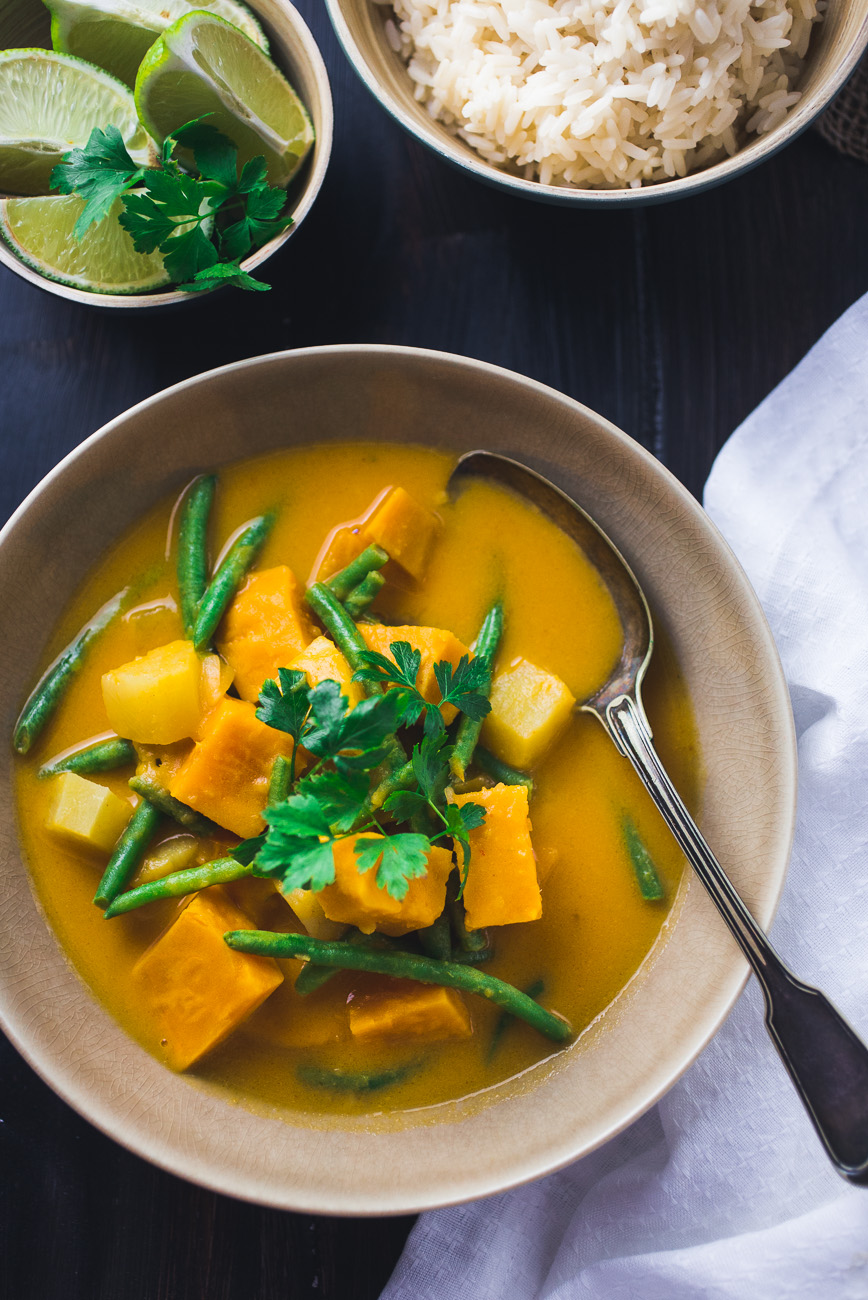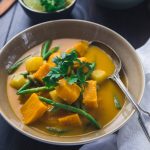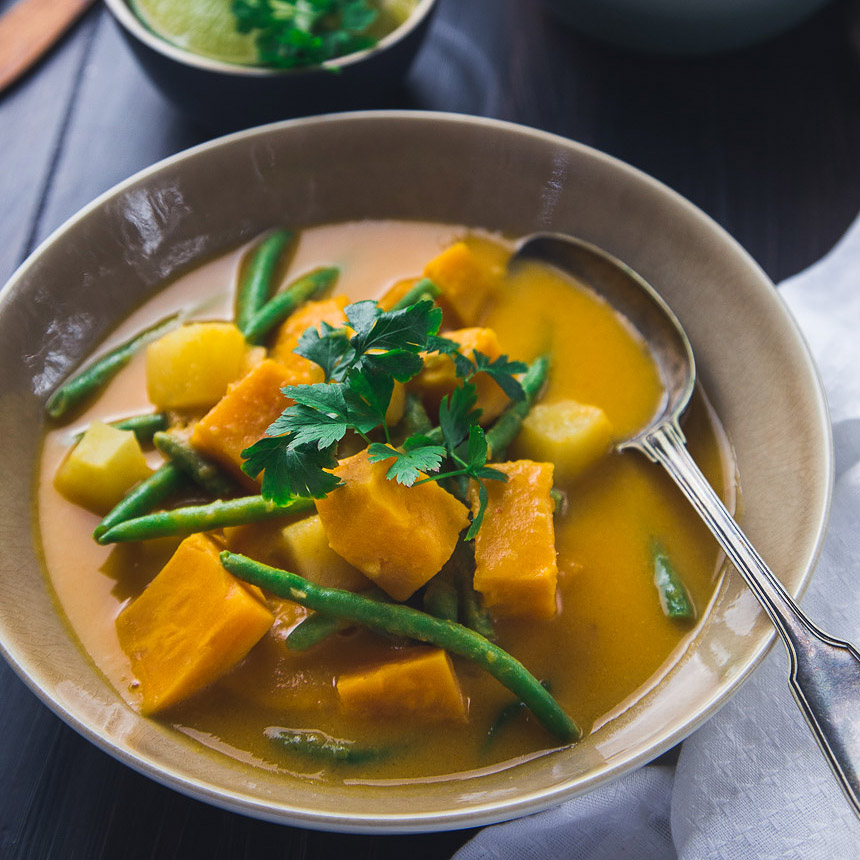 Sweet potato and pineapple curry
A creamy, rich curry with sweet potatoes and pineapple, completed with green beans.
Ingredients
2

medium onions

roughly chopped

1

tbsp

red curry paste

3

cloves

of garlic

minced

1

tbsp

ginger

minced

1

small can of unsweetened pineapple junks

juice reserved

1

large sweet potato

cut into bite sized chunks

1 ½

cup

of frozen green beans

1

cup

coconut milk

1

tbsp

fish sauce

optional

1/2

lime

2

tbsp

cashew nuts

chopped

salt to taste

Vegetable oil for frying
Instructions
Heat a tbsp of oil in a deep pan, pot or wok. Add the onions and fry for 5 minutes, until lightly brown and soft.

Add the curry paste, garlic and ginger and cook for another 3-4 minutes.

Add the juice from the pineapple can along with 2 cups of water.

Add the sweet potatoes to the pan and cook until tender.

Remove 1 ½ cups oft he cooked sweet potatoes and set aside.

With a stick blender puree everything in the pan until smooth.

Add the coconut milk, pineapple chunks and green beans and simmer until the green beans are tender, 5-8 minutes.

Return the reserved sweet potato chunks tot he pot, season with the fish sauce, the juice of the lime and salt to taste.

Serve with some basmati rice and sprinkle the chopped cashews on top before serving.
Notes
The can of pineapple I used has 150g.
As always: know your curry paste! Some brands are super hot, others are rather mild.
If you want to make this dish vegan, you can always skip the fish sauce and substitute it for a splash of soy sauce or simply just season with salt.